Welcome to the Daily Crypto News: A complete News Review, Coin Calendar and Analysis.
Enjoy!
Higher spot volumes Wednesday – and record volumes for the past month – are helping push bitcoin higher. Meanwhile, ether options for December pass 550,000 ETH.
Bitcoin (BTC) trading around $17,688 as of 21:00 UTC (4 p.m. ET). Gaining 0.17% over the previous 24 hours.
Bitcoin's 24-hour range: $17,571-$18,474 (CoinDesk 20)
BTC below its 10-day moving average but above the 50-day, a sideways signal for market technicians.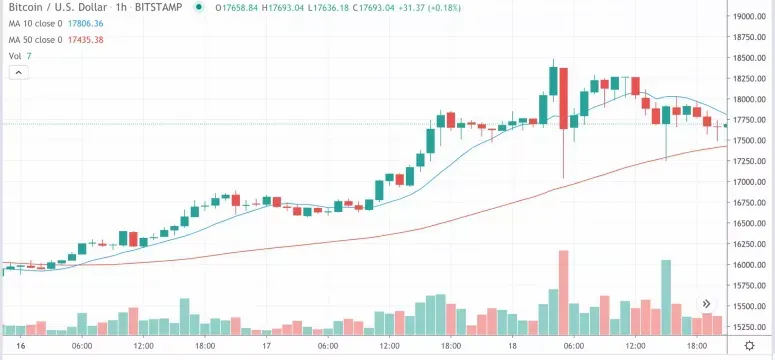 Volumes were much higher than normal Wednesday, with major spot USD/BTC over $1.6 billion as of press time, surpassing this past month's Nov. 5 high.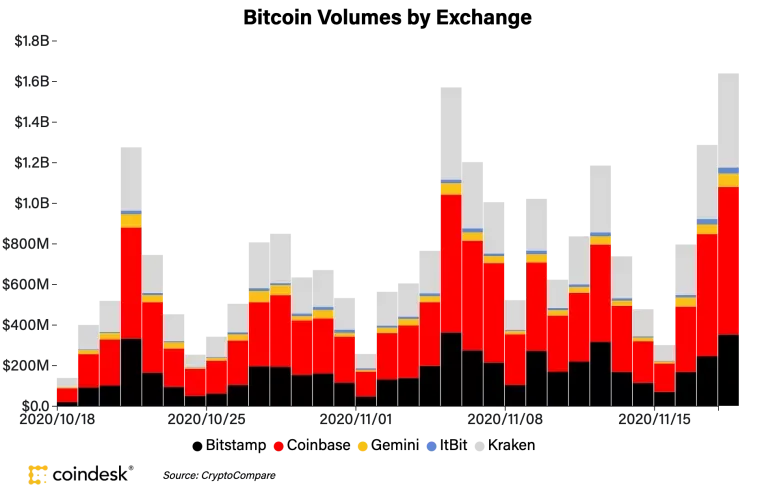 Ether options traders bet on 2.0
The amount of open ether options for December expiration has surpassed 550,000 ETH, worth more than $260 million as of press time.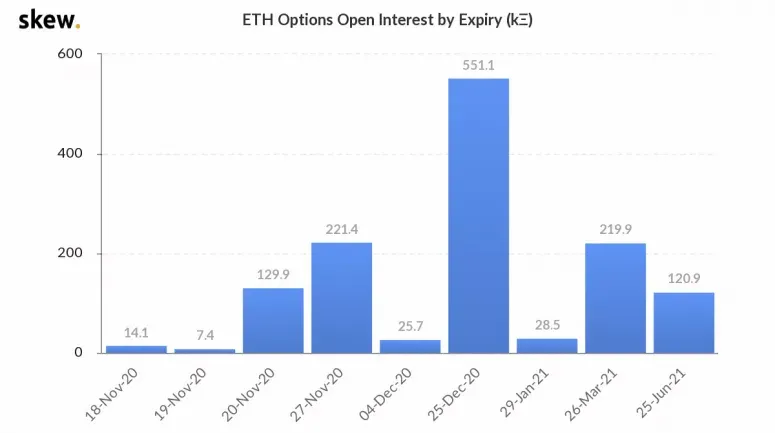 "Our theory is that this open interest pattern in ETH was strictly due to traders positioning themselves for an ETH 2.0 phase 0 launch, or yet another delay," said Greg Magadini, chief executive officer of options data aggregator Genesis Volatility. "Even while BTC options had open concentrated in different expiration months, ETH consistently had open interest concentrated in December."
OKEx paused withdrawals after its founder was reportedly taken into police custody in mid-October. Word's out that he's getting out.
OKB, the coin that powers Chinese cryptocurrency exchange OKEx, jumped by 11% today after rumors surfaced that Chinese authorities have released from custody the exchange's founder, Mingxing "Star" Xu.
When Xu was detained in mid-October, the price of OKB fell from about $6.00 to $4.26. The exchange paused withdrawals after reports surfaced that Chinese police had taken Xu into custody.
OKEx disputes this characterization and has denied rumors that Xu was detained for money laundering. Decrypt has reached out to OKEx for further comment, though moderators have already banned us from its Telegram chat for discussing "fake-news".
A survey of more than 700 high net worth individuals, or HNWs, has found that almost three-quarters of millionaire respondents either already own or are looking to invest in cryptocurrencies before the end of 2022.
Conducted by financial advisory organization deVere Group, the survey revealed that 73% of respondents are bullish towards cryptocurrencies, an increase from 68% in 2019.
Participants were individuals who had more £1 million, which equates to approximately $1.32 million USD. They were selected from a wide variety of regions including the U.S., the U.K., Asia, Africa, the Middle East, Australia, and Latin America.
DeVere Group CEO and founder Nigel Green, noted in the survey that Bitcoin had once again been one of the best-performing asset this year with a year-to-date increase of 125%, adding:
"As the survey shows, this impressive performance is drawing the attention of wealthy investors who increasingly understand that digital currencies are the future of money and they don't want to be left in the past."
Forbes published a story in October that purported to reveal a Binance strategy to evade regulations.
Binance has sued the publication and two reporters, calling elements of the story defamatory.
It is seeking compensatory and punitive damages as well as the removal of the article.
According to the complaint, filed today in US District Court in the District of New Jersey, the article—"Leaked 'Tai Chi' Document Reveals Binance's Elaborate Scheme to Evade Bitcoin Regulators"—"contains numerous false, misleading and defamatory statements about Binance."
The Forbes article relies on "a document thought to be created by a senior executive" and "believed to have been seen by senior Binance executives," including CEO Changpeng "CZ" Zhao. The so-called "Tai Chi" document was reportedly a powerpoint outlining a plan to set up an American subsidiary, ostensibly its independently operated namesake Binance.US, to "distract regulators" and then "move revenue in the form of licensing fees and more to the parent company, Binance."
According to the lawsuit, the "Defendants' false public statements, misrepresentations and innuendo that Binance does not comply with applicable law, seeks to evade regulators, and is engaged in activity 'characteristics of money laundering' are highly damaging to Binance."
🗞 Daily Crypto Calendar, November, 19th💰
"On November 19, 2020 at 4pm CET we will begin the anticipated GNT migration process."
Our bi-monthly newsletter! Are you interested about our latest progress developments? Make sure to read.
VRS Token Liquidity increase program. Suspension of the bonus program for wallets for 6 months. November 19, 2020.
"The Storeman node selection process has begun! Make sure to register your node before November 19th and make #DeFi history by helping..."
"BeamX will launch November 19th, with the first iteration being an experimental network, aiming to flesh out the infrastructure..."
Last Updates
➡️ Be paid daily to browse with Brave Internet Browser
➡️ A secure and easy wallet to use: Atomic Wallet
➡️ Invest and Trade on Binance and get a % of fees back
➡️ Youtube
➡️ Twitter
➡️ Hive
➡️ Publish0x
➡️ UpTrennd
➡️ Read.cash
➡️ LBRY
➡️ Check out my video on Unstoppable Domains and get 10$ off a 40$ domain purchase