Welcome to the Daily Crypto News: A complete News Review, Coin Calendar and Analysis. Enjoy!
Bitcoin (BTC) fell below $18,000 on Dec. 9 in the latest continuation of its bearish comedown from all-time highs.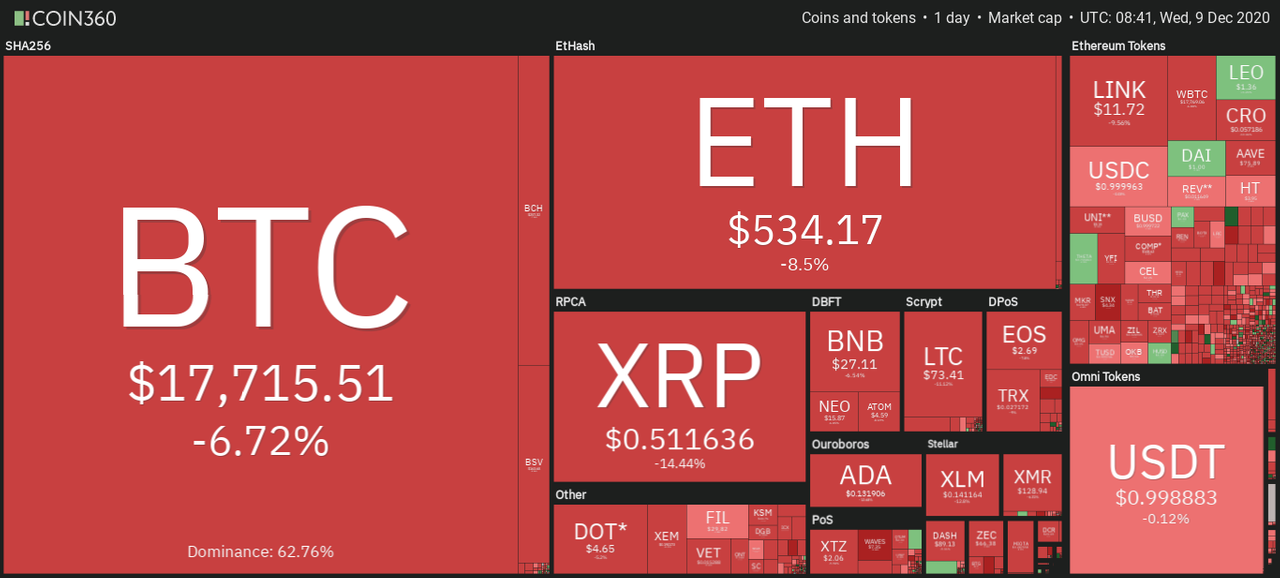 Analyst: BTC price should "keep correcting"
Data from Cointelegraph Markets, Coin360 and TradingView showed BTC/USD losing $18,000 support during trading, hours after a critical moving average level also gave way.
At press time, new lows near $17,600 were appearing, with 24-hour losses totaling more than 7%.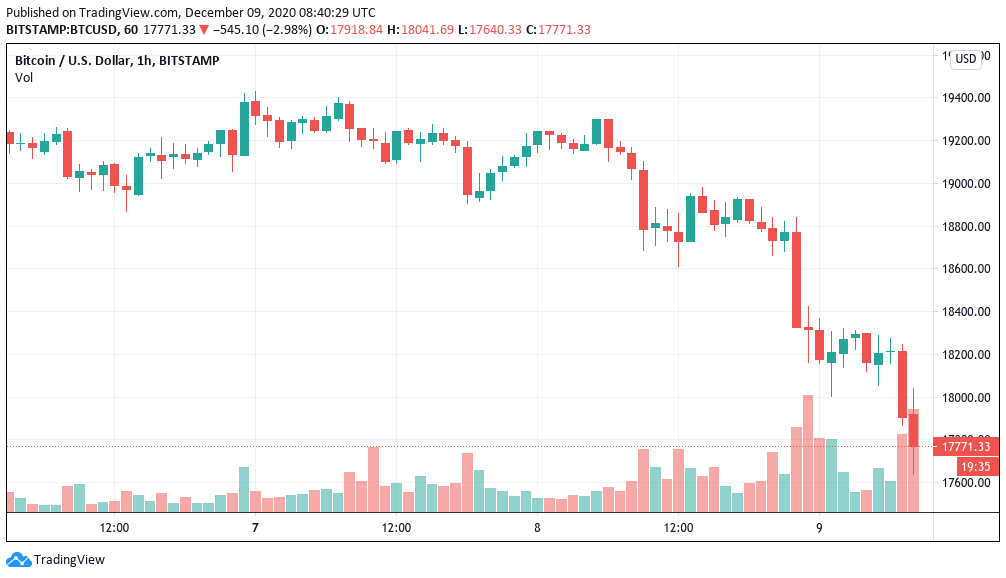 The situation was tenuous for Bitcoin after support was lost higher up, with exchange data showing buyer interest only lined up in significant amounts at $16,200. Converse selling pressure had provided an instant rejection at close to $20,000 last week.
"Testing levels multiple times doesn't make the level stronger. Downtrend likely to continue? I think so, unless $18,500–18,700 is reclaimed, I think we'll continue correcting."
Bitcoin that had previously been held for the long term is now moving, according to Glassnode data.
The "Bitcoin coin days destroyed" metric tracks the amount of previously dormant Bitcoin that has moved.
This might indicate a declining optimism about Bitcoin, but not all analysts agree.
A metric that tracks how much dormant Bitcoin has been recently moved, indicates that long-term Bitcoin holders are realizing profit on their Bitcoin.
The Bitcoin Coin Days Destroyed metric measures when dormant Bitcoin is sold. The older, and the greater amount of Bitcoin, the higher the metric goes. And recently, it has been shooting up.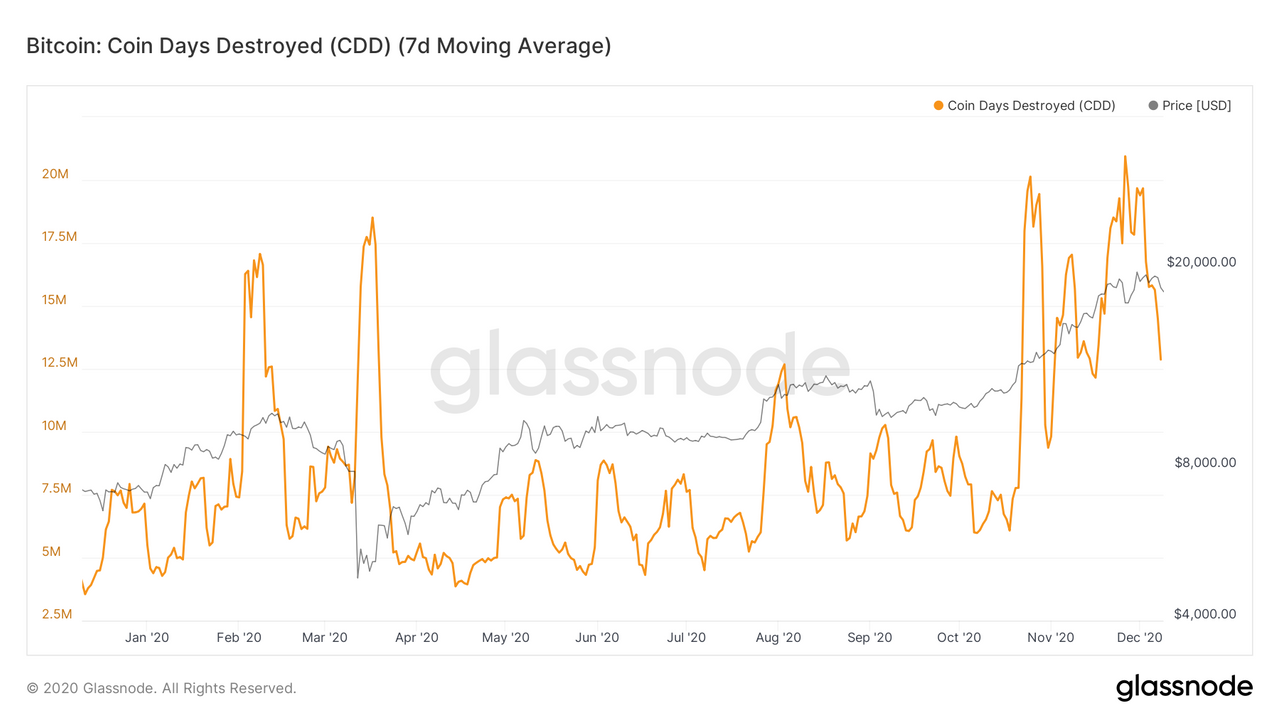 Several DDoS attacks have hit the crypto industry in recent days.
Trezor's online store was hit with a DDoS attack today, several days after The >* Block and Poloniex were targeted.
Major crypto exchanges like Binance, OKEx and Bitfinex have all suffered DDoS attacks this year.
Crypto sites have suffered a rising number of DDoS attacks in recent days. These include a hardware wallet provider, a crypto exchange, and a crypto news outlet.
According to SatoshiLabs—which created the Trezor hardware wallet—the "Trezor Shop is currently being targeted by a DDoS attack, meaning it is being overloaded by requests from hijacked computers, so the site may be a bit slow to access."
"This attack does not affect the security of the e-shop in any way, but we know it can be a bit of an inconvenience for our customers, so please bear with us. We've seen these attacks plenty of times over the years and business will continue as usual," SatoshiLabs said.
Latin American crypto exchange Bitso has raised a whopping $62 million funding round, the largest in the region for a digital asset firm.
Announced Wednesday, Mexico City-based Bitso's Series B also heralded the first investment in crypto by renowned fintech VC firms QED Investors and Kaszek Ventures, which led the fundraise. Also involved in the round were existing shareholders Coinbase and Pantera Capital.
Nigel Morris, co-founder and managing partner of QED Investors, and Nicolas Szekasy, co-founder and managing partner at Kaszek Ventures, are joining the board of Bitso.
"We have been talking to QED and Kaszek for a really long time and they have been interested in crypto but hadn't pulled the trigger until now," said Daniel Vogel, CEO and co-founder of Bitso. "I think the conviction from them is because we are really focused on making this technology accessible to the people of Latin America."
The spectre of deflationary currencies has driven Bitso user numbers to over a million, and a crypto market share of 97% in Mexico and 77% in Argentina, Vogel said.
🗞 Daily Crypto Calendar, December, 9th💰
"Full information to be released soon about the Exchange Announcement."
"..., It [new Nexo Loyalty program] goes live on our platform on December 9."
"On day 3 of the @sgfintechfest - 8 ingenious teams will showcase how they are building products and..."
"On December 9th, join the ConsenSys DeFi AMA with @metamask_io @ConsenSysCodefi @airswap and more."
"On Dec 9th: Official Launch of Yield Farming + Bonus Rewards on the DeFiChain DEX!"
"This [system upgrade] is for the launch of the #InclusivePool from WIP-13, a 1st in #DeFi!"
➡️ Youtube
➡️ Twitter
➡️ Hive
➡️ Publish0x
➡️ UpTrennd
➡️ Read.cash
➡️ LBRY
➡️ Spotify
➡️ Be paid daily to browse with Brave Internet Browser
➡️ A secure and easy wallet to use: Atomic Wallet
➡️ Invest and Trade on Binance and get a % of fees back
➡️ Check out my video on Unstoppable Domains and get 10$ off a 40$ domain purchase
➡️ Get 25$ free by ordering a free Visa Card on Crypto.com using this link or using this code qs4ha45pvh