Recently, I was reviewing a post of @gbenga on Steem, entitled "Artificial Intelligence Discovers First Antibiotics (Halicin Antibiotics)", I found it very interesting and I was quite struck by the use of artificial intelligence for the research and development of new antibiotics , managing to create a completely new range, to which the researchers gave them a name inspired by the (already classic) movie "2001: A Space Odyssey" (1968), the researchers called them "Halicina" ... Hal would have been proud :)
In that post I commented:
This news is quite interesting, I like to see that technology is used for the benefit of health. In part you have reminded me a bit of an old research project in which I participated a little, at that time I joined the Boinc distributed computing system and lent some of my computing power to medical research on specific proteins and antigens, it was a tiny thing on my part, but it seemed to me that some help was better than none, and the strength of the work was because of the number of people participating as a swarm.

Source
I am thinking now that it would be interesting to see in the future a union of both paths, AI and distributed computing ... That would be powerful and could be beneficial for the investigation of new topics and areas.
After that I was curious as to how the BOINC projects were, since some time ago (due to several things beyond my control) I stopped providing support to the distribution of distributed computing, then I began to review.
I found that it is full of life and has 33 projects working, you can see the list at https://boinc.berkeley.edu/projects.php I participated in the Rosetta @ home project, which in its description says:
[email protected] needs your help to determine the 3-dimensional shapes of proteins in research that may ultimately lead to finding cures for some major human diseases. By running the Rosetta program on your computer while you don't need it you will help us speed up and extend our research in ways we couldn't possibly attempt without your help. You will also be helping our efforts at designing new proteins to fight diseases such as HIV, Malaria, Cancer, and Alzheimer's.
The way I participated was very simple, I downloaded the interface, executed it and joined the project that interested me. I configured it to work as a screensaver to use system resources when I was not using the computer. This is what it looked like: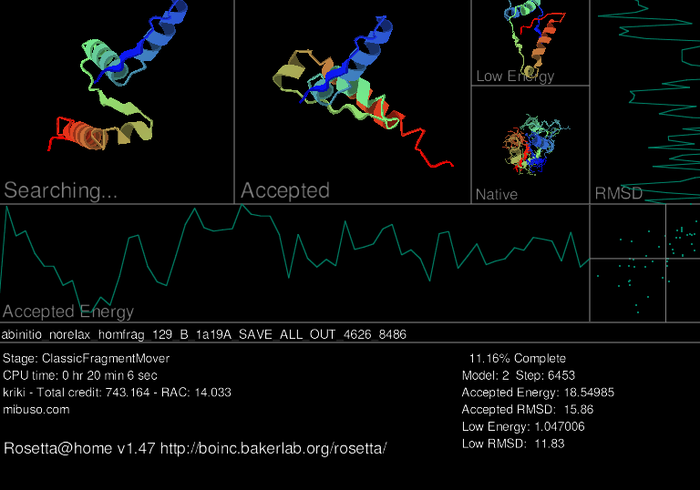 Source
Personally, there was some satisfaction with the idea that I was giving a small grain of help for research, simulation and testing of a potential cure or treatment for various diseases. I know it's partly silly, but you never know when the gout that spills the glass arrives.
Although I am no longer participating, I would like to suggest that you try it, if you have a computer that allows you to install applications on your own, you have a stable internet connection and the desire to help a little to advance research that seeks to develop new medicines, I invite you to visit https://boinc.berkeley.edu/
---
Post published also in the @project.hope community - Project #HOPE Community


Much more than a browser. Enjoy private, secure and fast browsing with Brave