There are more colors than I knew about this fruit.

I have never heard or seen pictures of dark purple apples, almost black in color ... seriously they look like the colors of a plum rather than those of an apple.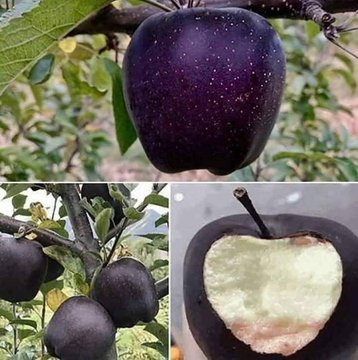 Source
It was a matter of curiosity that I started to review a link that came to me in an email notifying me of curiosities and various things, but in truth, I had never seen an apple of this color. Regarding the description of this fruit, the site says:
These peculiar apples are a variety of Hua Niu apples from China (also known as Red Delicious apples in the country), which get their rich dark hue thanks to the geographical conditions that exist for their cultivation: only this type can be found of apples in the Nyingchi region, at 3,100 meters above sea level; where there are also quite drastic temperature differences, which means that, among other things, apples get direct sunlight, with their corresponding ultraviolet rays, which are responsible for their natural color going from Hua Niu red to dark purple and bright, even cerulean at night.

Given the growing conditions, these apples also have the peculiarity that they grow more slowly than the traditional apple (if a normal apple tree takes 2 to 5 years, this variety would take up to 8 years), and only 30% of the harvest reaches the requirements for its subsequent commercialization.

Those responsible for its production are Dandong Tianluo Sheng Nong E-commerce Trade Co., a Chinese company that, for the moment, are the only ones that produce this type of variety, since minority farmers do not want to risk growing a variety so select that You need so many special conditions to get benefits. The Chinese company has been selling them in limited edition since 2015 in selected supermarkets in the Beijing, Shanghai, Guangzhou and Shenzhen regions. The price of these "black diamonds" would be about 50 yuan per apple (about 6.60 euros), sold in packages of about 6-8 apples. Starting this year, according to Yu Wenxin, director of marketing of the company to the portal, they could begin to market them through their website.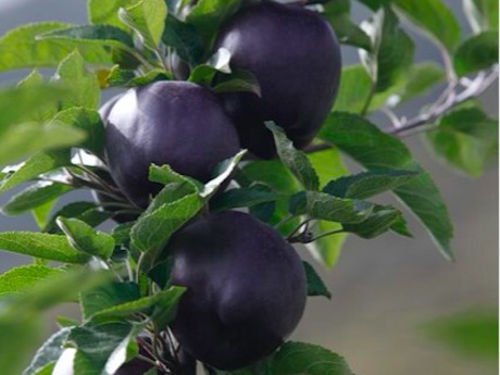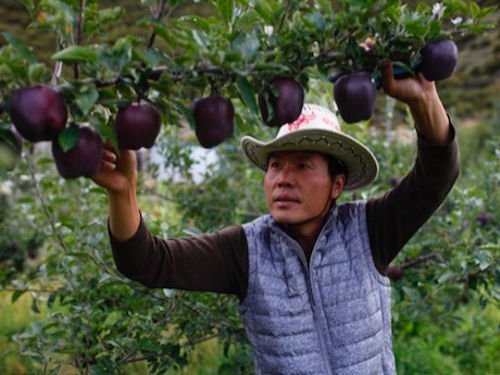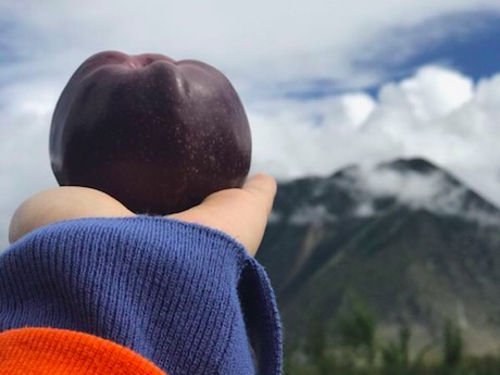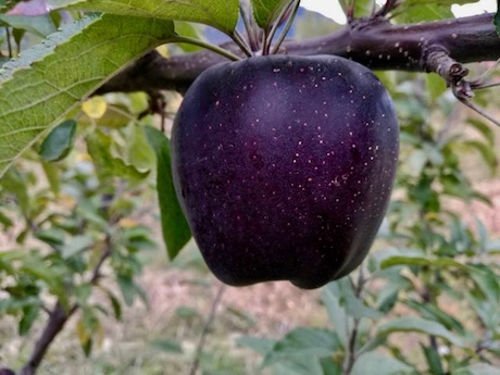 Source of photos: Black Diamond Apples – The Rare, Dark Fruits You've Probably Never Heard Of
Apple varieties, their colors and uses
This led me to become interested in finding out what would be the most common collectors for apples in general.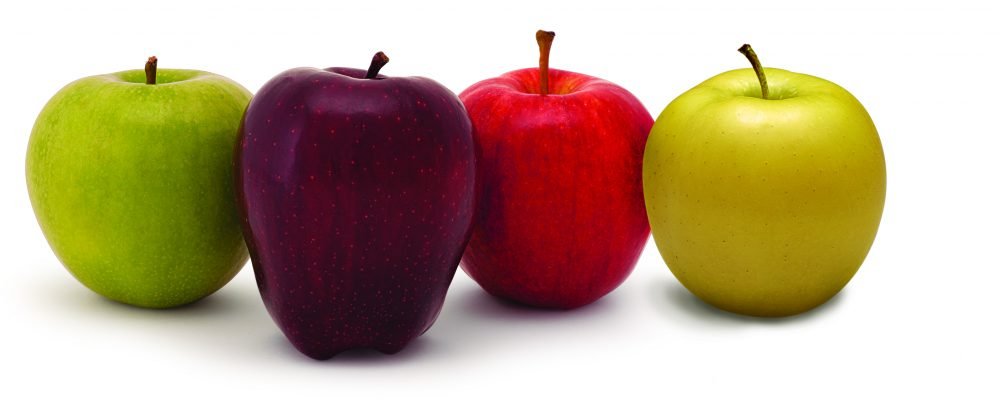 Source
By good luck I found a website that not only mentioned the colors that were common but also explained the uses that each variety usually has:
Gala, Bicolor Apple: This bi-color apple, crisp and sweet aromas, has orange and pink stripes on a beautiful yellow background. Delicious in salads, cakes and jams.
The Gala apple has gained popularity among consumers around the world, as this variety stands out for being one of the sweetest. Gala is a recent variety that has gained great popularity.

Red Delicious or Red Apple: crisp and slightly sweet, excellent for use in salads and delicious smoothies; the heart-shaped fruit is bright red. It could help protect the urinary tract, in cleaning the intestine and contains antioxidants. The season where we can commonly enjoy this apple is all year.

Golden Delicious or Yellow Apple: it is the ideal choice for any recipe, it is sweet and soft with a soft peel, and its pulp remains white for longer than other apples after cutting.
The Golden Delicious apple is recommended for salads, purees, drinks, cakes, or some preparation to refrigerate. It is one of the first varieties that was selected in the United States.

Granny Smith or Green Apple: Known for its delicious acid flavor and for being crispy, we are surprised by the popularity of this apple. Granny Smith apples are great for making any kind of recipe, like salads, mashed potatoes, baking dishes, refrigerating, and more.
Source in Spanish - Own translation: ¿Qué colores de manzana existen y cuáles son sus beneficios para la salud?
---
Originally published in Spanish on my blog in Hive: https://peakd.com/spanish/@pedrobrito2004/manzanas-y-colores
---


Much more than a browser. Enjoy fast, secure and private browsing with Brave