Wow! Safe Haven Nailed It
I couldn't believe my eyes that a project which I wrote an article for barely nine months ago when it was launch is making waves today. I know it must have been some nine long months for a startup witnessing the 2018 bearish market but Safe haven made it through becoming what is celebrated by its community today. Safe haven thrived I believe not just because of its great innovation but it chose a very viable blockchain protocol- Vechain. It did not stop there it has just been listed on Oceanex a crypto exchange which believes in the operation of Vechain protocol and provides a very smart experience for its trader offering Ai for suggestions for all traders.
So What about Safe Haven?
SOurce: Cointelegraph
Safe haven is providing private key security and inheritance services for all its users. The cryptocurrency market is still in its infancy but it cannot be ruled out that at some point, it will become a major asset for many people. There will surely be a need to transfer this asset to the next generation as an inheritance else each investor's legacy will end with them.
In the first article I wrote about Safe Haven nine months ago, I mentioned the story of a man who bought bitcoin in its early days only to discover that he has lost his private key when it peaked losing so much. This is one of the saddening stories attached with cryptocurrency assets today that needs to be dealt with. Sudden death is another one, and since the where about of the private keys of the dead are not known, his families will only continue to grope over his wealth which can be seen (for the blockchain technology is transparent) but cannot be retrieved.
Legacy Transference Made Possible
Safe haven allows, with the use of a smart contract, a cryptocurrency investor to divide his cryptocurrency wallet private keys into shares to be distributed to his children (family member or heirs). So that at his demise, the shares can be brought together to be used to get the whole or original private key again. The private key cannot be gotten unless almost all of the shares are brought together: the innovation allows that if only one share is absent out of the total shares, the private key can still be gotten. The whole process of turning the private key into shares and distributing among family members is done transparently by smart contracts. The private key to be shared is not saved by safe haven but the data are securely stored on the blockchain where it remains untampered, unchanged, and only accessible to its owner.
Safe Haven and Oceanex's Blockchain
Safe Haven had it vision to be launched on the Ethereum blockchain but changed to Vechain right before tokens were distributed to the investors- But Why? Safe Haven has been listed on Oceanex which can be seen as a home exchange for all projects launched on Vechain. In an article published about Oceanex, it was noted that Oceanex chose Vechain because they both have a similar vision.
Why VeChain?
Vechain saw some dents in the model of the present blockchain technology.
It lacked an adequate governance to help progress or update its vision as at when due. Bitcoin has made wave for long, it is being adopted into many businesses but lacks adequate flexibility to allow businesses to onboard because it updates very few times in the last ten years of its creation.
The economic value of the blockchain ecosystem does not support scalability as transaction fee become so high and prices rise and fall thus scaring off businesses.
Etc.
Vechain is coming to the rescue to help onboard more business than ever through the Proof of Authority consensus in its implementation. Vechain has a well-structured governing body, which sees into the affair of the ecosystem. This governing body is to vote in updates from time to time and also take critical decisions for the ecosystem. One striking thing about the governing body is that anyone or body that will be eligible to be part of the government will hold some quantity of VET and must also pass KYC- this cannot be seen in any other blockchain. In total, there are 101nodes which are the governing council.
Vechain also has a specific number of tokens that is created or released per time into the community. It has put in place mitigating factors against scalability issues which are lasting. Vechain has the legal arm for compliance to the laws so no investor needs to be afraid. Read more here
Safe Haven is listed on Oceanex
Source: Twitter.com
Oceanex is a smart trading platform with Artificial Intelligence to help traders. The Artificial Intelligence studies the trading pattern of each user to give them suggestion subsequently. Trading is easy on Oceanex.
Promo
Oceanex has started a trading promo on its platform for Safe Haven, you can also join in to get more SHA (Safe Haven Token) and VET. Check more in the tweet below. Offer ends on 22nd December 2018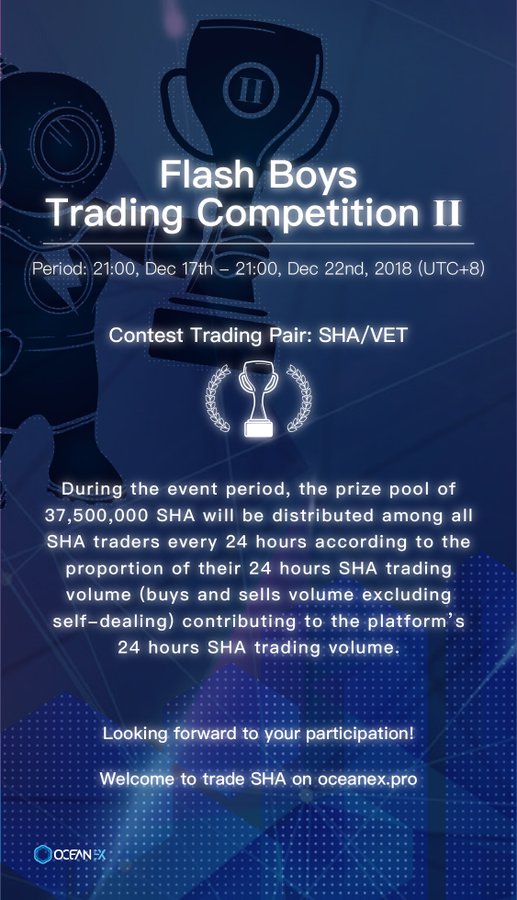 OceanEx Official@OceanexOfficial
SHA/VET trading pair is open NOW on OceanEx! Meanwhile, Flash Boys Trading Competition II starts! #SHA #VET #OCE
65 people are talking about this  
How to Trade
Visit Oceanex and create an account
Confirm your email and log in
Activate 2fa after login
Complete the KYC
Deposit your Token by clicking 'wallet icon' (Balances) on the top right corner of your screen.
Click 'exchange' option at the top left corner
Select your trading pairs by clicking BTC/USDT at the top of the screen on the exchange page
Start Trading
Thanks for reading. I am @ayobami99. You can also reach me on bitcointalk and blog for more exciting contents on the blockchain technology.
DISCLAIMER!
All information provided above are the results of some of my personal findings. This is not a financial advice, you should contact your financial adviser for such. And note that cryptocurrency trading involves a lot of risks. All project names and details mentioned are existent and Ok to the best of my knowledge. STAY SAFE.