What a weekend, right?
First, one of the strongest BULL market in such a short period of time (2 days) , and then we had a good old margin liquidation on Bitmex during the weekend (classic move as volumes are lower).
Apart from this, the arm wrestling between Chainlink and Zeus Capital is still going on.
On July, 31st, Zeus Capital launched another Blog focused on what they call "fake announcements and partnerships".
Well, if you are interested about Chainlink or this very interesting blog.
$link Marines and Chainlink are fighting back
After taking a few hits, LINK marines decided to strike back announcing a "Zeus Liquidation Pamp" taking place in 3 hours (Sunday 12P.PM CST)!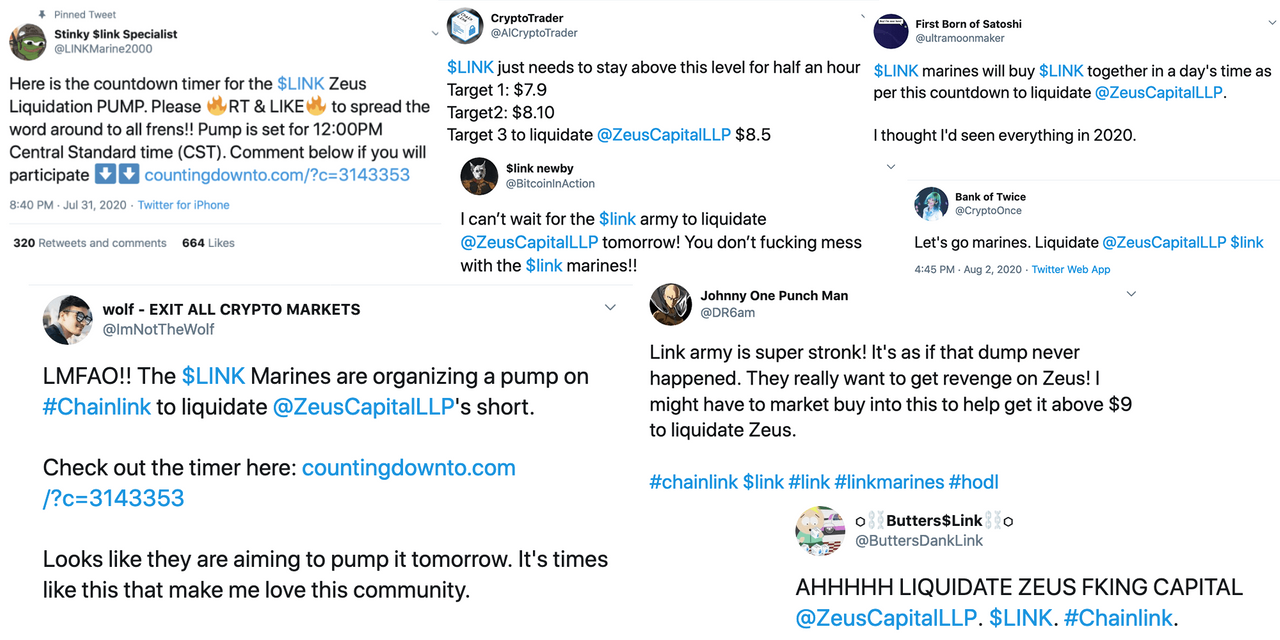 Here is the link to their Counutdown Liquidqtion Pamp"
Then I made a poll on Twitter asking my followers :
If you had to tell a new user:
"Whatever you do, do not #FOMO into one of these #Cryptocurrencies; which one would it be?"
I decided to pick 4 choices with recent or old controversies
As most of my followers might be linked to Hive/Steem, I believe this is why TRON is getting so much hate... Even if I do not like very much JS or Tron Blockchain; I wouldn't qualify it as the worst in this poll.
What was more surprising is how my followers dislike #Chainlink $LINK DESPITE the strong recent run. I wonder if this is due to the recent Zeus Capital Reports or if they always had doubtS.
What's your take on this? 🤓

➡️ Publish0x
➡️ UpTrennd
➡️ Minds
➡️ Hive
➡️ Twitter
➡️ Facebook
➡️ Be paid daily to browse with Brave Internet Browser
➡️ A secure and easy wallet to use: Atomic Wallet