You are reading an excerpt from our free but shortened abridged report! While still packed with incredible research and data, for just $20/month you can upgrade to our FULL library of 50+ reports (including this one) and complete industry-leading analysis on the top crypto assets. 
Becoming a Premium member means enjoying all the perks of a Basic membership PLUS:
Full-length CORE Reports: More technical, in-depth research, actionable insights, and potential market alpha for serious crypto users
Early access to future CORE ratings: Being early is sometimes just as important as being right!
Premium Member CORE+ Reports: Coverage on the top issues pertaining to crypto users like bridge security, layer two solutions, DeFi plays, and more 
CORE report Audio playback: Don't want to read? No problem! Listen on the go.
Cardano Compared to Its Peers
Since Cardano has a very limited history of being a live project with active users and is still a work in progress, much of the criticism surrounding the project stems from these issues. Cardano is competing in a crowded space of general-purpose smart contracting Proof-of-Stake blockchains like Ethereum, Tezos, Cosmos, Polkadot, NEAR, Solana, and many others. It remains to be seen which project(s) the market will adopt but for now, all are playing catch up to Ethereum, which has the industry's most major meaningful adoption and use in DeFi.
The graphic below shows a list of blockchains and their associated TVL. Cardano is currently ranked the ~30th in TVL but the 6th in market capitalization. This means that despite the large market capitalization of the Cardano network, as it stands, there is a considerable lack of usage and liquidity for DeFi on the network itself compared to other smart contract platforms. This suggests that DeFi usage is not a driving factor in the value of Cardano. If not DeFi, then what? The Cardano NFT market is minuscule and transactions lag far behind other L1s, as well.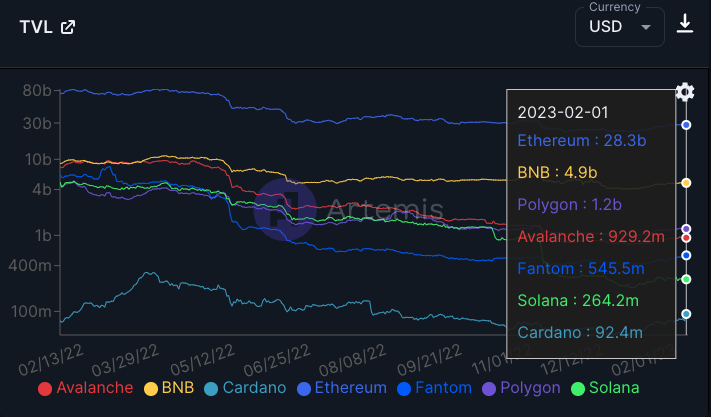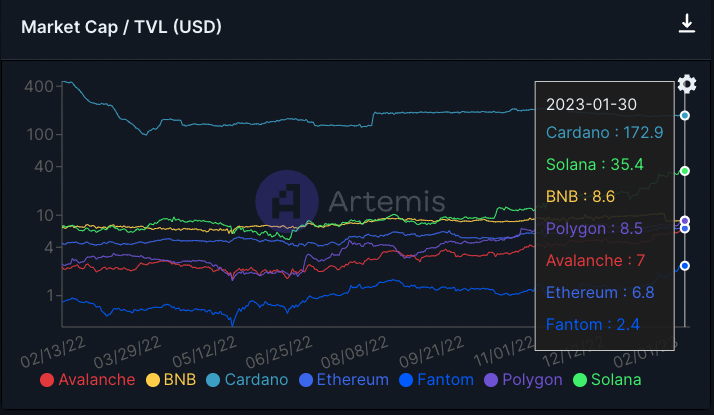 This disparity is also highlighted in lack of fees generated by the Cardano network. While TVL and transactions are not always the best measure of a blockchain's adoption, fees are much more straightforward. Fee generation measures just how much users are willing to pay to interact with the chain. Fees are also important for the long-term health and sustainability of blockchains as they will provide economic security as the issuance/inflationary rewards diminish over time.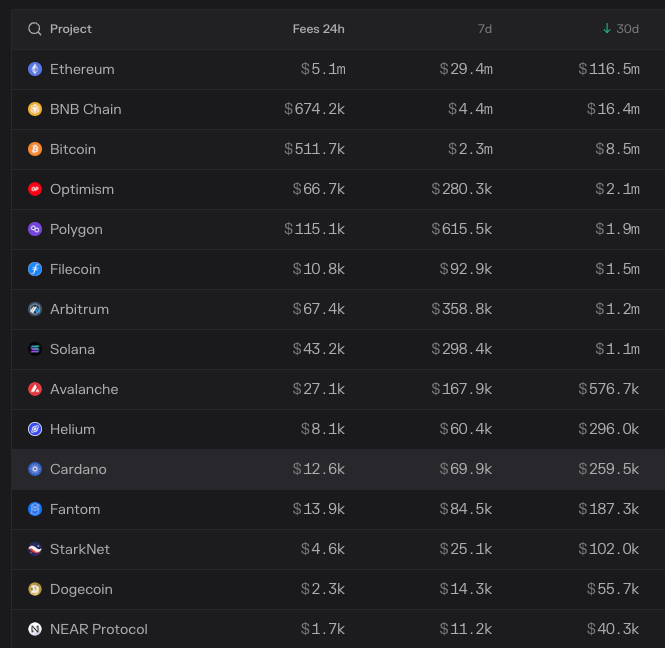 Source: TokenTerminal
Additionally, Cardano needs builders and users to grow an ecosystem, not just partnerships. There were tens of billions raised throughout 2021 in the crypto ecosystem but only a small number of seed rounds were raised from firms building on Cardano, according to DefiLlama. Just six projects raised a total of ~$14M.
Source
Total developers also lag behind other major protocols.
Many would point to the project's many "partnerships."
Cardano's reported partnerships over time include IBM, Wolfram Blockchain Labs, PriceWaterhouseCoopers, Polymath, ScanTrust, Edinburgh University, Finkda Advisors, Dust Identity, and SIRIN Labs. Additionally, IOG has announced a strategic collaboration with DISH Network and Boost Mobile to make blockchain a core part of their network and consumer strategy, including services for over 20 million customers. The partnership includes providing Boost Mobile consumers with a decentralized identity via Atala PRISM and a Cardano-based loyalty program for Boost.
Government Partnerships:
IOG has partnered with Ethiopia's Ministry of Education to provide decentralized identity and blockchain-based educational records to 5 million students and 750,000 teachers. This partnership was recognized as the 14th Most Influential Project of 2021 by the Project Management Institute.
IOG has also announced a long-term partnership with the government of Zanzibar to maximize the potential of the region's Blue Economy through four phases over the course of five years, starting in Spring 2022.
Through these government partnerships, Cardano seeks to add millions of users to its network for real-world blockchain implementation, such as decentralized identity solutions. Cardano also aims to do the same with some of its enterprise partnerships, such as with Dish network. According to Hoskinson, Cardano plans to help Dish provide 8 million immutable digital identities on the Cardano blockchain.
However, do these matter? Are they valuable? The two most successful blockchains by a wide margin are Bitcoin and Ethereum, which have no such partnerships. Meanwhile, chains like Algorand and Ripple boast about partnerships. Clearly, partnerships can have a negligible effect on a blockchain's success.
Cardano still has much to prove as it remains incomplete. Part of this is delivering meaningful decentralization from the three aforementioned Cardano entities. Up until 2020,  with the Shelley release, all ADA nodes were controlled by IOHK, EMURGO, and the Cardano Foundation in a centralized manner. Since then, the transition to a more community-driven control has been underway, but until the final stage, Voltaire, is released, the project, technical developments, and decisions will still be driven by the three entities. 
Additionally, because Cardano has a high-profile founder (Charles Hoskinson) and such a long lead-up to launch, anticipation around the project was able to build for quite some time. However, this means the project may be "overvalued" (on a relative basis compared to comparable smart contract blockchains) because it is so new and lacks real use cases and adoption.