You are reading an excerpt from our free but shortened abridged report! While still packed with incredible research and data, for just $20/month you can upgrade to our FULL library of 50+ reports (including this one) and complete industry-leading analysis on the top crypto assets. 
Becoming a Premium member means enjoying all the perks of a Basic membership PLUS:
Full-length CORE Reports: More technical, in-depth research, actionable insights, and potential market alpha for serious crypto users
Early access to future CORE ratings: Being early is sometimes just as important as being right!
Premium Member CORE+ Reports: Coverage on the top issues pertaining to crypto users like bridge security, layer two solutions, DeFi plays, and more
CORE report Audio playback: Don't want to read? No problem! Listen on the go.
Launch and Token Distribution
Fantom raised approximately $42 million across all private and public token sales. Fantom received significant support via private sales across three rounds of funding in which 40% of the total supply was sold (at rates of $0.016, $0.031 and $0.035, respectively). 1.5% of the total supply was made available to the public at $0.04 per FTM. Fantom's private sales included lock-up/vesting schedules, whereas the relatively small proportion of tokens sold in the public sale did not.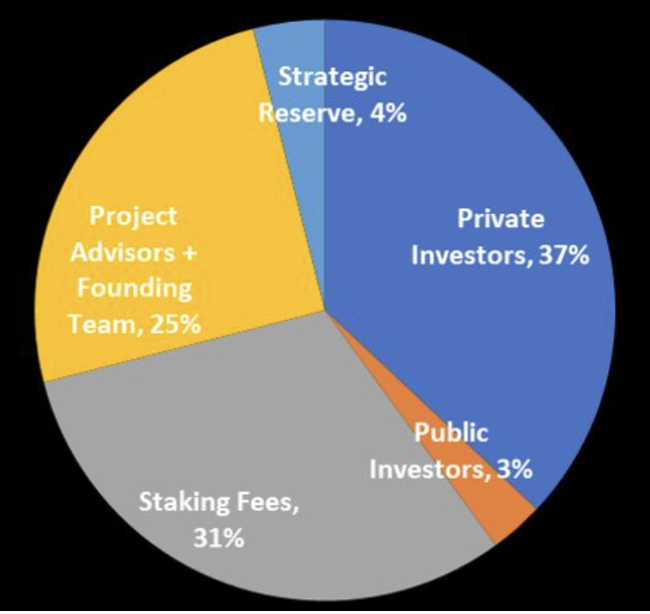 Source
The founding team held onto almost 24% of the total supply (1 billion), meaning that the reserves allocated for staking rewards (and airdrops) isn't the only source of potential increase to FTM's circulating supply. Fantom's decision to grant a majority of tokens to private investors is approximately in line with Layer-1 competitors to BTC and ETH, such as Solana, Avalanche, and Polkadot. Though BTC and ETH remain in their own league with significantly less, if any, tokens allocated to insiders. 
Other L1 ICO breakdowns for comparison. Source: Messari
Source: Messari



The Fantom network has a native token called FTM which exists on the Fantom chain and also as a BEP-2 and ERC-20 token. The FTM token is used to issue staking rewards on the network as a means of payment and to pay transaction fees, in addition to having governance utility. Fantom's transaction fee model also includes a 20% burn parameter, decreasing the circulating supply as the network is adopted and used. However, in Q4 2022, the Fantom Foundation proposed a new governance vote to reduce the burn rate of gas fees from 20% to 5%. 
As a governance token, holder influence in proposals is proportional to FTM staked and features a ranked-choice voting system. 100 FTM is the minimum cost associated with the submission of a governance proposal.
Staking
The FTM supply is fixed at 3.175 billion, of which approximately 2.54 billion are currently in circulation as of Q1 2023. Most FTM allocated to early investors have already unlocked, suggesting less "insider dumping" risk. A significant portion of tokens sold was held in a reserve to reward stakers. There should be sufficient tokens in the reserve to support staking rewards through 2024. Users staking tokens on the Fantom blockchain stand to earn rewards at a variable APY of 1-10% depending on the committed lock-up period (ranging from 0-365 days). 
Source
With approximately 65 full nodes each required to stake at least 500,000 FTM (and validators can have a total stake of up to 15x the self-stake amount), there's a minimum requirement of 32.5 million FTM staked, which decreases the circulating supply by a small percentage of the ~2.5 billion supply. As of Q1 2023, ~48% (1.3B FTM) of all circulating FTM are staked. The number of active stakers in the Fantom network has risen over the back half of 2022 and currently sits at ~86,000 stakers.
Once Fantom runs out of staking rewards, the network will either have to support validator nodes via transaction fees (of which 30% are currently burned) or fork the protocol to increase the total supply of tokens.
However, in Q4 2022, the Fantom community reached a majority decision to change the protocol staking annual percentage rate (APR) from 13% to 6% and thereby extending staking rewards emissions to ~5 more years out.
The prior 13% rate was significantly higher than the market rate (other PoS smart contract protocols). Moreover, the maximum supply of tokens would have been used in just two years at a rate of 13%. The new staking rewards rate of 6% is in line with peer Layer-1s and secures the network's survival for the next ~five years. This additional time provides the network and business with crucial time to mature and expand.
Fantom has also experimented with various derivatives and liquid staking approaches, such as Ankr protocol's aFTMb, which doesn't appear to have gained sustainable traction.  However, through Fantom's Liquid Staking technology, users can continue to fully utilize their assets on the network even after pledging FTM tokens. FTM planners can cast an equal quantity of committed FTM (sFTM), which is used by other Fantom programs that support it. In addition, neither coinage nor redemption fees are necessary.