If you want more cryptocurrency analysis including full-length research reports, trading signals, and social media sentiment analysis, use the code "Publish0x" when subscribing to CryptoEQ.io to make your first month of CryptoEQ just $10! Or simply click the button above!
Solana
  Core Report Strengths
Extremely cheap fees (<$0.05) and fast transaction finality when compared to other leading smart contract platforms
Incredibly well-funded project with backing from key entities like Alameda Research, FTX exchange, and Multicoin Capital
Top-5 developer community and dApp ecosystem with over 500 dApps being built
Easy-to-use wallet and beginner-friendly UI helping to onboard crypto novices
Core Report Weaknesses
High barrier to become a validator due to hardware requirements and ongoing costs to maintain (~$40,000-$95,000 per year) lead to network centralization
Extremely high wealth concentration—a large portion of SOL are owned by early insiders and venture capital companies
"Monolithic layer-one" design, while highly performant now, will struggle to scale into the millions of transactions per second 
Network uptime and reliability suffer, including once shutting down the network completely for 17 hours
Core Report Network Effects
Solana is primarily a smart contract platform or general-purpose crypto cloud platform for dApp development. The Solana community has built a large ecosystem of over ~1,000 dApps in the short time since the network launched. Solana dApp projects across DeFi, Web 3.0, and NFTs include: 
DeFi: Open order book exchanges, automated market makers, lending and borrowing platforms, asset management software, and payments.
Web 3.0: Solana domain name services, data privacy web browsers, and off-chain data oracles.
NFTs: Minting platforms, marketplaces, gaming, music-streaming, social media, and Distributed Autonomous Organizations (DAOs).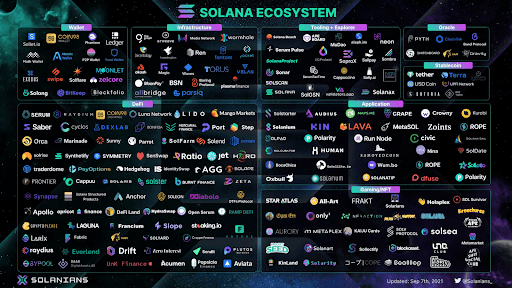 An overview of the Solana ecosystem's 1,000+ dApps, blockchains, and other programs. Source
The Solana cloud economy has seen rapid growth over the past year, pushing the total value of the ecosystem to over $110 billion. The ecosystem consists of the Solana Network (SOL) and the assets issued on top of the network, over which the SOL community has jurisdiction. These include assets like the Digital Businesses (smart contract dApps), Digital Dollars (dollar-backed stablecoins), or Digital Goods & Art (e.g. NFTs) issued on the Solana Network. 

Total Value Locked
2021 as a whole saw the total value locked (TVL) in DeFi skyrocket. TVL across DeFi has increased from just $400 million in 2019 to over $215 billion in early 2022. The majority of this growth has been seen in Ethereum which holds ~$125 billion of the TVL.
Total value locked (TVL) per DeFi blockchain as of Q2 2022, per Coin98 Analytics
The total value locked on Solana has nearly doubled from Q3 2021 to Q4 2021. Solana is in the top-five blockchains by total value locked as of 2022. The other top blockchains:
Ethereum: $125 billion
Terra: $20 billion
Binance: $12 billion
Avalanche: $11 billion
Solana holds a TVL of over $7 billion made up of different chains ranging from decentralized exchanges (DEXs), NFT markets, staking solutions, and automated market makers (AMMs). 
The top-five chains by total value locked on the Solana network are as follows:
Serum holds the largest market share of the Solana network in terms of TVL. The popular Solana-based DEX routinely sees real trading volume over $50 million with approximately $26 million of that volume being fully transparent. 
 

Total value locked (TVL) on the Solana blockchain, per DeFi Llama
Community
Solana has generated a significant network effect since its mainnet launch in 2020. The network has various social media channels established with notable channels including Twitter, Reddit, Discord, and Telegram.
The Solana Telegram is relatively small, containing only 5,700 members. Much more engaging for Solana is Discord in which Solana has a developer's tech chat containing 100,000+ active members.  This is also a fantastic resource to keep up to date with upgrades to the network. An honorable mention for social media is the Solana YouTube channel. Solana posts quite often to the platform with content such as podcasts, educational videos, and interviews.
Solana's developer ecosystem saw explosive growth in 2021, increasing by ~300%. Post-2021, Solana now ranks among the top projects in developer count, albeit still far behind more mature projects like Bitcoin and Ethereum.
Source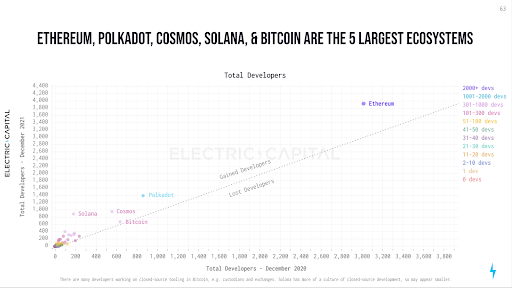 Source
Brave and Solana Labs announced a joint integration on Nov. 8, 2021, where the privacy-focused browser will add support for Solana wallets in early 2022. Brave CEO Brendan Eich said, "With more and more users and creators requiring tools for fast and affordable access to the decentralize