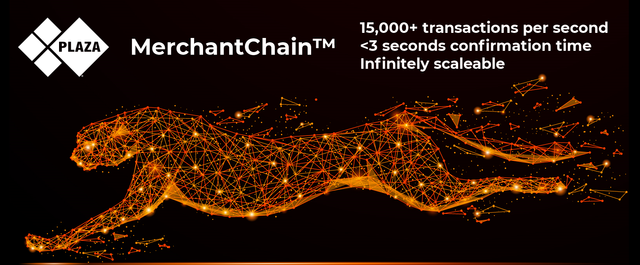 Good morning everyone as well as a Merry Christmas to all of us here on cryptospace. Happy holidays! I hope all of us are enjoying a hearty meal with our loved ones and family. This year has been really a fruitful year to all of us. Today guys, let me talk and review about this exciting blockchain project.
This is about Plaza systems. As I have seen their website, read their whitepaper and checking their team, I got happy because there is another team that is serious in disrupting the current status quo of E-commerce. When we say E-commerce, it is the global trading and checking of products and logistics that is happening thru online purchases and shipping it globally or locally.
I would like to show you their video about how Plaza systems work.
What is Plaza all about and how it can disrupt the current E-economy/ecosystem?
-First of all, let me tell you the problem the Plaza will solve. It will be the bCommerce of our next-generation transactions while maintaining the high-quality products in the e-commerce space with a highly reputable online sellers/merchants and buyers worldwide with arbitrators that would review each individual joining the Plaza coalition.
Basically, there will be their flagship trademark for this project. 1st is the Merchantchain and the Freedom lifestyle
With Merchantchain, as I read their whitepaper, this type of blockchain transaction speed is about 15,000 TPS or transactions per second. That was almost on par with the centralized transaction that is built by VISA/Mastercard or bank transactions!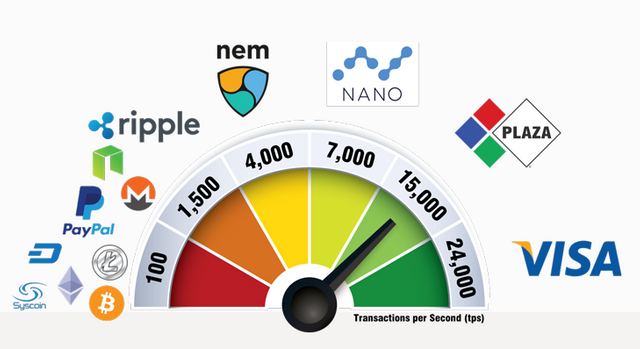 But take note! This is blockchain and the Plaza team are planning to expand the transaction speed as the adoption takes place.
With this speed, you may ask me, how scalable is this? With massive adoption and users from all over the world using Plaza, this is where the IoT or the internet of things take place.
The miners and users are one in this type of blockchain ecosystem because as they use the products made by Plaza, they are getting rewards and maintaining the public ledger with what we called as POR- Proof of reputation. This is what we called as the proof that the buyers and sellers have a reputation in this E-commerce ecosystem designed by Plaza Inc. It is the tracker whether a buyer or a seller is a good citizen in the e-commerce business. Just like in the reviews section, people do also have these in order to have greater rewards in our decentralized platform for E-commerce.
The last but not the least that I made me realize that Plaza is serious about transaction security is that it is future-proofing made by the team. They programmed the platform and Plaza token to be able to withstand even the threat of quantum computing. It is quite the same as QRL(quantum resistant ledger) but with application of e-commerce in this system.
Alright, the next will be the Plaza Freedom Lifestyle that I will tackle next.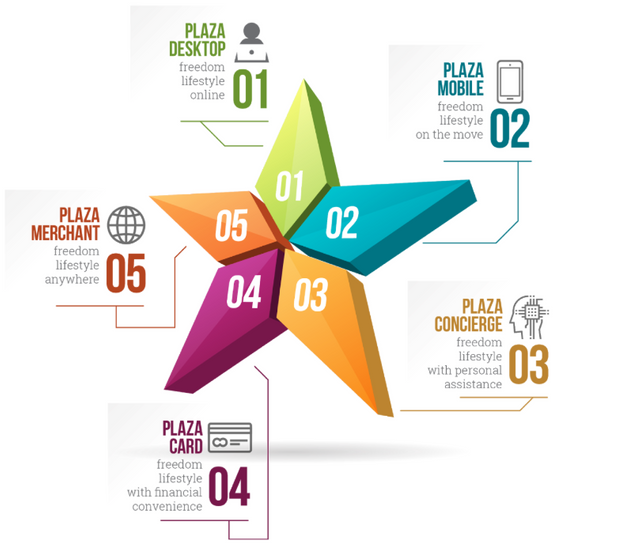 As you could see guys, this is what I call as the Plaza systems "Five pillars" of having a positive impact in the blockchain environment and ecosystem, particularly in E-commerce.
PLAZA Desktop- Plaza systems team will be building the next Amazon, Alibaba, Lazada whatever you name it but with the decentralization and on top of it were the rewards and rebates as well as having been able to be a node of Plaza with what we call as Proof-of-reputation rewards system. This is a new kind of mining for this ecosystem. In our Plaza desktop, whether you are logged in or not, you will be able to use the Plaza e-commerce platform. But it would be better if you would have an account for sure because you will fully utilize the platform and be able to manage your accounts. Being a Plaza e-commerce member means you would also be able to sell and buy things online in a decentralized way and manage your rewards, applications, shop etc.

PLAZA Mobile- Sounds like another telco corporation right? Haha! Who knows? Plaza might be into it for their next project. This Plaza mobile is the portable version of the Plaza Desktop e-commerce. It has the same features of the Plaza desktop packed with forums for us as well to navigate and earn Plaza as rebates or cashbacks.

PLAZA Concierge- This is a trademark by the PLAZA systems. This is the same with Amazon ALEXA if you know it. Wherein you could make this AI speaker be able to get orders from you and be able to navigate about metadata searches for you if you would like to order. Not only it can be an assistant in ordering and tracking your orders as well as managing your account. It can also be able to be your own hardware wallet! Amazing isn't it? The private keys are stored locally in this AI device. It is created for you and the manufacturer Plaza has no more control of it or any of the keys in it once they delivered it to you.
Another feature of having the PLAZA Concierge is aside from being the hardware wallet, Internet of thing AI assistant is the fact that it is also a mining equipment as it verifies the transactions on the PLAZA blockchain! Wow, 3 in 1 earning machine for you.
PLAZA Debit card

This is our 4th component in the PLAZA freedom lifestyle guys. This is the representation of the PLAZA debit card. As what you could see the image above, that is the FOUNDERS edition card who made 1 million purchase of the PLAZA token. There are different tiers when it comes to the plaza debit card and I will share the document below. This is the link: https://docsend.com/view/a6rxs3x
Why the PLAZA team built this one? Because for convenience! You see the blockchain adoption is here, YES. But while we are still in the adoption and massive mass adoption stage, we need to still make sure that the cryptocurrencies we have could be easily tradeable to fiat to pay those merchants that are still in the era of shifting to digital payments and dApps. There are many cards in the link above shows the different tiers to the PLAZA Card benefits and its features from Emerald to Founders edition card. You guys should check it!
PLAZA Merchant- Alright, so in every e-commerce ecosystem and network, there are buyers and sellers. In this age of decentralization, you could join to be as a Plaza merchant and enjoy the benefits and power to be a PLAZA merchant! If you would want to be a part of this e-commerce system, Plaza will give you the perks such as promotions and signage plus prepaid Plaza cards for you to be able to bring the PLAZA experience to all. They will also be planning to build a POS that is PLAZA patented so that we would beat other competitors and you will earn Plaza Tokens for those transactions.

PlazaArbitration- This is where good people collaborate to make the integrity in this project in excellent proposition and position to keep moving forward to greater heights. This is where people with high reputation be able to be the judge in a transaction and be able to get mining rewards through POR- Proof of reputation. Making sure what is being sold and the buyer is in good terms with each other. This type of mediation is needed to make e-commerce a place of integrity.
ROADMAP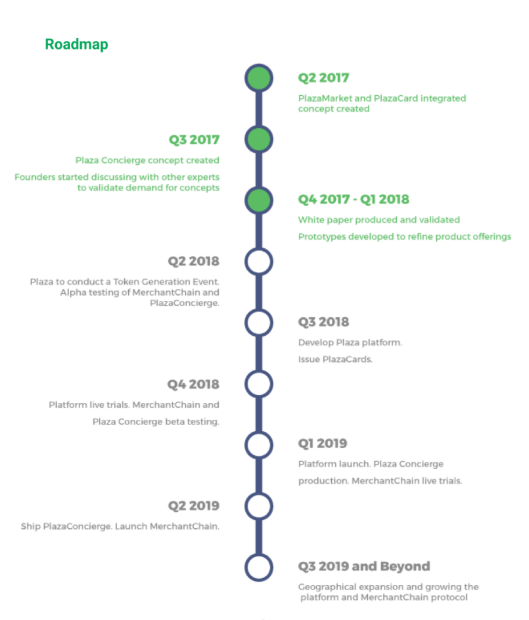 And guys, for a preview, this is our CEO and PLAZA core team: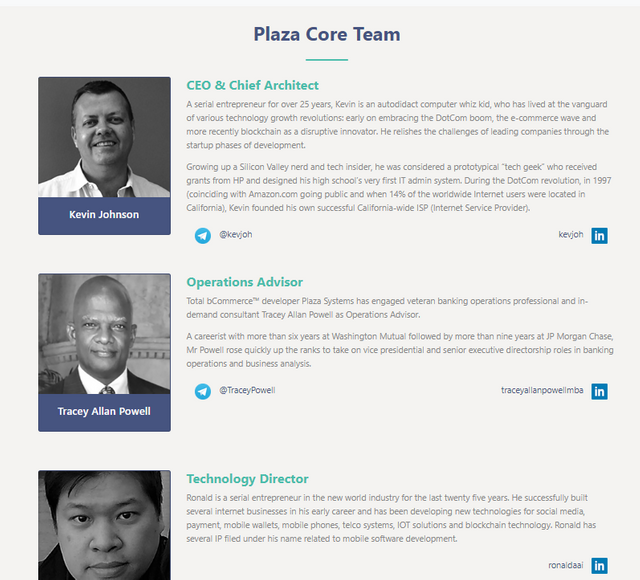 With the AI, e-commerce, hardwares, Debit cards and platforms for mobile and desktops , This fintech will surely hit all new time-highs in the coming years. For more information guys about the PLAZA project, here are their links to their project and different social media websites.
Website: https://www.plaza.systems/
White paper: https://docsend.com/view/xwq594p
Facebook: https://www.facebook.com/plazasystems
Linkedin: https://www.linkedin.com/company/plaza-systems/
Twitter: https://twitter.com/PlazaSystems
Reddit: https://www.reddit.com/r/PlazaSystems/
Bitcointalk ANN: https://bitcointalk.org/index.php?topic=3039594.0
Youtube: https://www.youtube.com/channel/UC5C06Ma-O6-bqgJ76GogBMw
Medium: https://medium.com/plaza-systems
Flipboard :https://flipboard.com/@PlazaSystems
Github: https://github.com/plaza-systems
Etherscan: https://etherscan.io/token/0x51aa10bdc19780d440261f67158016188a7207e2
Deepdive docs of PLAZA systems
PLAZA freedom lifestyle: https://docsend.com/view/5ev7prg
PLAZA market: https://docsend.com/view/vrerhpe
PLAZA concierge: https://docsend.com/view/e5zvrq3
PLAZA card: https://docsend.com/view/a6rxs3x
PLAZA arbitration: https://docsend.com/view/ttncsrd
PLAZA ecosystem: https://docsend.com/view/ek6xyct
Merchant chain: https://docsend.com/view/eb5fbqm
PLAZA business model: https://docsend.com/view/eb5fbqm
That's it, guys! I am really glad you take the opportunity to read my blog review about this amazing project where even I invested as well. See you around guys! More power and more blessings to come this coming year 2019!
Bounty0x username: frankydoodle
Do you like my advocacy? You can donate cryptocurrencies here:
Donate BTC: 19udCJXqMVcAPgK3tNC7VdVjJirSAsanDK
Donate Ethereum: 0xDFD2144eb8CC1212551d50b00b18a2fEfcf6762b
Donate Dash: XkrQAsEgxMkZSrDkgoQhgoAWSVPhfs5Lyd
Donate Doge: DC6pGognFVU4wrt6AJtkmD7mXRKFepnMZQ
Donate Litecoin: LNKorfrjR12h7Ykx3Ros8kZF5UiUqmotav