Good morning to everyone here on Steemit and to all our fellow cryptocurrency and blockchain enthusiasts here on Steemit around the globe. This is your Mr. Decentralized again looking forward to give you here another quality review for our upcoming blockchain projects of high quality and with real use-cases. Today I will feature you another one.
Today, I would like to talk with you guys about Kleros. Kleros is a decentralized court running in the Ethereum blockchain and is a platform for justice be served wherever,whoever and whenever you are. With the power of blockchain to arrbitrarily manage and give a decision that is fast, just and most of all for the good of all people.
KLEROS FEATURES
Let me tackle first each of the features of the Kleros ecosystem and its decentralized apps for jurors, businesses and partners.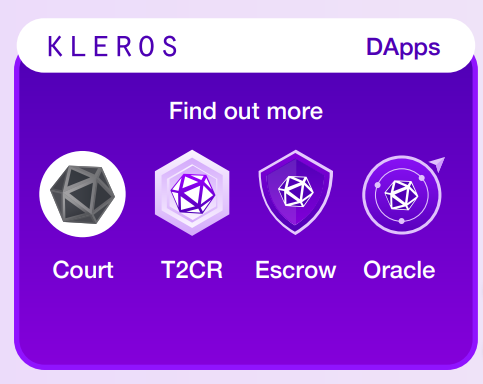 A. Peer-to-peer justice--> With Kleros, we can get the just and fair justice system in the world by getting the blockchain community empowered jurors to arbitrate between disputes and gathers the wisdom of the crowd to make a fair judgment for each case. Kleros has a random algorithm of choosing the to-be jurors for a case more likely a 'raffle' to those who will judge for a case so that there will be no bias to one of the parties in the case. Amazing right? We will talk about that later.
B. Rewards for jurors--> In this blockchain platform project, I was amazed because just like in the offline courts, being like judge in this fair ecosystem will have you be rewarded being in the majority of the voters as to who should win based on the evidences presented to the Kleros courts. As for the justice system, evidences are facts and cannot be lied.
C. Vast choice of Kleros courts and counting--> I have tried to dive into the Kleros universe as well. I checked their courts and I was amazed because I saw that there are a lot of technical and non-technical courts wherein anyone in the world that has PNK and ETH can join to be a juror depending on their expertise!
This is my screenshot of my personal Kleros juror dashboard. I am so excited to be a juror as well. We can see here that there are courts to choose as well. For blockchain, english, videos, production, technical and non-technical disputes as well! They are upgrading it as of this time, but for sure it will be more smooth and more choices to be a juror in the coming days!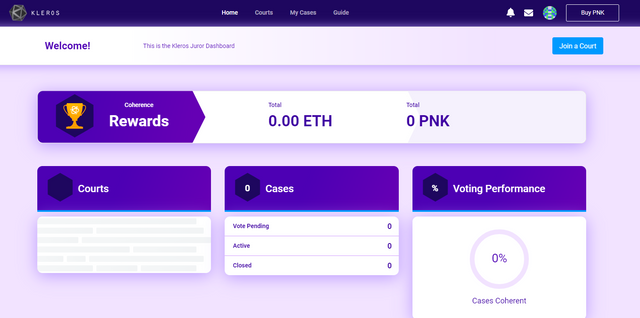 This is how it looks like from the Kleros website sample once you have rewards and Pinakion tokens guys!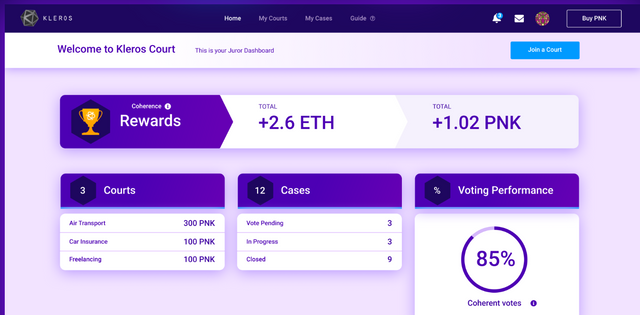 What we need to know when becoming a Kleros juror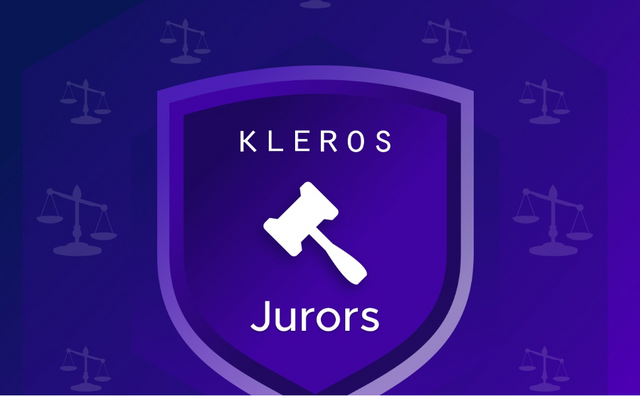 So guys, aside from me speaking here, let me show you one of Kleros' videos on how to be a juror and what you all need to know how the process works.
You may also refer to their webpage blog about becoming a juror: https://blog.kleros.io/become-a-juror-blockchain-dispute-resolution-on-ethereum/
As seen in there, there are benefits of becoming a juror here in Kleros, first is that you may earn money depending on how good and just you are in this community in arbitrating cases and be in the majority of voters who will win the case while being anonymous as well. That my friend is a great example of best judgment. Depending on your schedule as well, you may get as many cases as you like given that you have PNK or Pinakion to stake. Whatever your expertise in the industry you are with, you can earn rewards here!


Let me show you their infographic here made by the Kleros team to understand it clearly.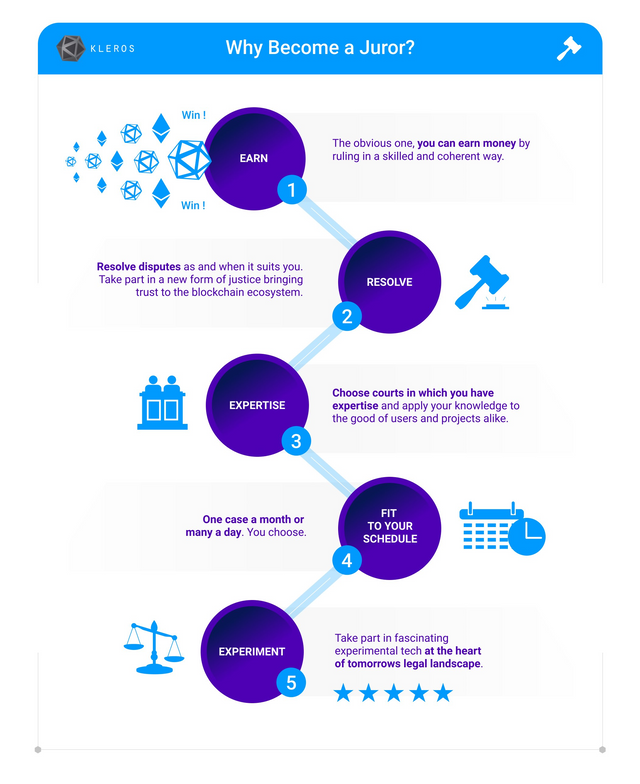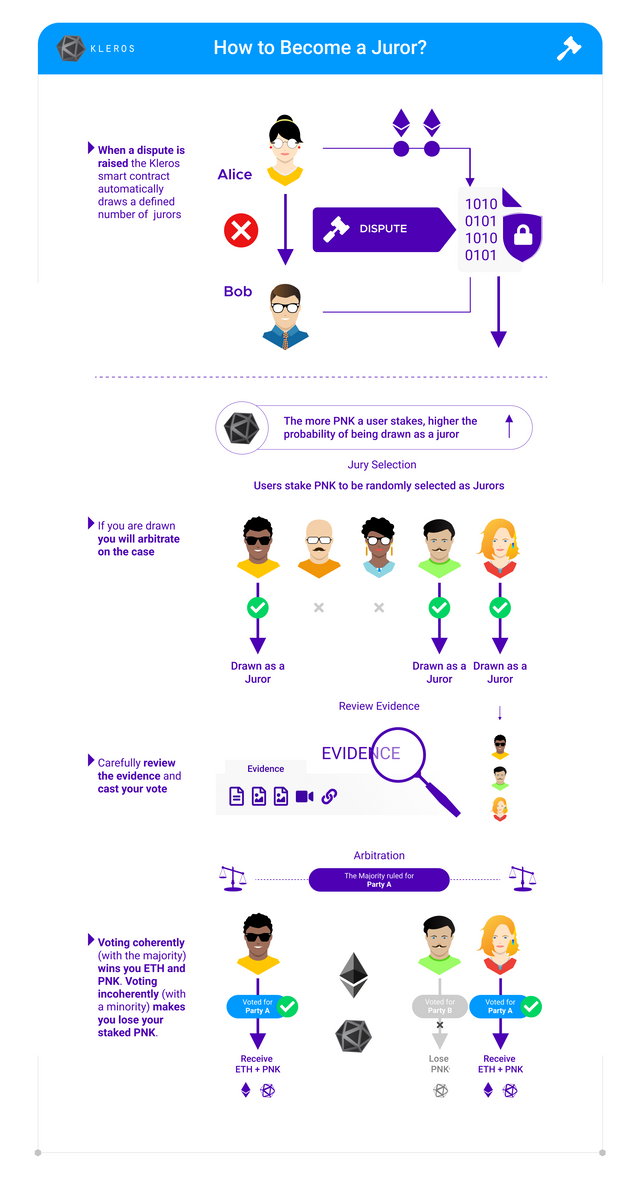 Once you have done that and you are ready to be a juror, you are now ready to buy PNK to stake.
For easier reference, just go here: https://blog.kleros.io/how-to-buy-pnk-on-bitfinex-exchange/
Here is another video from Kleros about their courts:
For the next one, let me talk about the Juror starter Kit here: https://blog.kleros.io/the-kleros-juror-starter-kit/
--> Aside from Kleros courts, Kleros does also have a court for tokens to prove their legitimacy in the blockchain and make them a good token or coin set by the community. Therefore, less scammy coins in the blockchain space and coin markets. It is called TCR or the Token curated list made valid and arbitrated by Kleros jurors. Another one is the Kleros escrow that facilitates the transactions and safeguards it against unscrupulous individuals trying to cheat the freelance employeer/employee based on the work done or even the results made by the freelancer or worker.
The community will be the one to arbitrate in these cases in Kleros courts. Aside from that, in the Kleros escrow, there is also for smart contract-based cryptocurrency transactions that's why for sure your money, crypto, and fiat is safe and will be exchanged accordingly. You may choose either an invoice or making payments.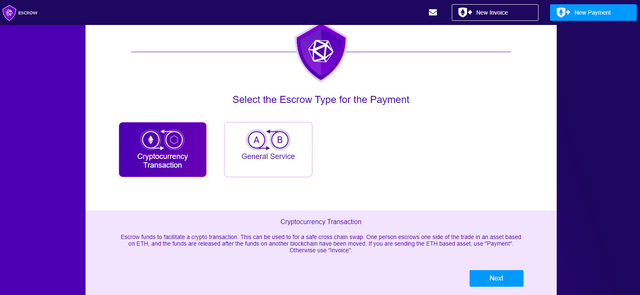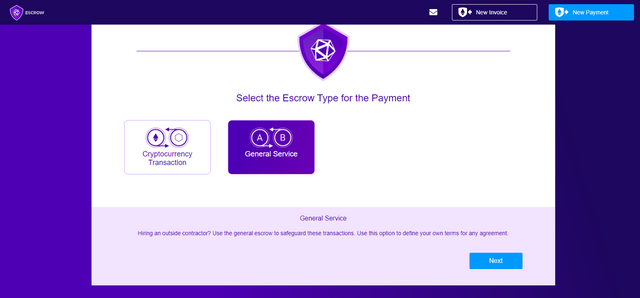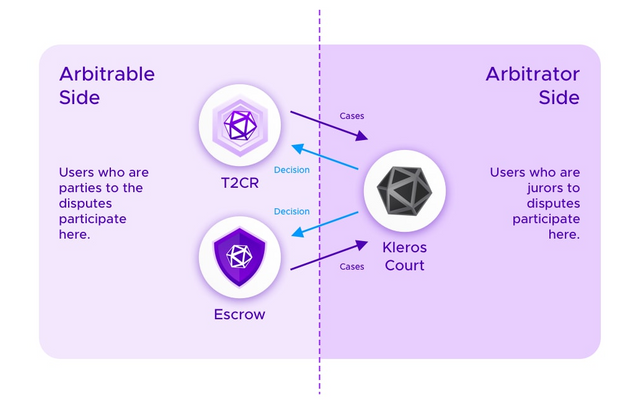 Here are also the sub-courts of our very own Kleros.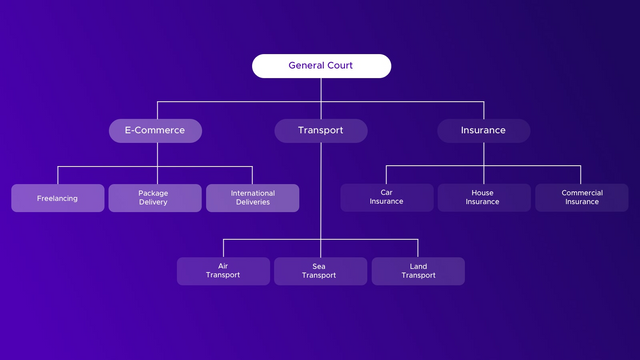 Infographic about becoming a juror. For easier imagination and process simpler, here it is another infographic from Kleros.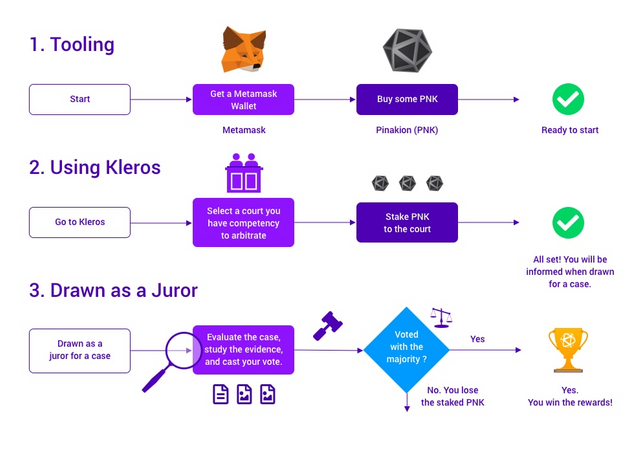 For more information, you may go here about the starter kit to be a Juror in Kleros: https://blog.kleros.io/the-kleros-juror-starter-kit/
For TCR, here is the link to their blog for more detailed explanation of TCR: https://blog.kleros.io/kleros-ethfinex-tcr-an-explainer/
Alright guys, let me talk to you each of the products under the Kleros ecosystem justice protocol for the blockchain community.
Here is the picture.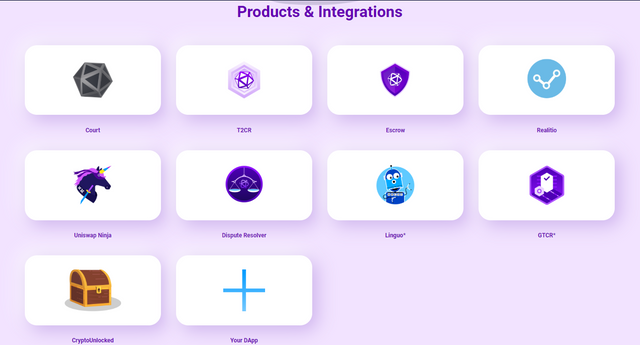 I already discusssed Kleros, TCR2 and the Escrow. Now let us proceed to the 4th one. This is Realitio.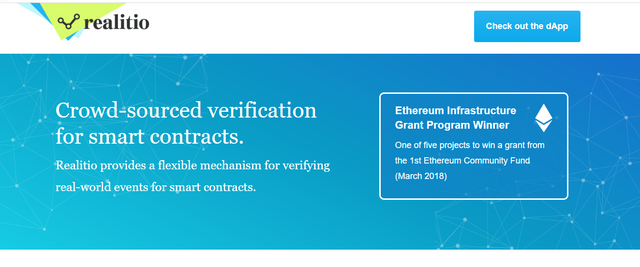 As I read the primer of this decentralized app of Kleros, it is like the rewarding type of Google search for answers or the Quora of answers wherein if you would answer the question correctly depending on what the client need, you will be rewarded.
Uniswap Ninja--> This is like the changelly counterpart of Kleros and other exchanges in a flash. With Uniswap Ninja, you can select the token that you would like to trade into the Ethereum blockchain and in the near future, more coins and tokens as well!
CryptoUnlocked--> Based on what I see on the dapp website here: https://cryptounlocked.wetrust.io/, This dapp is the fundraising arm of Kleros ecosystem. Depending on the result of the question being asked, there will be a recipient of the funds being raised or it can also be given using a lottery/raffle.
Generalized Token Curated Registry(GTCR)--> This part of Kleros ecosystem is the one that will be like the storage of torrents and links made and trusted by the members of the Kleros ecosystem as well/group. Making the files safe for everyone.
Linguo--> If you do know translation jobs online, then this is also the same thing but with blockchain integration and the jurors will also be the one reviewing the work of the freelancer if there are disputes made by the employer. Arbitrary fees will be taken from here and will reward who is speaking the truth and being honest.
Proof of Humanity--> Because we are always in the market of coins and token sales, or even the banking industry as well, we do need verification of one and only person for each name with different videos on the blockchain, it provides proof of your humanity and no other people can get it. Therefore, zero identity-theft will happen here.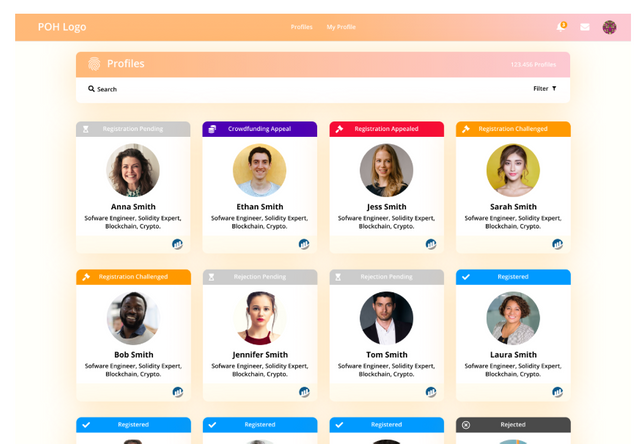 Meet the team!
Thank you guys for checking my blog about Kleros. For more details about their token and other inquiries, you may reach out to them using these links:
Website: https://kleros.io/en/
Whitepaper: https://kleros.io/whitepaper_en.pdf
One-pager: https://kleros.io/onepager_en.pdf
Blog: https://blog.kleros.io/
Social media channels
Facebook: https://www.facebook.com/kleros.io
Linkedin: https://www.linkedin.com/company/kleros/
Github: https://github.com/kleros
Slack: https://slack.com/kleros
Reddit: https://www.reddit.com/r/Kleros/
Twitter: https://twitter.com/kleros_io
Telegram: https://t.me/kleros
---
Do you like my advocacy? You can donate cryptocurrencies here:
Donate BTC: 19udCJXqMVcAPgK3tNC7VdVjJirSAsanDK
Donate Ethereum: 0xDFD2144eb8CC1212551d50b00b18a2fEfcf6762b
Donate Dash: XkrQAsEgxMkZSrDkgoQhgoAWSVPhfs5Lyd
Donate Doge: DC6pGognFVU4wrt6AJtkmD7mXRKFepnMZQ
Donate Litecoin: LNKorfrjR12h7Ykx3Ros8kZF5UiUqmotav
Here are other of my blogging profiles:
You may also earn cryptocurrencies from here guys!
Steemit: https://steemit.com/@frankydoodle