What reasons keep the price of cryptocurrency stuck? The JP Morgan report and what the technical analysis shows from the change in value in the last 24 hours. The strategy of hedge funds and the role of halving.
We used to dedicate an entire article, but now it has stopped being great news, so here's a small report: JP Morgan has released a new study claiming that the sharp drop in March in the markets was the first bitcoin stress test . passed successfully. Think of bitcoin as a high school student, given its age. He just took his first test and, according to JP Morgan, had "mostly positive" results, reports Bloomberg.
Even in a state of absolute panic, the valuation of bitcoin did not deviate much from inherent value. Its price fell only slightly below production costs, even when volatility increased.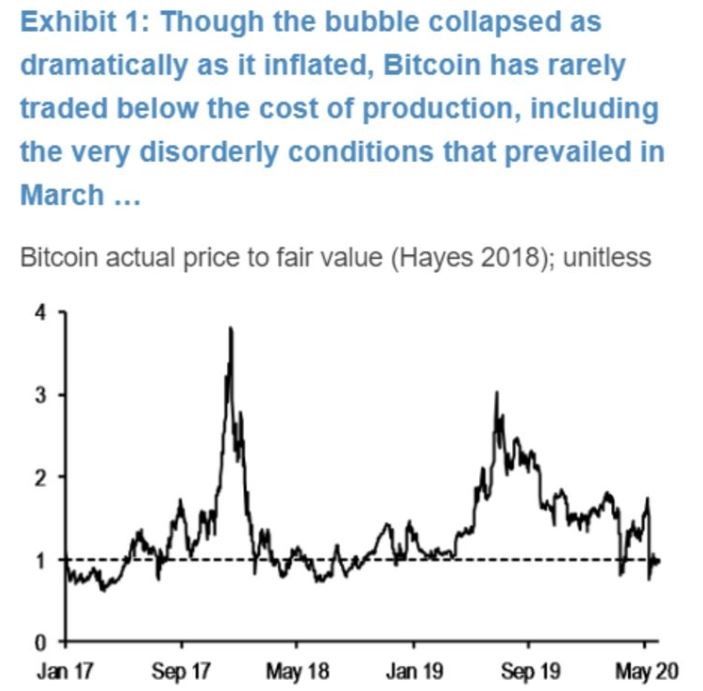 Let's add here that the inherent value of bitcoin has almost doubled since then. Due to the halving effect, the total amount of coin production has fallen from 1,800 a day to 900. In other words, miners' incomes have fallen by half , although production costs have remained almost the same.
The structure of bitcoin has proved more resilient than that of traditional currencies, stocks, bonds and gold. To measure this, analysts looked at liquidity or spread between ask-bits in the order book, which is directly related to volatility. When commands decrease, this leads to abrupt price changes. In conclusion, Bitcoin, despite a sharp decline in value in March, passed the test without suffering a scratch. It recovered faster than the other asset categories.
A statement from Russian Chancellor Vitalik Buterin , founder of Ethereum, said yesterday: "What did we expect: the cryptocurrency market to normalize and look more like the stock market. What happened: people went crazy and the stock market became more like the cryptocurrency market .  "
The reasons why bitcoin is not rising
The reason why bitcoin is declining today, dragging the entire cryptocurrency market, is simple: all markets are on a downward trajectory. US futures have been down more than 2% since last night, with Asian markets closing in on the red and European stocks falling.
The important thing is to see why, while the fundamentals have never been as strong as they are today, they did not make new highs, such as Nasdaq last week. One would expect the positive views of Bloomberg, JP Morgan, Paul Tudor Jones and others to have a greater impact.
As usual, there is not just one reason. It is due to a number of reasons:
Insecurity and unemployment have forced many to sell their cryptocurrencies in order to secure money to buy the basics for their survival during this difficult time. In the United States, for example, $ 1,200 in aid is not that big of a living. Where will the liquidation start? From the values ​​with the highest risk . In addition, few have bought bitcoin for more than $ 10,000. It's easier psychologically to sell when you make a profit.
The reason that every rise in recent months stops as soon as the price reaches or exceeds $ 10,000 is that at that price level the portfolios associated with the Py Token pyramid are activated . The fraud was not small at all. It was worth $ 2.9 billion. The organizers of Plus had gathered a lot of bitcoin and ethereum, but they are starting to run out. We remind you that their arrest took place at the top of $ 14,000. Many attribute this incident to the fall that followed.
When buying institutional items, such as hedge funds that specialize in cryptocurrencies or Bakkt, they don't get it from the exchanges because the quantity is large. It makes it easier for them to get them from OTCBuy. Therefore, they do not directly affect the supply and demand tug of war in the exchange offices. But that will end at some point. For example, the Grayscale Bitcoin Trust, which trades on Wall Street, has boosted bitcoin markets to record levels. It currently manages $ 3.8 billion, almost double that of May 2019 ($ 2.1 billion). The average weekly investment volume is $ 30 million a week. Rayhaneh Sharif-Askary, Director of Investment Relations, made it clear that the demand for bitcoin and, consequently, for Grayscale products has never been as high as it is now.
In all previous periods near halving , there has been a stabilization or even a decline before the big rise. We haven't seen anything different yet that bothers us.
Who told you it didn't go up? If we calculate it from the lows of March, bitcoin has come a long way from Nasdaq. The recent high, which was recorded on June 1, came from a rise of 170%. It has risen 32% since the beginning of the year.
The bitcoin chart
In the 4-hour bitcoin chart in relation to the euro, the technical picture is quite clear. On Thursday, it shattered the triangular downward formation. An aggravating sign was that his attempt to return to the triangle failed as he collided with the green line. The encouraging thing is that it stopped at the price level where the low of May 24 was formed.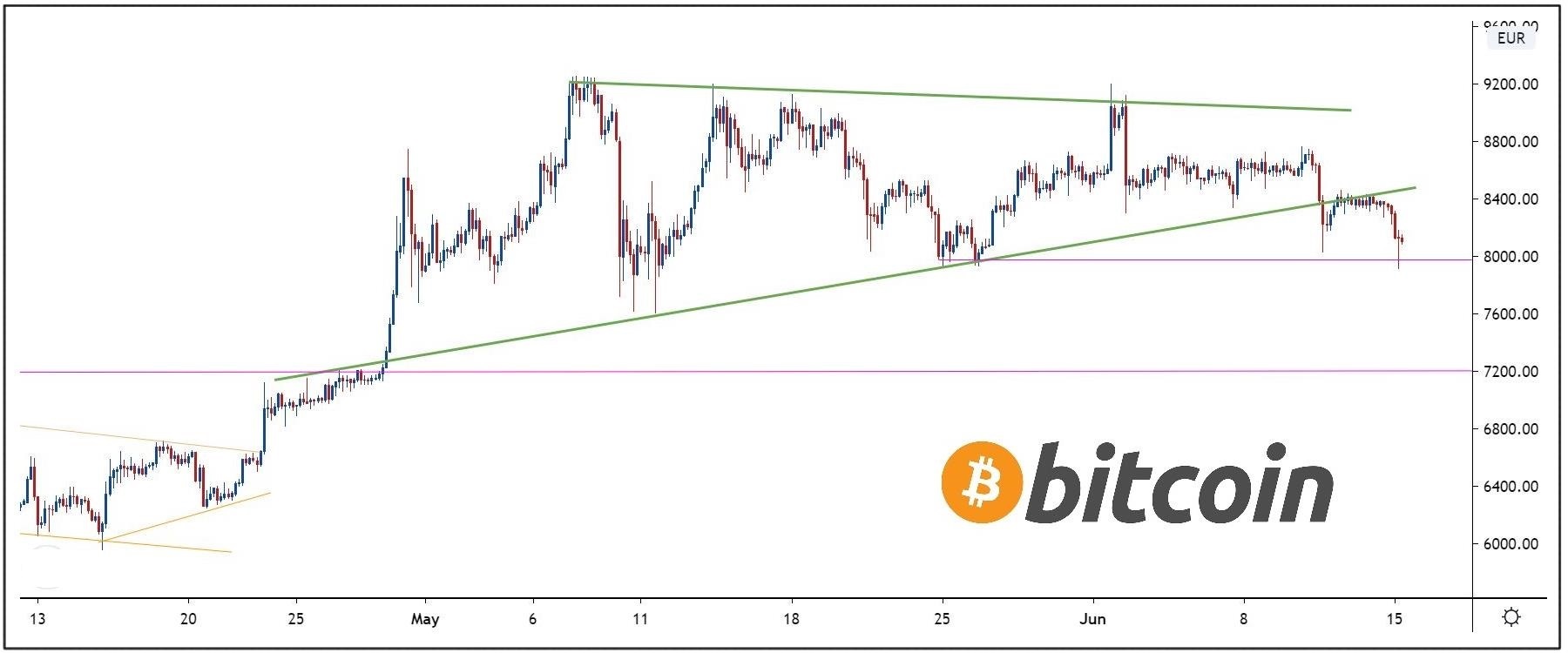 You can support my work also from my referral links.
---
Pitacoin is a simple game app with bitcoin prizes. It's 100% free. Let's earn bitcoin starting today.
Use this code and win 1000 satoshi CweWBM
---
BFast BFree is an app that is only available for Android
Before you start using the app you will be asked for a referral code. Here's mine: 9YE0A7
-----------------------------------------------------------------------------------------------------------------------------------------------------------------
EFast BFree: a mobile app to earn Ethereum for free
Before you start using the app you will be asked for a referral code. Here's mine: RJEB3N
-----------------------------------------------------------------------------------------------------------------
SwissBorg. 
Not ready to invest in cryptos yet?
Try our Community App to learn and earn Bitcoin with zero risk.
Use this code T2BK6AQ and win 3000 points. Just predict BTC price goes Up or Down
--------------------------------------------------------------------------------------------------------------------------------
StromPlay.
Make every day payday. With Storm's apps you can complete quick microtasks to earn Storm, Bitcoin, Ethereum, Litecoin, or Dai. Seriously, it's that simple. Use this code DYUA1HGL
Cryptomine Game +5% in mining
redbuble.com Crypto t-shirts and more kinds of stuff for you.