The complete inability to draw up a reliable market forecast and why investors are rushing to "reward" bankrupt companies. Younger than the world of crypto.
At the height of the economic and stock market turmoil due to the pandemic, the only thing everyone agreed on was that the recovery would be painful. They used whatever letters you could imagine to describe it: W, L, and even shapes like Nike's. The only exception was V. What finally happened? The V !!
Predicting the future is always difficult, especially when the world in front of you is complex and changing rapidly. Who could have known when the three main variables were missing :
a) When will the restriction measures be lifted
b) If a second wave of Covid-19 will reappear
c) When will the vaccine be found and distributed.
Don't expect a political plan from governments. They do not have. Not that they don't want to or are incompetent. They can not. There is no data to come up with a reliable charter for the next day. At first, governments were frightened by the effects of the virus. Now, they are terrified of the effects of the economic catastrophe.
It is not the end of the world, but the end of the world as we know it. We are not dealing with a health or economic crisis. We are facing a crisis of confidence. Some economic laws will be revised and some indisputable truths will be shaken. Do you remember what they told us to go through the previous crisis of 2010? That we should cut wages, increase unemployment, increase taxation, reduce debt.
What are they telling us now? The opposites. That we must avoid unemployment and that is why we subsidize jobs and wages. That we are reducing employer contributions. That we make discounts on tax liabilities. That we don't care how much the public debt will go !
Shopping and compassion
Stock exchanges show human behavior. They break out, they get confused, they rejoice, they are sad. There are meetings that seem annoying when we have intense fluctuations. Others seem bored when a subdued climate prevails. We can find some very interesting analogies between people and markets.
It is said that speculation never changes, because human nature remains the same. Outbursts of emotion will always appear in the investment community. It is inherent in stock market behavior. The only thing that is unpredictable is its timing and extent. The duration and degree of effect of the route from hope to despair - and vice versa.
Greed and the desire for profit are universal passions that prevail in all ages and in all places. The fear of financial loss, imitation, trust, the psychology of gambling, is just as universal. Stock markets are fueled by hope and fear. Emotions follow the path of least resistance, regardless of the historical context.
This fact explains why all the intense speculative periods seem to be repeating themselves.
The only feeling the markets will never show is compassion. That is why we have seen the indexes ecstatic with every announcement of rising unemployment. Or for the dead. The market is cold on analysts and their forecasts, no matter how great they may seem. Goldman Sachs, which dared to make predictions, revised a week later, citing completely different numbers. But completely!
Do you want your share to go up? Go bankrupt
The most striking incidents these days in the shares concern bankrupt companies. Billion-dollar capitalization companies, which for whatever reason have failed. They no longer have money. They owe their creditors and their own funds will disappear during the bankruptcy process.
The Hertz (car rental), from $ 20 in February, landed abruptly at 59 cents on May 26. Since then, within 10 days, it has increased its value tenfold. On June 8, it reached $ 5.5! It closed at 2 last night and at this time, pre-conference, it is 55% higher.
She is not alone. The Chesapeake Energy (oil) from $ 190 had at the end of 2019, fell below 10. On June 4 managed to climb to 14 and then the miracle happened. In two sessions, he climbed to $ 68. There was not much left. He returned at 17, two meetings later.
On May Day, Elon Musk tweeted his assessment that Tesla 's stock is too high. The major shareholder and CEO of the company evaluated it as accurate. It was priced at $ 700 that day. How did investors react? They bought other shares, as if it were a unique opportunity. One month later, the stock price exceeded $ 1,000. Well, at least she didn't go down without explaining herself first.
And then they say the cryptocurrency market is absurd.
The news from the crypto market
* German stock market Xetra welcomes BTCE. Approved by BaFin, the German regulatory authority, an ETP fund fund to be traded as a share. BTCE will monitor the price of bitcoin, as there will be a complete reflection on cryptocurrencies. BitGo has been designated as the custodian.
* Coca Cola vending machines will receive cryptocurrencies. According to Amatil, the distribution company in Australia and New Zealand, the plan is to prevent customers from using cash due to the pandemic. The new payment option is now available on more than 2,000 machines. For now, they will only accept bitcoin, however, the company plans to add more cryptocurrencies in the future. According to the people in charge of the project, if it can operate in Australia and New Zealand, why not develop globally?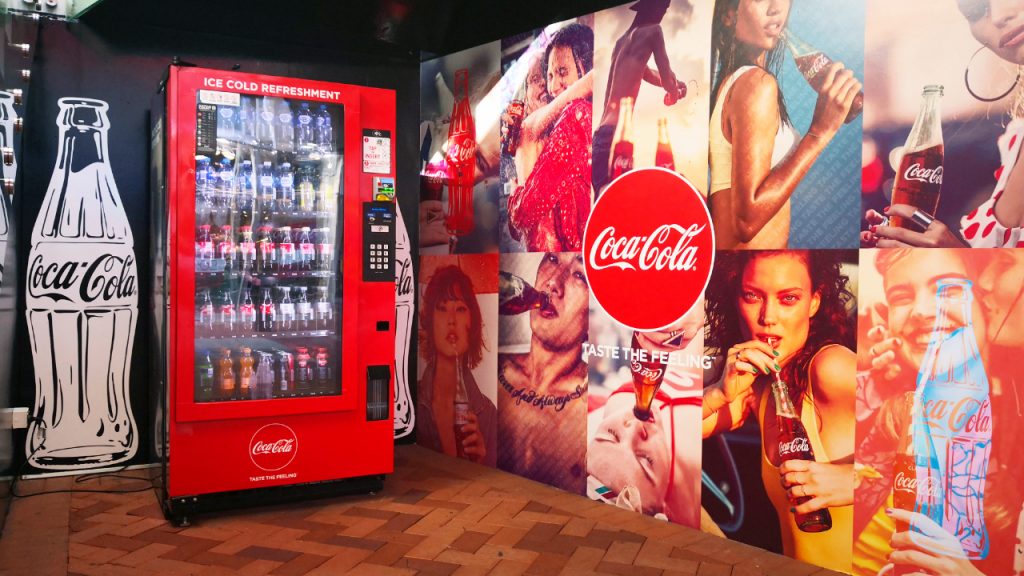 * We didn't have to wait long to see the result of the accumulation we mentioned yesterday. The price of bitcoin was swept away by the sell off on Wall Street, and by splitting the channel formed by the blue parallel lines, it fell even further. However, the green support line seemed to be holding, as we see in the following 4-hour chart.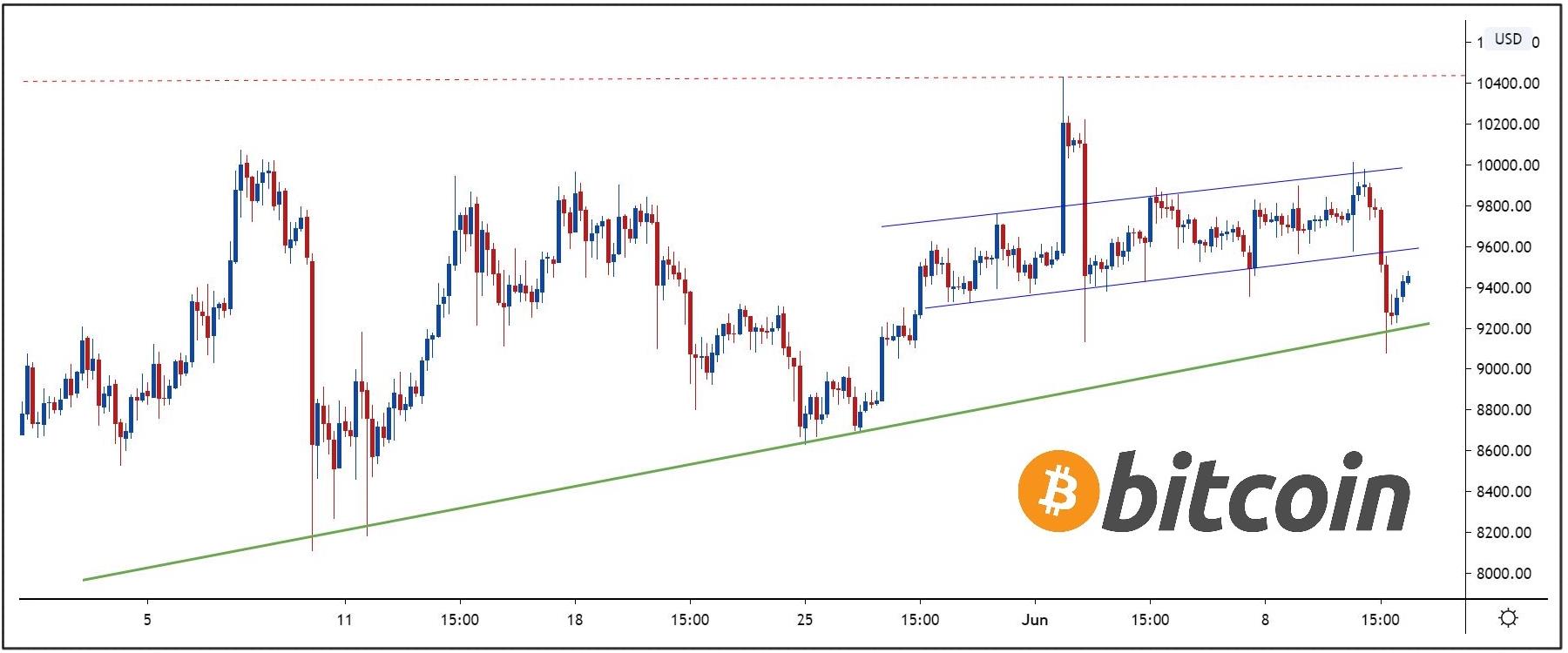 You can support my work also from my referral links.
---
Pitacoin is a simple game app with bitcoin prizes. It's 100% free. Let's earn bitcoin starting today.
Use this code and win 1000 satoshi CweWBM
---
BFast BFree is an app that is only available for Android
Before you start using the app you will be asked for a referral code. Here's mine: 9YE0A7
-----------------------------------------------------------------------------------------------------------------------------------------------------------------
EFast BFree: a mobile app to earn Ethereum for free
Before you start using the app you will be asked for a referral code. Here's mine: RJEB3N
-----------------------------------------------------------------------------------------------------------------
SwissBorg. 
Not ready to invest in cryptos yet?
Try our Community App to learn and earn Bitcoin with zero risk.
Use this code T2BK6AQ and win 3000 points. Just predict BTC price goes Up or Down
--------------------------------------------------------------------------------------------------------------------------------
StromPlay.
Make every day payday. With Storm's apps you can complete quick microtasks to earn Storm, Bitcoin, Ethereum, Litecoin, or Dai. Seriously, it's that simple. Use this code DYUA1HGL
Cryptomine Game +5% in mining
redbuble.com Crypto t-shirts and more kinds of stuff for you.