The first wrong question that can lead to damage. The good, the bad scenarios and the dangers. What the long Bitcoin price chart shows.
It is a fact that those who are active in cryptocurrencies, there are times when they feel very alone . Their friends, their social environment, think they are crazy. This period, however, may prove to be the decisive factor in showing that they are in the right place at the right time.
There is a chance that we will enter a period of time when Bitcoiners are considered smarter, more insightful than the rest. Maybe not. What is certain is that they see the space being born before their eyes. It continues to evolve with their contribution. They are given the opportunity to be part of the development. And that in itself is fascinating.
Here you will allow me a personal intervention. Many ignorant people approach me asking the exact same question: How do I invest? This is the wrong first question. I want to believe that someone who has a basic responsibility will refuse to answer. Not before answering some other questions, such as: What are cryptocurrencies? What is their usefulness? How is their value determined?
It is reckless to invest in something you do not understand. It is not just possible to lose your money. It's for sure . In the first or second retreat, you will not have the confidence and knowledge to know if it is worth keeping your positions. Anyone who is not convinced about the long-term prospects of Bitcoin means that they have invested their money in something they do not believe. And anyone dealing with a market that does not suit them, it is a matter of time to be on the side of the losers.
Those who have not learned or are not convinced of the usefulness and reliability of a value are changeable in their behavior. They easily panic or get frustrated when the price falls or moves without much fluctuation. They also easily get excited when it goes up and buy in a hurry so as not to miss the big rise. Both are wrong tactics.
For anyone who has started investing
I would like to emphasize as emphatically as possible that in no case do we urge or advise readers to put all their money into cryptocurrencies. It's not wise, but it is not necessary.
There are two cases, which we will see confirmed or not in this decade. Either bitcoin will be the deposit currency of the world, together or capping gold, or its value will have fallen to the level of a commemorative symbol .
If the good scenario prevails, it will be the best investment of all time. The profit in percentage return will be huge. You will make a lot more than you would in any other investment, no matter how small the amount you invest. But if the bad scenario eventually happens, make sure you put so much so that you are not destroyed. This is a loss that will be tolerated.
Even if you do not believe in the prospect of Bitcoin, it does not matter if you are interested in speculation. You may consider those who are involved to be suckers or naive. It may turn out to be. However, the market does not care about your personal opinion. The effect it has on price formation is the same as throwing a glass of water into the sea and assuming that you have raised the level.
The price of Bitcoin has exceeded $ 11,000 , and only a handful of people understand how it works. When the others begin to understand, what will happen?
The chart below shows us in which period hope (green), over-optimism (blue), expectation (yellow), fear (orange), resignation (red) prevail.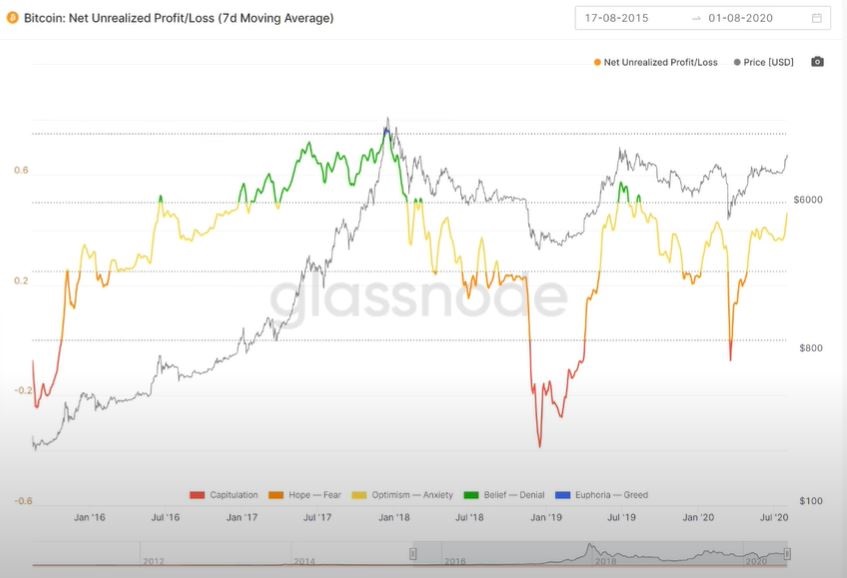 Any scenario is likely to happen in Bitcoin. A few years ago no one believed that from a few dollars it would reach 100. 6 years ago no one believed that it would reach 1,000. 4 years ago no one expected to reach $ 10,000. In 2017, it took just 19 days for bitcoin to go from $ 10,000 to $ 20,000.
But even in the epic year of 2017, when from $ 1,000 bitcoin reached $ 20,000, there were 6 cases where there was a decline from 30% to 40%. Therefore, the abrupt correction on Sunday by 13%, should not surprise you. Bitcoin just reminded us of the high volatility it displays from time to time.
For better or worse, this is how he behaves and is likely to continue in a similar way in the next period. Giving opportunities but also hiding risks. The past does not predict the future, but it tells us a lot about the behavior of stock values. If you're hoping it won't happen again, chances are you're wrong. Better be prepared.
Smart ways to win some coins from faucet, games and bets.
Use this link to create Coinbase account