Many of you know already what Bityard is, if not, this PublishOx contest will help you out !
But do you know who is this guy ?
This guy is Buakaw Banchamek aka Buakaw Por Pramuk
He is a former #1 Thaï box champion, fought at the legendary Lumpinee Stadium, two-time K-1 World MAX champion etc...
He's more than a beast, he's a legend.
I'm not from Thaïland, and I'm not huge fan of boxing, but I saw this guy when I was young, just google him...
So When I saw the Bityard's partnership, I was amazed because I think it's one of the best endorsement ever in the crypto business! 
From this:
To this: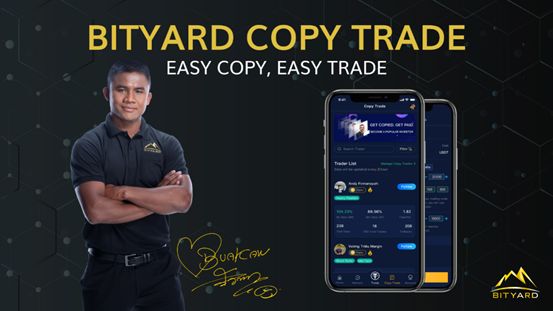 I repeat, this guy is a legend, imagine Binance or Coinbase making a TV ad with Connor McGregor ! the impact was the same to me !
But seriously, as an average crypto user, I would never subscribe for a "complex contract trading platform" like BitMex or Deribit, but Bityard, they got me with Buakaw, lol ! Because like for him, everything is possible, and we all can do it ! ;)
And now that I'm an active user, I'm able to give you some informations about Bityard ;)
Bityard is a cryptocurrency exchange who allows you to trade cryptocurrencies with a Leverage, but they capitalize on market gaps that other trading exchanges have failed to fill, making crypto trading simple while removing the "complexity of contracts" and an intuitive interface
The aim of the Bityard product is to offer high leverage on complex contracts with a simple trading experience, with institutional-level liquidity for users.
I was talking about the intuitive interface...
Charting is supported by TradingView.
Leverage selection is available via a simple drag tool. 
Here are the different leverage options:
Leverage min / max : 10X - 100X
Min / Max Margin : 5 USDT - 20,000 USDT
Trading fees : Margin * (leverage-1) * 0.05%
Y / N fees : Margin * (leverage-1) * 0.045%
Everyday you can "mine" for free their BYD token to pay for trading fees ;)
They have a very well-functioning mobile app !
They also regulated on three continent : Asia, America, Europe
Many other arguments to tell but I'll let you see by yourself, but for many reasons, this is a strong platform that we have here.
Enjoy!

TradewithBityard >>> https://www.bityard.com/?ru=8jk82Z