Plan
Monthly
Weekly
Daily
Short term
Conclusion
Final word
---
Monthly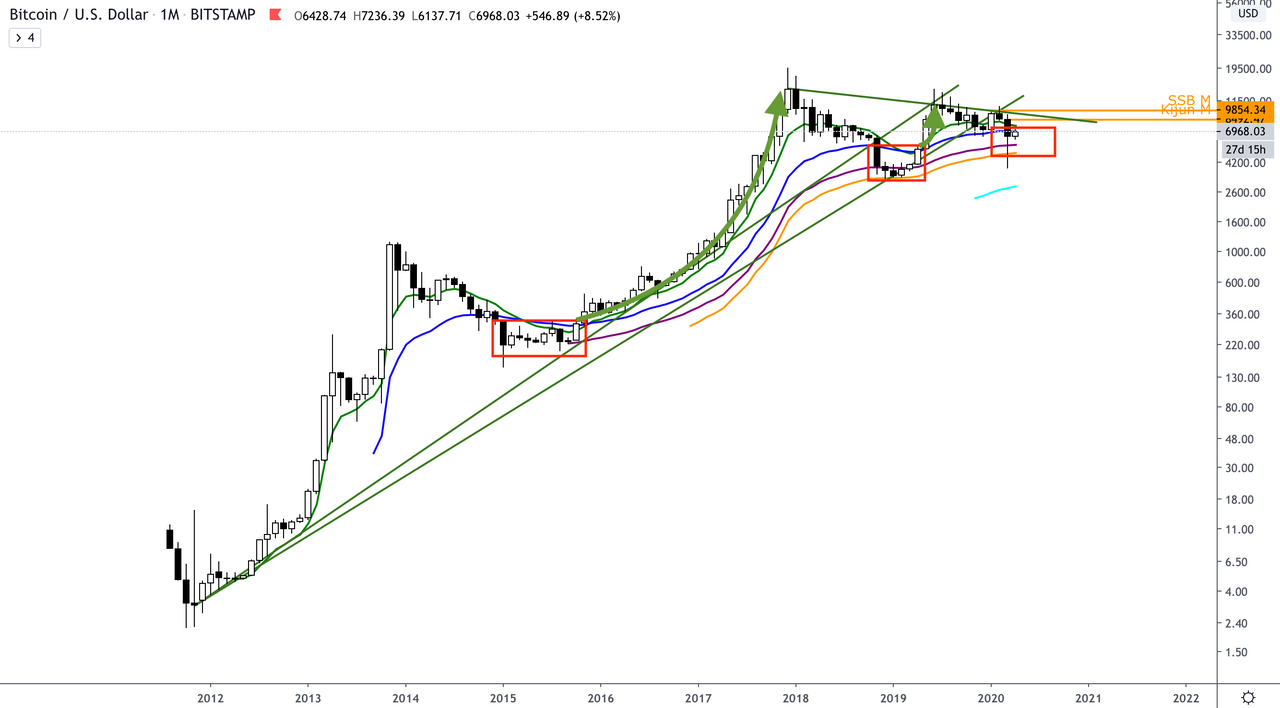 For the long term analysis, BTC is back into the buy zone again between EMAs 26 and 50 (or even 65). Which means the price could very well slip down to 5000$ and I wouldn't be surprised.
Weekly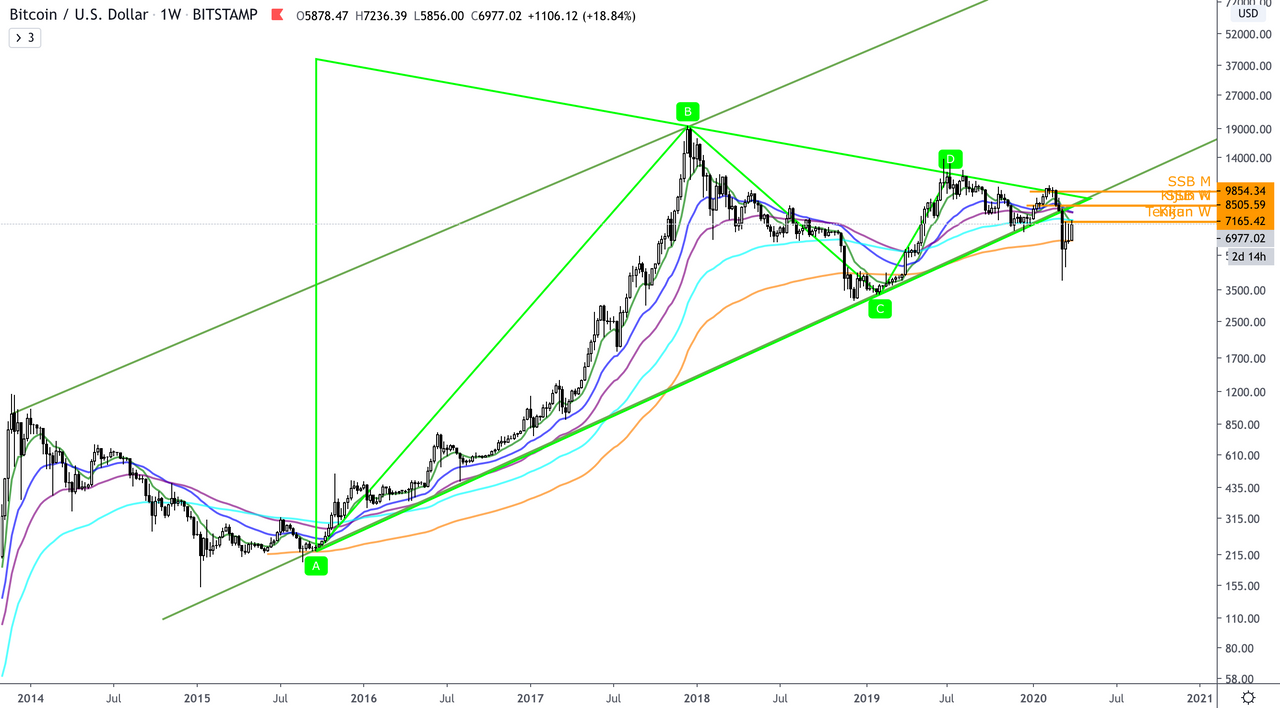 The recent Covid-19 crisis has brought the price to close under the massive triangle which somehow invalidated it. I was expecting BTC price to follow gold and recuperate its tendance, but it looks like it needs more time for that. Even if we can see that price is now regaining slowly its earlier position, it will still take some time.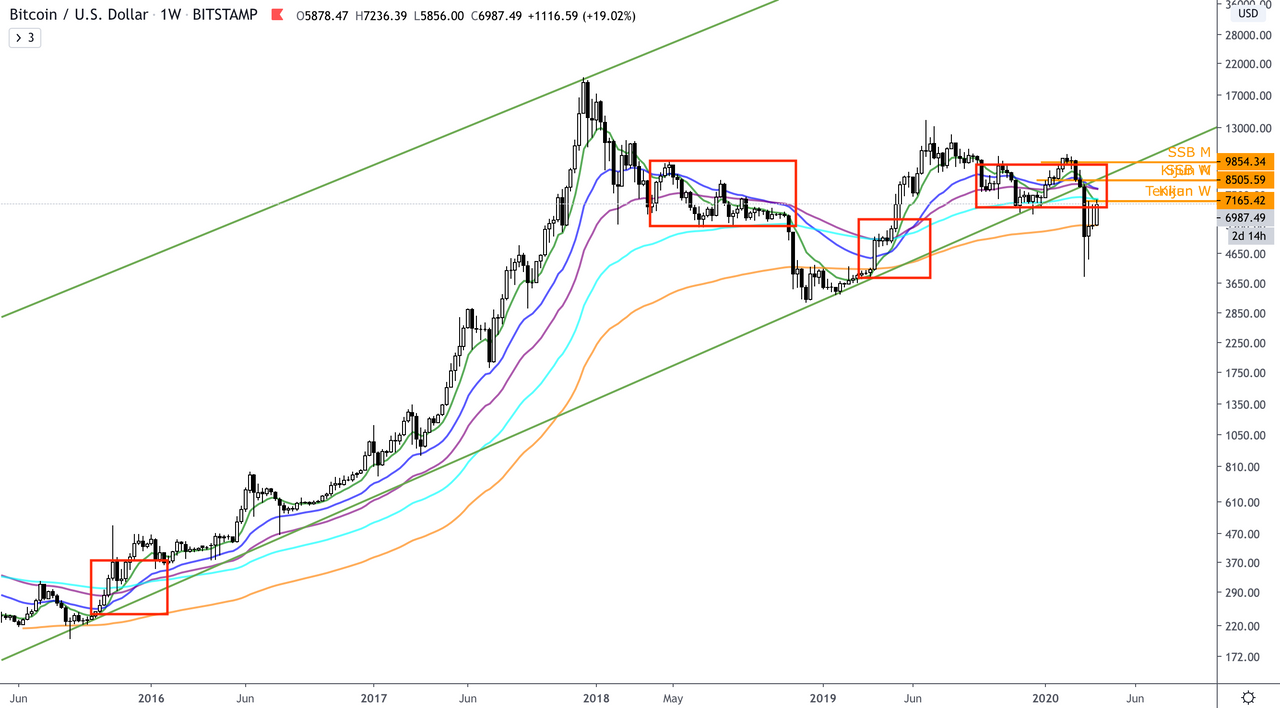 Based on EMAs 26 and 50 movement, trend has now be inverted to bearish. But this is something very well known, I am not teaching you anything new here. But...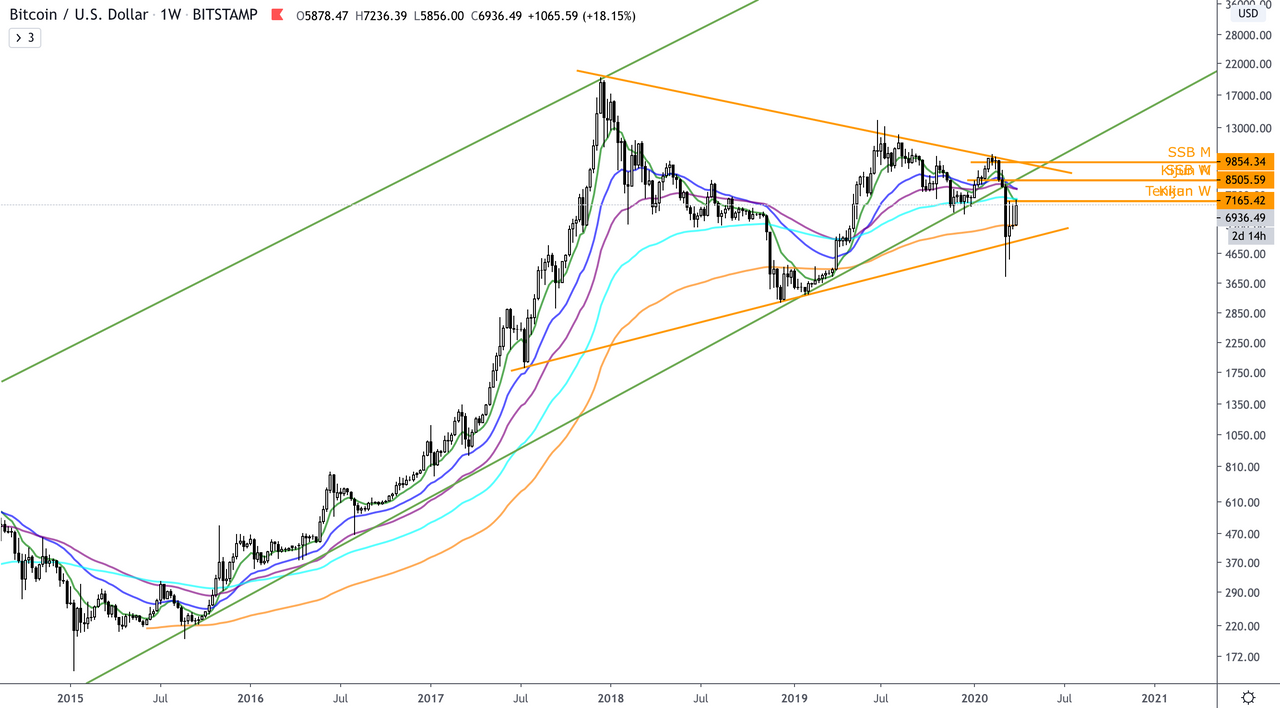 ... looking at technical analysis, price is also forming a bullish consolidation of a very long movement. And regarding the fact that we're closing to the end of the triangle and that now crisis strong assets are slowly climbing and taking their positions as reserve of value, bitcoin could take this lead also and become one of them in this over-indebtedness crisis with infinite QE.
Daily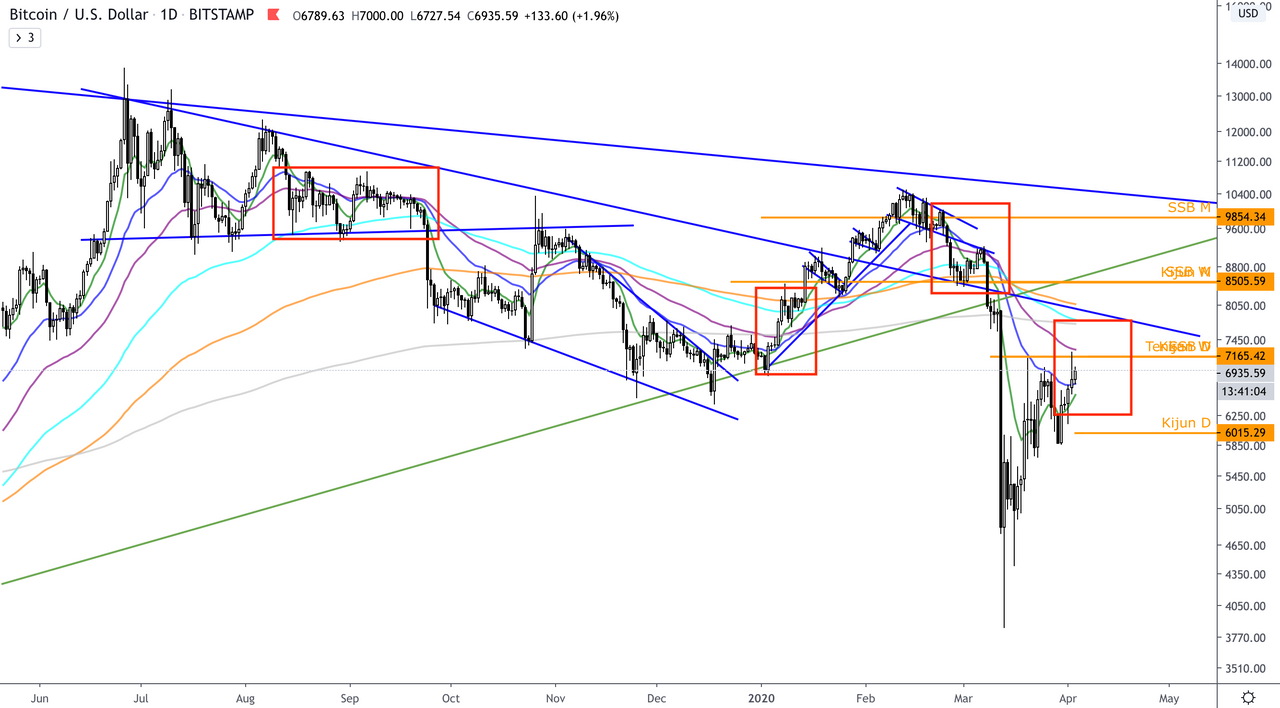 On the daily time unit it is following exactly the same pattern as ethereum, gold and gold miners. This means that EMAs 26 and 50 lead the way. A new trend begins with the price crossing both of those EMAs and is confirmed by those EMAs crossing each other.
At this moment price already crossed EMA 26 and is heading toward EMA 50. This could be the beginning of a new trend. But we must keep in mind that it still has almost every Ichimoku's resistance above it.
Short term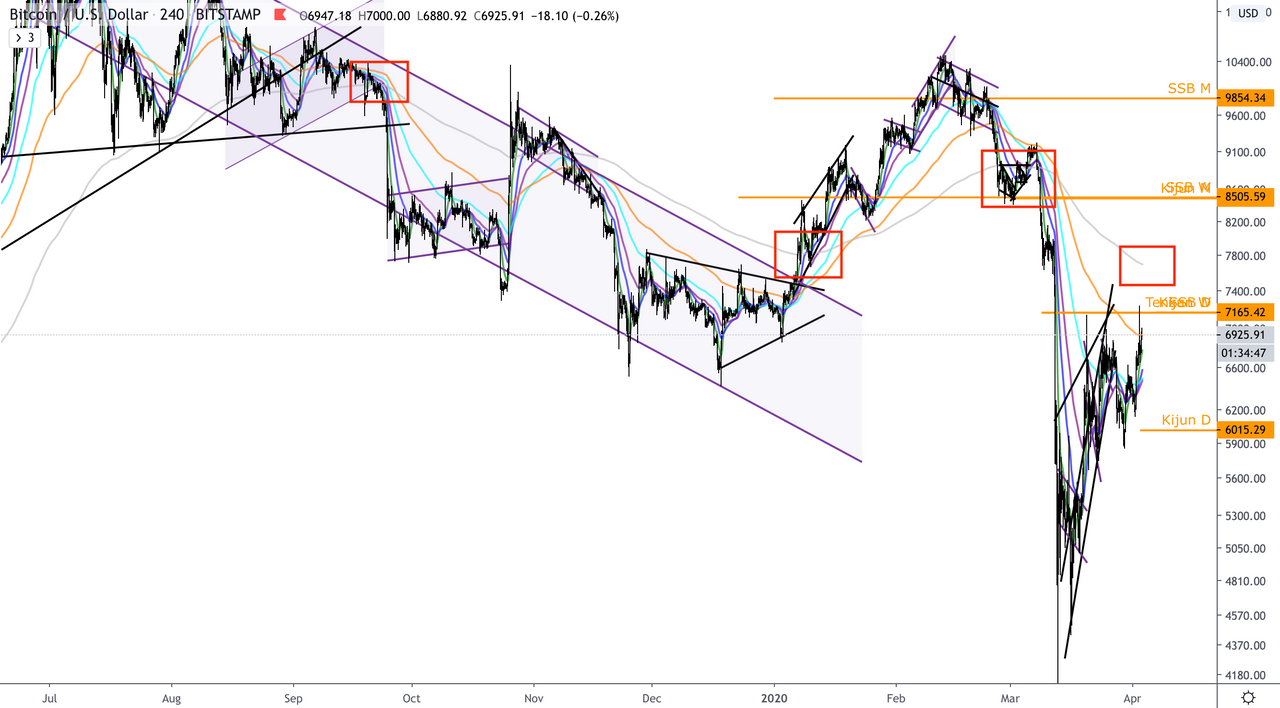 On the short term it is always the price crossing EMA 500 that sustained a long trend (may it be bullish or bearish).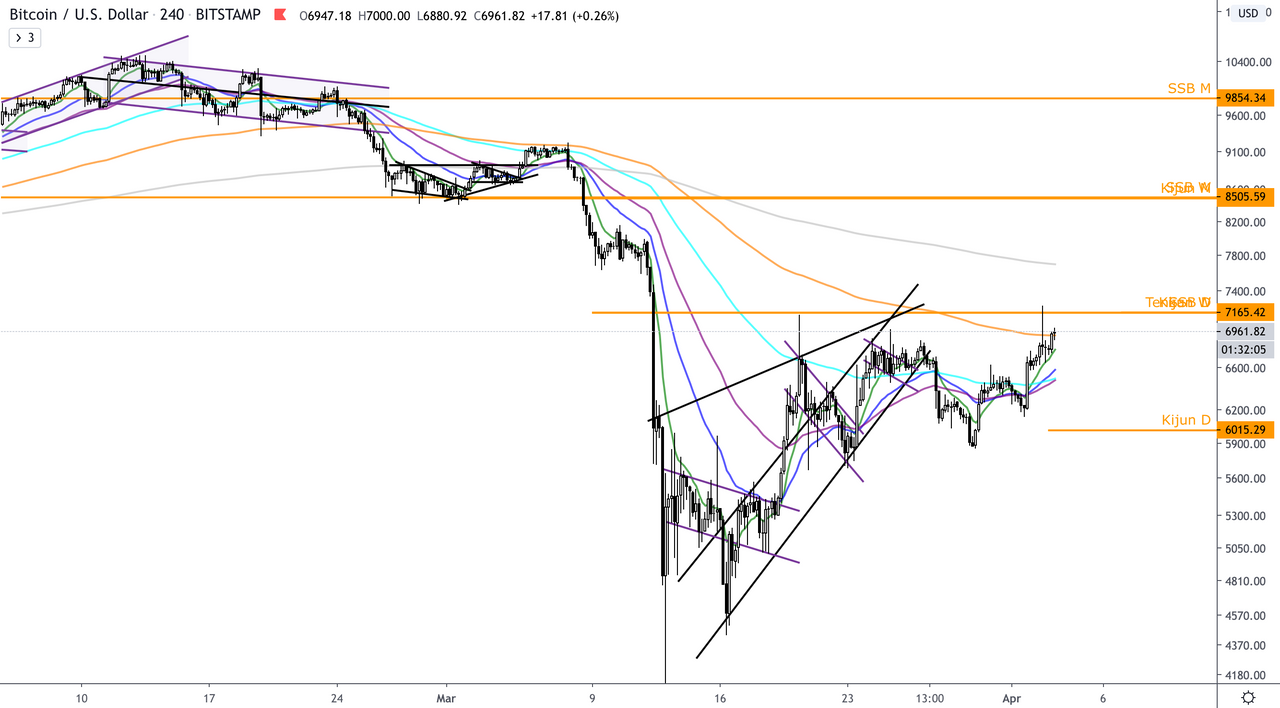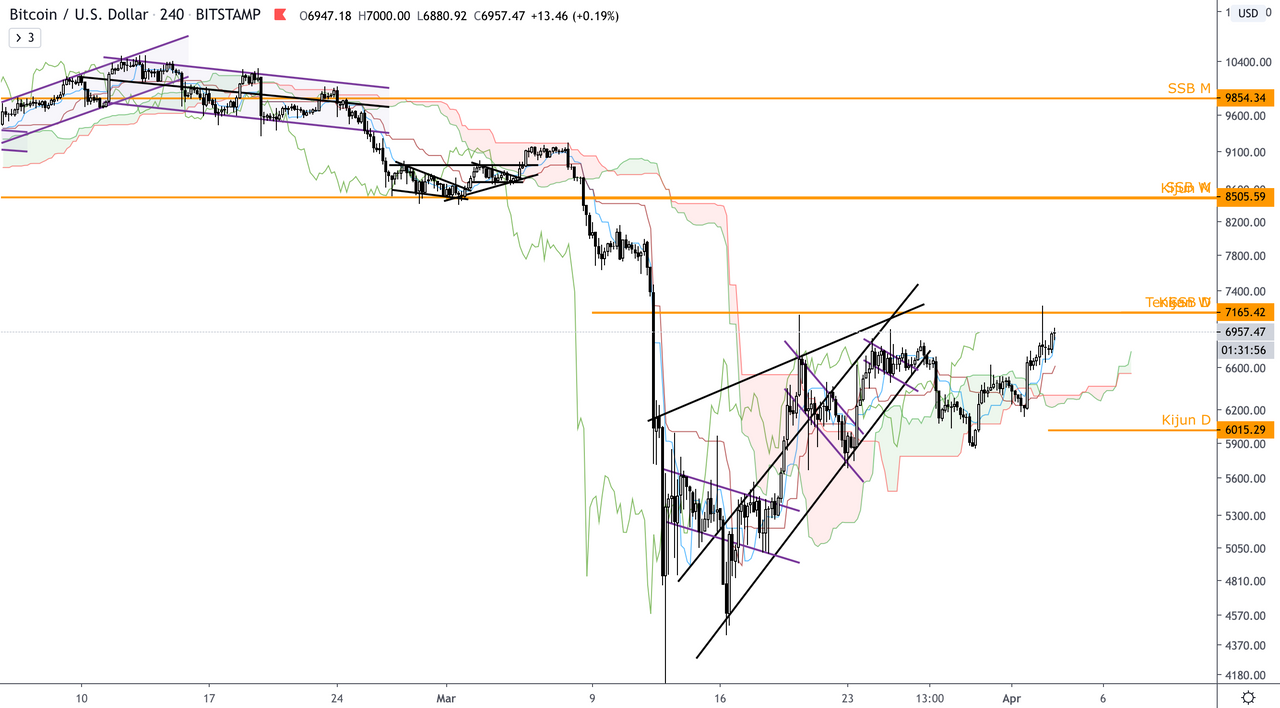 But looking closely at the actual movement, we can assume that it stabilises somehow like ETH did it, and it is now preparing to face some weekly resistances.
Conclusion
We may be in the continuation of the previous trend that has somehow be modified but perfected by the crisis. Two options stand here :
The safest one would be to wait BTC to confirms its trend crossing EMA 50 and carefully watch for the movement not to get tired and pull back to the weekly triangle's basis.

Safe buy price : 7300 $ if the price successfully closes above this level

The aggressive one would be to get in at a low cost price right now and be prepared for any reversal.

Stop loss : 5200 $ if price closes under the weekly triangle
---
Final word
Last week was a little overloaded at work. I'm behind on my articles and must correct that. I must apologise for this. In the next days will come two articles :
Gold miners - Is the crisis over on their side ? [Update].

This article's goal is to keep anyone up-to-date on my favourite mines I recently shared.

5 Gold miners on which you want to keep an eye.

As I promised in my last article, I will share with you some coming opportunities int the gold miners world that you don't want to miss.
Stay updated threw the different channel :
Twitter where are shared my articles, those from my coworkers and other article I find very interesting
You can also join the Crypto/GoldLeoSwitzerland's discord. This project is quite new but if you're interested into precious metals' analysis or DeFi it would be a pleasure to count you among our investors ! For more informations you can read this article : Major moves forward for CryptoSwitzerland and GoldLeoSwitzerland