Markets
Bitcoin has added 30% in the last two weeks, leading many people to believe that another bull run is beginning. While long-term sentiment is still on the rise, the price of BTC is now expected to consolidate for a while rather than heading for another rise. BTC has risen 190% since the fall during Black Thursday. Last week alone, almost 26,000 BTCs ($ 292 million) were traded on exchanges. Altcoins follow Bitcoin, with exceptions like Chainlink.
Cryptocurrencies
$ 1 billion transfer in BTC cost $ 9
A bitcoin transaction worth more than $ 1 billion is rippling waves in the crypto world. The crypto whale transferred a total of 88,989 BTC on Monday for a transaction fee of just $ 9.15. According to BitInfoCharts, the shipping address appears to be attached to a cold wallet belonging to Binance. According to blockchain technology company Blockstream, Binance saved 36% of transaction fees thanks to the SegWit scaling solution.
The number of active bitcoin addresses has reached the highest level in the last two years
The number of active addresses in the bitcoin network reached over one million this week. This is the highest number of active addresses recorded since January 2018, according to data from the analytical company Glassnode. The data are based on a seven-day moving average, which is the sum of the number of active addresses over a seven-day period divided by the number of days.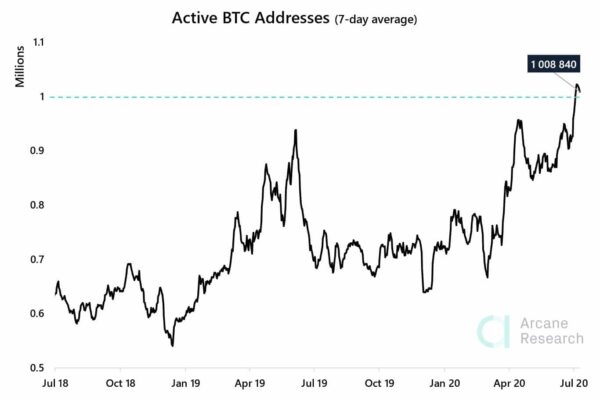 Cryptocurrency Exchanges. Banks, Companies
Spain's crypto platform 2gether lost $ 1.4 million due to hackers
2gether, the Spanish cryptoplatform, was hacked and leaked about $ 1.4 million. The company's management claims that it does not have the money to pay for damaged customers. CEO Ramon Ferraz Estrada said during several tweets on Monday that the July 31 breach affected crypto investment accounts and revealed users' private keys.
State-controlled Swiss bank is introducing crypto services
Basler Kantonalbank or BKB, the government commercial bank in Switzerland, plans to introduce cryptocurrency services through its bank branch. According to a report by the local news agency Finews from August 3, the BKB subsidiary and the national banking group Bank Cler are working on services that will enable customers to trade and store cryptocurrencies. BKB holds a majority stake in Cler, although the subsidiary owns a banking license separately from BKB.
DeFi
More than $ 4 billion is now locked in DeFi
Statistics show that the decentralized financial (DeFi) economy has grown massively this year, as the total value (TVL) of DeFi has recently exceeded $ 4 billion. According to Defi Pulse statistics, the first six DeFi platforms include Maker (lending), Compound (lending), Synthetix (derivatives), Aave (lending), Instadapp (lending) and Curve Finance (dex). Of the $ 4.22 billion, the Maker project now dominates about 31.9%.
Cardano will conquer Tezos and will be the second largest DeFi platform
Quantstamp, the company that has been auditing Cardano's code base for the past two months, believes that after Shelley's hard fort, Cardano will be second behind the Ethereum (ETH), overshadowing its rival Tezos (XTZ). Quantstamp CEO Richard Ma told that he thought Cardano had the best code of any blockchain project. It is considered that it is comparable to ETH 2.0 Prysm.