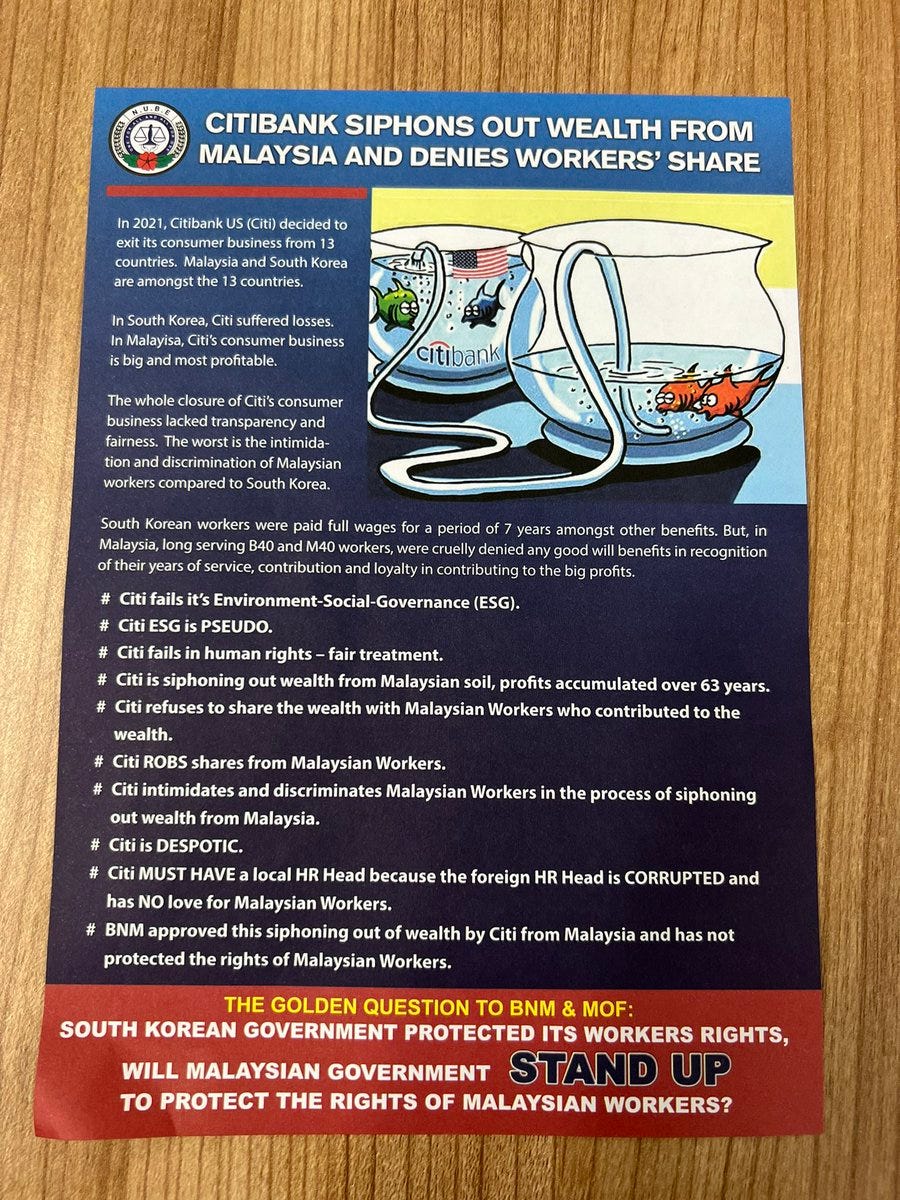 On the 6-Mar-2023, there is a protest outside of the Citibank building in Malaysia to which the people are protesting unfair practices done by Citibank.
To summarize from the poster attached above, Citibank is suffering financial losses in South Korea, while being profitable in Malaysia. However, South Korean Citibank workers were paid with full wages for the past 7 years with benefits, while the benefits for Malaysia Citibank workers were denied despite years of service and contribution to the big profits.
Whether if this is true remains to be seen, as there are no official news reporting this. However, if this speculation is true, it shows the unfair treatment of banks towards their employees while profiting user's deposits.
This news can showcase why blockchains and cryptocurrencies may be beneficial in two ways:
(a) Improves transparency among employees & users by introducing proof-of-reserves that are only private for all employees and possible to trace the transaction ins & outs from the company's balance sheet.
(b) Create DeFi banks which function similar to regular banks, but everyone can connect via their own private wallets without creating bank accounts, while the loans & deposits are traceable via the blockchain, and then smart contracts can be programmed to provide fair wages & benefits to the team behind the operations of the DeFi bank.
Whether if these points are feasible remain to be seen, but it's good to think how regular banks can be more transparent to the employees with how the funds are moved around.
Yet another troubling news from the USDT Tether stablecoin, where Tether used faked documents & shell companies to set up bank accounts in 2018, and one of those was then accessed by terrorists. It's partner exchange, Bitfinex also falsified documents and opened accounts under different names in a bid to gain access to the global banking system.
Tether has been doing a lot of shady businesses that may greatly interest the SEC to investigate them, where a claim back in a few years ago that Tether may not be backed 1:1 with USD dollars. If you are holding large amounts of USDT (whether if it's in the exchange or your own private wallet), please be aware that your USDT holdings may not be safe and do not hold more USDT than you can afford to lose.
So, Amazon is reportedly going to join the NFT space by hosting their own NFT marketplace, where Amazon will also introduce 15 NFT collections during launch on April 24. However, other source said that Amazon won't support crypto assets on the platform, and users will only be able to purchase NFTs with their Amazon account & credit card.
Though no official announcement from Amazon has been made, this may bring user adoption into the NFT space especially for newcomers. However, curious to see how users are getting their NFTs after purchase. If they are only able to keep those NFTs in their Amazon account, users do not technically own those NFTs because Amazon account is centralized and controlled by Amazon itself, meaning they have the ability to freeze your account if you're a malicious person.
Another thing is the NFT listing price on Amazon. Since Amazon has announced a partnership with Avalanche, my guess is that Amazon may create their own subnet (in layman terms, creating their own type of blockchain using Avalanche's toolkit) to power their NFT marketplace. it would also be interesting whether if the marketplace can support crypto wallets such as Metamask so that users are able to transfer the NFTs to their own wallets and claim true sovereignty over their assets.
You can read more about Subnets here.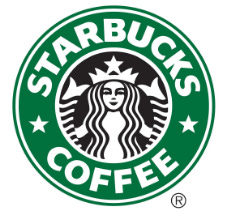 Early adopters that currently owned Starbucks Odyssey NFTs are already flipping their NFT stamps for nearly $2,000 apiece, while just yesterday, they are also offering a limited edition Siren collection with 2,000 NFTs that will be sold for $100 apiece.
Back in Sept 2022, Starbucks announced a program called Odyssey where Starbucks Rewards members and Starbucks employees in the United States are able to earn and purchase digital assets that will unlock access to new benefits and immersive coffee experiences. Once customers engaged in Starbucks Odyssey "journeys", where customers can play interactive games and take fun challenges to gain more knowledge of coffee and Starbucks, then members will be rewarded with "Journey Stamps" which are NFTs for completing journeys.
Starbucks NFTs are minted on Polygon, which is basically an Ethereum sidechain that acts as a separate blockchain to Ethereum but can be linked to the Ethereum Network by transferring ETH assets between these two blockchains with a bridge.
We are going into the era where mainstream companies are getting into the NFT space. Potentially, more companies will utilize the power of NFT technology to list new NFT collectibles for their customer to generate additional revenue. In contrast, we may also see expensive NFTs that are worth thousands which costs the customers even more money than what they normally purchase collectibles in shopping malls. Would be interesting to see how the NFT prices will be regulated further for fairer pricing.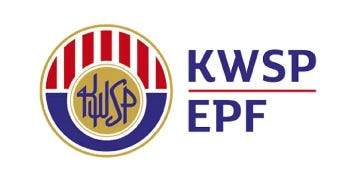 Our final news is Malaysia & not exactly crypto related, but will have some relevance to how blockchain & cryptocurrency technology is able to help this type of situation.
Our current Prime Minister, Datuk Seri Anwar Ibrahim has mentioned the government will allow special collateral agreement to assist Employees Provider Fund (EPF) contributors through bank loans. For any non-Malaysian or US readers here, basically EPF is an IRA (Individual Retirement Account). Due to our country's rising prices in good & services caused by inflation, a lot of Malaysians are turning towards withdrawing their funds from their EPF accounts early whereby the actual minimum age for any Malaysian citizen to withdraw partially/fully is 50 years old.
Details of how EPF-collateralized loans are not yet known, but from our learnings in the DeFi space, all popular crypto lending platforms, such as Aave & Compound are using overcollateralized loan systems where your crypto collateral amount is always higher than your loan amount, and is calculated by a metric called Loan-to-Value (LTV) ratio. In Aave's example, they have an LTV ratio of 80%, meaning if you have RM1,000 worth of savings as collateral, you can borrow up to RM800 to cover your expenses. If your savings are in cryptos, due to the price volatility, your LTV ratio will also changed accordingly. If the platform sets at 80% and your collateral value drops, thus exceeding the 80% limit, your collateral will be liquidated to pay back the loan.
If the government implements this type of overcollateralized loan system, it will ensure the citizens would borrow at a safe limit and within how much they have in their EPF savings. This will also encourage citizens to save more in EPFs and they are able to borrow money safely without sacrificing their EPF savings, since both the loan & collateral are of the same currency.
 ----------------------------------------------------------------------------------------------------------------------------------------------------------------------
Twitter: https://twitter.com/pizzadren
Substack: https://t.co/DGXkaPPnSV
Follow me on Twitter & Medium for more Malaysia-related crypto content. Subscribe to my Substack newsletter so you won't miss any of my articles from your email.