Another Epic Chaos Legion card this week that is highlighted in the Share Your Battle Challenge for Splinterlands. This is the Grund...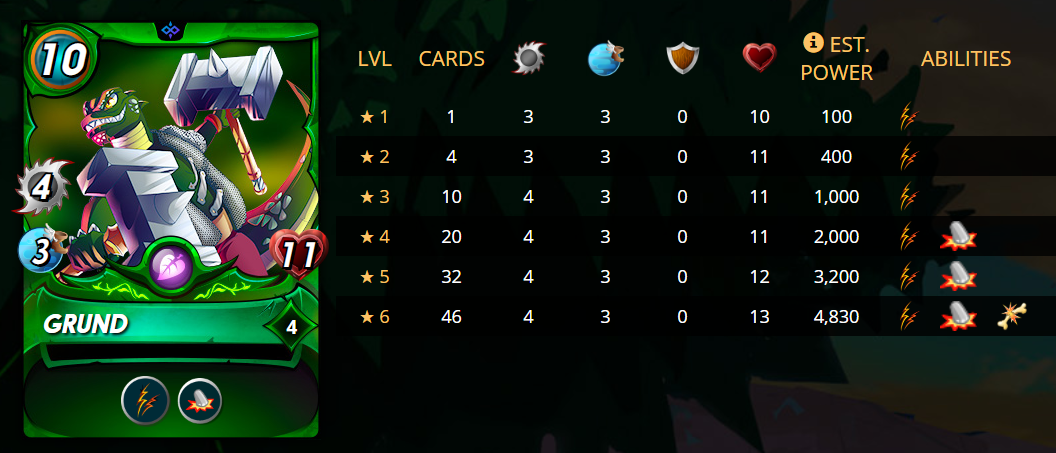 The Grund is one of those cards that when looking at it by first impression looks crazy powerful and it is but at the same time there are too few situations it is actually the best choice. It mainly are the abilities of Double Strike and Trample that make it shine while it's not easy to keep alive without shield or armor and limited speed. I have had it at Level 4 for a long time (upgrading to level 5 for just 1 health which represents 10% more is not worth the cost for me)
On my alt account I own it just at level 1 and I used it in a battle for this challenge there...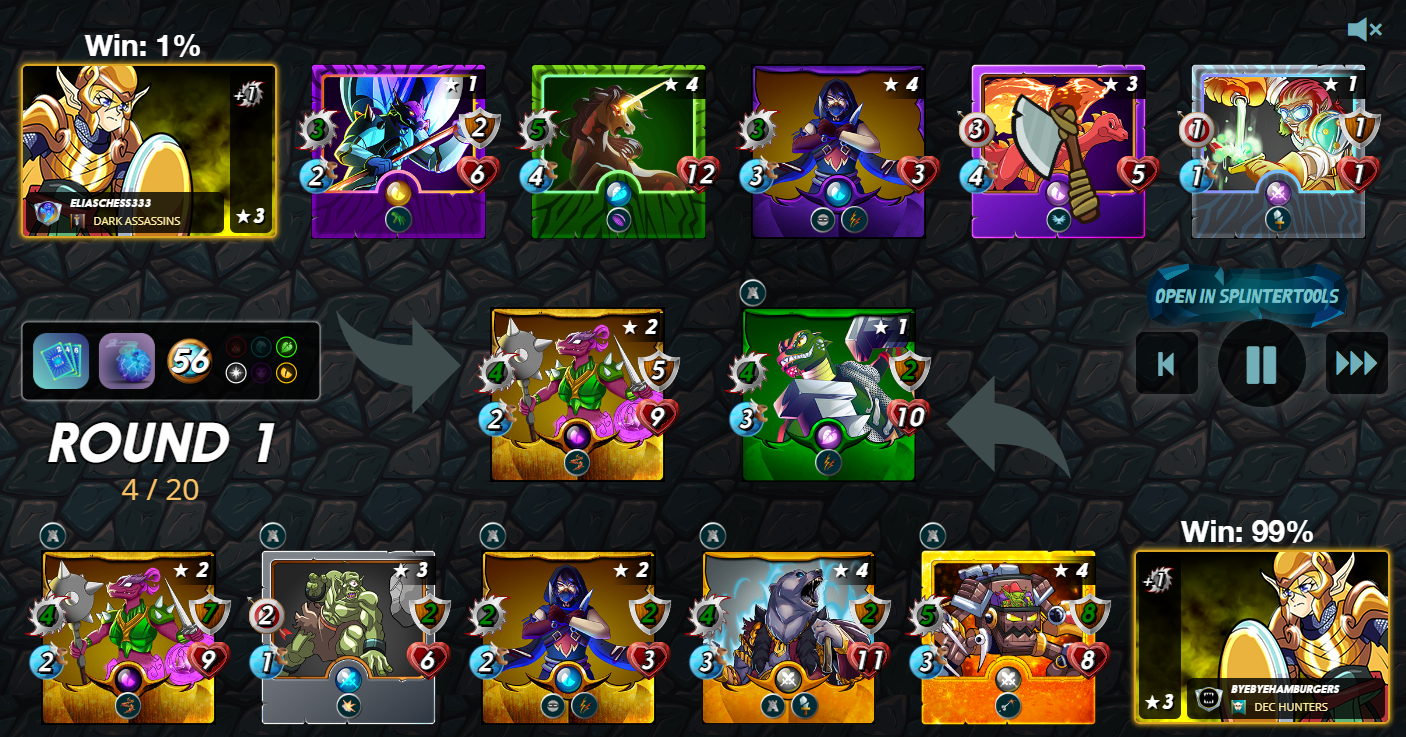 It was a match where no magic was allowed and I mostly focused on a combination or having enough armor and Melee attack even though not all monsters could instantly attack. The Grund I used as my 1st Tank doing some initial damage before my Goblin Mech Took Over. The Arkemis The Bear i put in 3rd position to make sure all other monsters were protected with armor. The Dhampir Infiltrator with sheak and double strike I hoped would be able to do some damage to the backline of the opponent which it did. The Cyclops with shield also was protected since there was no magic damage. In last place I put another Melee Monster that was not going to be able to attack but instead do Thorns damage with the Djinn Chwala.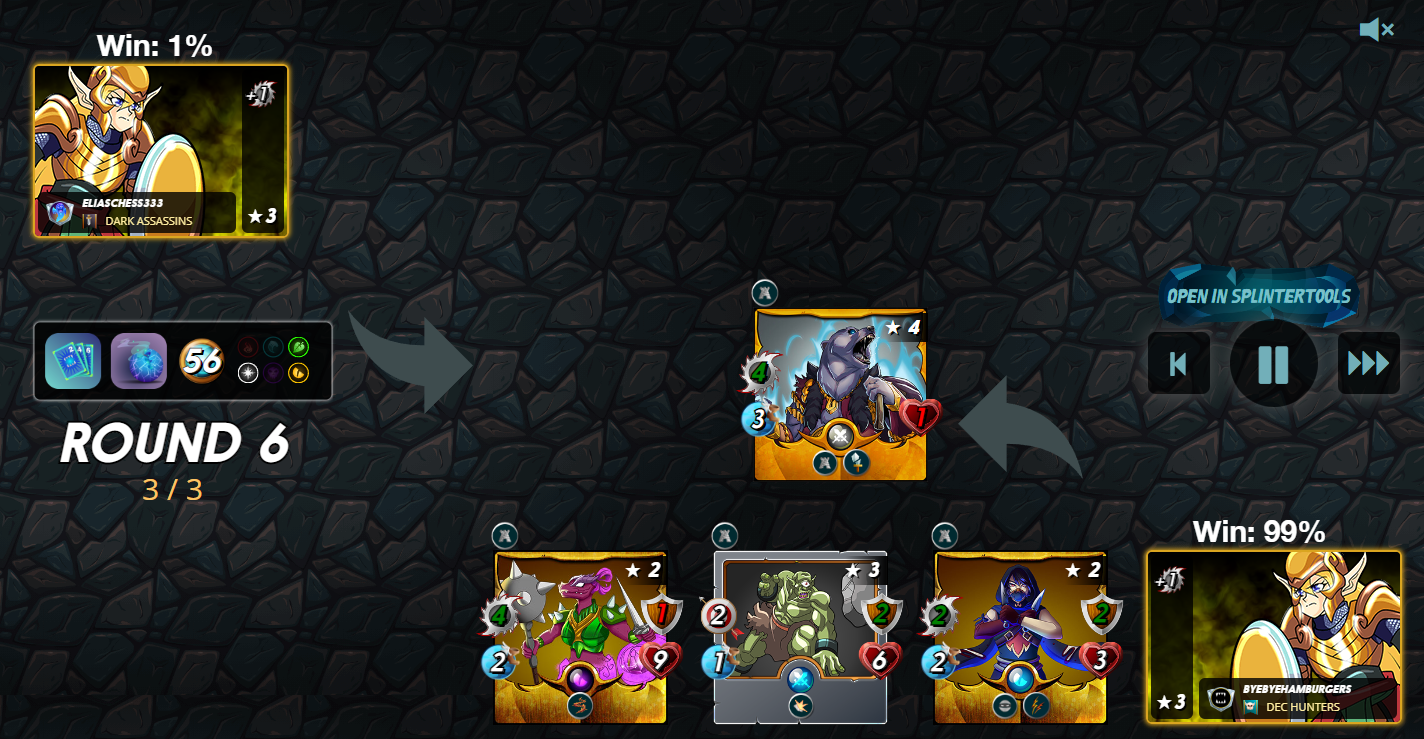 splintertools.io shows me having a 99% chance to win this match against an opponent that played similar cards without really having armor protection. The Arkemis The Bear really is a power ful and useful card in that regard for higher mana battles.
---

JOIN THE CHALLENGE
All Splinterlands players are free to join this Weekly Challenge (regardless of your rank) and will get rewarded by the team with Upvotes on Hive. If you haven't tried out the game yet, this is a great opportunity as it allows you to earn back the 10$ Price of the Summoner's Spellbook you need to get your Hive Private Keys after creating an account, share in the game rewards, get Daily Quests, join tournaments, Earn DEC for each Ranked Win,... 
Play2Earn Games I'm Currently Playing...

---
Hive: https://hive.blog/@costanza
Noise.cash: https://noise.cash/u/costanza
Leofinance: https://leofinance.io/@costanza
Twitter: https://twitter.com/costanzabets