I continue to accumulate assets in Splinterlands and other Play2Earn Games right now During this Bear Market. I already reached the 100k Staked SPS mark and moved on to completing my card collection now.
Playing For Fun
With a lot less focus on the earnings these days and the game being really competitive, I've been having quite some fun actually playing and testing things out these past weeks. The thing I do miss a bit is the fact that it's hard to actually experiment in the game with special deck builds as you basically always want to play as optimal as possible. I do continue building my deck buying some more cards here and there to both complete my collection and just to have fun with. These I added in the last month using mainly funds I got from selling the GLX airdrop...
---
Summoners
I did buy 3 extra copies of Conqueror Jacek at around 14$ each to get it up to level 6. I'm quite confident that these legendary summoners will continue to have their value since they are and will be the most needed in the game (unless Rebellion introduces some crazy power creep which might very much be the case). I haven't yet managed to get Jacek to work properly even though I love the +2 speed buff. It also seems to be the meta summoner right now in the highest leagues.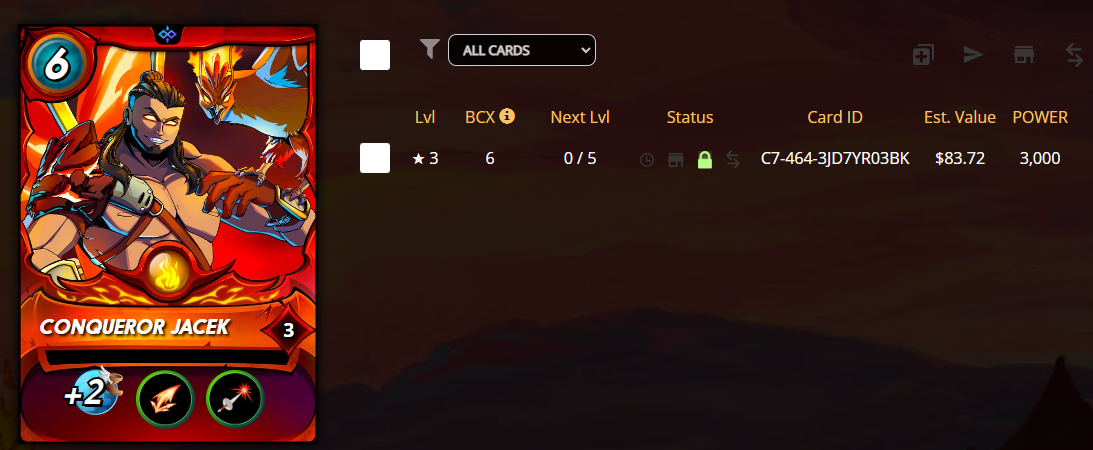 Despite having bought 610 Chaos Legion Packs that qualify for the airdrop, I didn't get a single copy of the new legendary Earth Summoner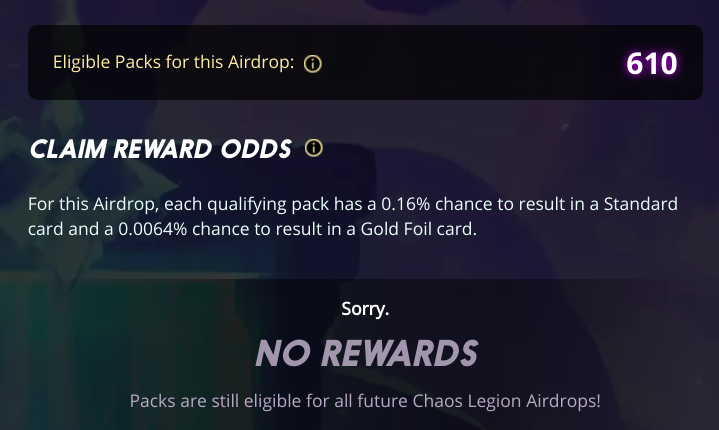 I'm not sure if I will get that one unless at some point there is a massive sale on it. Out of the 4 Legendary airdrop summoners so far I like Immortalist the least and Possibilus the most. This is my progress on the Chaos Legion Summoners so far...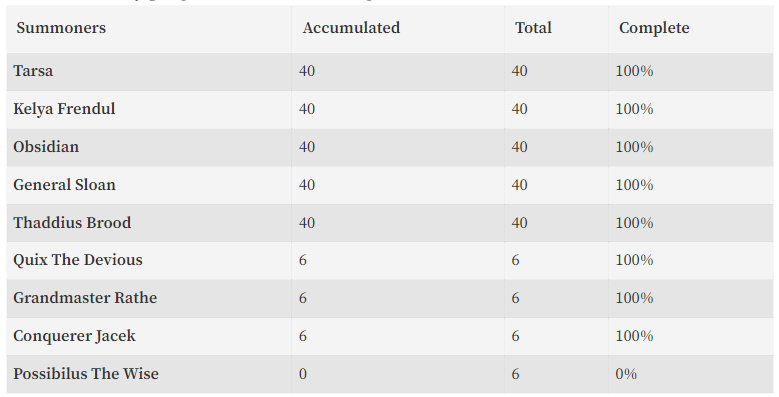 Other Card Purchases
My personal play style tends to be focused around Melee Damage and heal mostly which makes me love the Possibilus The Wise summoner. One cards that was recently added into the game is the promo card Arkemis The Bear which is quite overpowered especially in High Mana Battles. Putting him 2nd with the Possibilus summoner allows him to attack and cut the damage of the tank of the opponent.
I did end up getting a level 4 Golden copy paying less than 7$ for that but I'm not sure if the extra stats are worth the upgrade. I always put it in place 2 and the 1 extra health, 1 extra speed and the Forcefield ability all combined I don't see as changing the game for the spot that I'm using it in. So for now I stikc with what I have not spending an extra 50$ on it. I also got this exact same card for my alt account. With the promo being over, the price also started to go up a bit. Maybe I should have gotten a level 7 regular copy when the price was 0.16$ BCX (now it's 0.25$)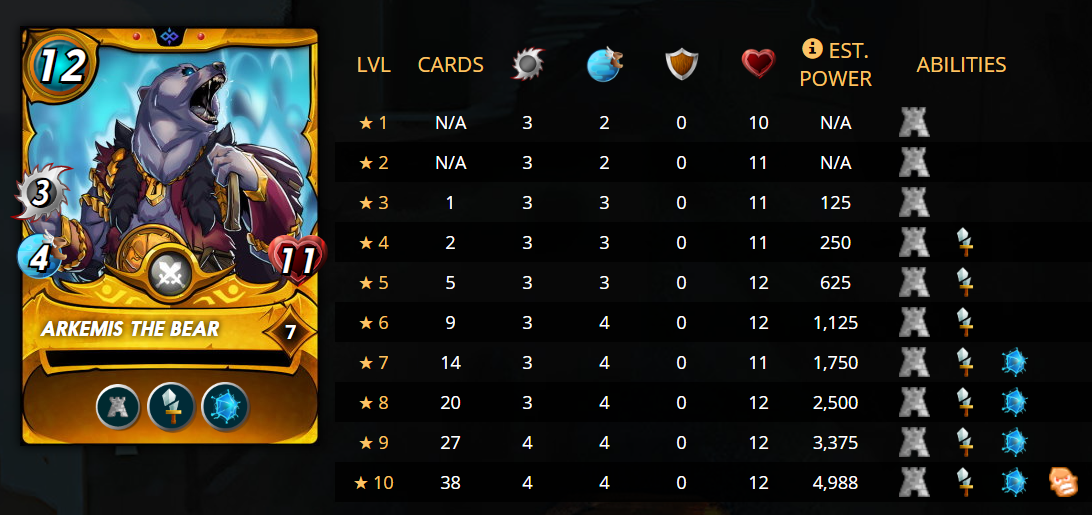 I didn't buy any more Legendary monsters and still only just need 3 River Hellondale cards and 3 Djinn Muirat cards. I did get an extra Epic card fully leveled up to my max level in the Tusk The Wide which is a type of card that I really like since at that level it gives +1 Melee Attack to all other monsters. I have yet to try it out but I'm looking forward to it. My new Jacek also counters it's weak point in the lacking speed.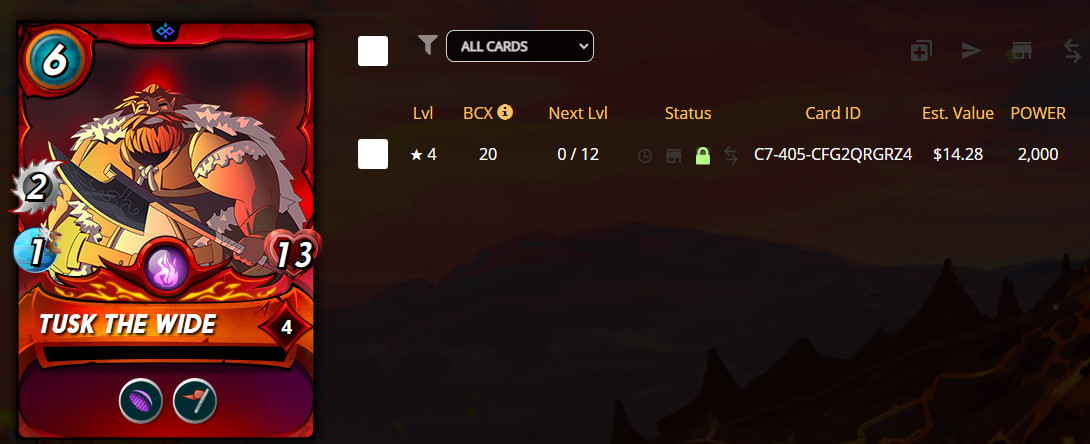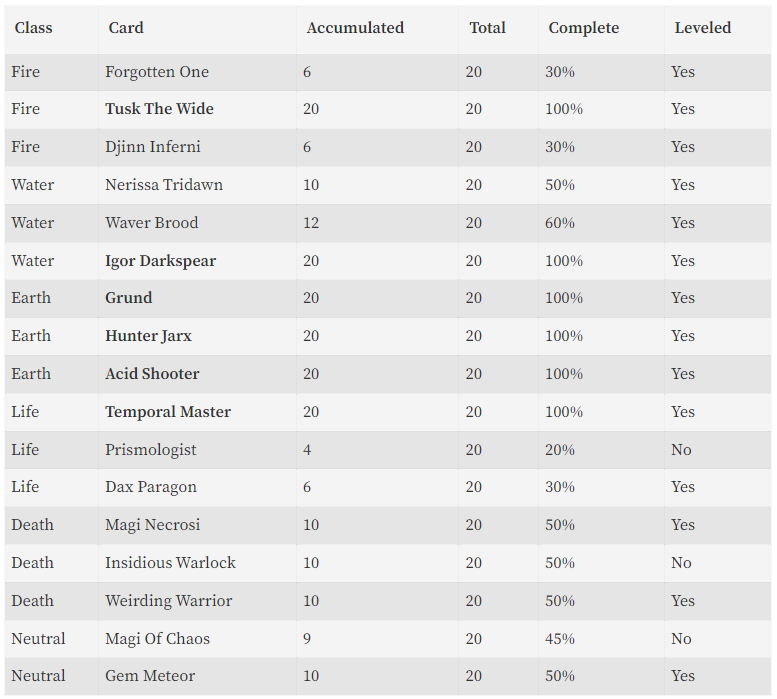 I do like both Epic and Gold cards in general since they are quite hard to actually get from packs. The Nerissa Tridawn and Waver Brood are 2 cards that are still high on my list but they are also the more expensive ones.
---
I also got 1 Riftwatchers cards from level 2 to level 3 slowly just chipping away at it. The card in question is the Runic Skyclaw which now has 4 attack instead of 3. I do like this card to be in the backline since it will have a good chance for the opponent to miss it due to the fly and the speed.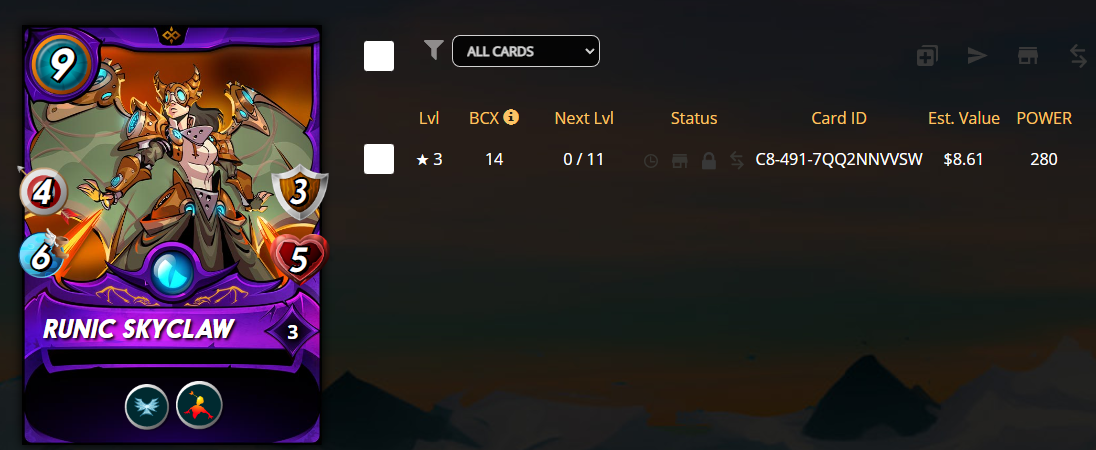 Conclusion
I still have some way to go in order to get where I want to be when it comes down to my collection but it continues to be fun to slowly but surely accumulate. With the next Rebellion Expansion, I probably won't buy any packs but instead do like this and buy selected cards that I want on the market. I'll continue and make another update post next month.
Play2Earn Games I'm Currently Playing...

---
Hive: https://hive.blog/@costanza
Noise.cash: https://noise.cash/u/costanza
Leofinance: https://leofinance.io/@costanza
Twitter: https://twitter.com/costanzabets