Betfury.io recently launched their Sportsbook and also listed their Dividend-paying BGF token which made me take a closer look at it testing it out as both a Sports Bettor and a crypto gambling dapp dividend investor. This is an initial Review...
So Betfury.io is a Crypto Gambling Site similar to Wink.org and Sportbet.one that allows for anonymous betting without KYC running on a blockchain. They have their own BFG token which can be mined by playing their games that provide holders with dividends from the site earnings. unlike some of the other crypto gambling sites, betfury does require players to make a deposit making them more centralized.
---
I tend to be very skeptical when it comes down to looking at pretty much any crypto blockchain project giving quite some fact-based criticism on many I reviewed in the past. (Most recently see Sportx | Splinterlands | Augur Turbo | Dublup.io | ... ). Befury.io however, is one I actually like as it markes many of my checkboxes while I have actually been using their recently released sportsbook for some Crypto Beer bets. Since I'm always looking for an edge when betting, I am staying away from their casino games but I am looking at potentially get dividends from the site earning through their BFG Token. This is a list of positives and negatives of Betfury...
+++ Easy Login / Onboarding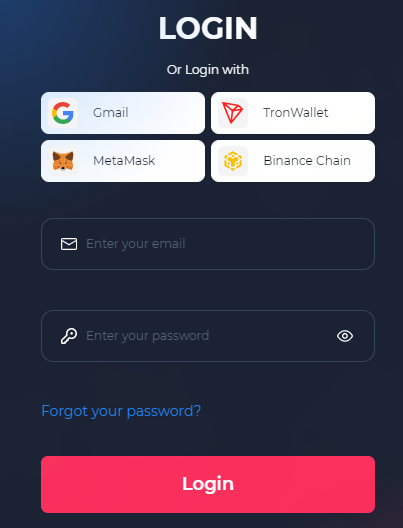 Betfury allows direct logins from existing accounts. Users who are not yet into crypto can just make an account or log in with their Gmail account. Users that already have a Tron Wallet or Metamask installed like me, can just use that as their account which is really convenient and it should also be really secure. When it comes down to onboarding new users, this is just a massive advantage since the step to have a look inside and test it out us just way smaller compared to it being limited to 1 chain like for example wink.org which requires users to have a tronlink account (or a poloniex account)
---
+++ Great Site Layout / User-Interface
Out of all crypto gambling sites I know, the Betfury.io website looks by far the most appealing on the eye while being very clean and clear. All this should help overall adoption getting more players to test the platform.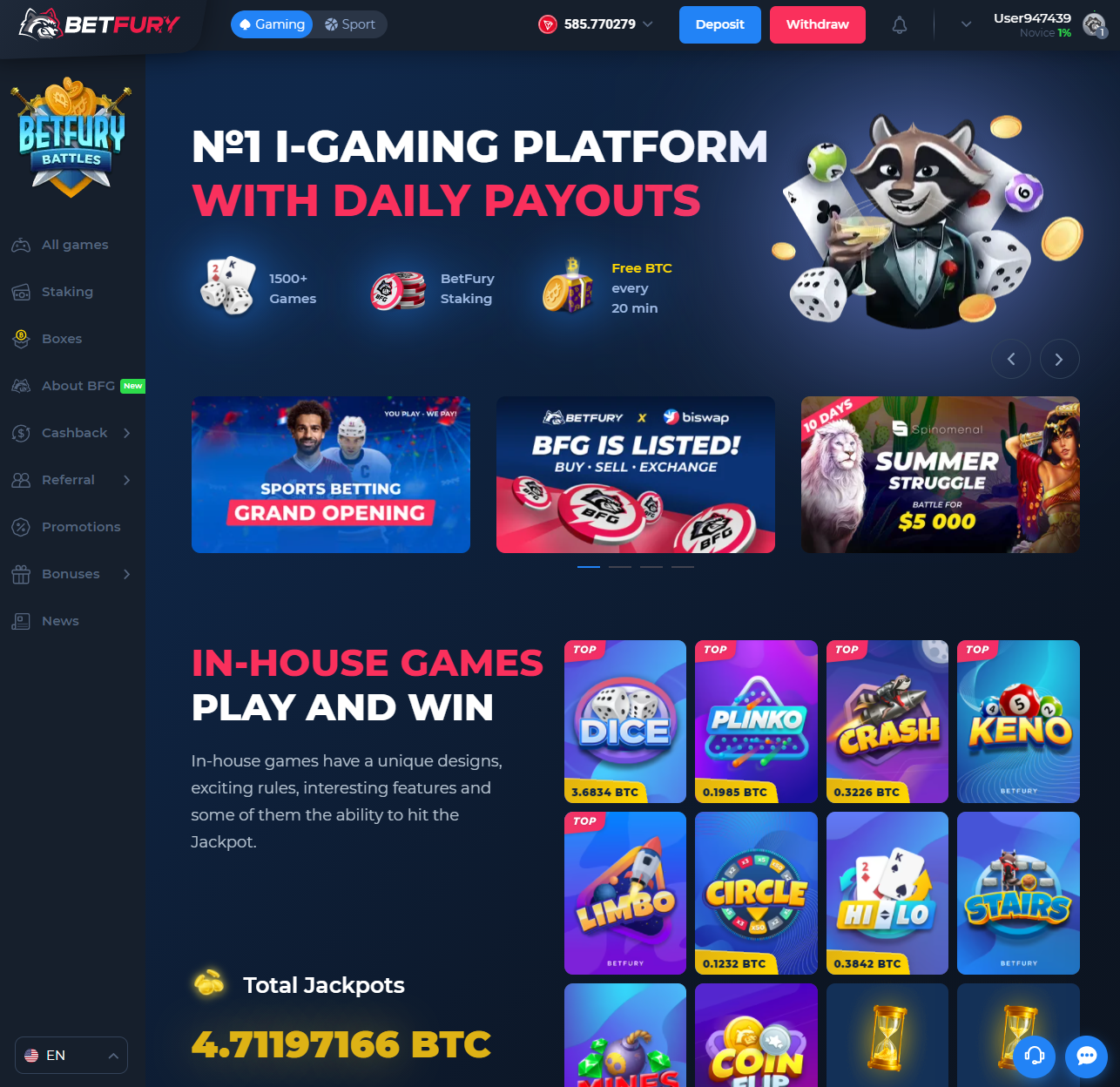 ---
+++ Free BTC Faucet / Small Minimum Bets

Betfury has a free BTC and BNB faucet build into the website as a way to both attract new players while increasing the retention of existing players who can claim some free Satoshis every couple of hours on the website. The minimum bets are also extremely low which makes it so that anyone who wants to have some gambling fun without making a deposit can do so on Betfury through the free BTC that is handed out. For most, the amounts that are given are so small that they are not worth solving the captcha though. It is a nice and clever feature they have though.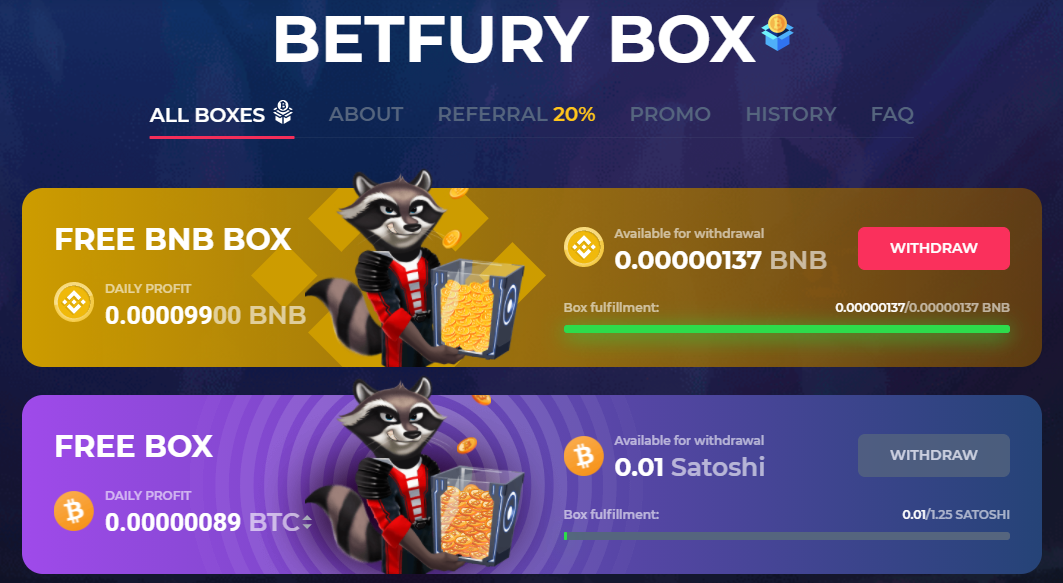 ---
+++ Extensive Sports Betting Options
The reality about pretty much all these crypto Sports Books is that they generally can't compete in terms of odds with the betting broker I'm using on an everyday basis Sportmarket Pro who almost always offer better prices. There are however occasions when Betfury has had equal or better odds to what I had available and they also offer a wide variety in markets which the big Asian bookies don't offer and also have a lot of interesting prop bet options available. In that regard, they have a Sportsbook that I will use for both fun Beer bets and possibly larger investment bets next season handicapping the Belgian Jupiler League.

---
+++ Cryptocurrency Options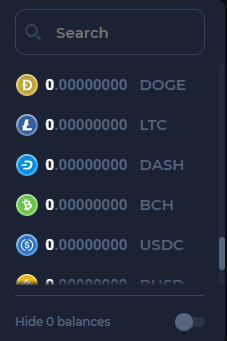 Befury has a lot of different cryptocurrency options available for betting, their most used are BTC/ETH/TRX/USDT/BNB/BTT, but they also allow betting with Bitcoin Cash (BCH), Litecoin (LTC), DOGE, USDC, LINK, DASH, DAI, BET, and many others. This certainly helps adoptions as crypto very much works with tribes who like their own token most and there are many hodlers of these different tokens who might be tempted to use them to gamble.
---
+++ BFG Token & Mining
This is one of those things I see as both a positive and a negative. Players (only casino-type games now) get some rewards in BFG tokens for playing and I'm quite sure many bring the action to the website just to mine tokens which increases the money the site makes since there is no way to get an edge on bets that mine BFG. The downside is that it creates a lot of inflation to the BFG tokens in circulation while the supply is limited potentially giving fewer incentives along the way. I tested out the mining with 1 small bet and it worked like a charm almost instantly giving me the promised BFG for my stake. Newly mined tokens are locked/stakes for 6 months and are released afterward allowing the one who mined to possibly sell them.

Right now, to mine 1 BFG Token it requires an equivalent of a 2.85$ bet with this amount increasing every 50 Million BFG that are mined. The total Supply is 5 Billion BFG with currently 1.3 Billion being staked receiving Dividends.
---
+++ Dividend Payouts
By far the best way to earn money from gambling is to be a bookie and these Crypto Gambling sites with the tokens and dividends indirectly allow players to get in this position. I have had quite good experiences the last 80+ weeks being invested in both WIN & SBET which provide solid returns on a consistent basis and I added a little bit of BFG to my Gambling Dapp Dividend Portfolio last week as a way to test it out being able to get more accurate numbers. Each day 3% of the total Dividend pool (which currently sits at a whopping 2.3 Million Dollars) is being paid out to BGF Token Holders. The number of tokens that are being staked and what is being paid systematically seems to be going down though.

Less than 1 month ago on 27/05/2021 the BTC Payout that day for 100k BFG was 0.00004549 BTC which by now has gone down to 0.00002760 which is a -40% decrease in 30 days begging the question of how good of an investment this BFG token is. I still have to get more detailed numbers to come up with a fair valuation of the token which I might make a post on in the near future.
---
+++ Token Burn

It looks like 1.3 Billion tokens already were burned by the team decreasing the supply in a way. According to the Whitepaper these are the burn mechanics
Auction burned - BFG tokens used by players for bets in Auction
Team burned - part of the team BFG tokens that were received during the
mining process
Gaming burned - BFG tokens from lost bets

---
+++ Development & Roadmap
There seems to be a lot of development ongoing with a Roadmap that shows plenty of things to come still for the platform.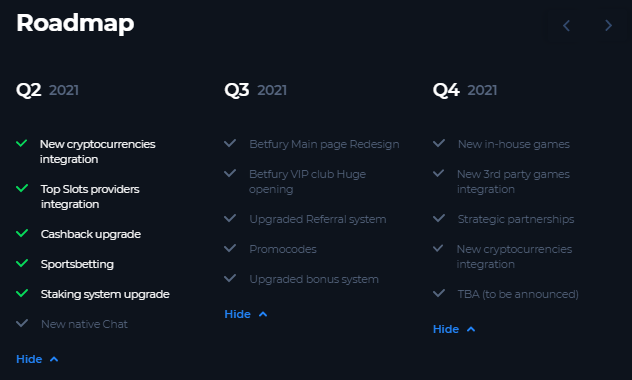 ---
--- Centralization

There certainly is a form of centralization present when it comes down to Betfury.io which requires a deposit to be made even though you are able to log in directly from your own wallet. It is something to be aware of when having funds on the site and it is best to keep those limited just in case.
--- Mining & BFG Price Sustainability

Crypto Gambling sites where players mine coins that get dividends from earning distributed are great to get things started as it gives a big incentive early on to get things going. As time moves on it becomes less favorable as the difficulty gets harder while more tokens get in circulation putting some pressure on the price. The rate at which new tokens are being mined is quite fast and they likely need to come up with something since there is a maximum supply.
---
Conclusion
Overall, I'm very optimistic and impressed by what Betfury.io has accomplished so far and what it has to offer. It is certainly a platform I will be using myself as a Sports Bettor and I am in the process of getting the proper calculations possibly getting some more BFG Tokens if the numbers I come up with show it has good value. Those looking for a fun site for some gambling or Sports betting should definitely check it out!
---
Hive: https://hive.blog/@costanza
Noise.Cash: https://noise.cash/u/costanza
Leofinance: https://leofinance.io/@costanza
Twitter: https://twitter.com/costanzabets