I am in the process of learning Technical Analysis and will start to make some documented trades with the main purpose to make mistakes and learn from them so I can improve and actually become good at it. Don't take anything of what is written in this post as advice!
The Crypto trading space is very similar to the Sports Betting world, many people are randomly making predictions without really being specific, and pretty much nobody is keeping a record on their calls. Please let me know in the comments if you know people in the crypto trading space who keeps themself accountable.
I plan to do exactly the same as what I've been doing with my Sports Bets for the last couple of years. Make some very clear predictions, put some money on them, and keep a very close record on how they are doing with the main purpose to improve. Please feel free to contradict me in the comments as I'm always looking to learn!
---
Trade #1: LINK-BTC LONG
I am quite lucky to be a long-term Link holder as I pretty much randomly picked it up form Crypto Twitter back when it was below 0.20$. I cost averaged sell 60% of it on the way up just to balance my portfolio and am keeping what I have right now as a long term Hodl position.
Link Parabolic Support Trend Line
I have been watching this line for a long time and wanted to get in last time it touched the bottom. Link is one of those coins that tends to have big spikes up and crashes vs BTC. Right now it is the 5th time already touching the bottom of the parabolic run-up after a -25% correction.
---
Bitcoin 870-Day Resistance Downtrend Line
At the same exact time, Bitcoin is hitting a huge resistance line that hasn't been broken for 870+ days now. BTC also had 8 green weeks in a row now. The last time this happened was mid-2017 and a 40% correction followed. in 2015 there also was a streak of 8 green weeks followed by a -40% correction.

---
Upwards moving Channels
Link is also trading in an upwards moving channel currently hitting the bottom support line against the US Dollar, while BTC is also in something of an upwards moving channel fighting the top resistance line against the US Dollar.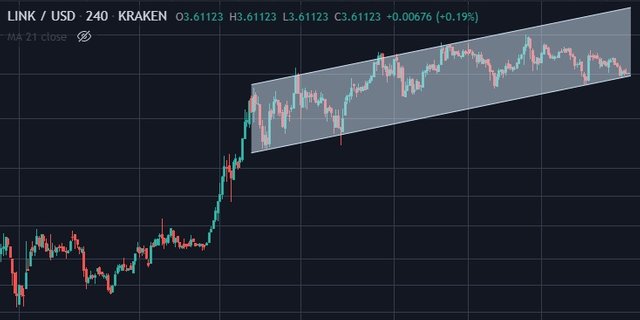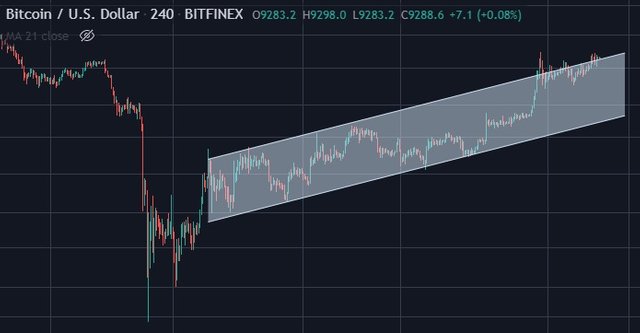 I Bitcoin manages to break the 870-Day resistance line, things could go up very quickly possibly leaving link dropping below its 2+ year parabolic resistance line. I do like the risk-reward ration of this not happening and Link having another push higher vs BTC after the 25% correction. The aim of this trade is to get more BTC regardless of the USD price. The stakes I document these trades on will always be flat.
Link Buy Price = 0.0003875BTC
Profit Target Range = 0.000470 BTC - 0.000500BTC
Stop Loss = 0.000370 BTC
The other times when Link Touched the parabolic resistance line, this happened
50 Days +360%
37 Days +158%
46 Days +139%
14 Days +55%
The % profit on the parabolic move always decreases after wink makes another move up. Link could be forming a symmetrical triangle pattern of which the top might be the time to take profit if it gets there. I will set a ~4% to 5% Stop loss on this trade as reaching that range would likely mean the long term parabolic support line is broken.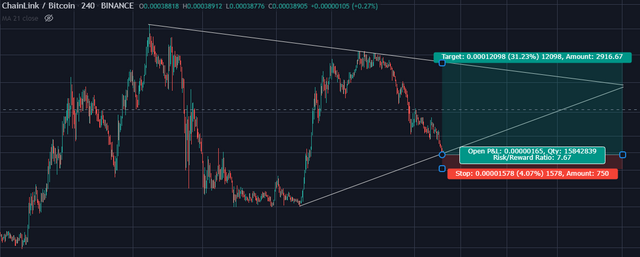 ---
Again, the purpose of this prediction is for it to act as a learning experience for myself. By no means follow what I'm doing or take anything that is written down seriously. I will keep close track of all the trades I'm making over time and will bring an update on how it all played out in the near future.
Free Software I use for Charts
Tradingview
---
Hive: https://hive.blog/@costanza
Steemit: https://steemit.com/@costanza
Scorum: https://scorum.com/en-us/profile/@costanza
Twitter: https://twitter.com/costanzabets