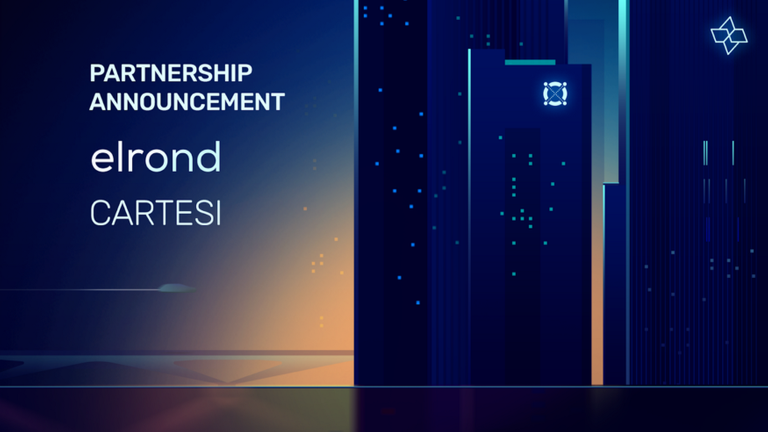 Guys, tell me, did you invest in Cartesi following my example? Not? Then you should think about it today! Because the project has a new update!
Today it became known about the new strategic interaction between Cartesi and Elrond. This is extremely important news for the further development of the project. So it is for cryptocurrency in general. The external computing power of Cartesi Rollups should accelerate the already super-fast blockchain from Elrond!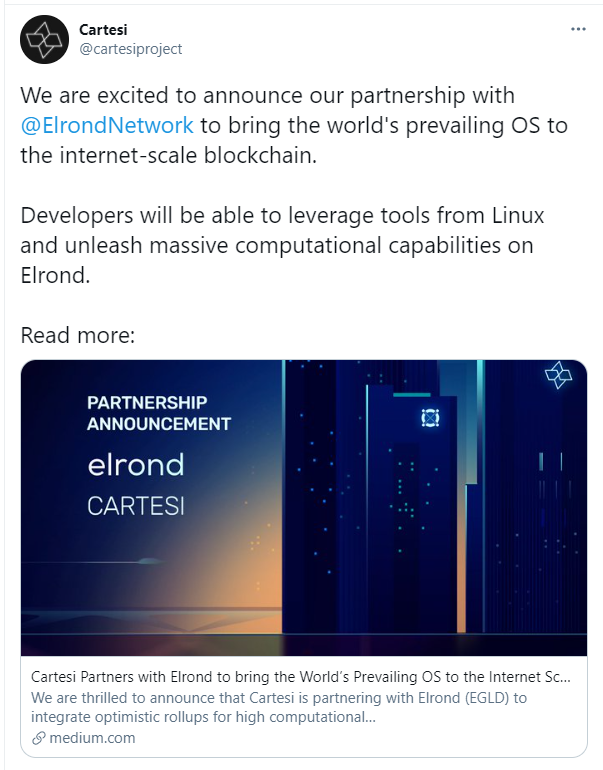 What is Elrond blockchain that allows you to provide more bandwidth to your network? This technology is achieved through sharding. The speed of the blockchain is at an exorbitant level, the network has low transactions.
The partnership of these two companies will mean that programmers will be able to create new Dapps for the Elrond ecosystem using standard programming languages. External calculations of Cartesi Rollups will also speed up the calculations in the system.
The #Cartesi team has proven to us once again that its technology can be applied to any type of blockchain. This means scalability problems are easy to fix. This will expand the working area of ​​all types of blockchain.
Now, of course, the team should focus on solving the global problem of the Ethereum network. Because of the Defi projects, the market began to feel significant problems. Today I paid almost $ 80 per transaction. Which, of course, upset me. And as users of the Ethereum network, I need a solution to this problem.
What's next?
Of course, the market reacts extremely positively to such news. I and many of my friends became investors in this project. And we are pleased to analyze such a crazy growth in market capitalization.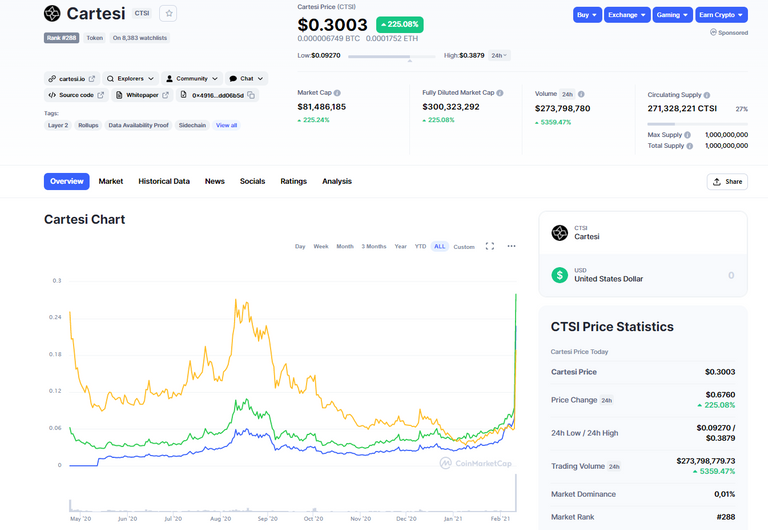 In one day, the market capitalization increased from $ 30,000,000 to $ 81,000,000. It is also worth considering that the project is carrying out many side development programs. Staking, social mining. That strengthens the position of the project in the cryptocurrency market.
What can be expected soon? Well, firstly, such a partnership has already brought profit to the project and to all investors. However, we are looking at a solution to a global problem. Since 80% of projects use the Ethereum blockchain. Testnet launch should take place in Q2. My guess is that the project should reach a market cap of $1,000,000,000 by Q3 after the first network launches.
---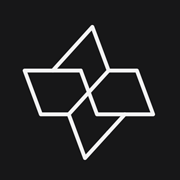 Articles that may be useful to you:
CTSI Reserve Mining | Cartesi Hub | How to Run a Node and Stake | Medium
Sites that will help you quickly navigate:
Cartesi | Cartesi Stake| Cartesi Hub | Cartesi Explorer 
Media