Ever since bitcoin entered into the public consciousness over the last few years, experts and observers have struggled to make sense of what the cryptocurrency would ultimately mean to the global financial system. The consensus so far, if there is one, is that it isn't bitcoin itself that's likely to leave a lasting mark on the financial sector, but that it will instead be the underlying technology that holds the real revolutionary potential.
That technology, known as the blockchain, offers a distributed and trustless digital ledger system that is already turning up in new products in a wide array of industries. One of the most visible sectors that have already started to feel the effects of the blockchain is in SME finance, where a new generation of projects has been making waves by providing small business loans to companies that have been traditionally underserved. Now, however, the blockchain is showing up in the realm of personal finance as well, and we all be witnessing the beginnings of a new lending revolution with BITBOND.
The origin of lending has been very interesting, The nature of human relationship is very much social, and from the beginning of man's existence, the practice of helping one another through lending has always been facilitated by social Capital. This has allowed people to borrow from one another and lend easily. Following from this, the advent of the trade by barter system by our distant ancestors sparked off a revolution in the trade system for all time and has become a role model for financial systems today. If you have something in excess and you need something else, you can take your excess and trade with the excess of someone to get what you need.
Today, lending and borrowing has taken on a more formalized approach to minimize risk and loss of value and the inclusion of profit and percentage on the borrower and the lender side of the table respectively. Banks and financial institutions have taken up the mantle of lending money to the public with inflexible profit percentage rates and payback durations. This problem and many more is what Bitbond has developed a revolutionary platform to provide lasting solutions to. Please read with with as i take you into this exceptional platform.
ABOUT BITBOND
Bitbond is the first decentralized business lending platform operating worldwide in more than 80 countries. The project belongs to Bitbond GmbH, which is officially registered in Berlin (Germany) and has one of the most worthy financial licenses of the country from the BaFin regulator. For the founders of Bitbond it is a great honor and a tribute from the German regulatory authorities. Given the fact that this is the first blockchain platform in Germany, which received this license.
If you touch a little bit on the history of the Bitbond project, for all these years (since 2013) the company Bitbond GmbH has already successfully established itself and show itself in many countries of Europe and Africa. It has accredited more than 3,000 small and medium-sized businesses worldwide, totaling more than 13 million euros. At the current time, the founders of Bitbond are able to provide monthly loans in the amount of about 1 million euros, which is a worthy result, which the developers assure they do not intend to stop.
The unique objective of the project is making loans or working out capital financing to be accessible to a numerous number of SME's (small and medium-sized enterprises) in order to grow their establishment and also providing investment products where investors will have the ability to get returns. These are achieved by carrying out transactions using the innovation of the blockchain. There are lots of fantastic features for businesses on board the blockchain but the payment feature holds the infrastructures primary focus. Take for an instant an Indian businessman wants to invest in a Nigerian business, he would easily carry out transactions, using the platform beating expense and time. Small businesses seeking loans after registering and opening accounts, will have their applications transferred to suitable investors who would then verify the accountability of the business. Once done, cryptos will be converted to fiat and vice-versa and then transferred.
WHY YOU SHOULD CHOOSE BITBOND
The team behind Bitbond project has developed this revolutionary platform to solve all the problems that have been affecting businesses around the world and still occur in all countries of our world. Almost every second small and medium-sized entrepreneur is faced with the lack of adequate funding for their business ideas or a ready-made working model. Businesses around the world seek financial assistance from various banks or other financial institutions, which in turn do not always have the opportunity to support every entrepreneur.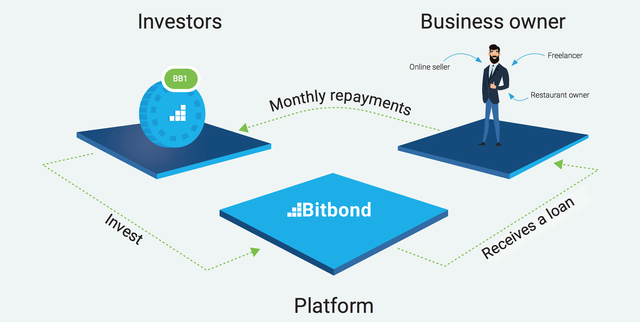 The concept of Bitbond eliminates this problem, helping to develop small and medium-sized businesses in all corners of the planet by means of high-tech tools and technologies. All they want to offer mothers now is to become part of this direction and help to develop business lending to small and medium-sized businesses became more affordable.
The services provided by Bitbond includes;
Market Lending
SME loans
Amazon loan
eBay SEO
Fixed income investment
The fixed income investment allows bitcoin owners to lend bitcoin to businesses that are small across the globe. Bitbond has basically been operating since 2013 and presently spans over 110 countries. This option allows bitbond to connect lenders with worthy borrowers. So if you have some bitcoin to invest here is a good opportunity to help a credible business out and earn good income.
Token Details
Bitbond is offering security tokens, each of which is a bond based on the BB1 tokens proposed by the project. If we talk about the technical side of the issue, the BB1 security tokens are created on the basis of the Stellar Lumens blockchain and will be distributed by means of STO, as well as work with all online wallets that support this blockchain.
The use of borrowed funds is as follows:

CONCLUSIVELY, Bitbond is facilitating timely loans to SMEs that are qualified to access them, and they don't just give loans they have also made necessary plan to pay a 1% interest on a quarterly basis to investors. This would continue until the 10-year mark elapses. Bitbond has engaged all the necessary tools that are needed to make this project the best you can come across and they are surely building the future for the world and the crypto community at large. So, why wouldn't you wanna be a part of this revolutionary platform, join and be sure you are taking a step in the right direction.
TEAM
Partners

FOR MORE INFORMATION PLEASE VISIT THE LINKS I HAVE PROVIDED BELOW;
Website: https://www.bitbondsto.com
Lightpaper: https://www.bitbondsto.com/files/bitbond-sto-lightpaper.pdf
Prospectus: https://www.bitbondsto.com/files/bitbond-sto-prospectus.pdf
ANN thread: https://bitcointalk.org/index.php?topic=5130337.0
Telegram: https://t.me/BitbondSTOen
Facebook: https://www.facebook.com/Bitbond/
Twitter: https://twitter.com/bitbond
Medium: https://medium.com/bitbond
Reddit: https://www.reddit.com/r/BitbondSTO/
Instagram: https://www.instagram.com/bitbondofficial/
YouTube: https://www.youtube.com/user/Bitbond
Author: BrainerdPaul
BitcoinTalk profile link: https://bitcointalk.org/index.php?action=profile;u=1680409
My Affiliate link: https://www.bitbondsto.com/?a=BKSYFQ