Movie Review: Above and Beyond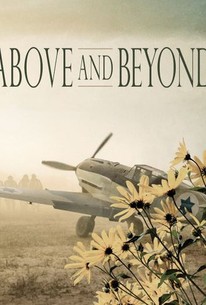 Above and Beyond is a documentary on the American Airmen that helped the nascent state of Israel in its war for Independence in 1948. These Jewish Americans who had fought in World War II on the side of the Allies used their skills to support the Israeli fight. The documentary is not dry at all - and the characters of these men are actually hysterical and fascinating at the same time. 
In the same breath these gentlemen tell their story of foreign support to a fledgling nation - selflessness, bravery, courage, innovation, and war stories - and then discuss their flyboy shenanigans at home, in Europe, and in Israel. What the viewer should find fascinating is the contrast to the individual stories of dogfights or sorties achieving something small or tactical and the narrative connection to how those small actions had strategic effects across the political landscape and in effect - turning the tide of war.
The story follows the Americans as they return home from the war and try to find their new place in American society. Then, when the British Mandate was projected to end and result in a partitioned state between Israel and Palestine, the Jews prepare for what will be a battle for their survival. From nothing, the Air Service arm of the Haganah attempt to build an Air Force. They use Americans in the USA to purchase surplus military C46 aircraft and equipment and funnel them through South America, North Africa, and into Europe. There, those C46 Cargo aircraft are able to carry the Czechoslovakia built Me-109 Messerschmidts and send them to Israel. Those aircraft are the first military aircraft that the Israeli Air Force will have.
Immediately, those aircraft are used in battle to hold off the Egyptian and Iraqi armies. In doing so, Israel is able to survive until the first ceasefire - and then able to further build its defensive capability and survive the war (*spoiler*). 
The remainder of the documentary follows the Airmen and the war, but the impact of the actions these Americans did at the risk of loss of American citizenship, prison, injury, crash, and in some cases death is undeniable. 
The documentary is well put-together, interlacing historical footage, interviews, pictures, and narrative. Not boring at all, and worth the 90 minutes to watch and hear their story.  
The movie can be rented for as low as $2.99 US on Amazon Prime - but I always recommend checking your local libraries for copies for free.
Stay safe and successful!