I admit I use to buy the coinbase bundle a few time which took your money you where dumping into coinbase and spread it across a number of cryptocurrencies.
However without notice it seems like Coinbase has now removed this option.
I have to say though when I did use it, it was lopsided where nearly 80% went into bitcoin and then 20% was spread out over other cryptos. You would think that being a bundle that it would take all the money and evenly split it over each of the cryptocurrencies.
This bundle had 5 cryptocurrencies in it Bitcoin, Bitcoin cash, Ether, Litecoin and Ethereum classic.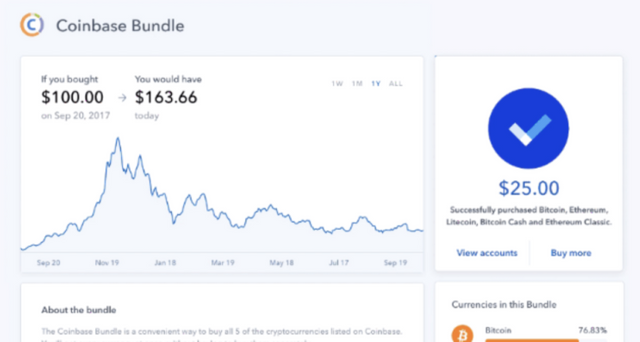 It would make sense however that most people would have stopped ordering these bundles and instead just bought the coin they wanted outright. When you look at the bundle that they where offering there are many conflicting coins such as bitcoin and bitcoin cash and ethereum and ethereum classic. In most cases people are pro one and con the other thus the bundle would not be something they would be interested in.
Where you a buyer of this bundle when it existed ?