House Democrats Unveil Article of Impeachment Against Trump, Citing Incitement of Insurrection
by
W. Paul Alexander
for 
Better Call Paul Blog
---
---
[January 11, 2020 |  WASHINGTON, D.C.]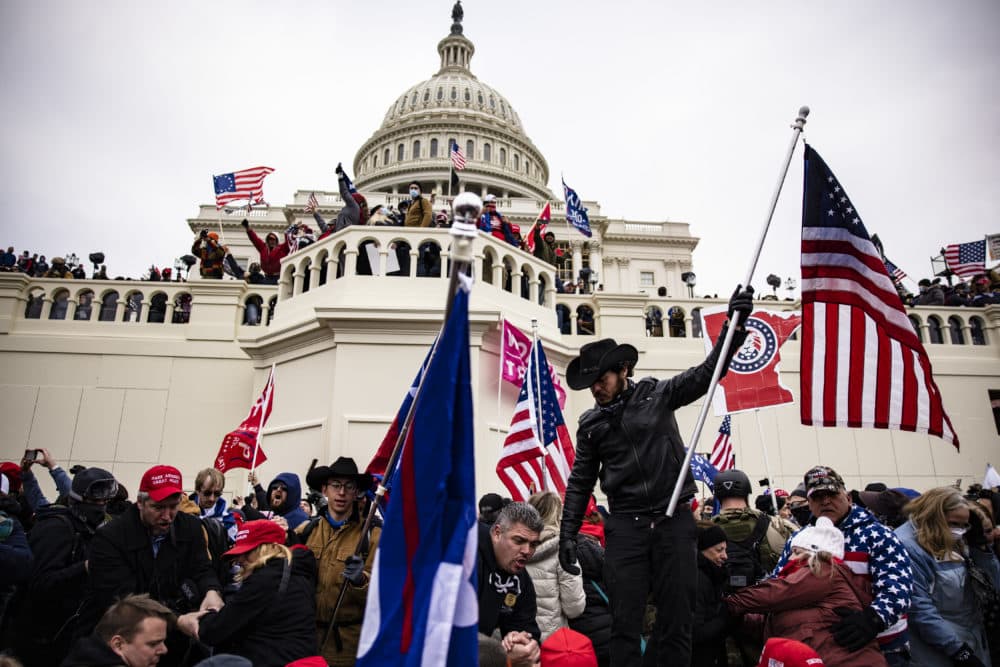 ---
---
Today, as promised, House Democrats have unveiled Articles of Impeachment against President Donald Trump, citing accusations that he incited the violence that occurred at the US Capitol during the insurrection and riots that occurred during the counting of the Electoral College votes by joint session of Congress on January 6, 2021.  
You can read the full the entire text of the Articles of Impeachment here. 
Excerpts from the Articles show the utter disgust and contempt held by many legislators after the violence that occurred while they were in session.  They start off with the constitutional requirement: 
"Article of impeachment exhibited by the House of Representatives of the United States of America in the name of itself and of the people of the United States of America, against Donald John Trump, President of the United States of America, in maintenance and support of its impeachment against him for high crimes and misdemeanors."
However, when you read through the text, coming upon the first Article is where they unleash their fury against Trump:  
"He also willfully made statements that encouraged—and foreseeably resulted in—imminent lawless action at the Capitol. Incited by President Trump, a mob unlawfully breached the Capitol, injured law enforcement personnel menaced Members of Congress and the Vice President, interfered with the Joint Session's solemn constitutional duty to certify the election results, and engaged in violent, deadly, destructive, and seditious acts. President Trump's conduct on January 6, 2021 was consistent with his prior efforts to subvert and obstruct the certification of the results of the 2020 presidential election. Those prior efforts include, but are not limited to, a phone call on January 2, 2021, in which President Trump urged Georgia Secretary of State Brad Raffensperger to ''find'' enough votes to overturn the Georgia presidential election results and threatened Mr. Raffensperger if he failed to do so. In all of this, President Trump gravely endangered the security of the United States and its institutions of government. He threatened the integrity of the democratic system, interfered with the peaceful transition of power, and imperiled a coordinate branch of government. He thereby betrayed his trust as President, to the manifest injury of the people of the United States."

---
---
Why Now? 
Many have raised concerns that it is a waste of taxpayer money and congressional time during the midst of the COVID19 pandemic, especially when Trump only has 9 more days until Biden's inauguration.  
These concerns are valid, but there are many reasons why Congress can act to impeach Trump far beyond just removing him from office.  For instance, if successful in the House and if the Senate votes to convict, the following will occur: 
Trump will lose his ability to ever run for or hold office again.  He has expressed that he will be gearing up for a 2024 run for President, vis-a-vis Grover Cleveland.  A conviction on impeachment would bar him from doing this if the Senate includes such language in its conviction. 
Trump will lose his $200,000 per year pension.  This may not seem like much to a billionaire, but it's free money, every single year for the rest of his life.  This will amount to a couple of million dollars, should Trump live 10 more years.  Those millions could be diverted back to the Treasury. This is not due to the rules of impeachment themselves, but rather the Former Presidents Act of 1958, which provides a pension and other benefits, disqualifies presidents who were removed from office following an impeachment conviction.
Trump WILL maintain his lifelong Secret Service protection, even if convicted.  This is due to a 2013 amendment to the Former President Act of 1958.  
He would go down in history as the only President to be convicted at Senate trial.  We all know Trump is about himself, and we all know the saying "All publicity is good publicity."  While many would abhor going down in history with such a dubious trait, Trump would probably relish in it, as it sets him apart from all other Presidents -- it may even earn him a place in the Guinness Book!   
However, there are also many downsides to going forward with an impeachment trial so close to the beginning of a new president's term.  For example, a Senate impeachment trial would grind the Congress to a halt.  Impeachment would consume the political debates and procedures, and Biden's appointment candidates would be delayed in receiving their confirmation hearings in the Senate, likely leading to a situation where there are a bunch of "acting" officials -- something Trump has used to basically install loyalists in key positions while sidestepping the "advice and consent" requirement.  This centralizes and concentrates power in the executive branch, and the last 4 years have seen so much of such consolidation, it's incumbent upon Biden to do everything he can to restore the executive to its proper function -- a partner with the other co-equal branches.  
---
For further reading on the events that occured at the Capitol, see these: 
1. QAnon-supporting Rep. Lauren Boebert live-tweeted the Speaker's location during the insurrection.
2. Opinion commentary regarding the impeachment process.
3. Video shows rioters stomping and beating on police officer who died during riots. 
4. NPR's timeline of Biden electoral certification process and Capitol riots and insurrection. 
---
Well, that's all for this topic, folks.  I know this is a bit off-topic from my usual posts about BTC, ETH, BCH, XRP, and BAT, but this is a critical process of the US Government that should be done in the open, so I feel it is my duty as a freelance journalist to make such documents available to all of my followers.  
Be safe, HODL that crypto, and hug your family.  Times are hard and the struggle is real.
---
---
Full Text of the Articles on Impeachment


H. RES. ll
117TH CONGRESS
1ST SESSION


Impeaching Donald John Trump, President of the United States, for high
crimes and misdemeanors.

IN THE HOUSE OF REPRESENTATIVES

Mr. CICILLINE submitted the following resolution; which was referred to the
Committee on 

RESOLUTION
Impeaching Donald John Trump, President of the United States, for high crimes and misdemeanors.

Resolved, That Donald John Trump, President of the United States, is impeached for high crimes and misdemeanors and that the following article of impeachment be exhibited to the United States Senate: 
Article of impeachment exhibited by the House of Representatives of the United States of America in the name of itself and of the people of the United States of America, against Donald John Trump, President of the United States of America, in maintenance and support of its impeachment against him for high crimes and misdemeanors.

ARTICLE I: INCITEMENT OF INSURRECTION

The Constitution provides that the House of Representatives ''shall have the sole Power of Impeachment'' and that the President ''shall be removed from Office on Impeachment for, and Conviction of, Treason, Bribery, or other high Crimes and Misdemeanors''. In his conduct of the office of President of the United States—and in violation of his constitutional oath faithfully to execute the office of President of the United States and, to the best of his ability, preserve, protect, and defend the Constitution of the United States, and in violation of his constitutional duty to take care that the laws be faithfully executed:

Donald John Trump engaged in high Crimes and Misdemeanors by willfully inciting violence against the Government of the United States, in that
On January 6, 2021, pursuant to the Twelfth Amendment of the United States Constitution, the Vice President of the United States, the House of Representatives, and the Senate met at the United States Capitol for a Joint Session of Congress to count the votes of the Electoral College. Shortly before the Joint Session commenced, President Trump addressed a crowd of his political supporters nearby. There, he reiterated false claims
that ''we won this election, and we won it by a landslide''.


He also willfully made statements that encouraged—and foreseeably resulted in—imminent lawless action at the Capitol. Incited by President Trump, a mob unlawfully breached the Capitol, injured law enforcement personnel, menaced Members of Congress and the Vice President, interfered with the Joint Session's solemn constitutional duty to certify the election results, and engaged in violent deadly, destructive, and seditious acts.

President Trump's conduct on January 6, 2021 was consistent with his prior efforts to subvert and obstruct the certification of the results of the 2020 presidential election. Those prior efforts include, but are not limited to, a phone call on January 2, 2021, in which President Trump urged Georgia Secretary of State Brad Raffensperger to ''find'' enough votes to overturn the Georgia presidential election results and threatened Mr.
Raffensperger if he failed to do so. In all of this, President Trump gravely endangered the security of the United States and its institutions of
government. He threatened the integrity of the democratic system, interfered with the peaceful transition of power, and imperiled a coordinate branch of government. He thereby betrayed his trust as President, to the manifest injury of the people of the United States.

Wherefore President Trump, by such conduct, has demonstrated that he will remain a threat to national security, democracy, and the Constitution if allowed to remain in office, and has acted in a manner grossly incompatible with self-governance and the rule of law. President Trump thus warrants impeachment and trial, removal from office, and disqualification to hold and enjoy any office of honor, trust, or profit under the United States.

---

---

Image Credit:  Seattle Times