Harvest is a secure yield farming and aggregator that brings all the benefits of DeFi without the underlying cost and stress. Through the governance token callef FARM, holders participate in the perpetually evolving world of DeFi through staking that yields dividend from automated and strategic investments in top performing liquidity pools.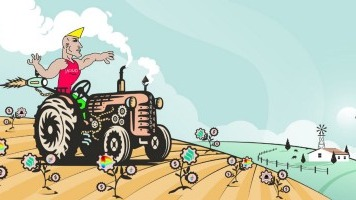 If you're a noob to liquidity pools and perhaps you might have even lost funds in the wild wild west of Uniswap without achieving anything, then Harvest is what you've been looking for.
To use the platform, you simply deposit funds through your Metamask or any ERC720 enabled wallet and then pick the pool you'll like to invest in. There's even this nifty tool you could use to calculate your potential profit carefully explained by Bullsquad, so we'll not be getting into that.
Through the Farm Dashboard, I was able to evaluate different possible pools that could be invested in. However, due to the low amount of cash, combined with the low fees, investing in FARM pool seemed like the viable option.
Uniswap LPs currently reap the highest dividend, so for a group of investors that I consider to be high rollers, I think this will be the most profitable investment. Gas fees may be higher in this field but when large volumes are concerned, a few hundred dollars doesn't really matter in the general scheme of things.
It is also important to note that through using Harvest, network fees are somewhat subsidized with vault contracts, so this will work nicely for investors. With $1.7m in total value locked, investors will reap the dividend of being early participants in this pool.
Please check out my Freelance gigs:
Signup for Oropcket with my referral link
Contact me