The Preseason has gone quite well from an Arsenal point of view. The tour of the USA has had a lot of bright sparks, particularly from the Young Guns who put in yet another fine display against a strong Fiorentina side. One player who has particularly impressed and should have one foot in the first team is Eddie Nketiah.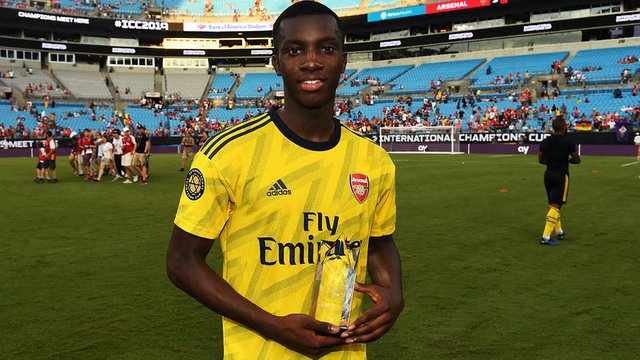 The British born footballer who plays predominantly as a central striker but can also feature on either side of attack has taken his opportunity well, showing composure and a keen eye for goal during the off-season friendlies. After the emphatic 3-0 victory against Fiorentina, where Eddie Nketiah scored two goals and was awarded the man of the match award, Arsenal head coach, Unai Emery raved about the striker and believes the young English Striker has the ability to succeed at the Emirates and here's what he had this to say:
 I'm really happy. Last season in small moments when we could give him chances to be on the pitch, he did very well. I can confirm his progress and we want this progress with every player. Each player has the opportunity to show this capacity and above all first is a very good attitude. After this is that the young players need experience and they need to take minutes and to have confidence playing with us. The young energy is very important, especially Eddie Nketiah, he is playing and progressing very well.
When Quizzed on whether Eddie will be a part of the squad, Unai Emery, who was obviously impressed by the English you International's improvement said
 Last year Aubameyang also played sometimes as a winger. Last year we had Auba, Lacazette and Danny Welbeck. They had space to play. We didn't sign another striker at the moment because we want to give the chances to Nketiah. But every young player, if they deserve to be here we are going to help them.
It will be interesting to see how he progresses in the team. I have always been interested in the Youth project at Arsenal because the team is brimming with young talent in all departments. It is always reassuring for a player to get the confidence of your manager and Unai has subtly promised him game time through his words, it is now up to him to take the chance whenever he's called upon. All Eddie needs to do now is keep his head down and work as hard as he has done during the preseason and he will get that chance
Have your say, Do you think Eddie Nketiah is ready for the First Team?
View on Medium
View on Sportstalksocial/steemit