Good news travels fast, especially when it has to do with people making money. In recent times, there's been increased interest by celebrities in cryptocurrency and it is obviously due to the general positive vibes from the market.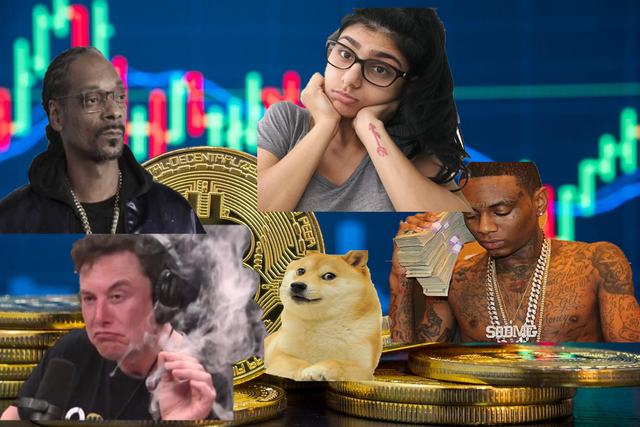 Other than Elon Musk, who we can hardly call an outsider in the crypto world, people like Soulja Boy, Snoop Dogg and Mia Khalifa have taken an interest.
For Elon, it is about promoting Bitcoin and his pet meme coin. For the most part, he seems to be having fun with it, considering how he's been literally pumping the coin with each tweet.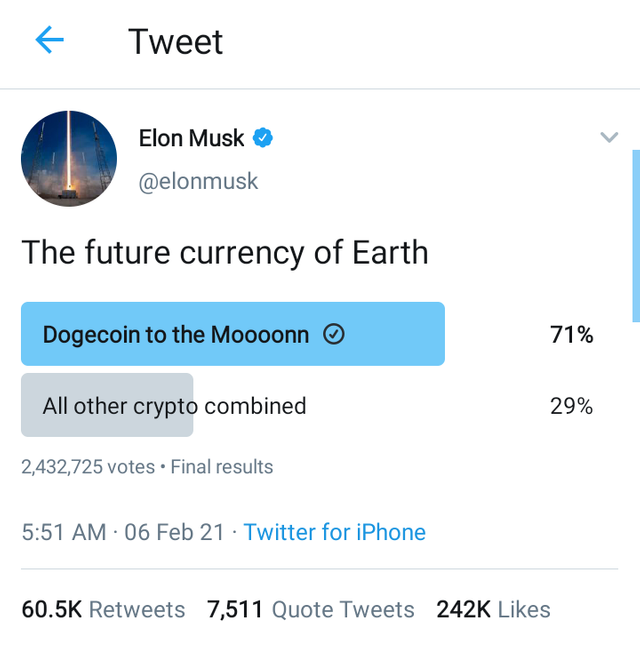 Elon's interest in Doge has attracted millions of people to the coin and in some way, we could say it is a wonderful marketing scheme for crypto, regardless of the fact that many people will get rekt when they panic during any correction.
Elon's activities that sent ripples across the internet space has also attracted one of my favourite rappers of all time, Snoop Dogg and retired porn star, Mia Khalifa.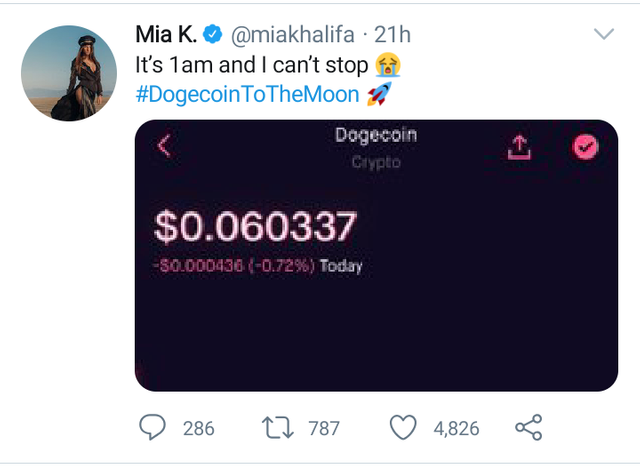 For Snoop, it felt inevitable really. A digital asset called Doge is trending and if he didn't buy it, I would have personally bought some for him.
Mia Khalifa's interest is pure FOMO, but she's been catching on fast. She bought Doge at the previous top($0.08) but showed uncharacteristically strong hands, as she held on to her shitcoin. She has been shilling hard ever since she got trapped in this trade. It is a steep learning curve for her but what doesn't kill you makes you stronger.
For Soulja boy, it has been more about general interest in cryptocurrencies as a whole. He regularly interacts with crypto Twitter and tries to learn about crypto-related projects.
One of Soulja's interest is NFT, and he's even created a couple of his own. Not sure if he's just milking the system or actually wants to be a crypto head.
On the surface, neither of them look like they have any ill intentions and they're just exercising their rights to "free speech", although can't be guaranteed on Twitter, that's a story for another day. When the smoke clears, there will be some collateral damage but overall, I think it is decent publicity for crypto and an opportunity for every crypto-based project to shill hard.
Please check out my Freelance gigs:
Signup for Oropcket with my referral link
Contact me

Posted Using LeoFinance Beta