FaceApp is this fun mobile application that lets you do a bunch of fun stuff to your photographs. The application is equipped with an Artificial intelligence feature that detects faces in any photograph and then allows you to edit the photograph in a lot of ways, which includes a theoretical prediction of how you would look when you're older, make you younger, change your gender, etc.

If you have been around social media for the past couple of days, you should have encountered or seen some funny photos of people that are all wondering what they'd look like if they were old with the help of the FaceApp. Well, it was all part of the #faceappchallenge that was trending. The fad was centered around the use of this application to create an edit of your photograph with the feature that makes you seem older. Harmless fun or so we thought until some uncomfortable stories about privacy and potential security breaches started spreading.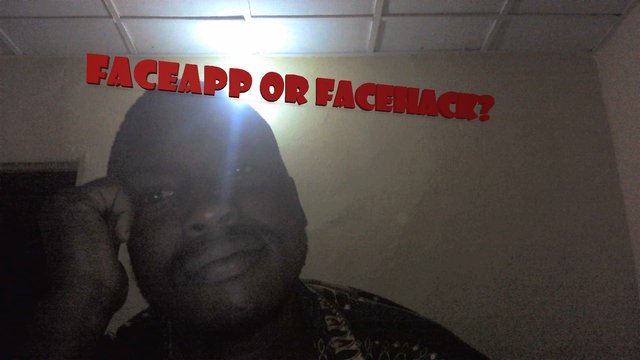 The Terms of use had me pensive and I can't help but feel like I've been a tool in a shady elaborate scheme as the second paragraph of the 5 section points out;

You grant FaceApp a perpetual, irrevocable, nonexclusive, royalty-free, worldwide, fully-paid, transferable sub-licensable license to use, reproduce, modify, adapt, publish, translate, create derivative works from, distribute, publicly perform and display your User Content and any name, username or likeness provided in connection with your User Content in all media formats and channels now known or later developed, without compensation to you. When you post or otherwise share User Content on or through our Services, you understand that your User Content and any associated information (such as your [username], location or profile photo) will be visible to the public.

 FaceHacked???

I look like a million bucks

The fancy words above are basically saying that if you've ever used the FaceApp(I did 🙄), you've given FaceApp absolute freedom to do whatever the hell they like with your image; this includes reproducing, selling and you are not entitled to whatever proceed or earning they accrue from using your information. First of all, I can't believe I was suckered into this crap. Secondly, this is why I hate participating in fads. Thirdly, this is a wake-up call for the society and here's why Decentralized and by extension, Blockchain-based applications are so much better

Privacy
Well, this is a rather unfortunate infringement of one's privacy. The Terms and conditions basically whitewash the real information that states that your photos are going to be taken from you and used in anyways the FaceApp company feels. This contradicts everything Blockchain-based technology represents. Blockchain technology ensures your information is encrypted and your private key the only route to accessing this information. This occurrence should serve as a warning to me and all the victims and a reason why you should consider using decentralized applications. You can find a lot of them on [Stateofthedapps](https://www.stateofthedapps.com/dapps?tags=photography&page=1) and a bunch of other app stations. Applications found here are affiliated to blockchains and you can find similar dapps that offer the same service without stealing your information.
Sharing Is Caring
I hoped there would be some silver lining for the breach of trust in the privacy issue and perhaps I'm being too idealistic to expect that the Faceapp creators would at least do the decent thing and spread the profit made from using our images but as the quote points out, you will receive **no compensation** for using this app. Compare this to [Super rare](https://www.stateofthedapps.com/dapps/superrare) on Eth blockchain where you create, sell, and collect rare digital art or [Steepshot](https://steepshot.io/?utm_source=StateOfTheDApps), a platform hosted on [Steem Blockchain](steemit.com) that rewards you for sharing their lifestyle and visual experience. There are quite a lot of similar platforms where you can earn cryptocurrency through sharing your photos and have fun while doing it.

No Sneakiness


This has been a recurring problem I have had with centralized platforms. FaceApp chose to exclude this salient point in the terms of use completely out of the application itself and users unconsciously agreed to have their information used for whatever purpose the company deems fit without prior warning. The company took advantage of the fact that few people would actually go the extra mile to read their terms of use. During the installation of the app on Android, the only "serious" warning you see discusses **Only** how your image is sent to a "cloud server" for editing
![Screenshot_20190719-205832.jpg](https://cdn.steemitimages.com/DQmShDZfJwiT9Cgw4KJMUfva4RfRn7FoYyZfcdzugyHQL8q/Screenshot_20190719-205832.jpg)
I encountered an article on [Popular Mechanics](/) that discussed the severity of this breach of privacy and this further highlights the importance of managing your privacy;
>Now that another company has access to your data and a strong record that includes your likeness, that information can be weaponized by any actors who are interested in doing harm through a cyber-attack or a propaganda campaign.
It is important you protect your information and always be in control of access to it. We live in perilous times and the internet is the *playground* where everything happens, taking charge of your information requires you make certain changes in your life and the first on the list is to always make sure you read the Terms of Use for any application that deals with multimedia and similar content because as "Craig Shue, an associate professor of computer science at Worcester Polytechnic Institute tells [TIME](https://time.com/5628141/face-app-challenge/) the terms of service for this app appear to be pretty consistent with similar apps that use the cloud and that people have to decide how much of their data they're willing to share."
The risk can completely be averted by using blockchain-based solutions to problems and have complete control of where your information goes. Give your valuable information on the security it deserves at no extra cost to you.
Here are some decentralized app stores out there
Stateofthedapps
App Co
Spheris
DAO Play market
View on Palnet/Steemit
View on Medium