A few months back I noticed that there was an option available in Coingecko to manage the portfolio there. We can save our Buy/Sell or transfer history there and manage our assets and know how it is performing. It is pretty good and I was attracted to this feature. I always wanted to build this feature on a website so that I can maintain my portfolio in the way I want.
The main reason why I wanted my own version of this was that not all coins are listed on Coingecko and there is no option available right now if I will have to calculate the real-time value of some of the Hive Engine tokens I hold. that's one thing I consider painful even today. I might find a way to do it or write a tool to calculate it in the future.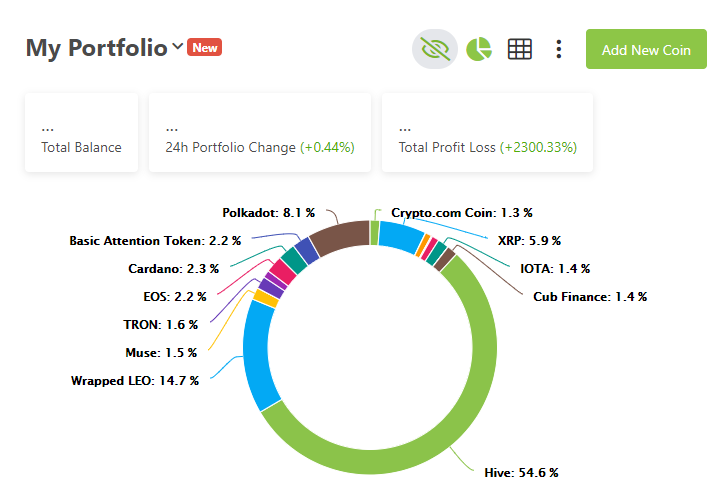 I'm very happy that today I spent a considerable amount of time building this portfolio. I now have one single place where I can keep track of all my coins and observe the price movement every day. This is really cool, isn't it? I was also able to compare my portfolio very well and I also got thoughts that I should be investing at least a little on some of the top coins.
As you can see Hive is one of the major holdings in my portfolio. I have been powering up all the Hive I earned so far. One good thing about Coingecko is that WrappedLeo is also listed there so I was able to add that as well to my portfolio. I'm able to see that Hive and Leo are basically my major holdings. In the coming months, both are going to continue increasing. For now, I have updated a static value there, and going forward I will be updating it as and when I hit a milestone.
For the other coins, I have options there to save the buy price and the selling price. By doing this we are also able to track the profit we have gained from those coins. This is really very cool. I was expecting an option available somewhere there where we should be able to export the data in Excel so that we can keep track of something. I couldn't find any export option available there.
Mobile options
I thought it would have been very handy if I have had a mobile version of this. But there is actually a mobile application available for Coingecko. But the problem is someone told me that the mobile version of the application will monitor all my other apps installed on the phone it seems. This is kind of a security issue for me. That's why I decided to uninstall the app from my mobile phone. But having these capabilities in a mobile app is always handy.
I had been looking for other alternatives to have on my mobile phone. I found another open-source application called Kriptofolio which does the same thing. I have installed it but haven't explored it fully yet. I hope it will be interesting and as it is open source, if the technology stack is comfortable for me, I will consider adding Hive Engine support as well to that code so that it will be useful for the Hive folks or at least me.
---
Posted Using LeoFinance Beta