It is almost a month for me to keep playing Rising Star and since game is in Beta stage so lot of game mechanics changes and it is expected that game will keep evolving in future too.
So today , when I saw that my balance is now crossed 10K StarBits , I decided to go for a pack. Actually it is always a difficult decision to buy a pack or buy some cards from market that you need. Analyzing that, every nice card that I want to buy is always costing more than 5K StarBits minimum or in excess of it.
So this prompted me to buy a pack to try my luck (if I can get some legend or epic card).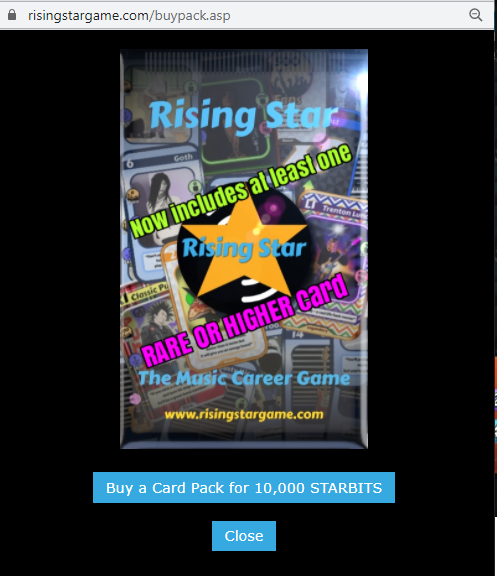 I completed my transaction and headed to open the pack and found the below 3 cards.

Hmm! I did not get any epic and legendary cards but still let me check the price of these cards in market in terms of StartBits.
R10 Touring Bus
Give boost of 500 fans and minimum listed Starbits price in market is 25K.
Storage Trailer
A relative new card launched few days ago to store unwanted cards to remove their effects in game. Earlier player used to list their cards in some exorbitant price in market to remove effects of card from team. Minimum listed price in Starbits is 9K Starbits.
Record Producer
With introduction of Ego meter in game, ant cards that give boost to skill is most welcome. I find minimum listed price of this cards is 2K Starbits.
So it Really worth buying the packs?
If I add all the cards values from market listing it come as 25+9+2 =36K Starbits while pack cost was only 10K Startbits. So it does look I am in profit by buying the pack.
What if you really need a specific card?
I think user must try in Rising Star Discord's #trading-zone to check if someone wants to swap or may be able to get better price in discord that directly buying from market.
So friends , I will say enjoy the game and earn some Starbits by playing it by just doing some minimal actions.
If you want to join this game then you can join it here