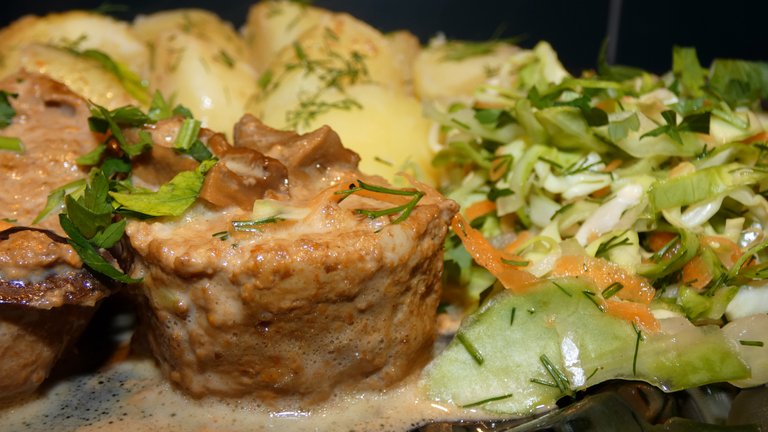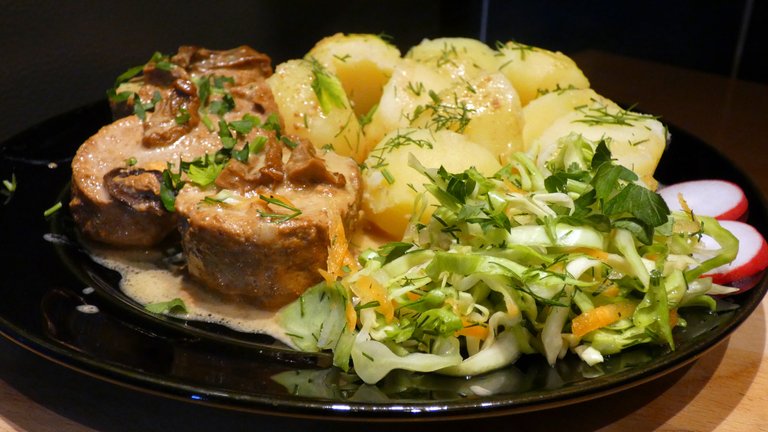 Ingredients
Składniki
One pork tenderloin, 50 g of dried noble boletus, 30% sweet cream, herb pepper, 1/2 cubes of butter, salt, black pepper, soy sauce, and garlic. For the salad: potatoes, young cabbage, carrots, onions, dill, parsley, lemon, salt, pepper.
Jedna polędwiczka wieprzowa, 50 g suszonych borowików szlachetnych, słodka śmietana 30%, pieprz ziołowy, 1/2 kostki masła, sól, pieprz czarny, sos sojowy, czosnek. Na sałatkę: ziemniaki, młoda kapusta, marchewka, cebula, koperek, natka pietruszki, cytryna, sól, pieprz.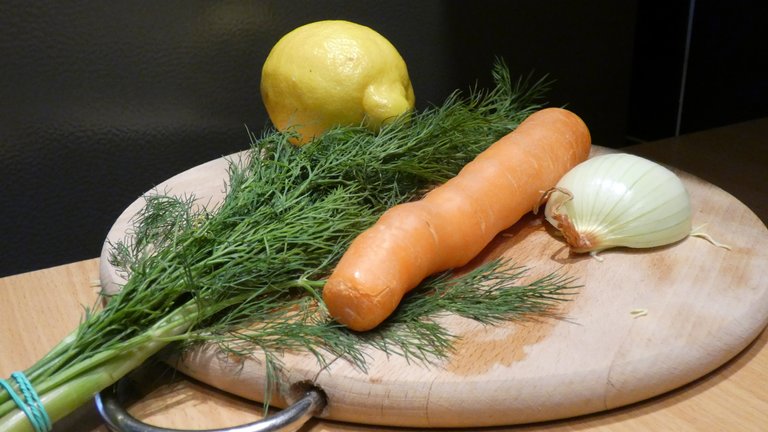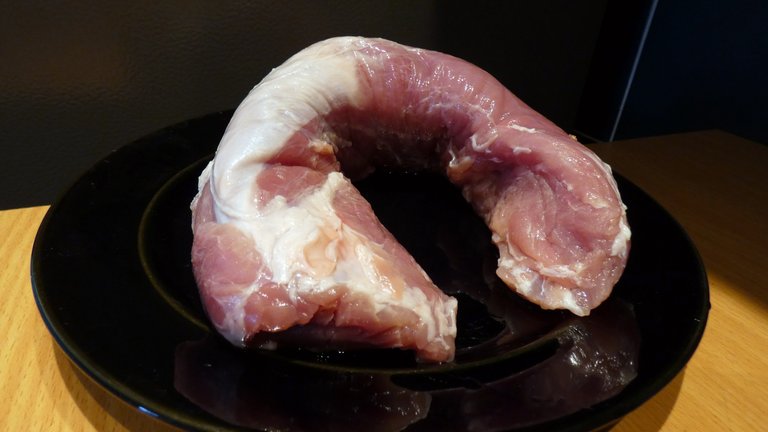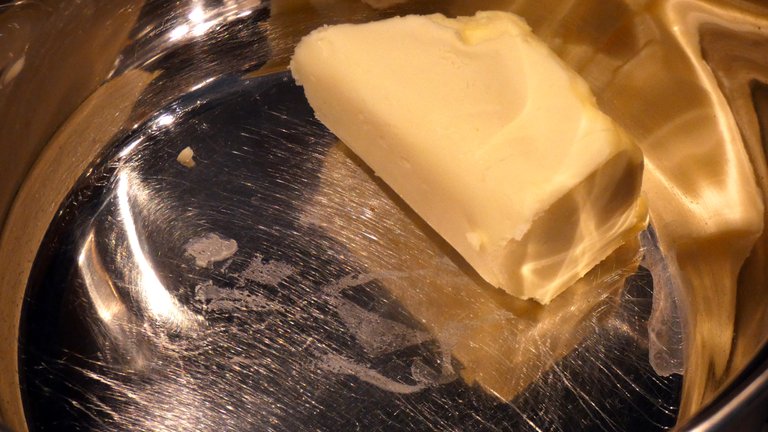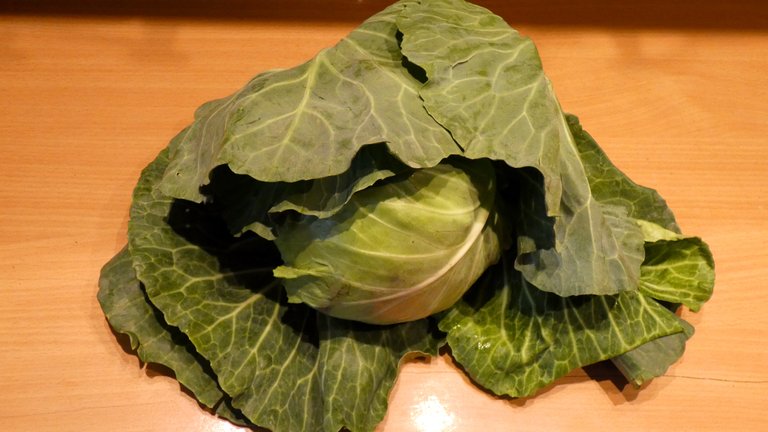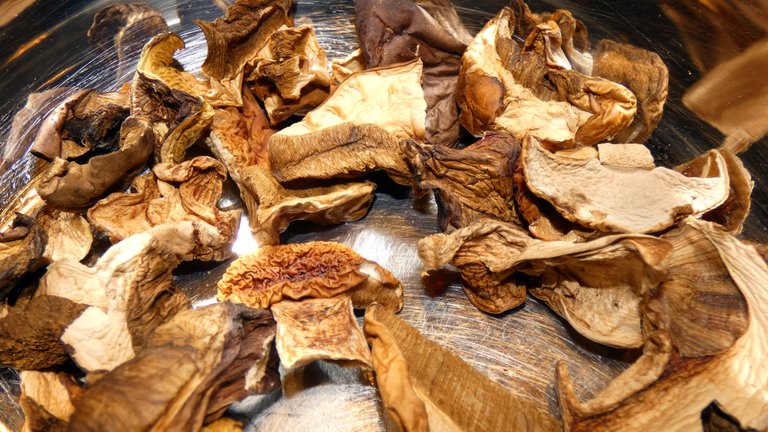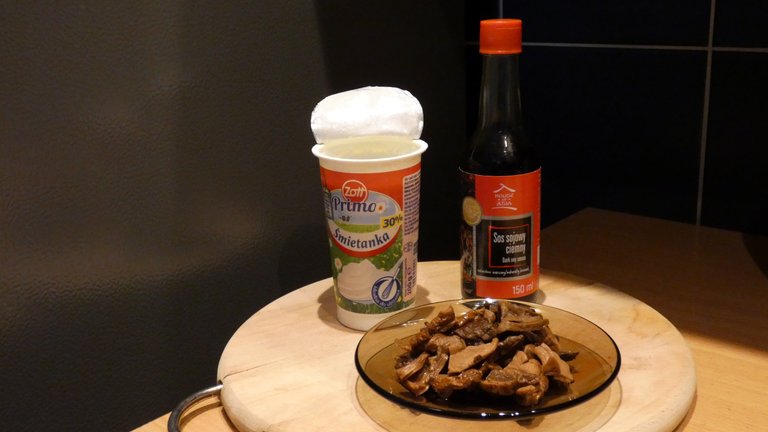 Preparation of the tenderloin
Przygotowanie polędwicy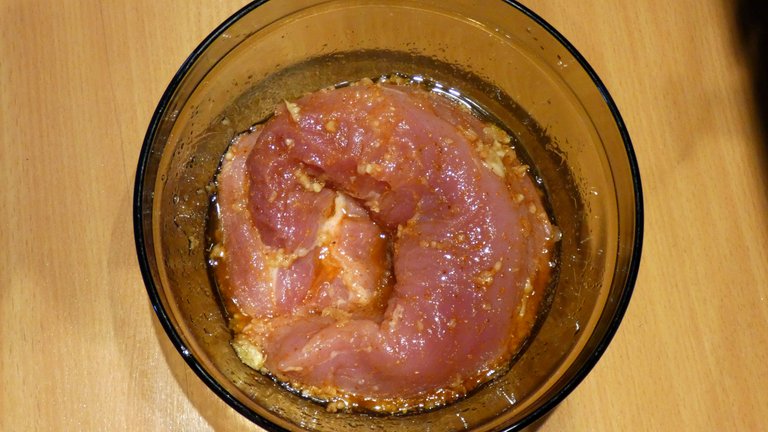 Before we heat the tenderloin, it must first be marinated (pickled). To do this, clarify the butter, add herb pepper, black pepper and crushed garlic to it and put the washed tenderloin in it. Cover the prepared sirloin with foil and put it in the fridge overnight.
Zanim polędwicę poddamy obróbce termicznej, należy ją wcześniej zamarynować (zabejcować). W tym celu należy sklarować masło, dodać do niego pieprz ziołowy, pieprz czarny oraz zgnieciony czosnek i umieści w nim umytą polędwicę. Tak przygotowaną polędwicę przykrywamy folią i wstawiamy na noc do lodówki.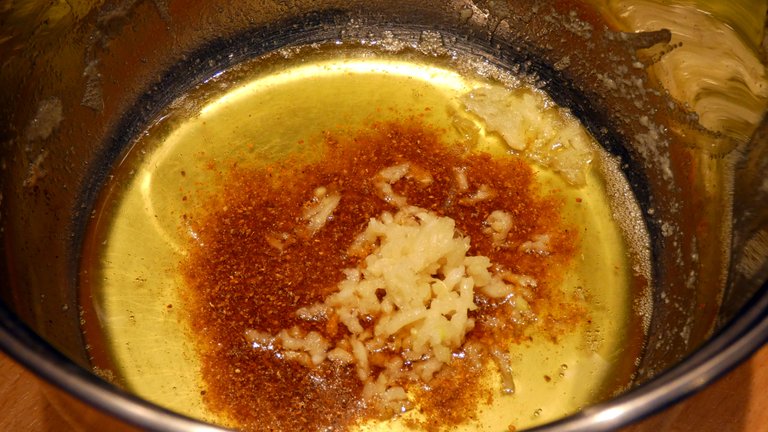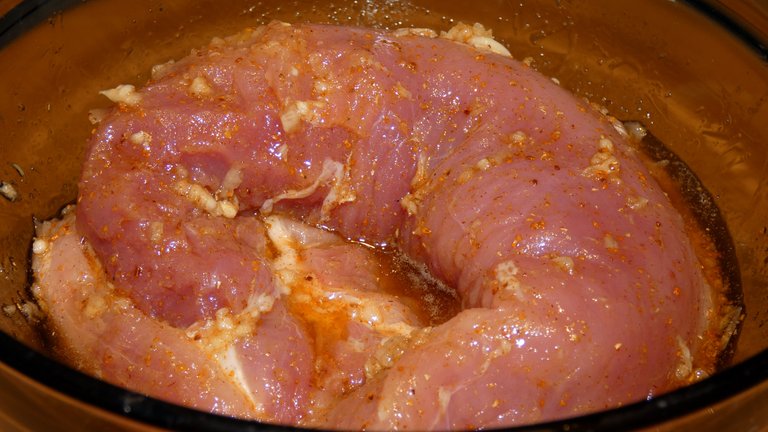 Roasting and braising sirloin
Pieczenie i duszenie polędwicy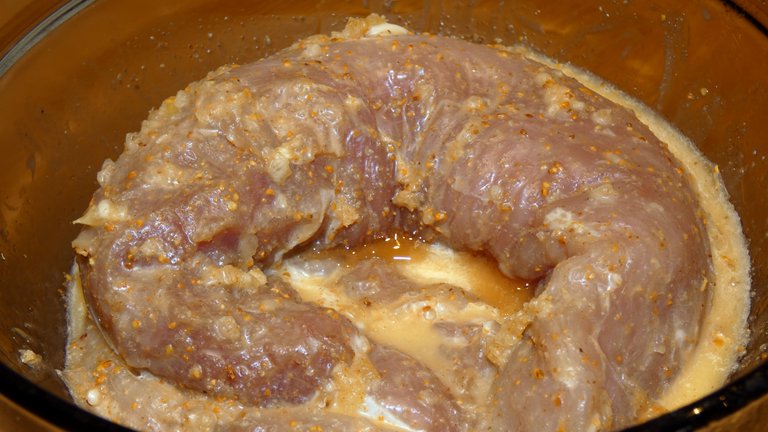 Take the tenderloin out of the refrigerator and leave it for some time to reach room temperature. Then put it on a hot frying pan and fry it thoroughly on each side. We do not use any fat except the clarified butter in which the sirloin was kept.
Polędwicę wyciągamy z lodówki i pozostawiamy na jakiś czas, aby uzyskała temperaturę pokojową. Następnie kładziemy ją na rozgrzaną patelnię i obsmażamy dokładnie z każdej strony. Nie używamy żadnego tłuszczu, poza sklarowanym masłem, w którym przebywała polędwica.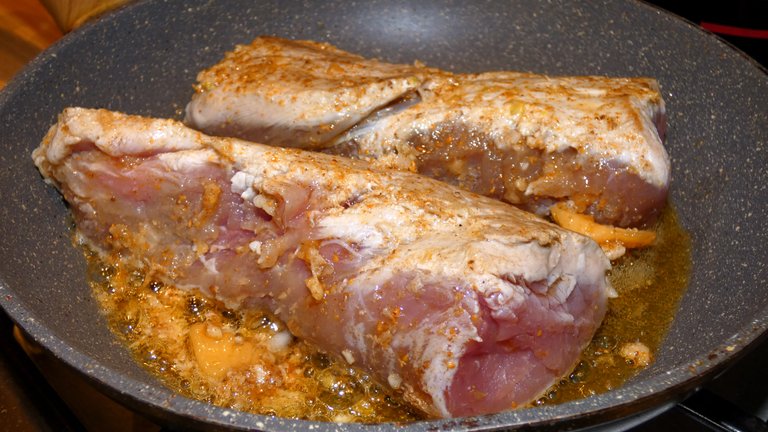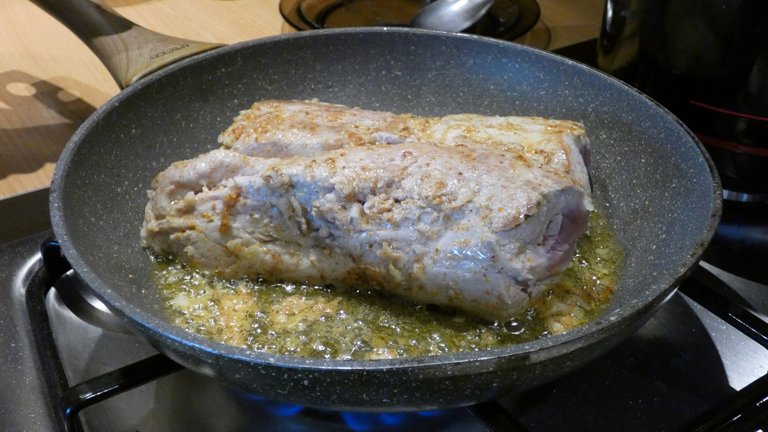 Once the sirloin is fried, add the fat cream, boiled dried porcini mushrooms and soy sauce to the resulting sauce. We stew everything for 3-4 minutes.
Gdy już obsmażymy polędwicę, dodajemy do powstałego sosu śmietanę o zawartości 30 tłuszczu, odgotowane suszone borowiki, oraz sos sojowy. Dusimy wszystko około 3-4 minuty.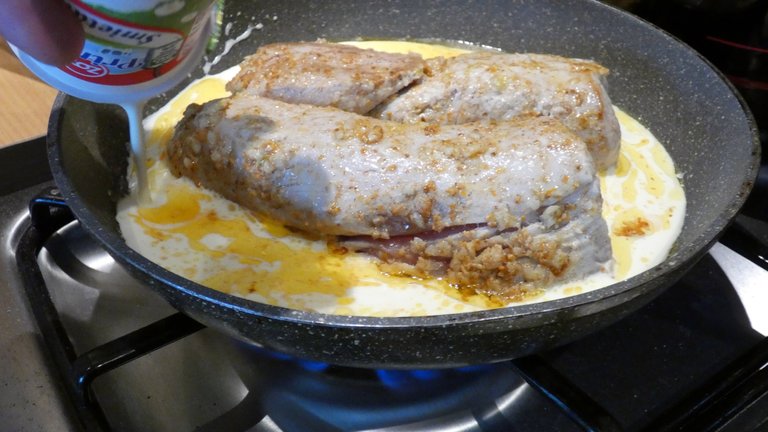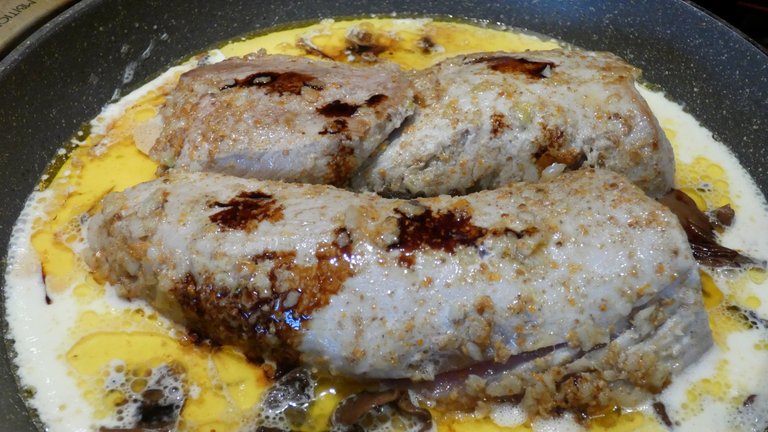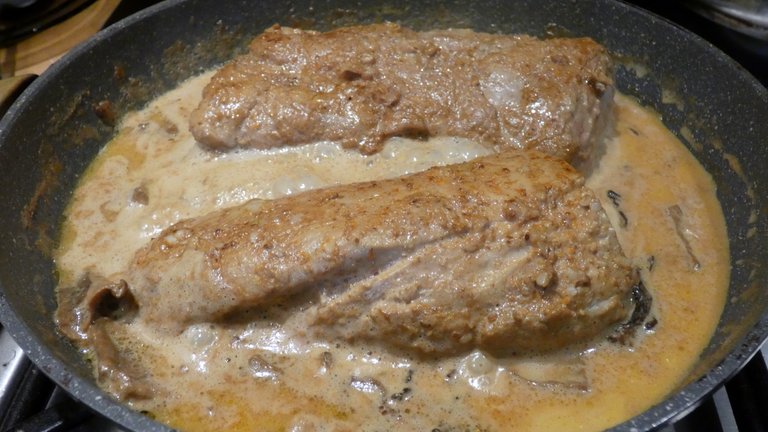 In the next step, take the sirloin out of the pan and cut it into 3-4 cm thick slices, then put them back in the pan in the sauce and stew for 2 minutes on each side. The sirloin is cooked for only a few minutes and is soft and juicy. Too long processing would make the tenderloin very tough. The sirloin is ready, time for the salad.
W kolejnym kroku wyciągamy z patelni polędwicę i kroimy ją na grube 3-4 cm plastry, po czym układamy je ponownie na patelni w sosie i dusimy po 2 minuty z każdej strony. Polędwica przebywając tylko kilka minut w obróbce termicznej jest miękka i soczysta. Zbyt długa obróbka spowodowałaby, że polędwica stała by się bardzo twarda. Polędwica gotowa, czas na surówkę.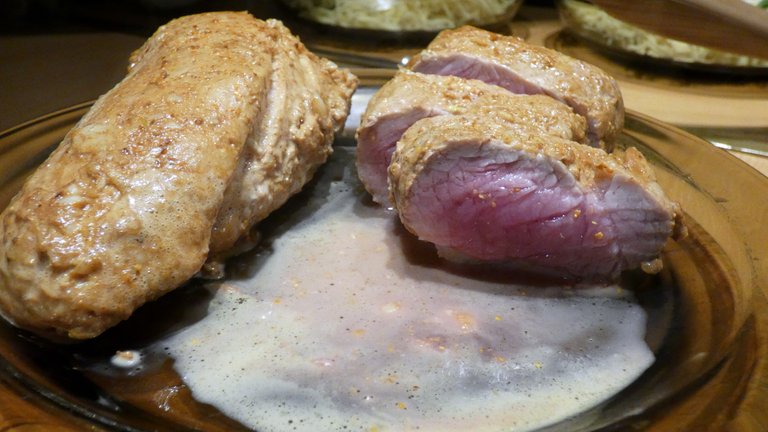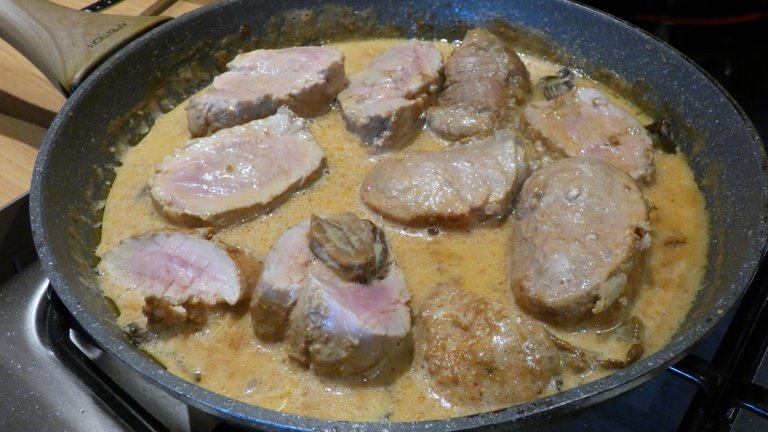 Young cabbage salad with onion, carrot, dill and parsley
Surówka z młodej kapusty, z cebulką, marchewką, koperkiem i pietruszką
Wash the young cabbage thoroughly and shred it finely. Peel the carrots and grate them on coarse eyelets, and dice the onion into small cubes. Add chopped fresh dill and parsley to the salad.
Młodą kapustę myjemy dokładnie i szatkujemy dość drobno. Marchewkę obieramy i ścieramy na tarce na grubych oczkach, a cebulkę kroimy w drobną kostkę. Do sałatki dodajemy jeszcze posiekany świeży koperek i natkę pietruszki.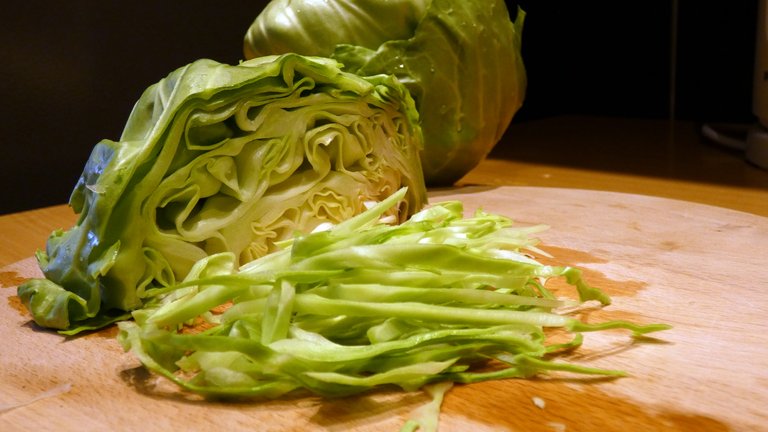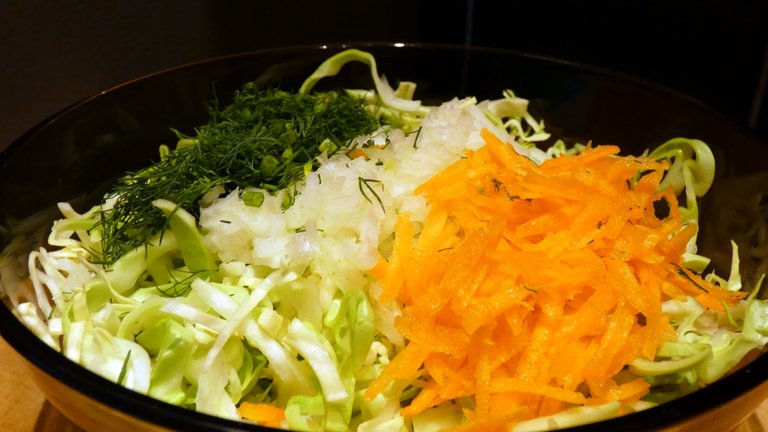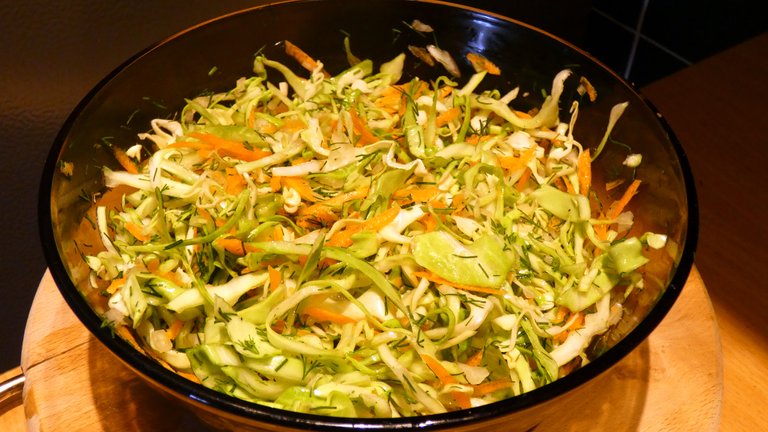 Mix everything, add salt, black pepper and a large spoonful of lemon juice. The salad is ready. Meanwhile, we are also cooking new potatoes.
Całość mieszamy, dodajemy sól, czarny pieprz oraz dużą łyżkę soku z cytryny. Sałatka gotowa. W międzyczasie gotujemy również młode ziemniaczki.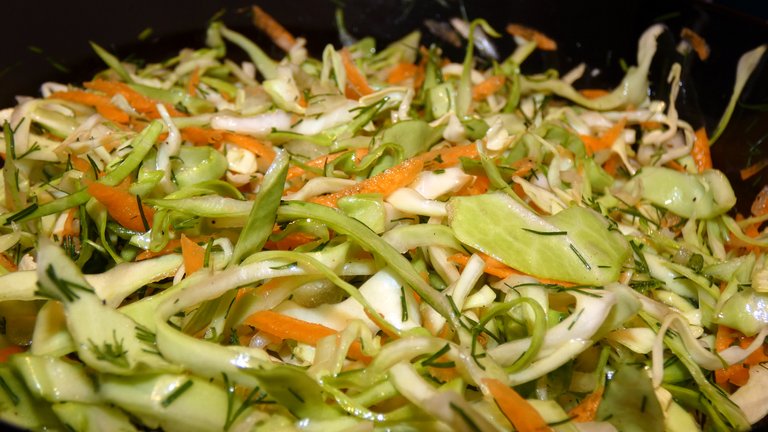 Way of giving
Sposób podania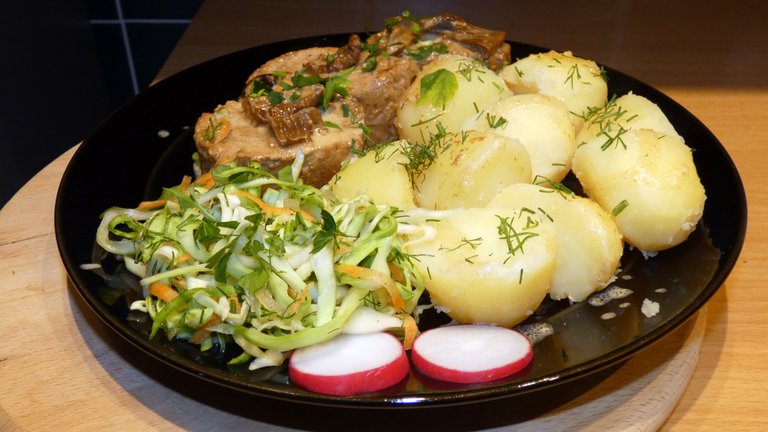 Serve the tenderloin with loose potatoes, drizzled with cream and mushroom sauce, and young cabbage salad.
Polędwiczki podajemy z ziemniaczkami na sypko, polanymi sosem śmietanowo-grzybowym, oraz surówką z młodej kapusty.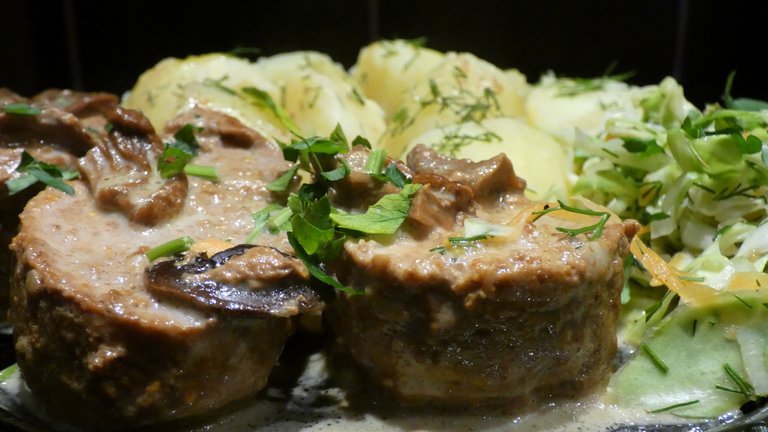 I also like good Czech beer with such a dish.
Ja dodatkowo lubię do takiej potrawy dobre czeskie piwo.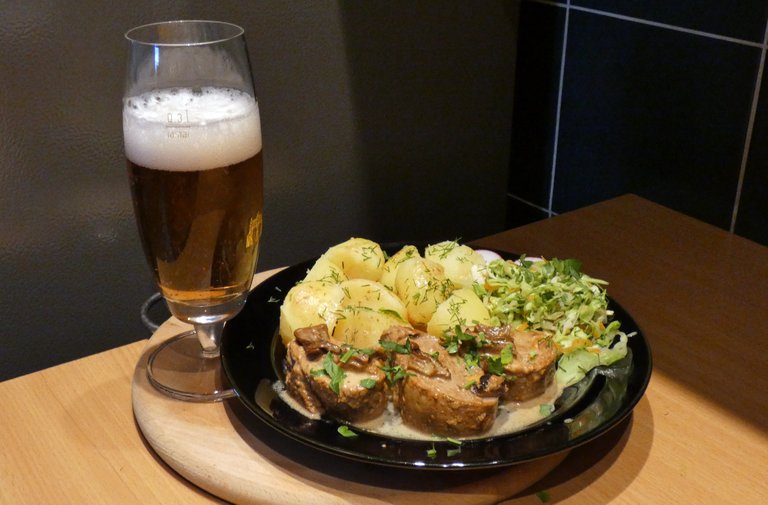 Smacznego
Enjoy 😋