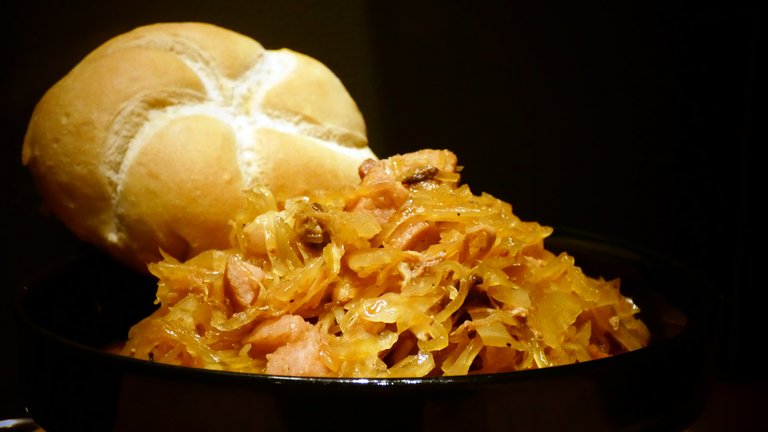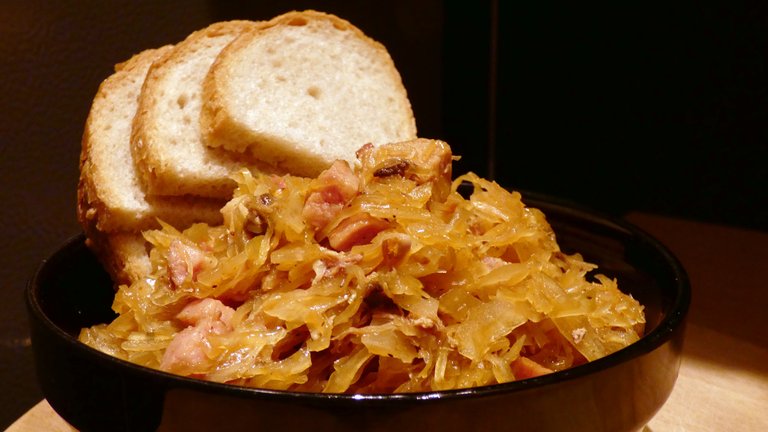 What is this "Bigos"?
Co to jest ten "Bigos"?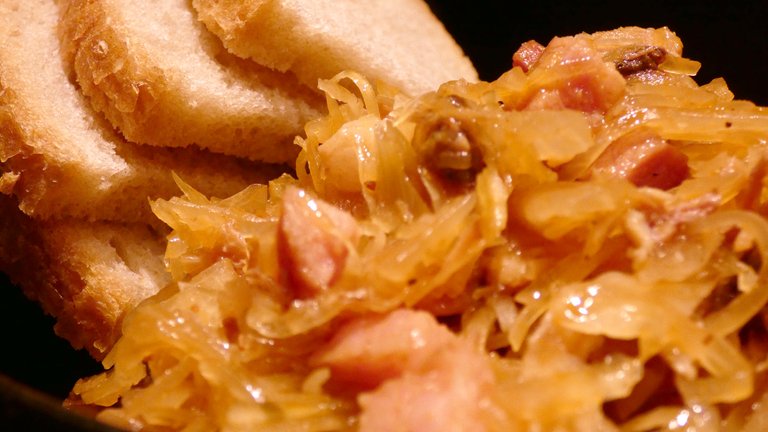 "Bigos", a mysterious dish associated with Poland in the world. What is this Bigos? There is no big secret in this. In the past, "bigos" was a dish containing the remains of all kinds of cold cuts, meats and sauerkraut. It has evolved over the years, and is made today with great care and attention to the selection of high-quality ingredients. Only one thing has not changed - the best bigos is the one made 2-3 days earlier. Yes, this dish has to mature, and the flavors have to permeate - fresh bigos makes no sense.
"Bigos", tajemnicza potrawa kojarzona na świecie z Polską. Co to jest ten Bigos? Nie ma w tym wielkiej tajemnicy. Kiedyś "bigos" był potrawą zrzeszającą resztki wszelkiego rodzaju wędlin, mięs w połączeniu z kapustą kiszoną. Ewoluował na przestrzeni lat, i robiony jest dzisiaj z dużą starannością, i dbałością o dobór składników o wysokiej jakości. Nie zmieniło się tylko jedno - najlepszy bigos, to ten, który zrobiono 2-3 dni wcześniej. Tak, ta potrawa musi dojrzeć, a smaki muszą się poprzenikać - świeży bigos jest bez sensu.
Ingredients
Składniki
2 kg of sauerkraut, 0.5 kg of boneless pork shoulder, 0.5 kg of Silesian sausage, smoked bacon, a piece of smoked tenderloin, 0.2 kg of mushrooms, a few dried porcini mushrooms, a few prunes, tomato puree, bay leaf, black pepper , allspice, soy sauce, salt.
2 kg kiszonej kapusty, 0,5 kg łopatki wieprzowej bez kości, 0,5 kg kiełbasy śląskiej, boczek wędzony, kawałek wędzonej polędwicy, 0,2 kg pieczarek, kilka suszonych borowików, kilka suszonych śliwek, przecier pomidorowy, liść laurowy, pieprz czarny, ziele angielskie, sos sojowy, sól.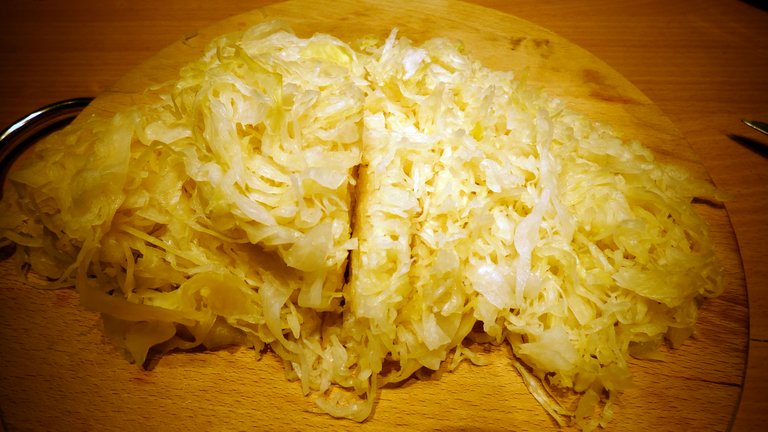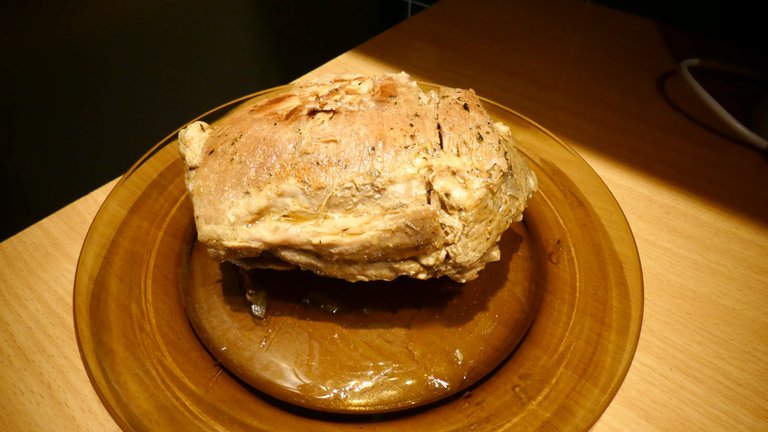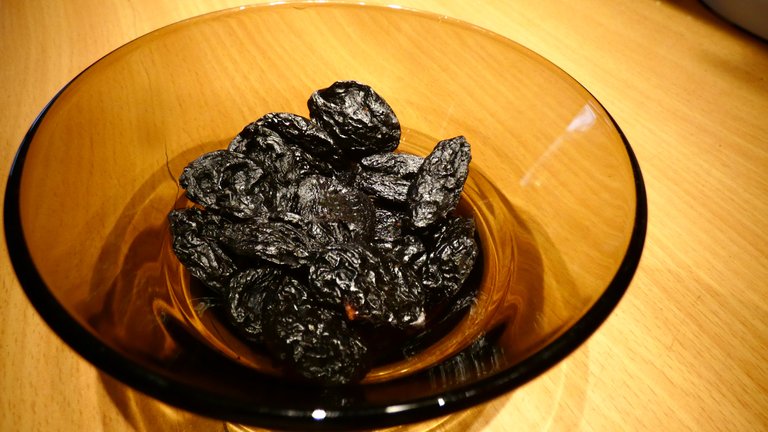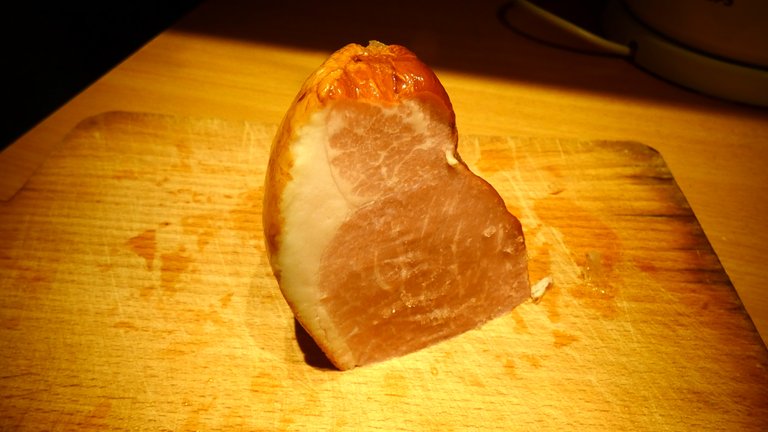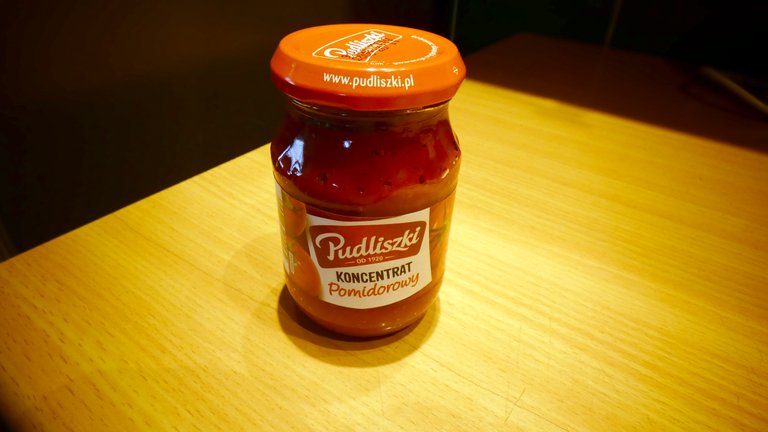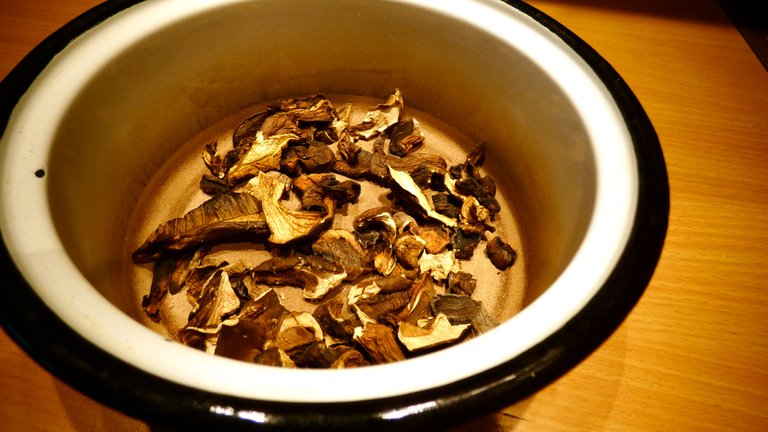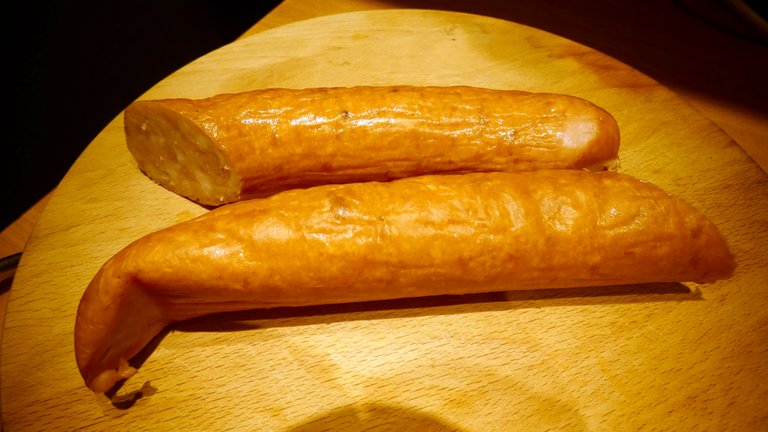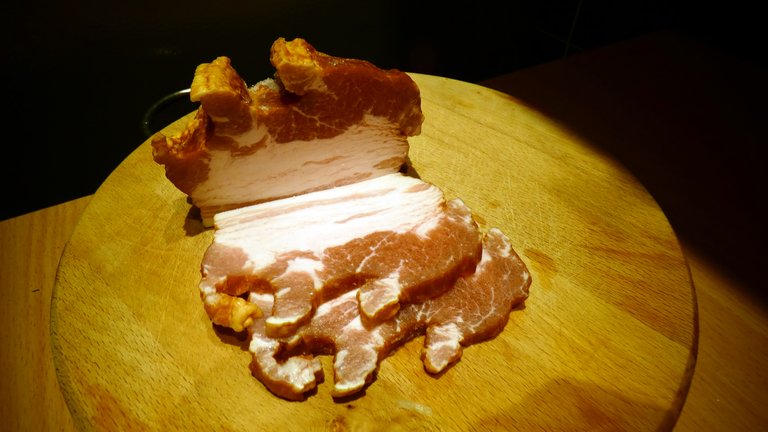 Preparation of ingredients for "bigos"
Przygotowanie składników na bigos
Prepare the pork shoulder like a classic roast, with onion and garlic and roast until the meat is tender. It will be one of the main ingredients of the stew.
Łopatkę wieprzową przygotowujemy jak klasyczną pieczeń, z cebulą czosnkiem i pieczemy do miękkości mięsa. Będzie ona jednym z głównych składników bigosu.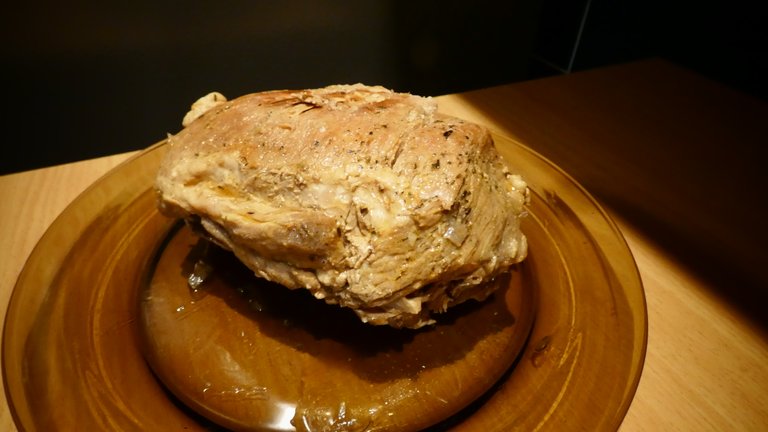 Rinse the sauerkraut gently with water to remove excess acid. Just in case, pour the excess acidic juice into the glass beforehand to regulate the acidity of the food while stewing the stew. Then shred into smaller pieces. Put them in a pot and cook.
Kapustę kiszoną płuczemy delikatnie wodą aby pozbawić ją nadmiaru kwasu. Na wszelki wypadek wcześniej odlewamy do szklanki nadmiar kwaśnego soku, aby podczas duszenia bigosu móc regulować kwasowość potrawy. Następnie szatkujemy na mniejsze kawałki. Wkładamy do garnka i gotujemy.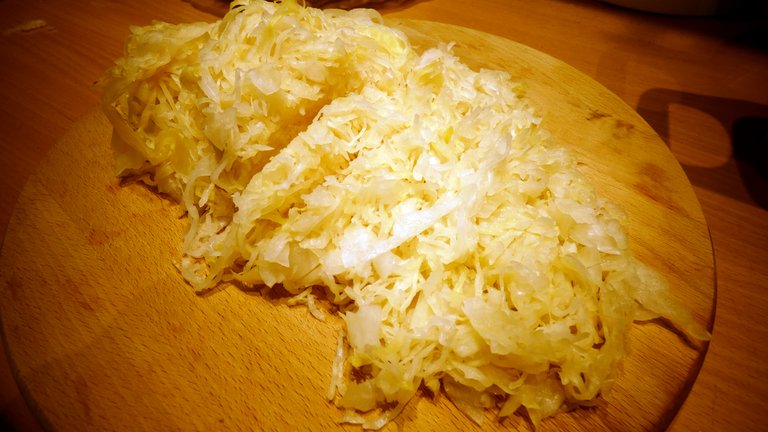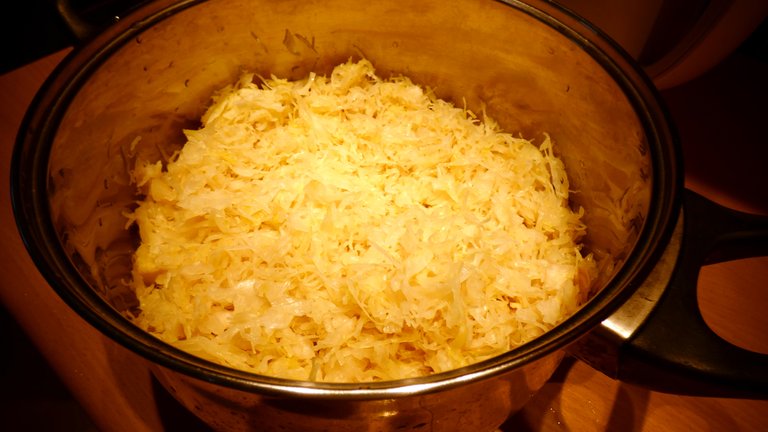 Soak the dried mushrooms in water to soften them, and do the same with the prunes. We cut them into smaller pieces.
Grzyby suszone namaczamy w wodzie, aby zmiękły, to samo robimy z suszonymi śliwkami. Kroimy je n drobniejsze kawałki.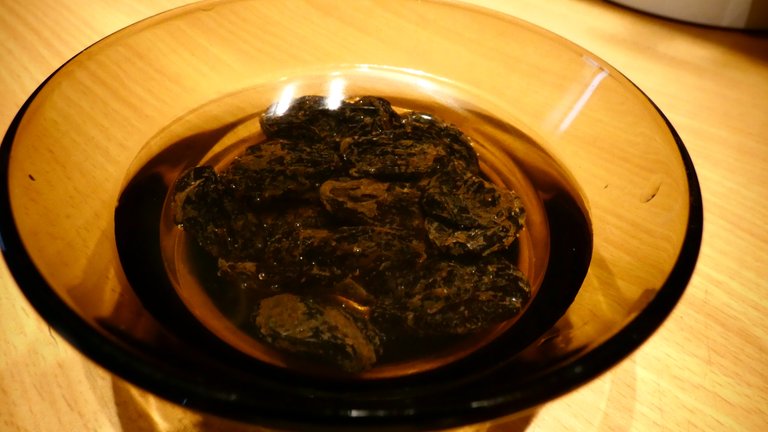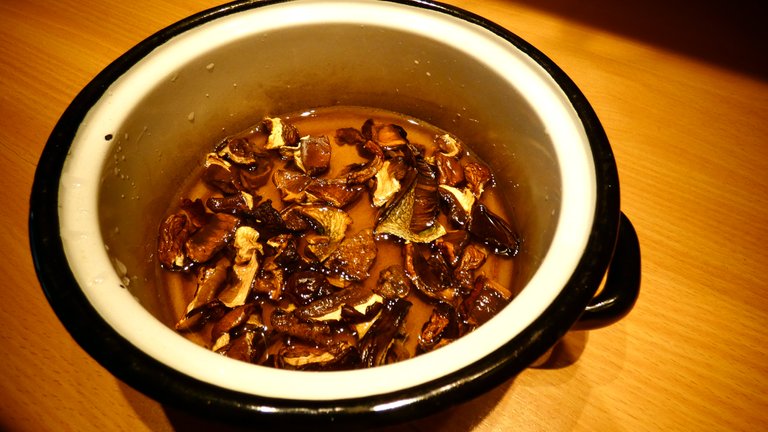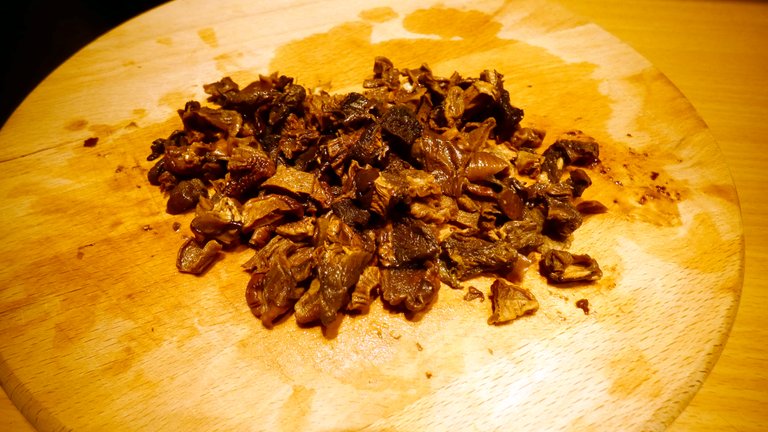 Cut the sausage and bacon into thick cubes. Roast into thick cubes, and smoked sirloin into larger pieces.
Kiełbasę i boczek kroimy w grubą kostkę. Pieczeń na grubą kostkę, a wędzoną polędwicę na większe kawałki.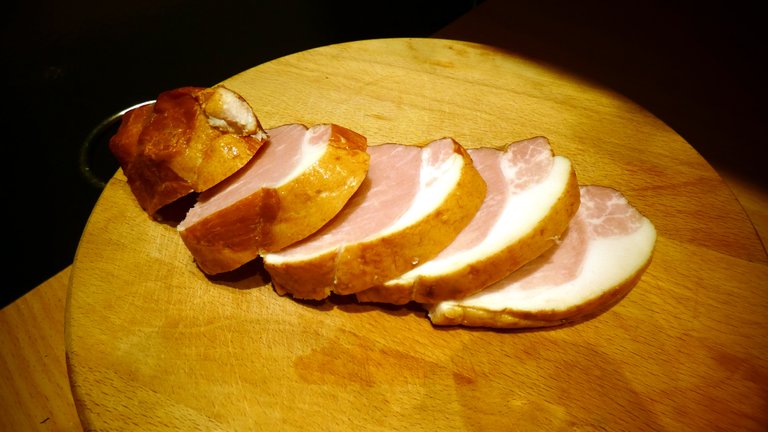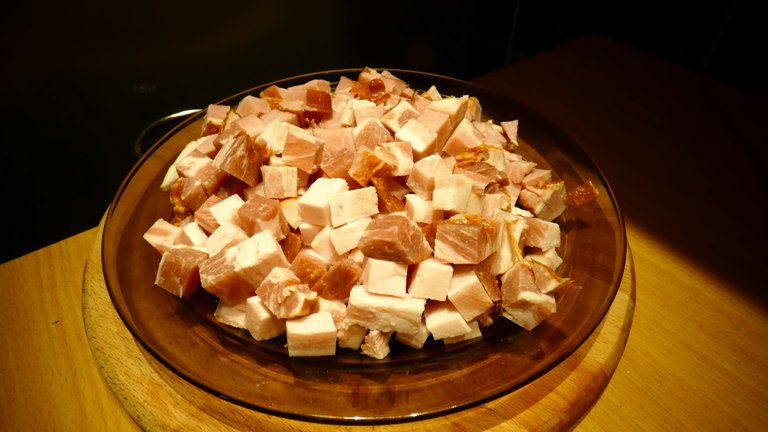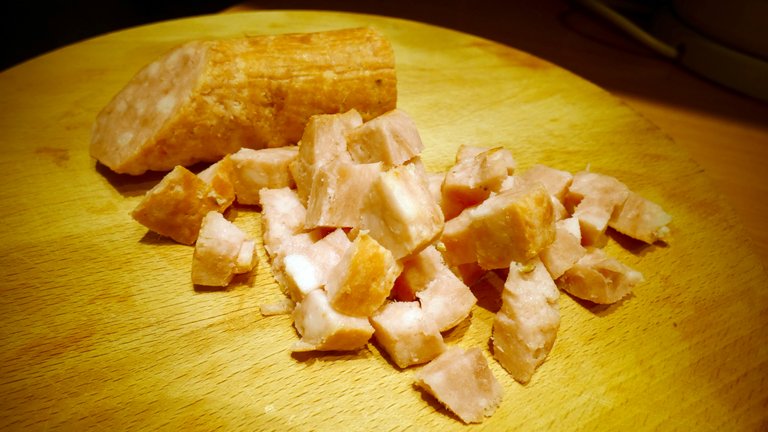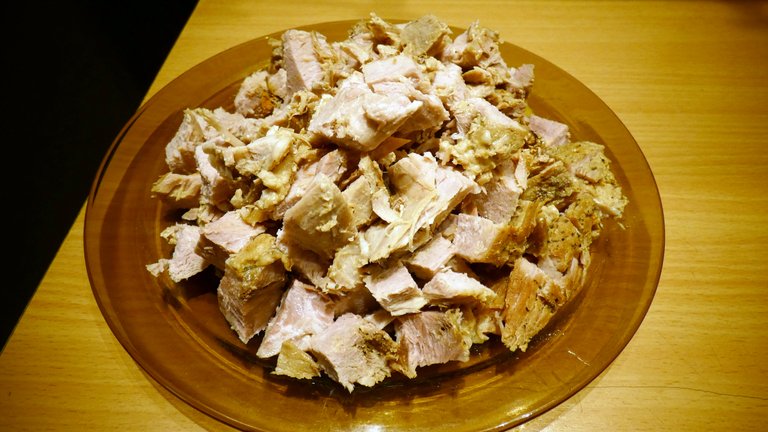 First, add chopped sirloin or ham, chopped bacon, mushrooms and prunes to the boiling cabbage.
W pierwszej kolejności do gotującej się kapusty dodajemy pokrojoną polędwicę lub szynkę, pokrojony boczek, grzyby oraz suszone śliwki.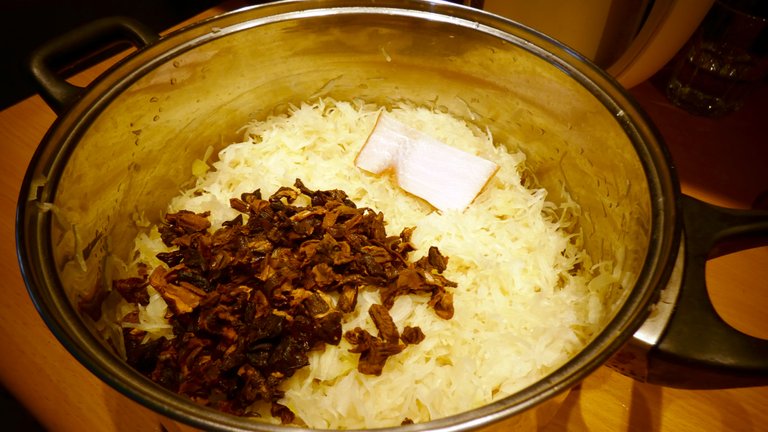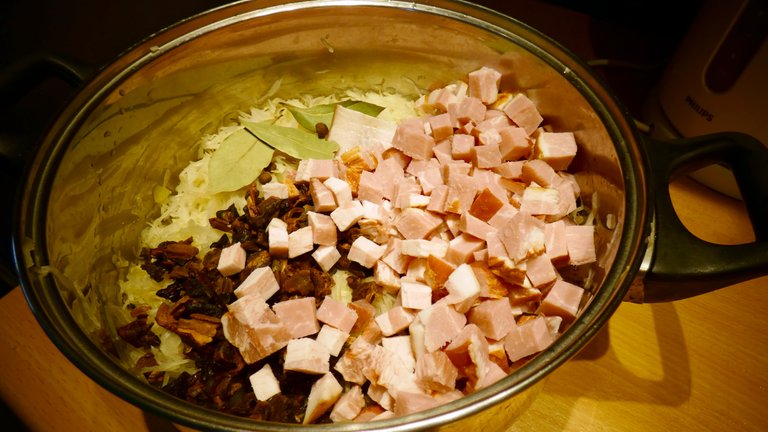 Then add the diced onion, mix it all and stew it.
Następnie dodajemy pokrojoną w kostkę cebulę, całość mieszamy i dusimy.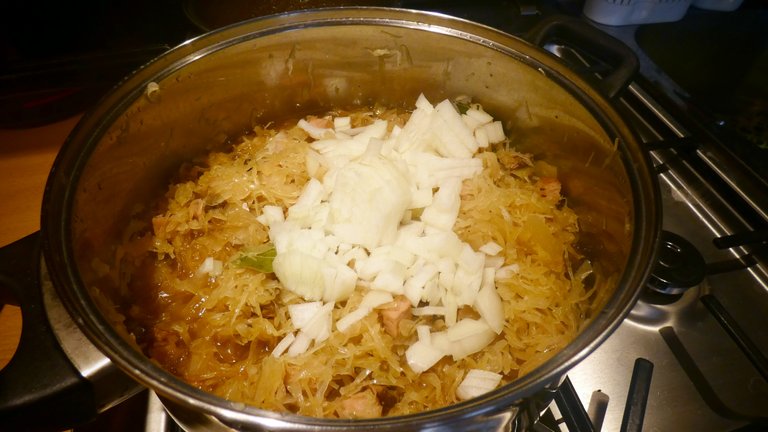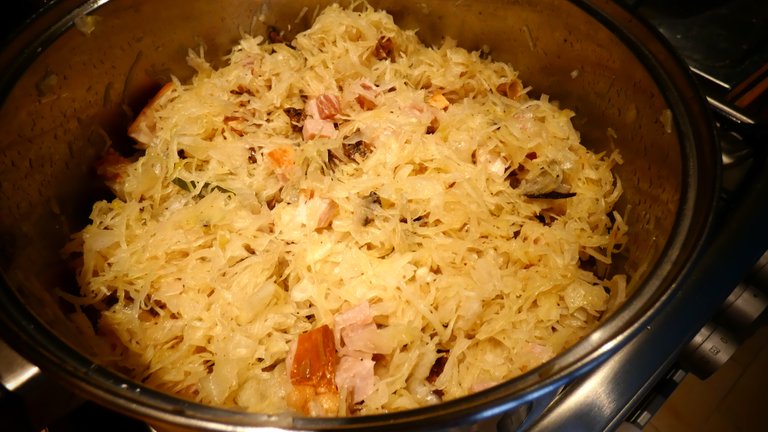 Fry the pork in a separate vessel, add the chopped sausage and tomato puree, and stew for a few minutes.
W osobnym naczyniu podsmażamy mięso wieprzowe, dodajemy pokrojoną kiełbasę oraz przecier pomidorowy, dusimy kilka minut.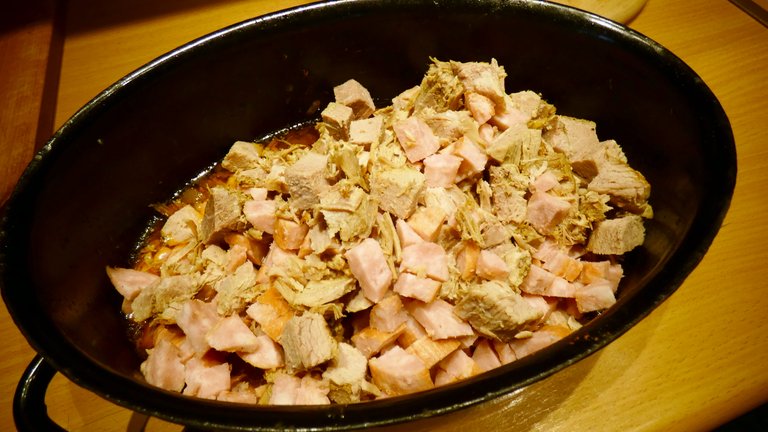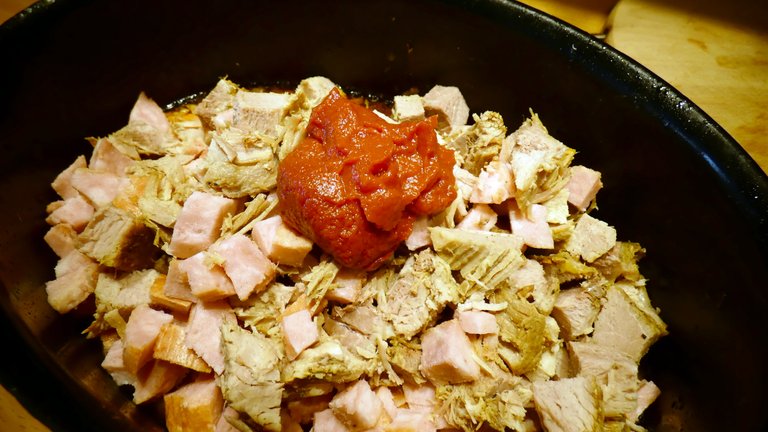 Finally, add the fried meat with sausage and tomato puree to the cabbage. Stew for quite a long time, until the ingredients are soft. The bigos is ready to eat.
Na koniec podsmażone mięso z kiełbasą i z przecierem pomidorowym dodajemy do kapusty. Dusimy dość długo, do miękkości składników. Bigos jest gotowy do spożycia.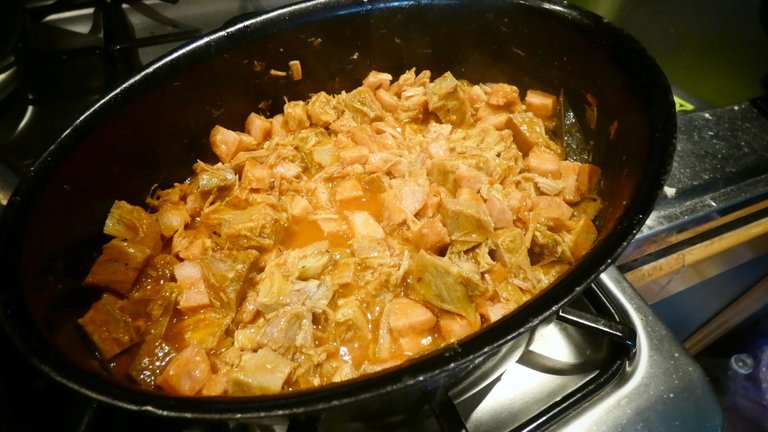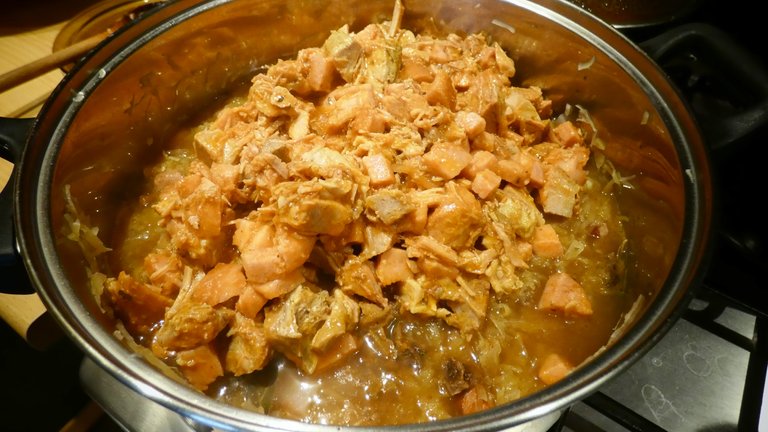 Way of giving
Sposób podania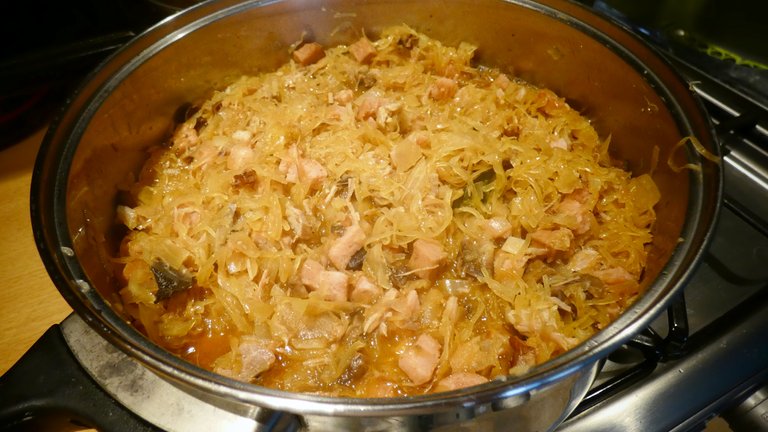 "Bigos" can be served in many ways. It can be a dish on its own, served with bread or a roll, it can also be served with boiled potatoes, and it can be served as a side dish, cabbage salad - very often instead of fried cabbage, for example in a pork chop. I prefer it with a fresh "Kaiser" roll.
Bigos można podawać na wiele sposobów. Może być daniem samym w sobie podawanym z chlebem lub bułką, może być podawany również z gotowanymi ziemniakami, a może być podawany do dania jako dodatek, sałatka z kapusty - bardzo często zamiast zasmażanej kapusty na przykład do kotleta schabowego. Ja preferuję ze świeżą bułką typu "kajzerka".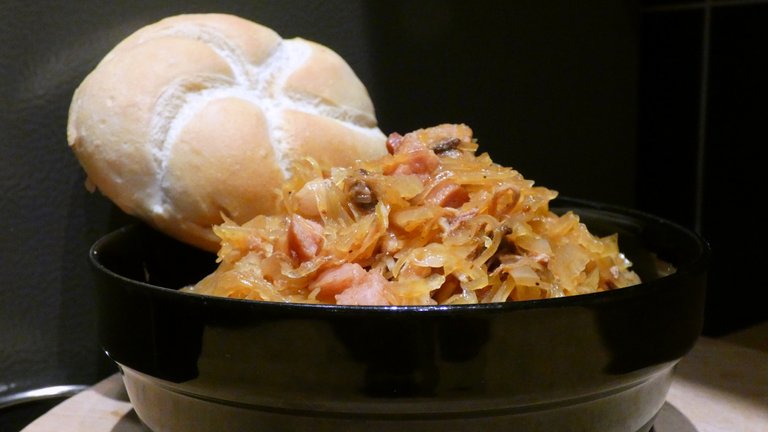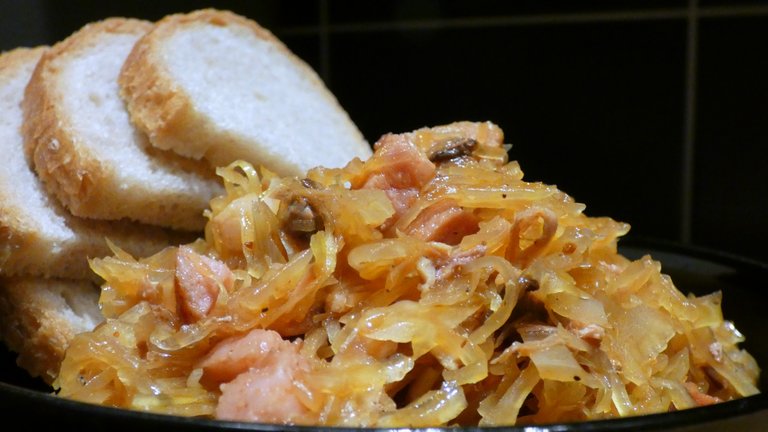 Smacznego
Enjoy 😋