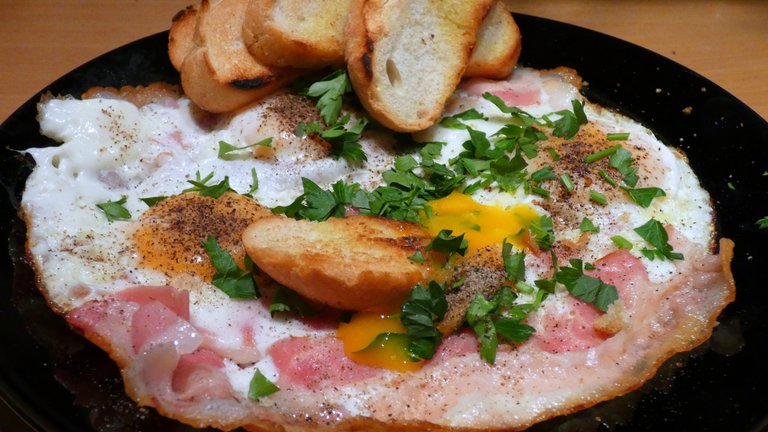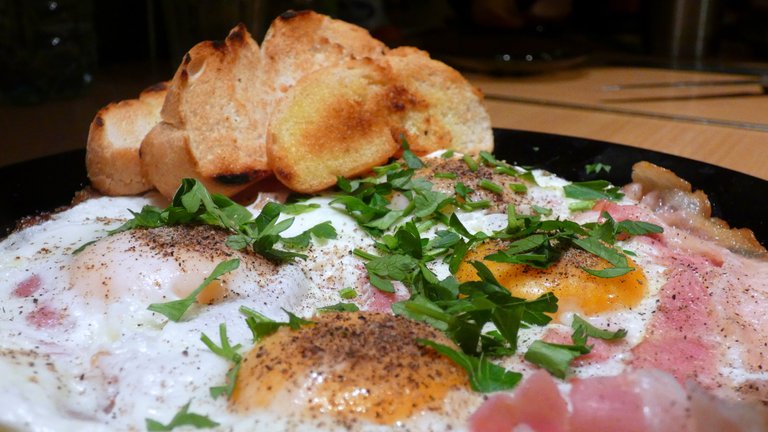 It would seem that making fried eggs is trivial. Nothing could be more wrong. Make fried eggs with bacon, so that the protein is cut, the yolks are liquid and the bacon is fried - this is an art. And all this so that it does not stick to the pan and land on the plate in perfect condition? Can be.
Wydawałoby się, że zrobienie jajek sadzonych jest banalne. Nic bardziej mylnego. Zrobić jajka sadzone na boczku, tak, aby białko było ścięte, żółtka płynne a boczek podsmażony - to jest sztuka. A do tego wszystkiego, żeby to nie przywarło do patelni i w nienagannym stanie wylądowało na talerzu? Da się.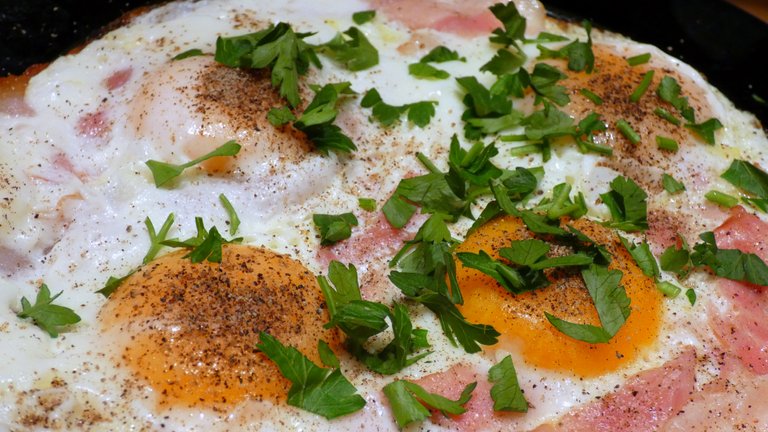 Ingredients
Składniki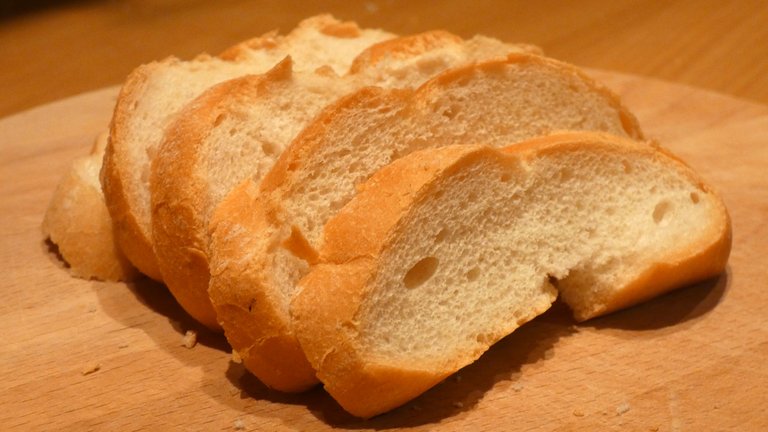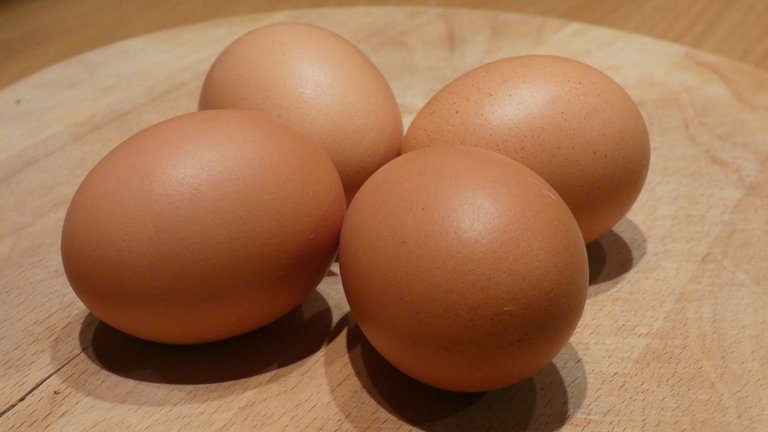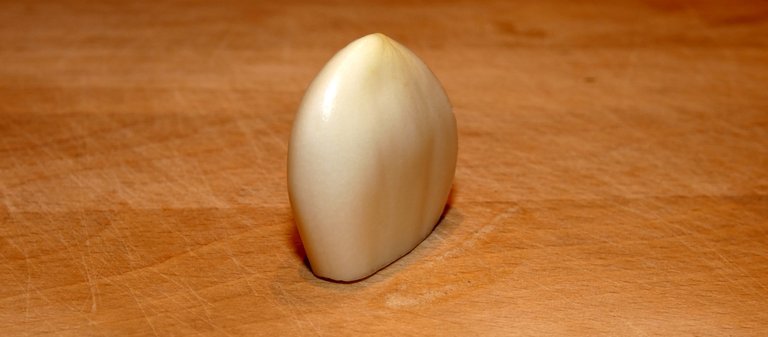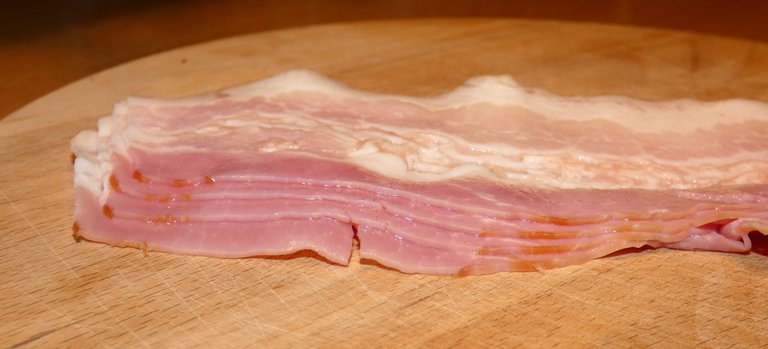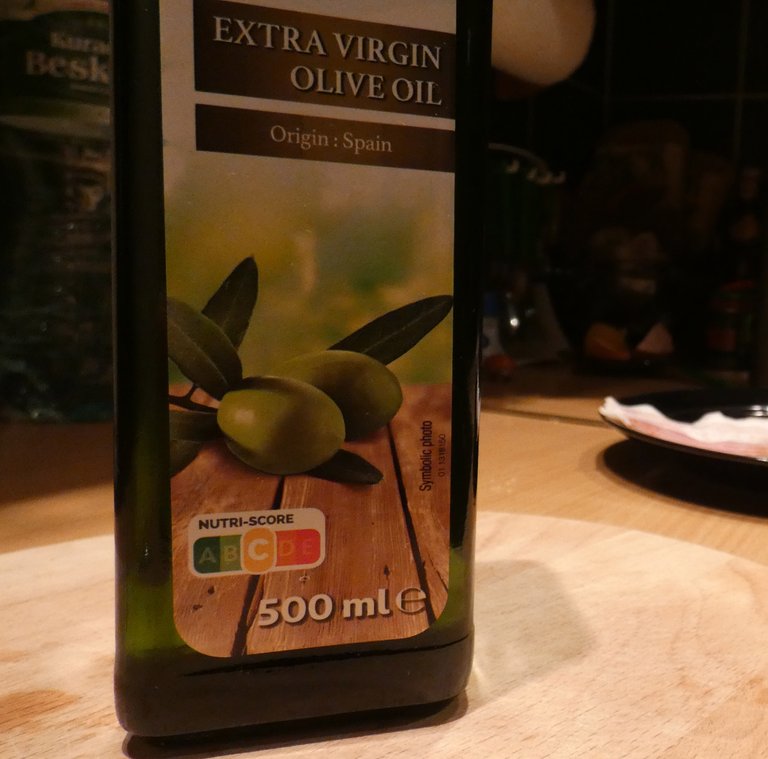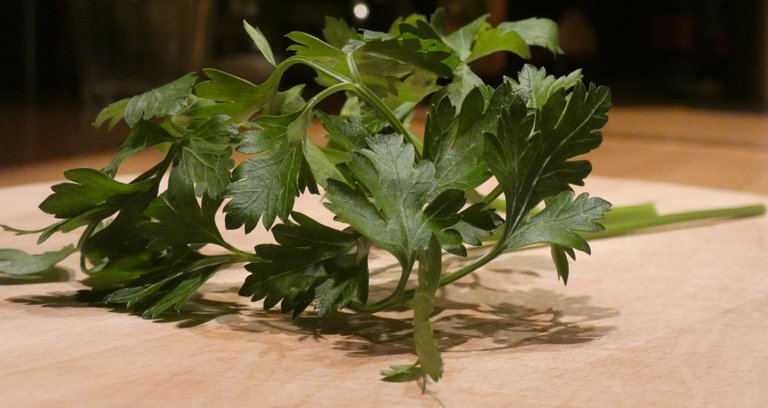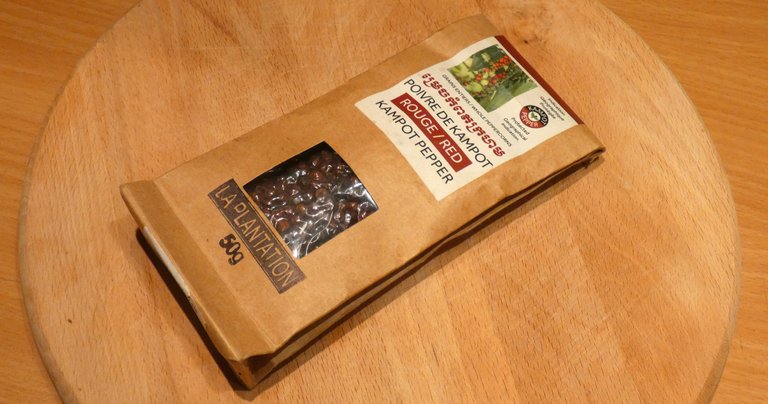 4 chicken eggs, 0.1 kg of smoked or steamed bacon in slices, wheat bread, garlic, olive oil, salt, good quality black pepper, green parsley.
4 jajka kurze, 0,1 kg boczku wędzonego lub parzonego w plastrach, pieczywo pszenne, czosnek, oliwa z oliwek, sól, dobrej jakości pieprz czarny, zielona pietruszka.
Preparation of eggs
Przygotowanie jajek
This may seem strange to some, but I never make scrambled or fried eggs without first cleaning them.
Może się to niektórym wydawać dziwne, ale nigdy nie robię jajecznicy ani jajek sadzonych bez ich uprzedniego oczyszczenia.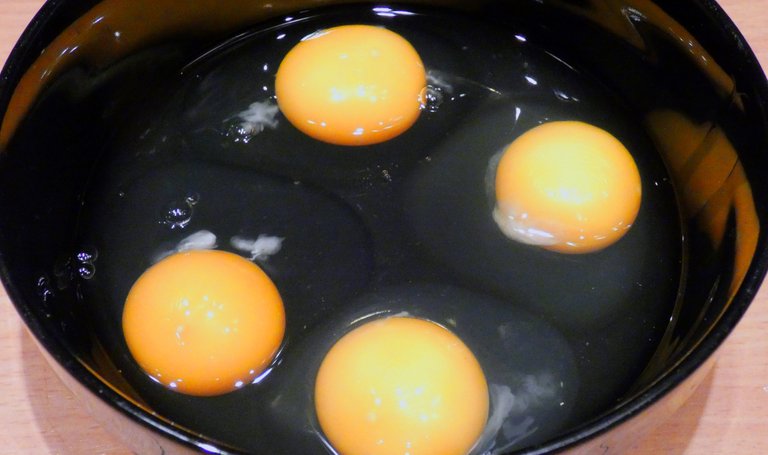 I break the eggs into a bowl and gently remove all the impurities, especially the ligaments and embryos. This should be done gently so as not to damage the yolks.
Wbijam jajka do miseczki, i delikatnie usuwam wszystkie nieczystości, a szczególnie więzadełka i zarodki. Trzeba to robić delikatnie tak, aby nie uszkodzić żółtek.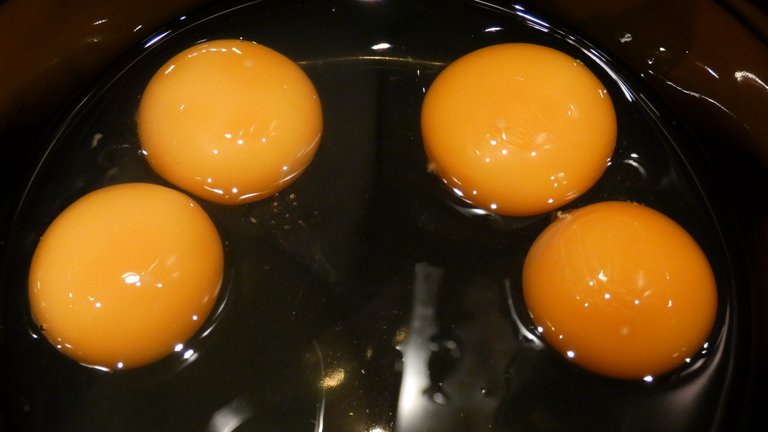 Preparation of garlic bread
Przygotowanie pieczywa czosnkowego
Heat a little olive oil in a frying pan and arrange the pieces of bread. we grill thoroughly on both sides.
Na patelni rozgrzewamy odrobinę oliwy z oliwek i układamy kawałki pieczywa. opiekamy dokładnie z obu stron.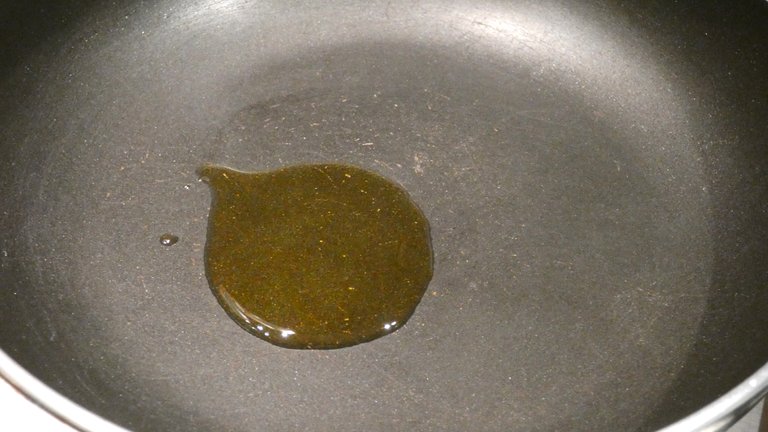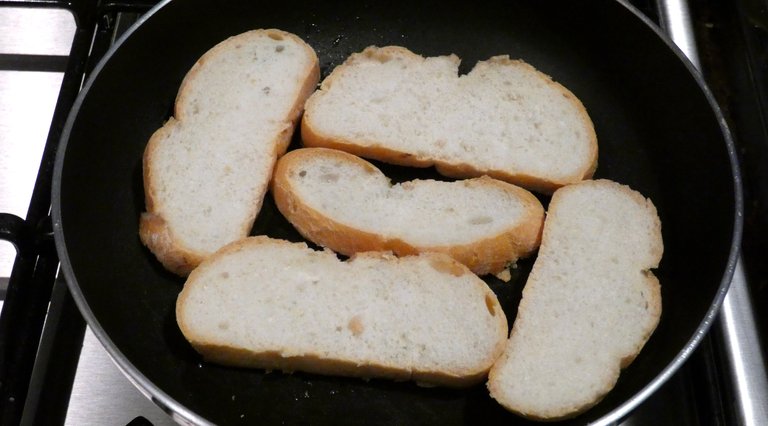 Rub the previously peeled garlic on the baked pieces of baguette.
Na upieczonych kawałkach bagietki rozcieramy obrany wcześniej czosnek.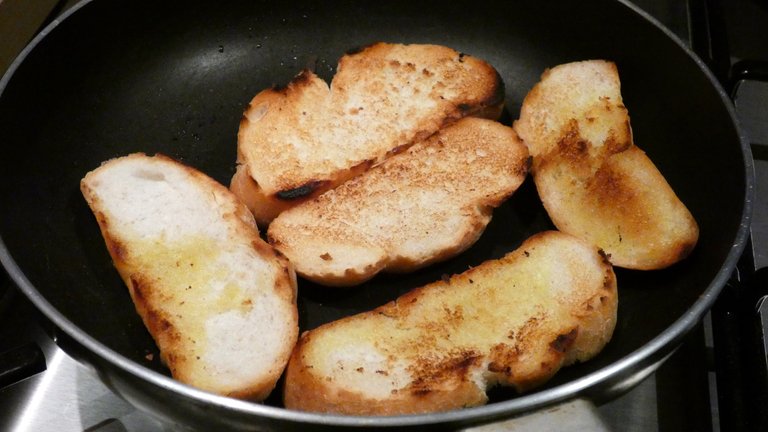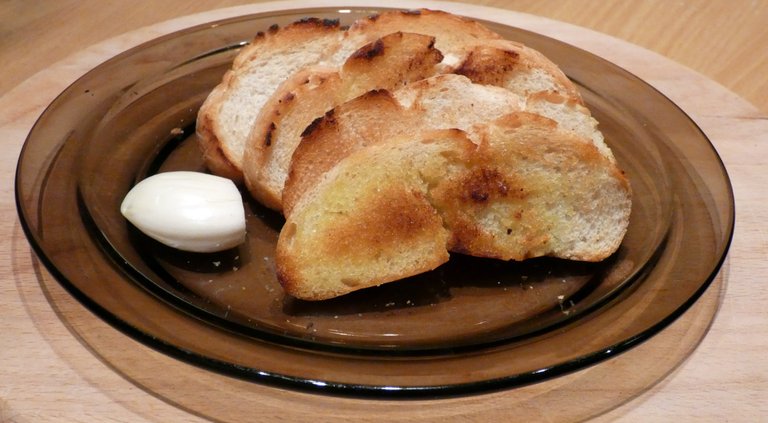 Toasting the bacon
Podpiekanie boczku
Heat up the olive oil in a frying pan and heat it up. Put them on a pan and fry gently on both sides.
Na patelni rozgrzewamy oliwę z oliwek i rozgrzewamy. Układamy na patelni i podsmażamy delikatnie z obu stron.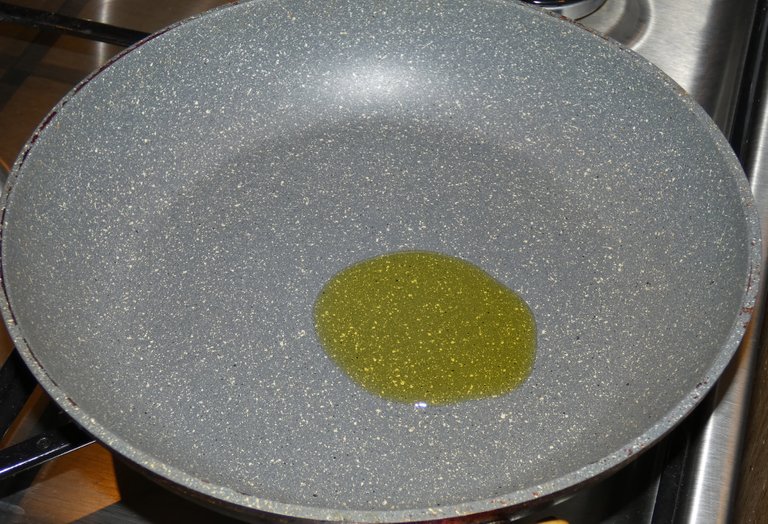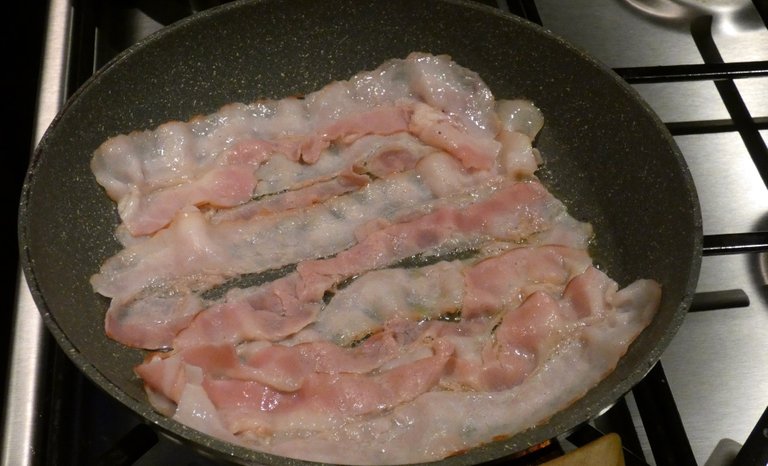 Frying eggs
Smażenie jajek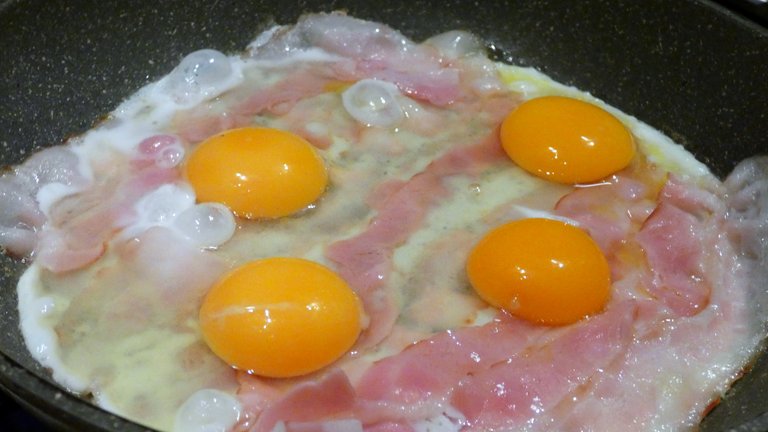 Gently pour the eggs into a hot pan with fried bacon and spread it over the entire pan in a circular motion. Fry for a moment until the protein is solid on the side walls. Then we cover the pan with a lid, checking every now and then to what extent the protein is cut and whether the yolk is not cut off by accident. We take them off the pan as soon as we decide that it is already done, and immediately put the eggs on the plate and it's ready.
Na gorącą patelnię z podsmażonym boczkiem wylewamy delikatnie jajka i ruchem okrężnym rozprowadzamy po całej patelni. Podsmażamy chwilę aż białko zetnie się na bocznych ściankach. Następnie przykrywamy patelnię pokrywką, sprawdzając co chwilę w jakim stopniu ścięte jest białko, i czy żółtko się przypadkiem nie ścina. Zdejmujemy z patelni w momencie, kiedy uznamy że to już, i błyskawicznie przekładamy jajka na talerz i gotowe.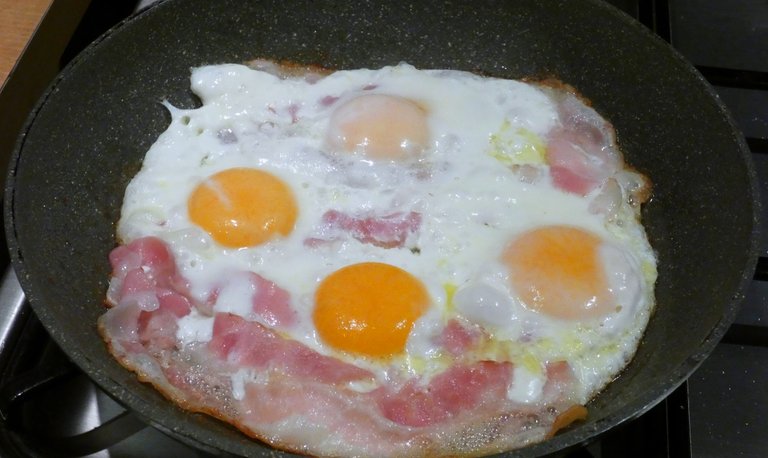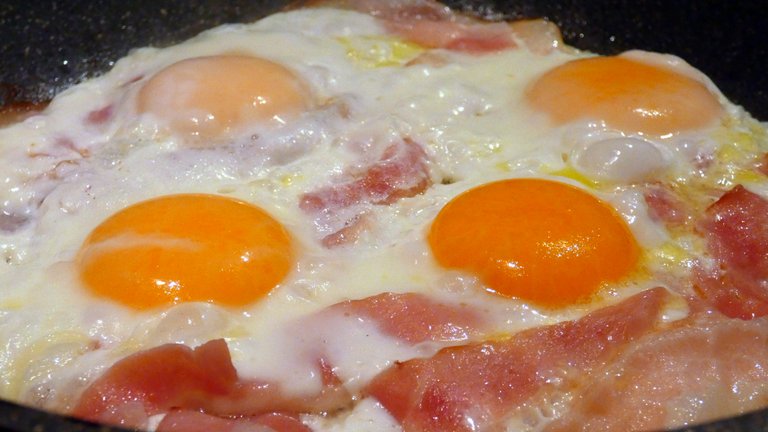 Now we season the eggs with salt, pepper - in my case it is pepper imported from Cambodia, one of the best in the world. Decorate with parsley.
Teraz jajka doprawiamy solą, pieprzem - w moim przypadku to pieprz przywieziony z Kambodży, jeden z najlepszych na świecie. Ozdabiamy natką pietruszki.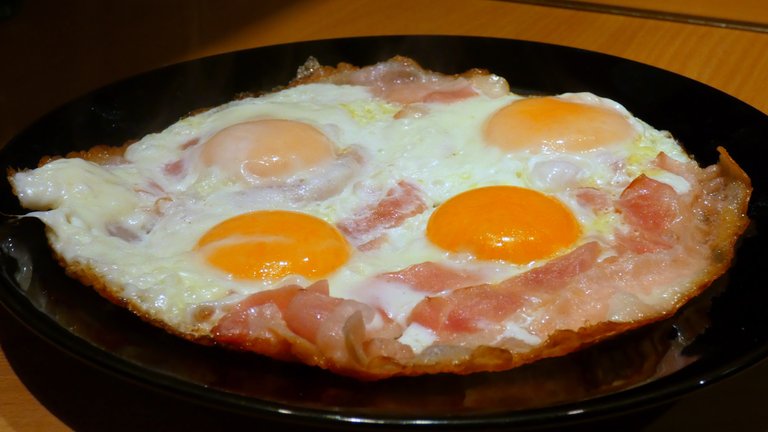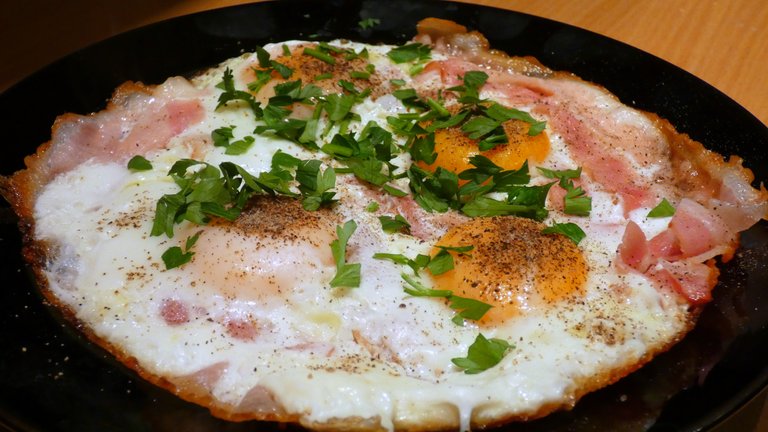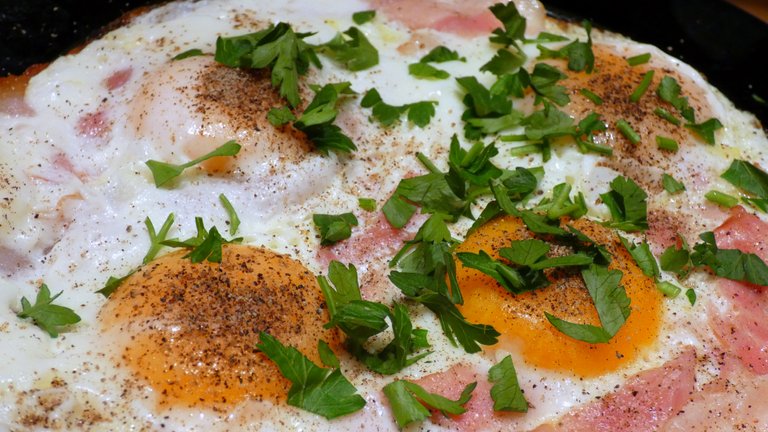 Way of giving
Sposób podania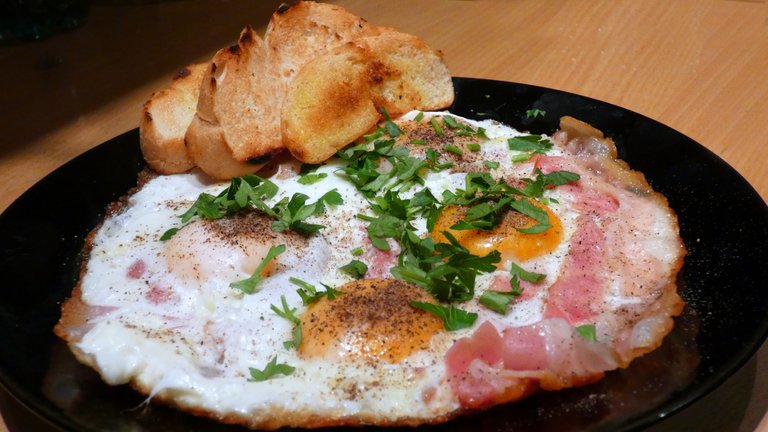 Serve with garlic bread prepared in advance.
Podajemy z wcześniej przygotowanym pieczywem czosnkowym.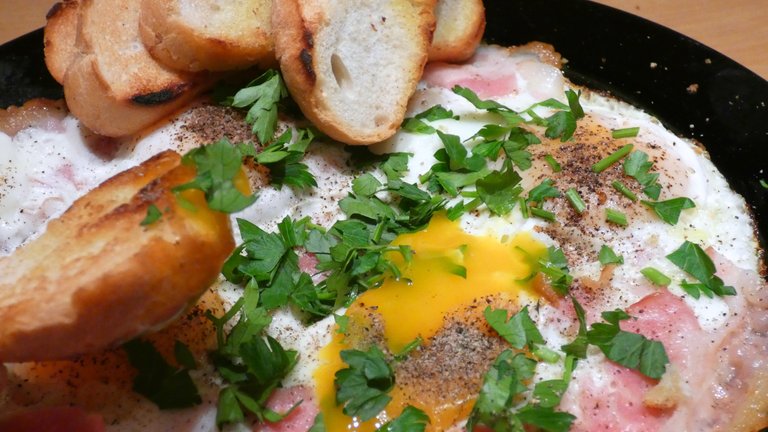 Bon appetit!
Smacznego