Looking through my film and photo materials, I noticed that cats often appeared on my way. Of course, these are only some of the photos I found, but I decided to share them with a short comment.
Przeglądając swoje materiały filmowe i zdjęciowe zauważyłem, ze na mojej drodze bardzo często pojawiały się koty. Oczywiście to tylko część odnalezionych zdjęć, ale postanowiłem się nimi podzielić dodając krótki komentarz.
Myanmar - Shwendagon
Myanmar - Shwendagon
The first on the list is the Burmese cat. There are a lot of them there, but this one especially wanted to blend in with the surroundings of the Shwendagon Temple covered with gold. The redhead on the gold background thought he was invisible.
Pierwszy na liście jest kot z Birmy. Jest ich tam sporo, ale ten wyjątkowo chciał wtopić się w otocznie okrytej złotem Świątyni Shwendagon. Ten rudzielec na złotym tle myślał, że jest niewidzialny.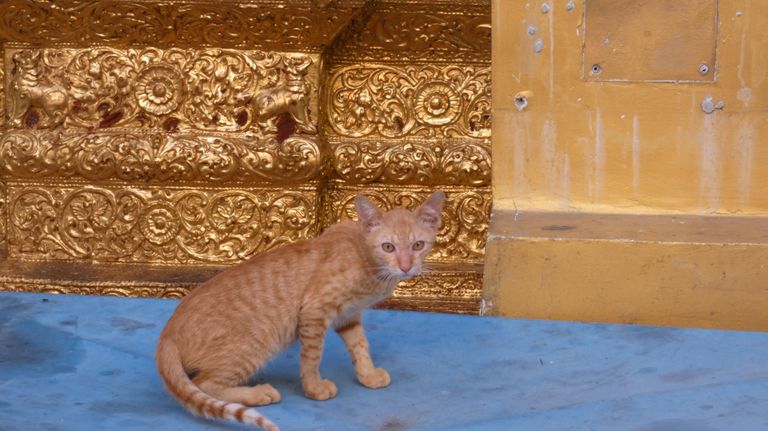 ---
Caribbean, Martinique town of Case Pilote
Karaiby, Martynika miasteczko Case Pilote
Right after leaving the tent in the morning I looked quite careless. The cat looked at me, I think he thought we looked alike and went to sleep.
Zaraz po wyjściu rano z namiotu wyglądałem dość niedbale. Kot spojrzał na mnie, chyba stwierdził że prezentujemy się podobnie i poszedł spać.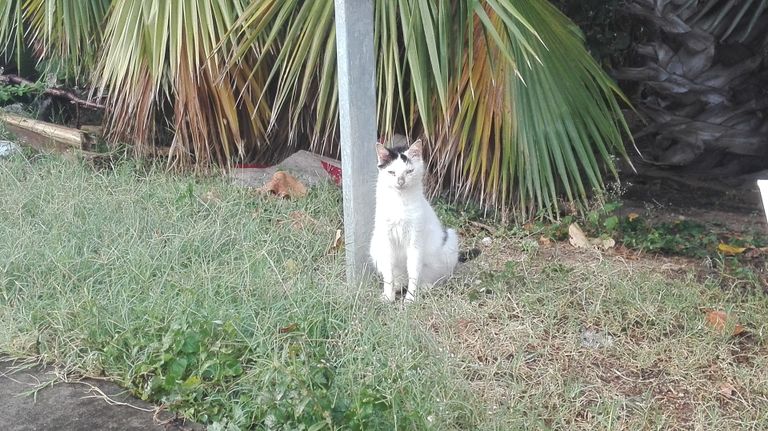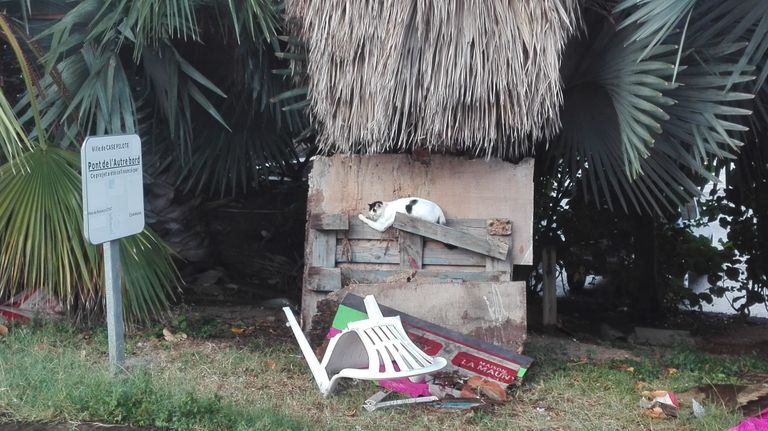 ---
Cambodia, Koh Rong Samloem island
Kambodża, wyspa Koh Rong Samloem
Cambodian cats are lazy, this one was lounging on the Cambodia store counter, he didn't even look at us.
Kambodżańskie koty są leniwe, ten wylegiwał się na ladzie sklepowej Kambodża, nawet na nas nie spojrzał.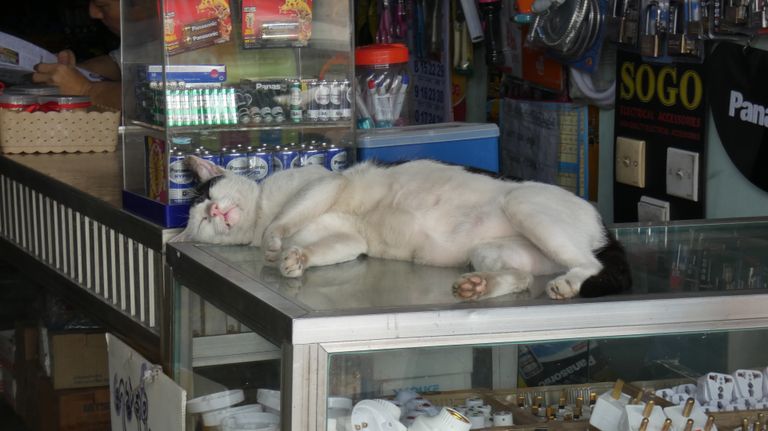 ---
Tanzania, Zanzibar village of Bweju
Tanzania, Zanzibar wioska Bweju
A regular visitor to one of the seaside pubs. They always served over-salted fish and meat, so the kitten knew that most of the food was his.
Stały bywalec jednej z nadmorskich knajpek. Podawali w niej zawsze przesolone ryby i mięso, więc kotek wiedział, że wiekszość jedzenia jest jego.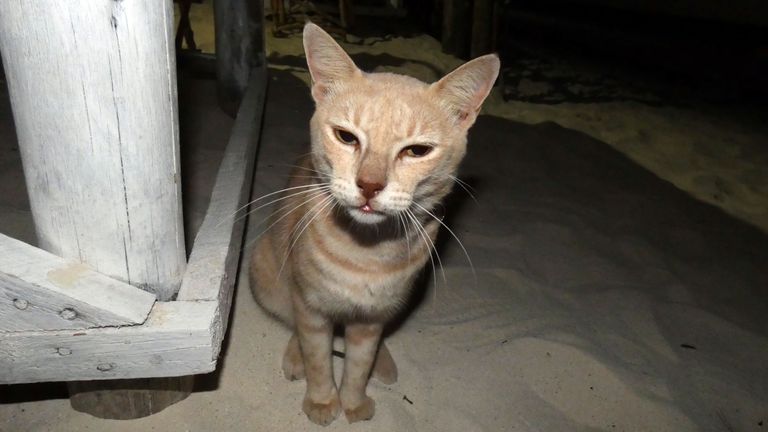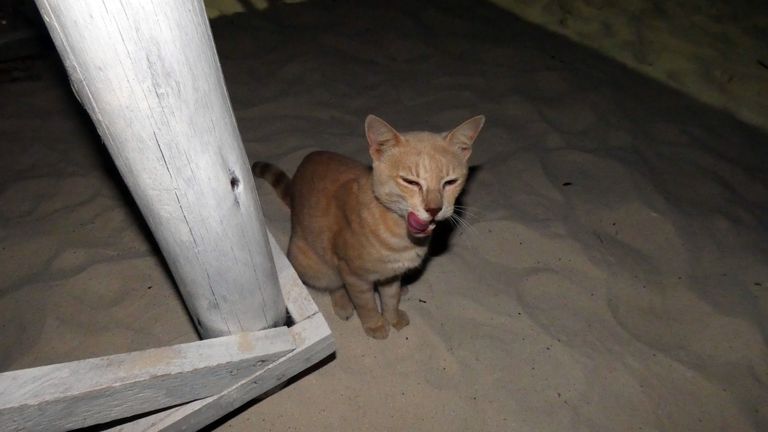 ---
Tanzania, Zanzibar City Stone Town
Tanzania, Zanzibar miasto Stone Town
He discreetly crept between the tables of the restaurant, was not intrusive and always got something.
Dyskretnie skradał się między stolikami restauracji, nie był nachalny i zawsze coś dostał.
---
Zanzibar village Jambiani
Zanzibar wioska Jambiani
This beautiful green-eyed tomcat, or rather a cat with ocean-colored eyes, accompanied us every day throughout our stay in the village of Jambiani. Meek, calm, balanced.
Ten piękny zielonooki kocur, a w zasadzie kot z oczami w kolorze oceanu, towarzyszył nam codziennie przez cały pobyt we wsi Jambiani. Potulny, spokojny, zrównoważony.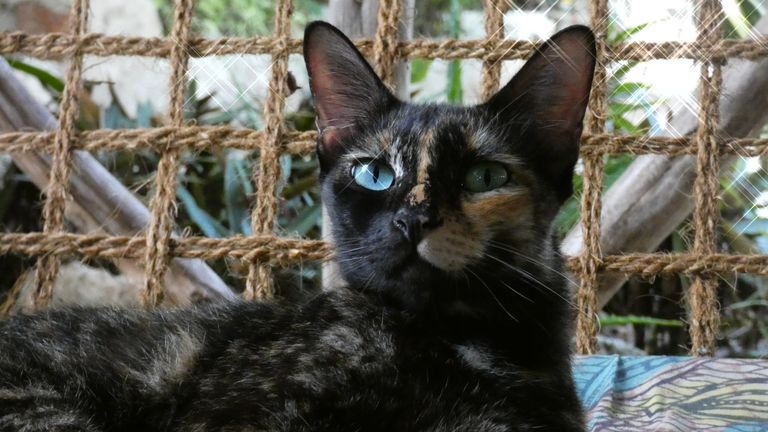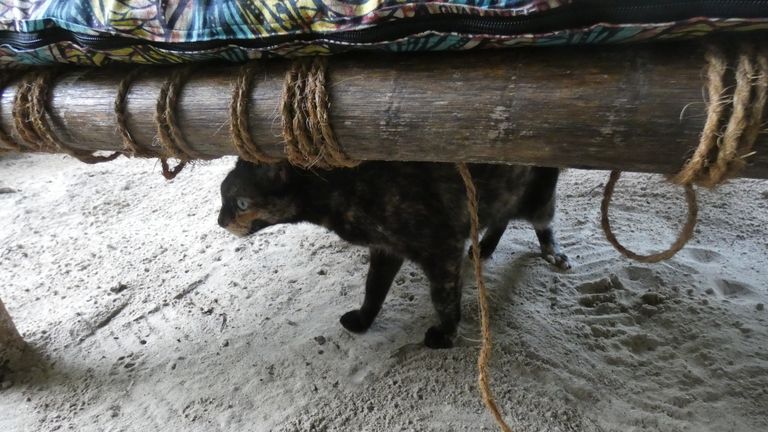 ---
Romania, the city of Constanta
Rumunia, miasto Konstanca
The classic representative of the beggar for beautiful eyes. Effective, of course, who wouldn't give him a piece of beef?
Klasyczny przedstawiciel żebraka na piękne oczy. Oczywiście skuteczny, kto by mu nie dał kawałka mięska wołowego?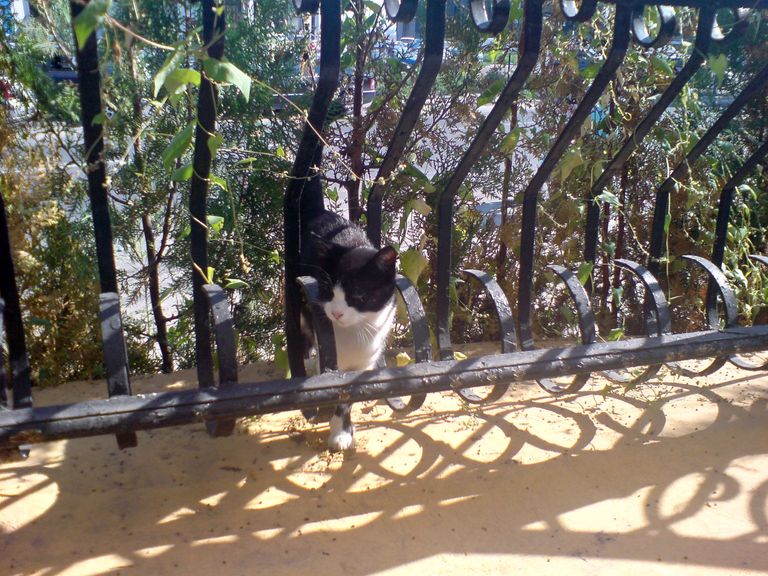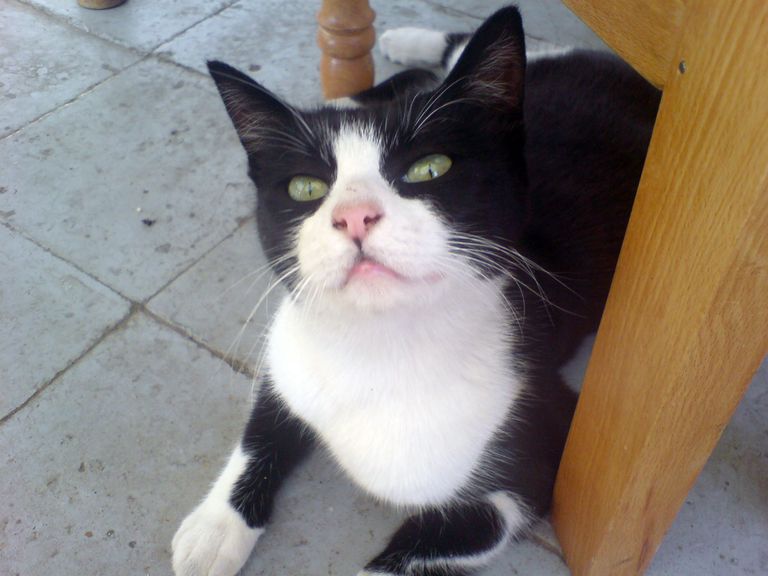 ---
Malaysia City of Mercing
Malezja miasto Mercing
Ta kocia rodzina rozlokowany była dosłownie na środku chodnika. Najwyraźniej Malezyjczycy lubią koty, bo karmiąca samica miała wokół siebie sporo pożywienia.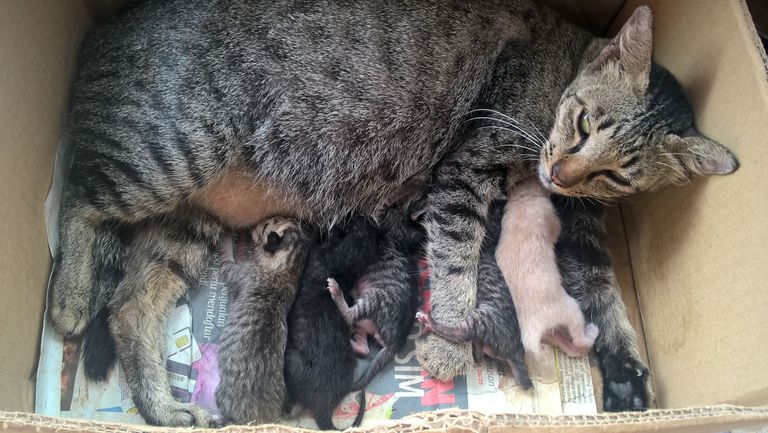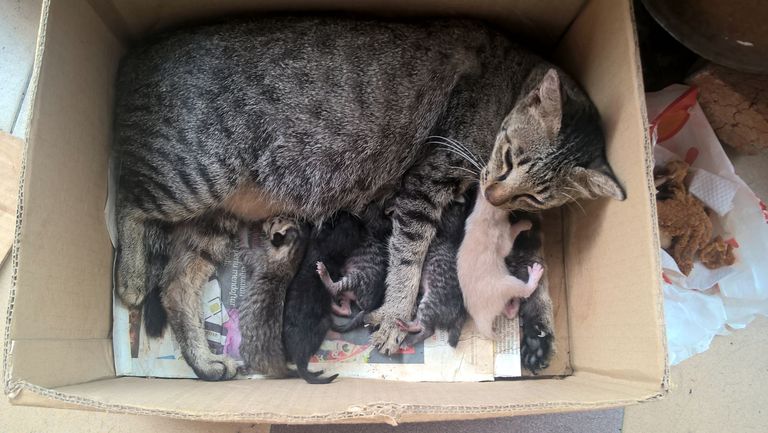 ---
Polish town of Pilica
Polska miejscowość Pilica
He stood still and watched us carefully as we took pictures of him.
Stał nieruchomo i bacznym wzrokiem przyglądał się nam gdy robiliśmy mu zdjęcia.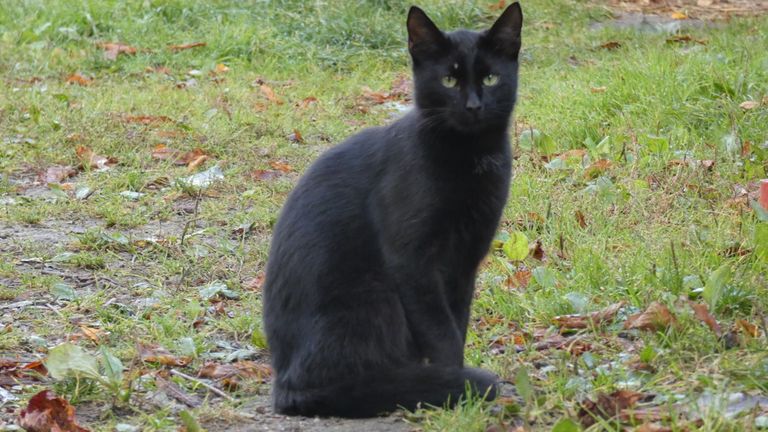 ---
Indonesia Bali town of Lovina
Indonezja Bali miejscowość Lovina
Without thinking, he jumped on the scooter we rented and settled in the seat. Apparently, the warm bedding for the cat must be very warm, it burned my hands.
Bez namysłu wskoczył na wypożyczony przez nas skuter i się zadomowił na siedzeniu. Widocznie ciepłe podłoże dla kota musi być bardzo ciepłe, mo mnie aż parzyło w ręce.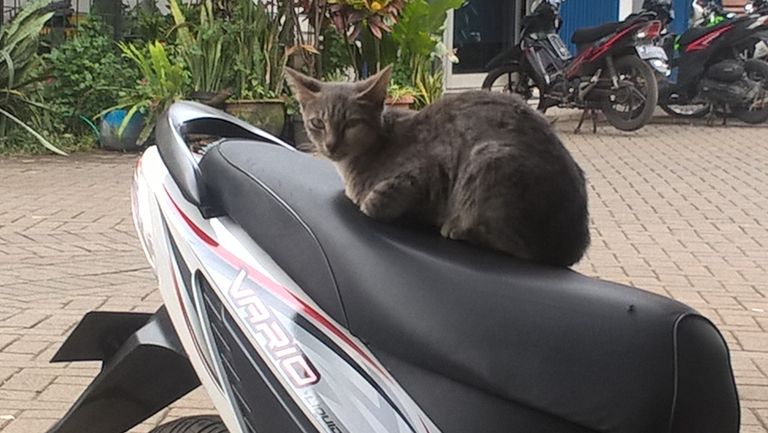 These are just some of my travel companions
To tylko część moich towarzyszy w podróżach
😉Enjoy

© copyright marianomariano