All screenshots were taken from Nftshowroom. They are for instructional purposes only.
This will be the first in a series of posts about NFTs. Yes, I can see your eyes glazing over as you think "Dear God, not another one."
Sorry dear reader, if you follow along, you will have to suffer through another possibly banal post.
Where this one differs, I hope, is in the approach. I've seen an untold number of posts about the aforementioned topic. I have not however seen many at all about how to create one or hopefully several.
In the first installment, I will start with Nftshowroom. Why them? Because I am familiar with the creation process and have actually sold there.
We begin with nftshowroom
If you do not have an account already, click on the get started button. You can see the process is pretty straightforward.
The application process is very simple:
the tldr version is Fill out the app. You must have a portfolio.
(I used my personal non-hive blog)
An admin will contact you through one of the listed social media sites.
Please be patient here. They review and approve as quickly as possible.
They even have a discord channel for further assistance.
All set up? Awesome.
It works with Hive, just enter your name and sign in with hivekeys



If you want to jump in straight away, click on tokenize.
Other sites that I will discuss in other posts may give you options of what you'd like to mint or in this case "tokenize" Here, you have the choice of a jpg or video.
Upload the item and fill in the blanks describing your work. You will need 5 swaphive to mint one item and then an additional 1 swaphive per copy. There is no gas or other fees like the other sites.


 Agree to the TOS check boxes and issue. That's it. Once it's minted, which takes a very short time, you can view it in your gallery.
![image.png]
(

)
Everything else can be found on the left side menu.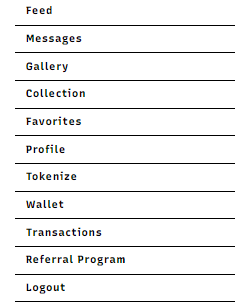 Once it's ready, promote your link to your listings.
Congrats, you're an NFT maker.
The other sites work basically the same. They may have more options. Go create and play around with the site. Then come back here and comment. Let me know if you made anything.