What I like about the Hive blockchain is that it's about content creation, curation, investing but it's also about having fun. There are plenty of great blockchain games that you can play and you can even earn some money while doing so.
My team
About 15 years ago, I was playing a soccer manager game called hattrick. This game actually still exists but I had stopped simply because I spent too much time on it. The name of my Team was FC Melario. It was inspired by a brasilian player Romario that I quite liked when I was a kid. When I joined Rabona on the Hive blockchain, I decided to use the same name. The FC Melario has therefore a long history in online football LOL.
Rabona
I've been playing the Soccer manager game Rabona on the Hive blockchain for quite some time now. So far my strategy was to have a cheap team and to make as much RBN as possible. RBN is the ingame token that you earn when you get fans in the stadium, when you sell players, bratwurst, beer or shirts. With this RBN you need to pay your players and the costs for your youth academy, the stadium, the hotel, the parking lots.
My strategy was always to get players that were cheap in terms of salary and had good stats. I managed to collect almost 5 million RBN. This is about 25 Hive or 3.4 dollars. Last week I decided to change this strategy because I was stuck in the lowest league and I didn't see any perspective for the game for me. I wanted to "up" my game so that I could go to 2nd league within a season or two (each season lasts about 7 days).
My investments
To be able to have a chance to play in the higher leagues, I decided to upgrade my stadium so that it can fit about 3200 spectators. It will take quite a lot of time until the stadium will have this size but it's the paramount factor to have enough income to pay also higher salaries to your players. I therefore invested 2 million RBN into the stadium. I also believe that the game is still very young and it's still possible to claim the ladders now. This will be more difficult in the future I believe.
Along with that I also developed my catering capacities so that I can sell more beer and bratwurst during the games. I did the same with my shop, my hotel and my parking lot.
The most important factor however was that I actually enrolled good players that have quite substantial salaries. Instead of having players with less than 1000 RBN salary, I have now some players with up to 5000 RBN salary.
In the short term my profitability is definitely reduced and I will probably be loosing money for a season or two. In the long run however, I will have the means to play in a higher league, get more spectators to my games and in the end earn more RBN.
The season just ended with a big surprise!
A couple of matches before the end of the season I was third in the ranking of my league. This is good of course and my aspiration was to go up to the next league within a season or two. Only one single team can ascend per season.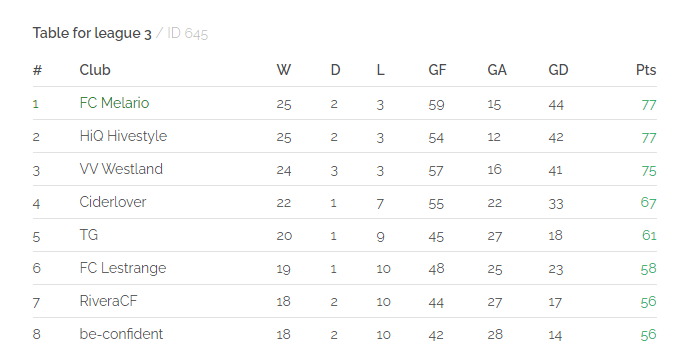 The funny thing is that in the last round I managed to pass both teams in front of me thanks to the score difference! This allows me to go to league two this season already!
The FC Melario will play the next season in the 2nd league!
The challenge for the FC Melario will be to stay there this season waiting that the stadium gets finished so that the income will be higher later on.
Why play Rabona?
Of course I could have started to play hattrick again but I wasn't so eager to do the same thing again. When I saw rabona, I especially liked the token dimension of it. I like this about blockchain games. It's much funnier to play, when you can actually earn some money with it!
I especially like what is planned in the roadmap of rabona and that could bring a lot of interests to the game from a token and economical aspect. (check the roadmap). First there will be a bank of Rabaona. This will allow you to stake RBN tokens and earn dividends. I like everything about this. Your stake will also allow you to have a say in governance.
Thanks to the shareholder feature that is planned for Q1 2021, you could earn money by owning shares of Rabona clubs!
The next feature I'm exited about is the Shareholder feature. This will allow to tokenize your club! Your club will become an asset that people can buy and sell and earn dividends with it! How cool is that!
Maybe you want to become a fan of the FC Melario and later participate in it's success ;-)
---
Let's connect ! You can find me on these platforms: