Hello Lions!
If you are a user or community member of the Leofinance Tribe, you obviously know that they have a tremendously dedicated team behind the projects and when it comes to bringing new and useful updates, no one can possibly beat them in that area. The team has been putting in a lot of effort for really a long time in silence to create a special system that offers everything under a single roof that you need for the web3 experience. Recently on 1st May, they launched a totally new and dashing user interface that looks and feels much better than the old one to spread the news and use this opportunity to onboard new people in this great social platform, also started a campaign in collaboration with Zealy and it was a huge success which enabled them to join many new users not only from within Hive hut beyond as well. The new UI is really easy to use as I am using it since May and if you're already a user of those popular Web 2 platforms like Twitter or Facebook, you can learn all the basics within minutes on this platform. Looking at the simplistic UI, I really think they made it in such a way so people can start using it right away without any problems and the UI seems to be mobile-friendly as well so I am badly waiting for the mobile app right now. No doubt as both the new UI and LeoThreads are new projects, there are some issues and bugs, but the team tirelessly doing a great job fixing them on top of that, they are also adding new utilities and other things every now and then to make it even better for everyone.
What the team is actually trying to do is to create a complete front-end system that will include everything you need - from creating both long-form and microblogging content and managing your wallet to using cross-chain applications or DeFi for investments and the first stone of this gigantic project has already been paved. But many things are still being worked on in the background and it's pretty normal I think because great things take time to develop right?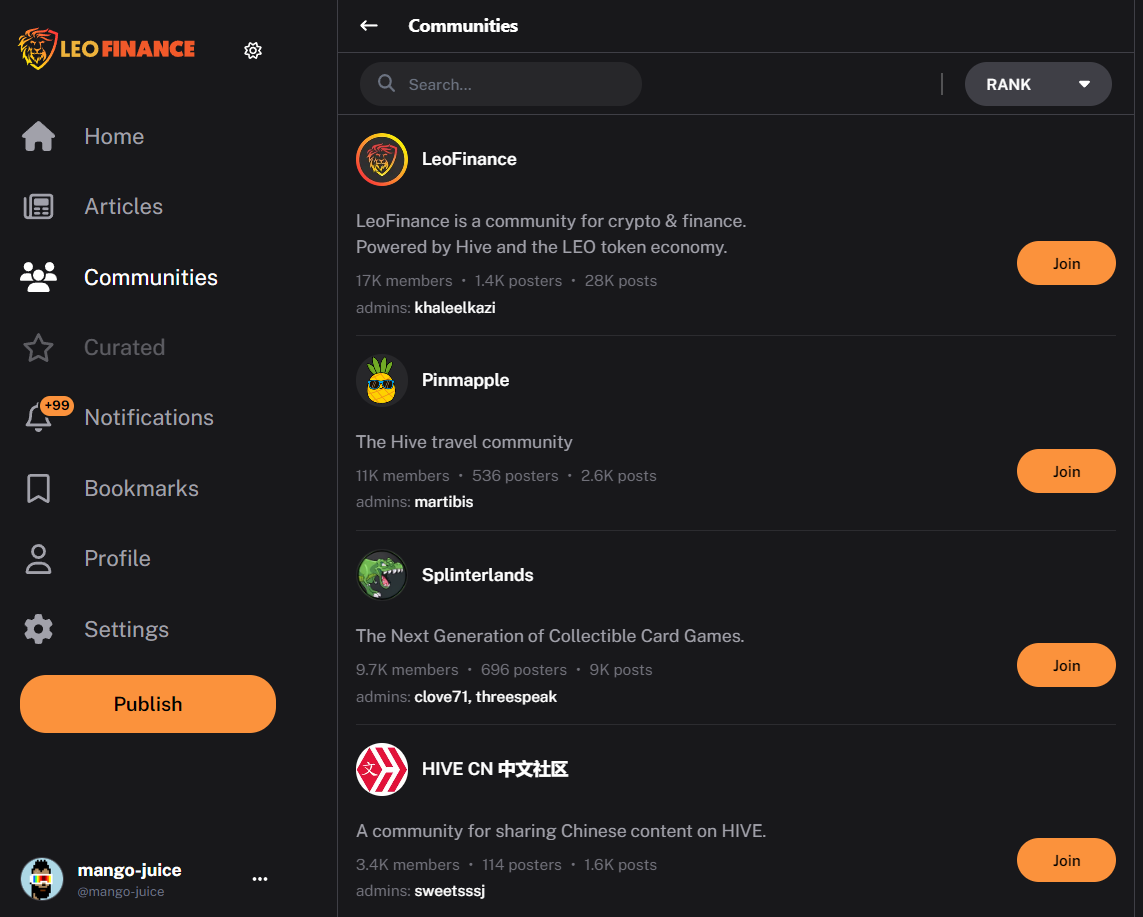 If you are a daily user of this amazing platform, you have probably noticed the fact that the team releases small updates and they drops them one after another with a quite fast speed. As I have been way more active in this platform for the last two months, I have seen firsthand that they've already made a lot of changes and upgrades to the platform to make it easier, great and obviously useful. Needless to say that the platform works really faster than its first release version and now has a better and smoother experience when accessing via phone or tablet.
One of the latest updates from the official dev team that you might have noticed already is a new tab called 'Communities' on the right side of the homepage. Now, those who are already a user on Hive](https://leofinance.io/@leoglossary/leoglossary-what-is-hive) knows well about communities, they are different tribes on Hive and generally focused on certain niches or a particular project. Many of these communities have their own front-end UI on top of the core hive blockchain and a few of them are spIintertalk.io or neoxian.city etc. However, Leofinance respected the fact that there are a large number of users who are closely attached to one or more particular communities and they only post or communicate only within those tribes. So, they have added a fantastic new update by adding the community feature to their UI. When you click on the community button, you will find a list full of tribes in the hive chain and now can post your articles by choosing your favorite communities while using the Leofinance front end.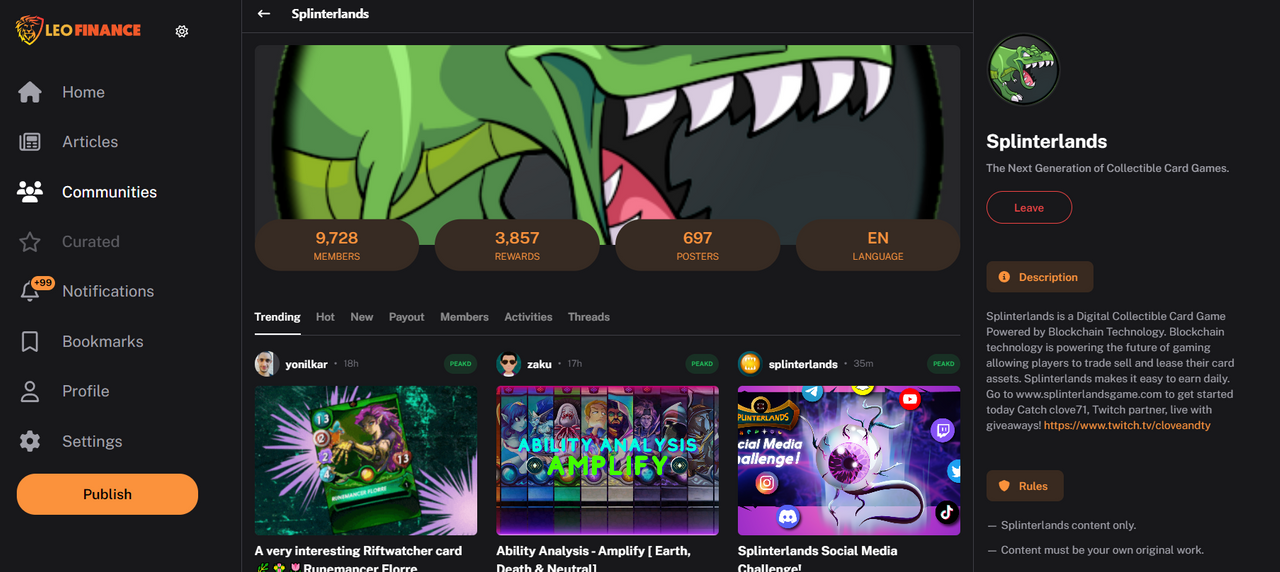 Before, when we used to post a blog using the Leofinance UI, it would by default be posted in the LeoFinance community and the same thing commonly happens with other tribe front ends as well. But now, things have changed with the new Leo interface as they've now given us the freedom to choose any community we want to post in using LeoFinance's front end. I really liked this great addition and strongly believe this one will encourage any user on the Hive](https://leofinance.io/@leoglossary/leoglossary-what-is-hive) chain to use this amazing platform irrespective of the fact of which tribe or community they like. In the communities tab, you can check out all the different communities available on Hive and choose the ones you like or want to post your article in a particular community. When you click on any community, a dedicated page about that community will be opened up and show you some basic intel and stats about that community. You can even filter them based on their rank, member count, or even how old they are or can even search directly.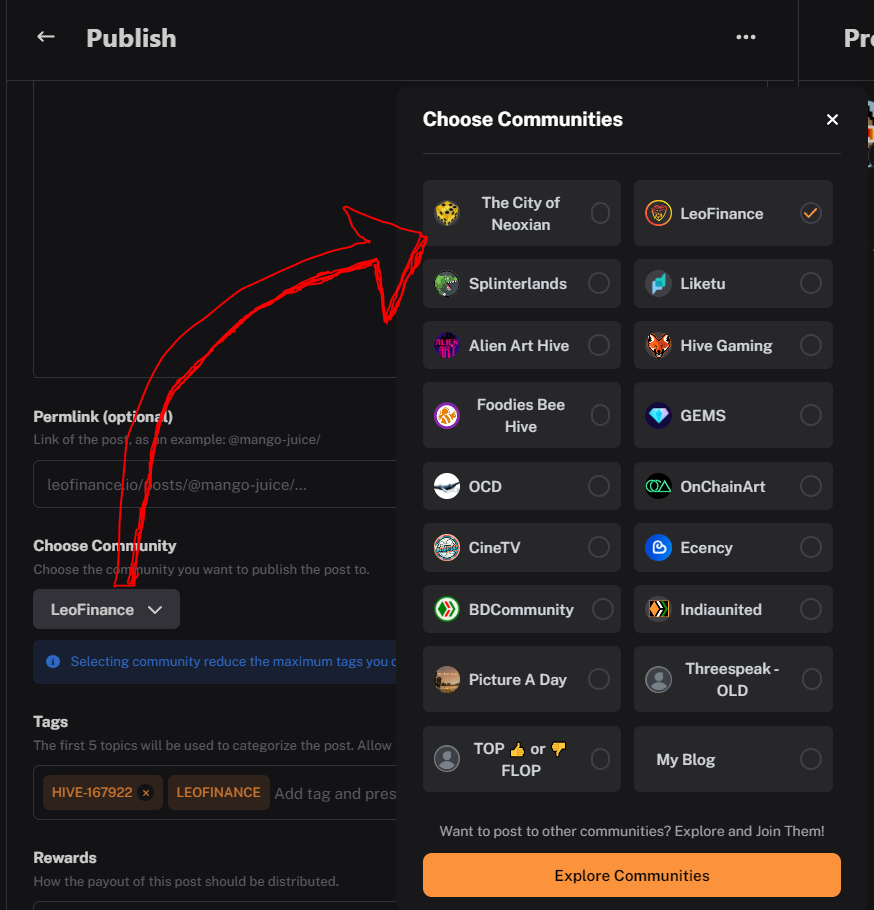 So now, if you want to create a post using the Leofinance front-end but want to post under a different community, you can just choose which community you want to publish it in while selecting the parameter before Posting. As I shared in the screenshot above, You'll see that there are a ton of communities you can choose from and you also also choose to join those based on which one you like. depending on the ones you've subscribed to. When using the publish page for creating a post, if you want to post in the LeoFinance community, you don't have to do anything because it's already selected by default, but in case you want to post your piece in a certain community like Liketu or Splinterlands, just click on the button under 'Choose Community' and a drop-down will appear, then select your preferred option from that option and post! Please note here that the drop-down will only show you the communities you are already subscribed to or following, so in case you are not seeing the one you need, just head over to the community tab and consider following or subscribing to that community and them it will appear in the publish page using the drop-down.
I hope you liked reading my post about this awesome community update in Leofinance UI and if you are not a Leofinance user and dedicated to any other tribe on the Hive](https://leofinance.io/@leoglossary/leoglossary-what-is-hive), I will recommend you try the Leofinance front end to post on the same community you like to share your work with while spending some good time at threads and chatting with your friends and fellow hivers. That's all for today my friends and see you all in my next post!