What is Pi?
Developed and launched 14th of march 2019, Pi is a new cryptocurrency developed by three Stanford grads with PhD.
(from left to right) Vince McPhilip, Chengdiao Fan, Nicolas Kokkalis


The decentralized cryptocurrency with the "Mobile First" approach was designed for everyday people by everyday people.
Once you installed the app you will be prompted to login every 24 hours into the Pi network to help build a stronger and more secure network.
You essentially don't need to keep your app open or drain your battery life. The inbuilt security mechanism restrict usage of any emulated software or similar tools, to help identify you as a "real" person inside the network. Furthermore you have to be invited by a trusted Pi-Pioneer to be allowed access to the Pi Network.
Not even half a year after its initial launch, Pi Network counts more than 1 million engaged users worldwide (currently over 10 million).
As of today the value of Pi is still $0 with no withdrawal. That will be the case until the MainNet launches.
What does Pi solve?
Pi Network acknowledges that current cryptocurrency mining is quite exclusive for technically versed people. Thus they are trying to build a cryptocurrency and smart contracts platform secured and operated by normal everyday people.
"Bitcoin was the first to show how cryptocurrency could disrupt the current financial model, giving people the ability to make transactions without having a third party in the way. The increase in freedom, flexibility, and privacy continues to drive the inevitable march toward digital currencies as a new norm. Despite its benefits, Bitcoin's (likely unintended) concentration of money and power present a meaningful barrier to mainstream adoption.
As Pi's core team has conducted research to try to understand why people are reluctant to enter the cryptocurrency space.
People consistently cited the risk of investing/mining as a key barrier to entry.

The centralization of power in Bitcoin's network makes it very difficult and expensive for the average person."
How does Pi mining work?
Pi's consensus algorithm builds atop Stellar Consensus Protocol (SCP). Unlike Stellar Network consisting mostly of companies and institutions (e.g., IBM) as nodes, Pi intends to allow devices of individuals to contribute on the protocol level and get rewarded, including mobile phones, laptops and computers. Below is an introduction on how Pi applies SCP to enabling mining by individuals.
There are four roles Pi users can play, as Pi miners. Namely:
Pioneer. A user of the Pi mobile app who is simply confirming that they are not a "robot" on a daily basis. This user validates their presence every time they sign in to the app. They can also open the app to request transactions (e.g. make a payment in Pi to another Pioneer)
Contributor. A user of the Pi mobile app who is contributing by providing a list of pioneers he or she knows and trusts. In aggregate, Pi contributors will build a global trust graph.
Ambassador. A user of the Pi mobile app who is introducing other users into Pi network.
Node. A user who is a pioneer, a contributor using the Pi mobile app, and is also running the Pi node software on their desktop or laptop computer. The Pi node software is the software that runs the core SCP algorithm, taking into account the trust graph information provided by the Contributors.
"A user can play more than one of the above roles. All roles are necessary, thus all roles are rewarded with newly minted Pi on a daily basis as long as they participated and contributed during that given day. In the loose definition of a "miner" being a user who receives newly minted currency as a reward for contributions, all four roles are considered to be Pi miners. We define"mining" more broadly than its traditional meaning equated to executing proof of work consensus algorithm as in Bitcoin or Ethereum."
Join while its hot: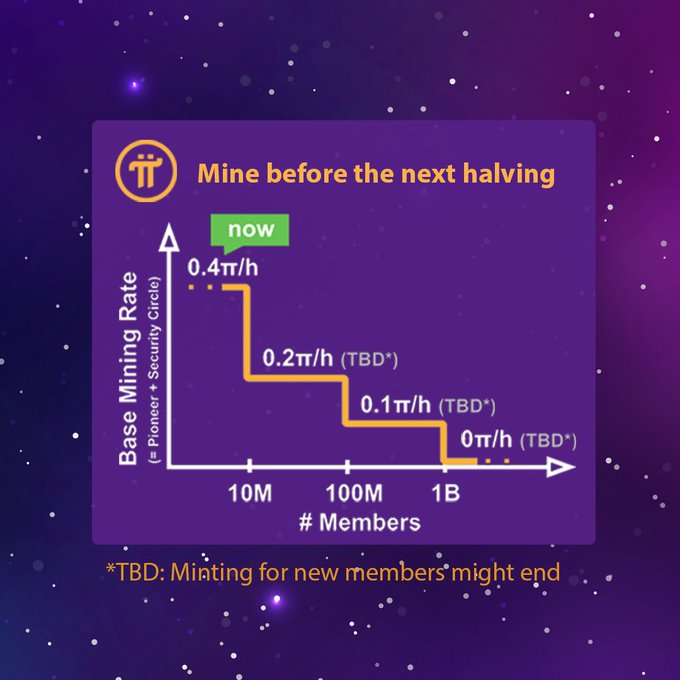 First come, first serve. Currently new users are able to mine with a 0.2 Pi/h rate.
Want more Information: https://minepi.com/
Pi Network Twitter: https://twitter.com/PiCoreTeam
Want to join the Pi-Pioneers: https://minepi.com/Zesshiz
(use invite code Zesshiz to get access into the Pi Network)
---
Referral-wall
Coinpot.co Faucets:
MoonDash, MoonLiteCoin, MoonBitcoinCash, MoonBitcoin, MoonDoge
Cointiply
http://ptc.cointiply.com/r/BGd72
Presearch
https://presearch.org/signup?rid=1866864 
Rollercoin (Mining Game)
https://rollercoin.com/?r=kepjri2u
Honeygain (Passive Idle Earner)