$BRD is a token of a Crypto wallet called Bread Wallet. Past this week it skyrocketed nearly 500% from $0.16 USD to an all-time high of $1.63 USD and currently trading at 0.912.

What is Bread Wallet ?
It is a cryptocurrency app that was launched in 2014. It was founder by Aaron Voisine and Adam Traidman. It is a simple multi-cryptocurrency hot wallet supporting BCH, BTC, ETH, XRP, HBAR, and all ERC-20 tokens.
The wallet is simple to use and also allows to do buying and trading of some coins in the app.
It currently has around 47 employees and more than 8 million user around the world.
The Bread wallet has its own token called $BRD which is hot around the market this week lets see why.


What is $BRD token and why $BRD has skyrocketed 500%?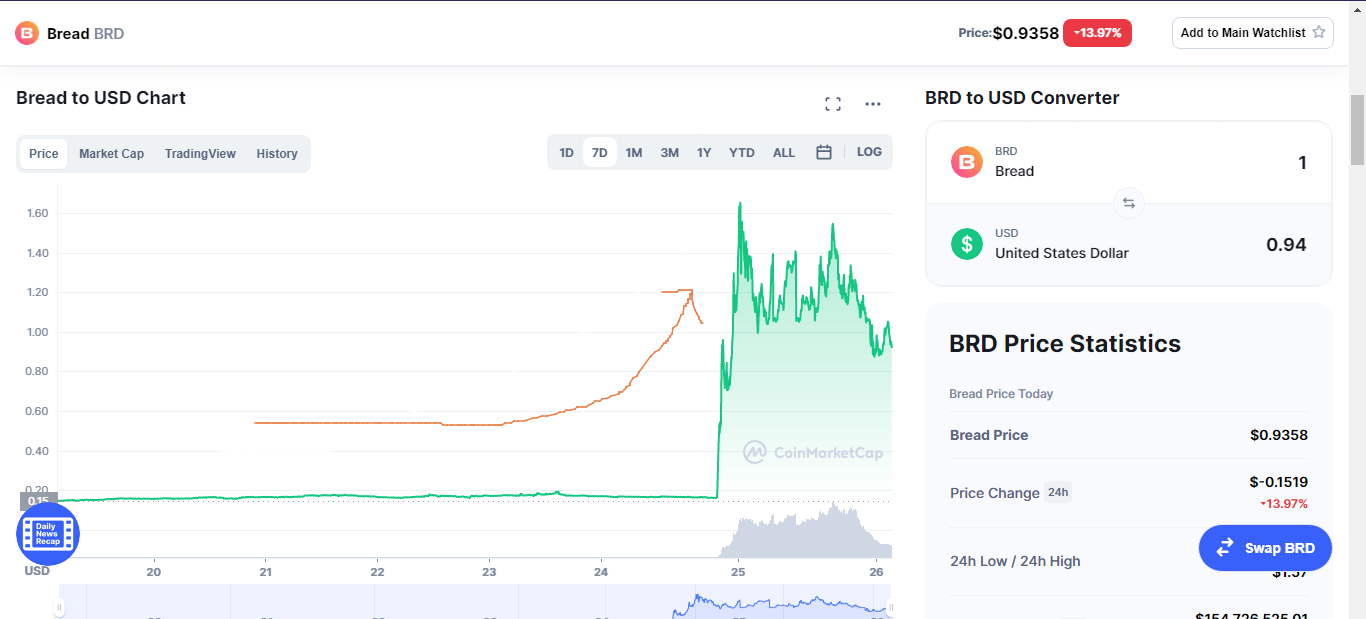 BRD token is made on the Ethereum network as a standard ERC-20 token, It was created around 2017. And was created to give some perks for Bread wallet users like reduced transaction fees etc.
When launched it opened around $1.8 and after a few weeks, it skyrocketed to 3.0 dollars in Jan 2018. But some days after it crashed heavily. Price just kept falling over the years and didn't see any significant growth until now.

Recent news is that the famous Crypto Exchange CoinBase has acquired the bread wallet crypto startup.
CoinBase, is the largest U.S cryptocurrency exchange where you can buy, sell, transfer and store your cryptocurrencies.
On 24 Nov 2021 Breadwallet announced that CoinBase has acquired them. A Letter has been published for BRD's customers on Wednesday
 "Today, we would like to share the news that members of our team will be continuing our mission at Coinbase, where we will work together to bring the power of decentralization to even more users around the globe."
"At this time, nothing will change in the BRD wallet app,"
read the statement,  "and as always, your funds are safe and secure. You may continue to transact normally. In the future, BRD wallet users will have an optional migration path to self custody with Coinbase Wallet, which will include a special gift. Stay tuned for more details to come in 2022."
Therefore all the crypto investors saw an opportunity to invest blindly in hopes of quick return which led to a sudden increase price of the $BRD token.

Should you invest in it? (My opinion)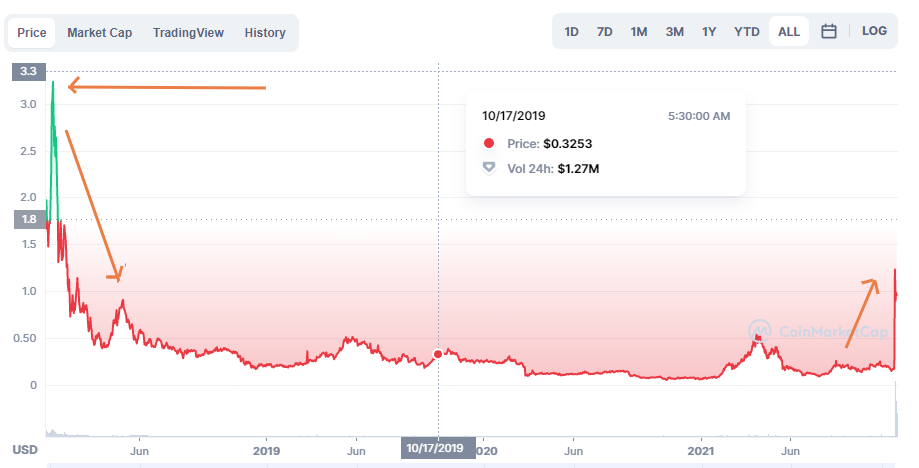 Well if you see the full chart from the starting point it did grow good when launched cause you know many people in the crypto market just follow the hype and invest blindly and then you see it fell down very bad and still hasn't recovered. I think the same thing is happening now and It is not a good time to invest in it. Let it consolidate for a time and become stable then maybe we can consider. It is very risky to invest cause now it is highly unstable 10%-15% up and down daily. But if you have a high-risk appetite and can afford to lose the money you can think about it.
But again these are my opinions only for educational purposes. If you want to invest it or sell it do your own research before doing anything. Only you are responsible for any action you take
Conclusion :
Sudden hype is created to buy BRD token after coinbase acquires it and people hope it will perform well in the future. Let's see how it goes and will it really be a good token to invest in.
Invest Carefully,
CyberCrypto