These days, competition among Indian crypto Exchanges has heated up.
The leading Exchange WazirX's coin WRX wasn't performing quite well for some time. It all changed with its couple of tweets today morning. It seems nothing works better than a DeFi hype:
All it says is that WRX is going DeFi. Nothing else. But this was enough to shoot up WRX rates: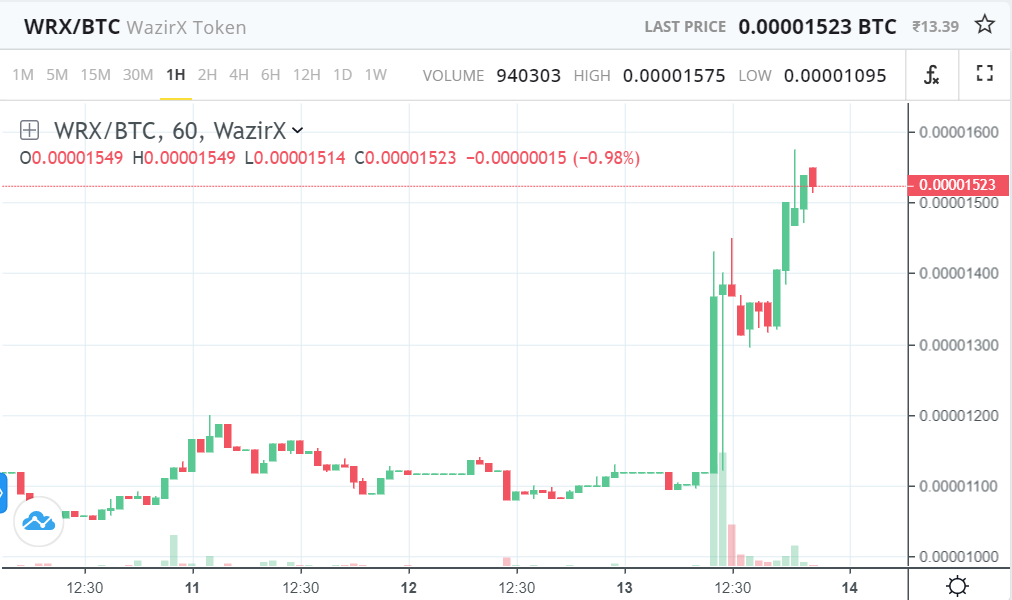 This was the result of the "announcement of an announcement". The actual announcement is expected on 15th August - India's Independence Day.
But it was quite obvious that WazirX was trying to respond to the competition. With BitBNS coming up with a new announcement everyday, boosting its newly launched Exchange coin BNS, WazirX needed to act fast to retain its market position.
It seems BitBNS has a lot of plans for its coin BNS which started trading this month itself. It has come up with an interesting concept of BitBNS Pool Sales to offer cryptocurrencies at 50% discount.
The scheme is almost a copy of Crypto.com's The Syndicate programme, where it offers discounted sale every fortnight to CRO stakers.
Touted as "MRP se Azaadi" meaning "freedom from listed price"; BitBNS is asking to stake BNS to participate in 50% discount scheme, similar to Crypto.com's CRO staking.
However, the allocation for the pool is not as big as Crypto.com. BitBNS has allocated only 1 BTC for the upcoming 50% discount for this Independence Day sale. But it says it will continue with this discount sales at least once a week.
BNS staking for availing BTC at 50% discount is already made live today:
With this announcement, prices of BNS jumped over 40% within a day. If the CRO prices in past was any indication, we can safely asume that this one should also keep rocketing to new highs. However, I'd love to see slightly higher allocation than just 1 BTC for the pool sale and some aggressive marketing for this scheme. Combined this with a bug-free smooth Exchange interface can lead to a good run for BNS.
In which of these two tokens do you see much potential?
Would you invest in WRX or BNS or neither of them is worthy enough atm?