It's kind of strange to shop for a Sushi when you're a vegan. But sometimes you really need some. This world keep inclining towards non-vegan stuff!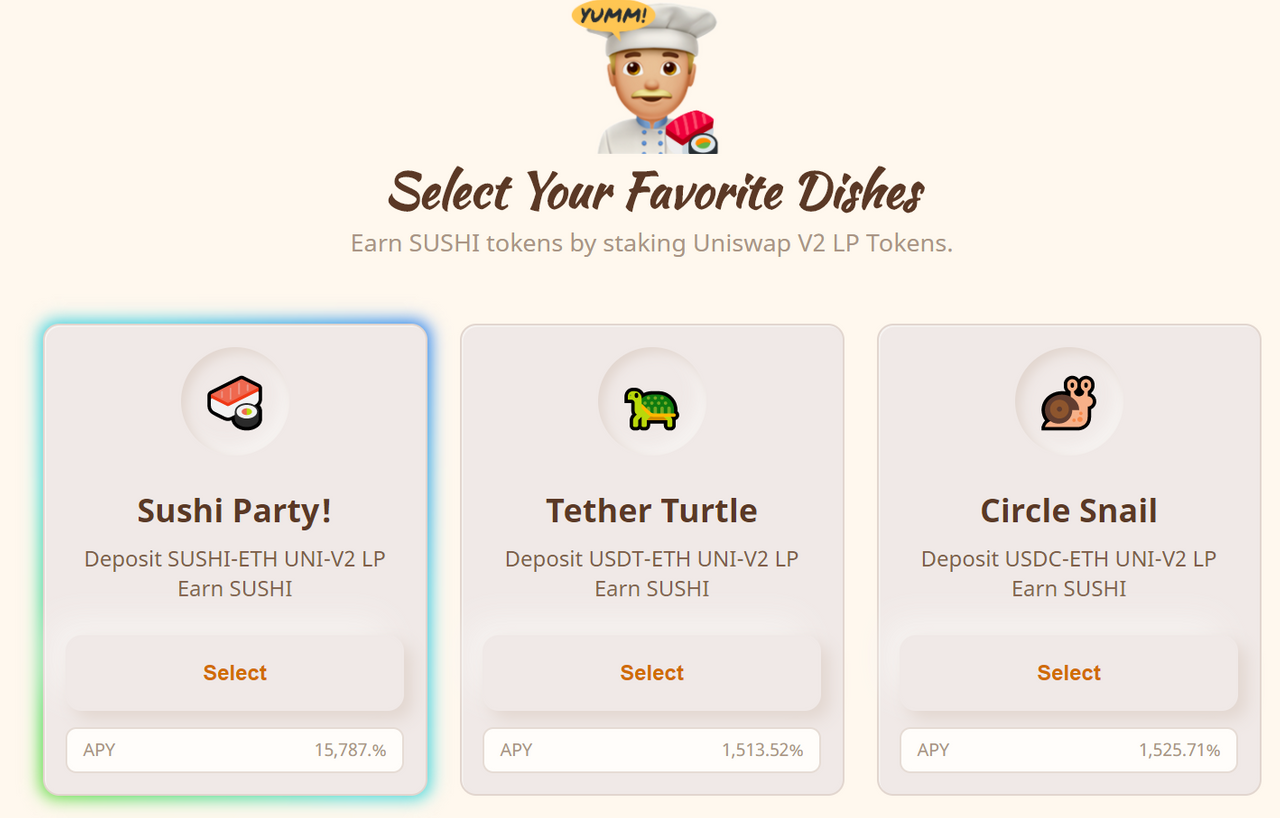 Initially it was totally plant-based like YAM but then dairy came in with CREAM and now this SUSHI!!!
If you haven't understood it by now, I'm obviously talking about all these recently launched DeFi tokens.
The one launched today by SushiSwap is called SUSHI.
If you have heard of Uniswap DEX on Ethereum Network then you probably would be interested in SushiSwap too. Sushiswap is trying to improve Liquidity Providers' reward sharing model of Uniswap.
Liquidity Providers on Uniswap proportionately earn 0.3% of the trading fee earned by the liquidity pool as long as they continue to provide liquidity. But as soon as you withdraw your liquidity, you lose the ownership of that liquidity pool and earn nothing anymore.
Sushiswap has some different thought process. It feels that earlier LP (liquidity providers) are important pillers in establishing the DEX and deserves some more rewards for some time even after they withdraw their liquidity.
So Sushiswap has introduced the concept of staking for continued rewards. When you provide liquidity to any pool, you earn SUSHI tokens. Only 0.25% of trading fee is shared by LP on Sushiswap against 0.3% on Uniswap. Remaining 0.05% fee is distributed to SUSHI stakers (after swapping it for SUSHI). So if you continue to hold and stake your SUSHI, you will keep earning 0.05% fee as staking rewards in proportion of your stake.
However, your stake continually dilutes with token emission. So when you discontinue providing liquidity, your won't get any more SUSHI tokens and your rewards will get diluted over time as your stake decreases with token emission.
For the perspective, I'm quoting some tweets by Adam Cochran though these may not be an accurate description: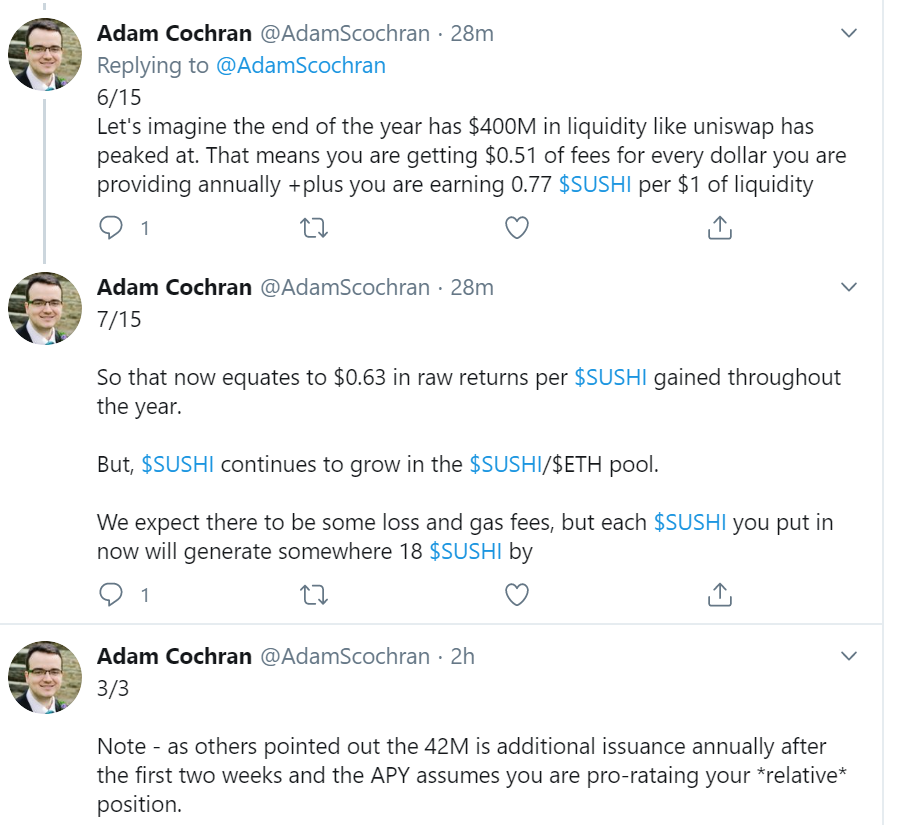 However, I decided to put a small amount in it just to try it. But I ain't a brave hearted investor even at that. While I was trying to invest in it, SUSHI prices rallied from $2.5 to over $5. After $4 my fingers started shaking and I clicked REJECT on my Metamask at least 3 times. LOL!
And when I finally submitted a transaction, somehow it got rejected. I dunno why (Can you explain it to me?) but I thought probably it's not a good sign to buy at this moment.

While putting my money into it, I'm well aware of the fact that investing in this project involves some serious risks All it's smart contracts are still unaudited. So your funds in it can go anywhich way (remember YAM debacle?). There ain't enough reasons why Sushiswap will outdo Uniswap or even reach to that level. All these products are just an experiment and only time will tell if they suceed or even sustain.
If you're considering to try it, please do your own research. Check the project dertails here
Update:

High risks may mean high rewards too. While writing this piece, there was a little dip in prices and I successfully bought, added liquidity and staked my LP tokens this time. Now time to go to bed (I ain't planning to pulling my liquidity any time soon).