Of late, Grayscale Investments, the world's largest digital asset manager is registering several cryptocurrency Trusts. Recently, it incorporated exclusive Trusts for prominent DeFi coins like YFI, UNI & SUSHI. All of these have been in the list of my favourite DeFi coins to hodl since the beginning. However, at present I'm holding only SUSHI out of these.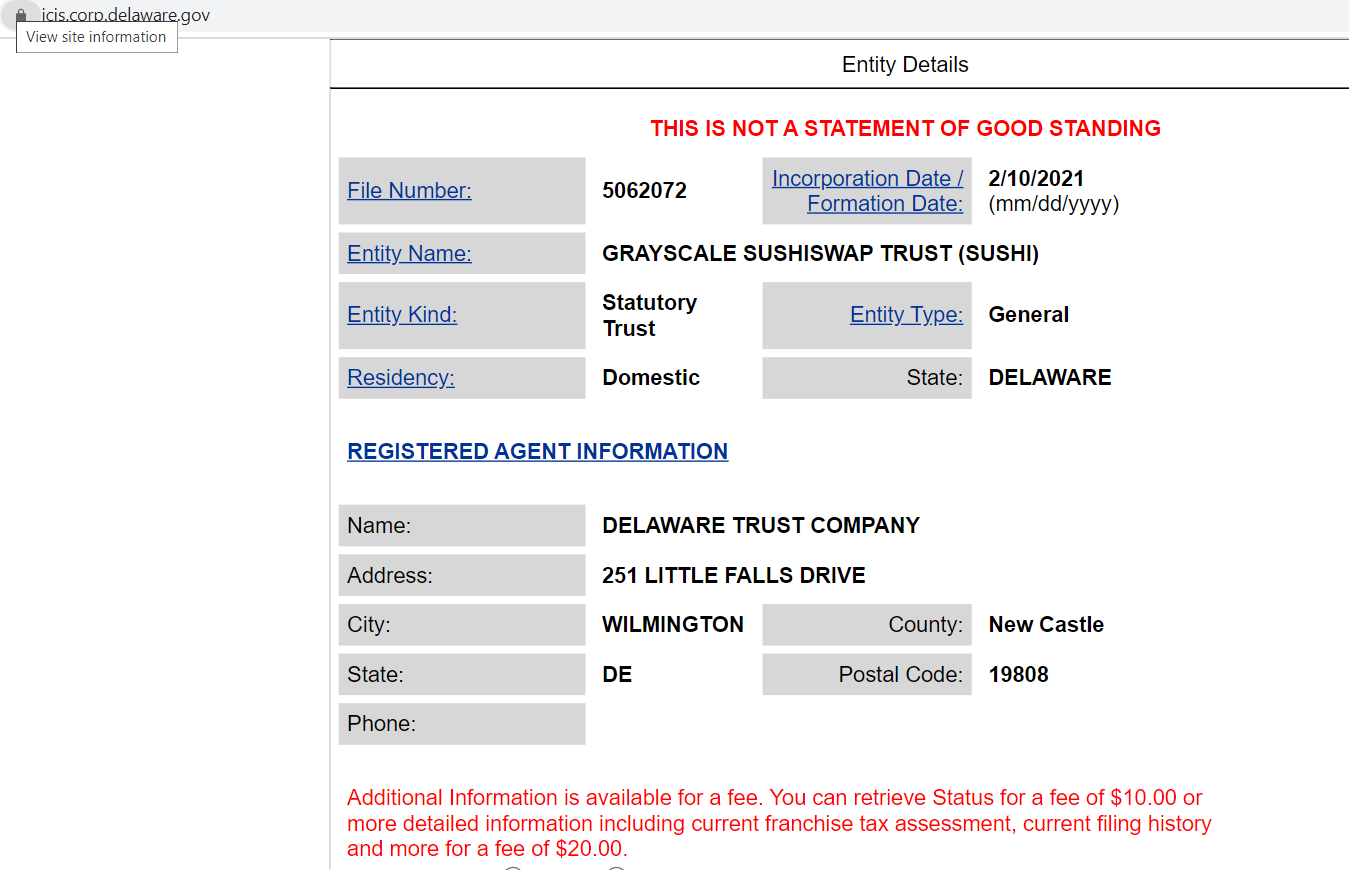 Incorporation of GRAYSCALE SUSHISWAP TRUST (SUSHI),
Source: Official website of Delaware State
Delaware Trust Company is the Grayscale's statutory trustee for the U.S. state
With the news of Grayscale Sushiswap Trust breaking out, $SUSHI is making new ATHs today with its Market Cap breaching the $2 billion mark.
I've always been excited about the Sushiswap project. Since I'm hodling SUSHI since Day-1, it's only natural for me to talk about it regularly. In December, I had stated:
my SUSHI holdings has outdone UNI's and I just wanted to say that SUSHI below $2 is a steal today
SUSHI was never to be seen below $2 mark after that. Infact, it has reached a new all time high of $17.59 today. But still I ain't selling it. Why?
Well, I believe Sushiswap project to be worth more than Uniswap and I always wanted to see $SUSHI coin price to be over $UNI. But so far, it never happened even once.
For a major par of its journey, $SUSHI was behind only about a dollar from UNI. But once UNI changed th4e gear and rapidly moved into double figures, to $22.50, SUSHI could never catch up.
With today's high of $17.59, it has started to show its strength by trying to overtake UNI again. I've been a fan of Tom & Jerry show and love to see this kind of race here 😉
As stated in my last week's post, I still firmly believe that SUSHI has far more upside. Reaching a triple figure from here won't be a surprise for me. Although it's not easy to compete with strong and old brand like Uniswap, Sushiswap has demonstrated its competency in it only 6 months of existence.
So how to get SUSHI for half or less?
It's likely that you have thought of this as some click bait. But I do have some plan to not to disappoint you.
The trick is not new or innovative but still many won't be aware of it so I'd better tell you a bit about it.
If you know about the rise of liquidity unlocking projects from staked assets like Ramp Defi, Cream Finance etc. then you get the idea.
SUSHI, xSUSHI and some Sushiswap SLP tokens were recently voted up for listing on CREAM Finance for collateralized lending with a Collateral Factor of 60 for SUSHI and SUSHI-ETH SLP).
What this mean is that you first need to buy your SUSHI at market price, supply that SUSHI to Cream Finance app and then you can borrow up to 60% of its value by paying a small interest. Thus you get your SUSHI and can unlock up to 60% of your locked liquidity to invest somewhere else.
Although SUSHI has a promise of uptrend from here, you need to protect yourself from the risk of liquidation from the market fluctuations. Therefore, don't withdraw all 60% of your liquidity. Keep some reserve for price fluctuation and accrued interest.
If you want to use your SUSHI in yield farming by providing liquidity to pools, you can still unlock your liquidity by supplying your LP token SLP to C.R.E.A.M. Finance and then borrowing against it. Supplying your SLP to Cream app will continue to earn you SUSHI yield, pool txn fee; and lending APY on Cream app (for capital utilized).
Similarly, you can also stake your SUSHI to get xSUSHI to earn a portion of transaction fee of entire Sushiswap platform. In addition to it, supply your xSUSHI to Cream for lending and borrowing. (Voting for deciding Collateral Factor for xSSUHI is currently in progress and may take about a couple of weeks before it gets implemented on Cream app).
Isn't it having your SUSHI and eating it too at about half the price?
Tell me how do you feel about this.🙂