$LINK is a scam,
$LINK is a fraud,
$LINK is a glorified pump and dump scheme
LINK has been called much more in the previous week by a startup investigative research firm. Last week, when I came across this voluminous 59 page research report on $LINK by an assert management & research firm Zeus Capital LLP, that stated Chainlink as some big scam and called it Crypto's Wirecard; I only had a good laugh on it and moved on.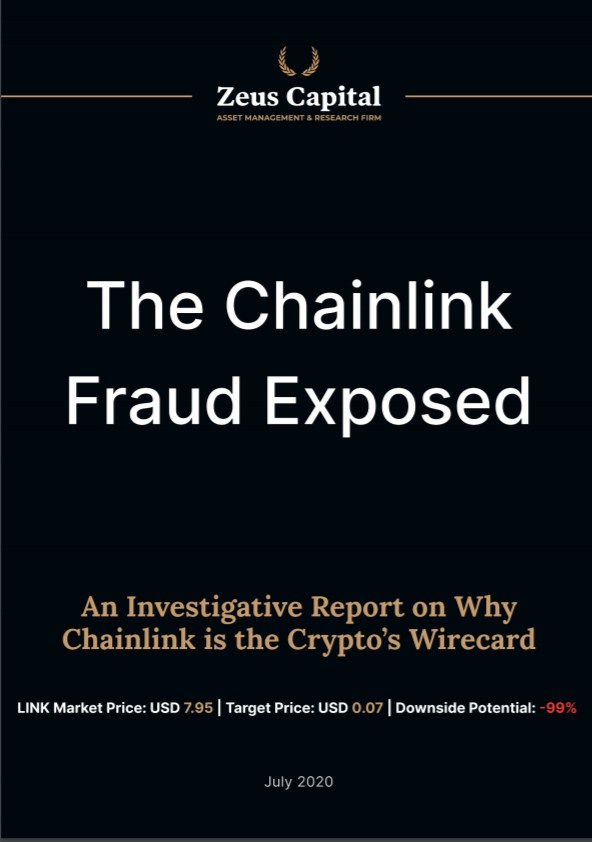 But these days, I see many people often referring to this report as some authentic paper and expressing fear that $LINK prices are gonna plummet down. So I thought to write here as why this is just some FUD.
With over 2.74 billion in market cap, $LINK is ranked top 8<sup>th</sup> crypto project. It is a very promising project from SmartContract.com, that brings decentralized oracle solutions to blockchain technology by linking / connecting smart contracts to convention data sources. It has fostered huge partnerships and recently saw it's prices soaring to $8.74 before this "research" report surfaced up.
This report was able to create some FUD among many unsuspecting people and LINK prices declined a bit from a high of $8.74 to $7.25 at the time of writing. But I see it as some minor correction after a recent gain.
Initially, I thought this Zeus Capital (zeus-capital.com) is trying to ride on the goodwill of Zeus Capital of UK (https://zeuscapital.co.uk/). Report claiming 99% downside potential for LINK all the way to $0.07 seemed some joke that no one will take seriously.
Twitter also suspended its account citing violation of its platform terms.
Yesterday, Zeus Capital, UK also came up with an official clarification that it had nothing to do with that report or the firm behind it:
Zeus Capital Limited has no relationship or affiliation with Zeus Capital LLP)
But is it really a FUD?
No one will write a 59 page professional report for the sake of fun. But to make gains out of market manipulations could be one objective, I dunno. The authors of report seems to be very well versed with cryptocurrency and blockchain technology and it's ain't an amateur's job.
Its Twitter handle is back to life again.
The report was taken down from docsend where it was initially hosted. But it's available on firm's website now.
The firm also enlisted 15 red flags to identify a big disaster and ticked Chainlink for all of them.
Not only this, it openly challenges if anyone can address these points:

So now it has become more of a mystery than a joke. Coin Telegraph recently reported about the Zeus Capital's website's source code having Typeform links connected to Nexo's website. So apparently it's Nexo Finance behind this firm.
Zeus Capital retweeted this Coin Telegraph article!
However Nexo Finance denied any such links with this firm.
What do you make out from all these?
Do you think it's a good opportunity to buy LINK if it crashes because of this report? Would you buy more LINK or sell?