If you haven't already, start playing Rising Star for free with my referral link
Thank you community!
I'm absolutely in shock by the amount of feedback I received for my first post. Thanks so much, @risingstargame for curating it!! Definitely made me feel much better after a rough day at work today.
Game Plan
As far as my plans with the game go, they haven't changed much. As a cardless noob, I'm still only doing Illegal Busking every chance I have. I'm aiming at those free cards at about 100 missions completed. So far I have exactly 70 missions done. I expect to get to 100 in 2 or three days from now, earning my first card. Fingers Crossed!!
After I got my post curated, I am going to earn about 4.5 HIVE I'm my first payout - pretty good. I plan to reinvest it in the game in the form of a pizza box. I've been getting a lot of discarded pizzas at the worst times right now, always at high energy percents'. With my pizza box, I'll at least get more control over the usage of that delicious cheesy energy boost.
If I get lucky and get at least 1 pizza a day I predict I'll just about double the amount of busking I can do in a day.
Cards to look out to as a beginner
Looking at the first missions on the first part of the map, I need 300 fans to get to do Saturday Headline without trouble. Apart from that. Searching up the market, I came across E4 Modern Female Punk.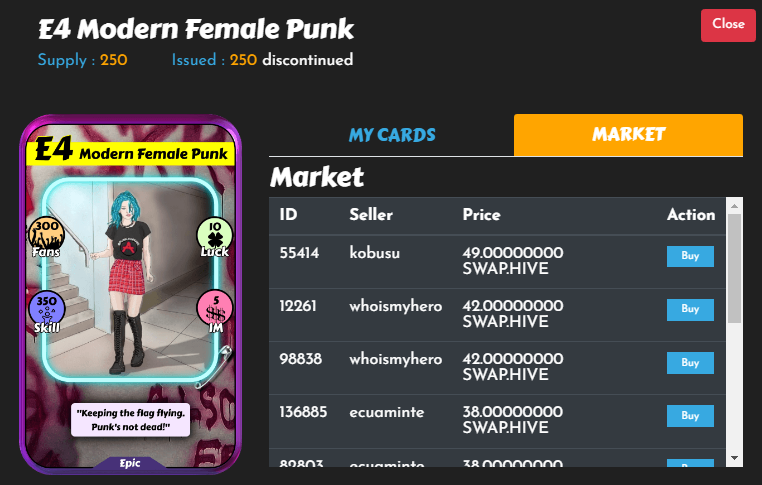 Exactly 300 fans and gives out a nice luck and skill boost as well. The best price in the market is around 34 HIVE. If I got her, together with the pizza box, I think my earnings could jump up quite a bit.
Not making the investment in her just yet because I'm still too low level to even get benefits the benefits of being able to do higher-level missions.
Question to the pros
Is my game plan good at the moment? Should I wait until I have enough level for later missions to get her? What are other tips you guys would give for a beginner willing to put little money in the game? Thanks for all the responses.
In the end
Really excited about what the game has to offer. Even though I just started, I can definitely see potential in this one. Thanks for all the likes and comments. See you on the flip side!