If you haven't already, start playing Rising start for free with my referral link
Hello World
This is my first post in the community. After getting to know a bit about Splinterland and playing it for almost a week now, I came across Rising Star in @freeztag's post looking for NFT/p2e game recommendations. I don't know if he found any new good ones... I sure did!
Setting up the game us surprisingly easy for me. Even though the setup as a whole might not be that straightforward, since I had a Hive account because of Splinterlands, I basically just had to log in using the keychain extension to start out on rising star.
Best of all, this one is also completely free to start!
At first, the game might look a bit confusing for a complete beginner like me. After a few minutes of figuring it out I realized it couldn't be more simple than this. You just have to press a button and wait while listening to some independent music; and boom! profit.
Even though the UI isn't the best as of now, this game puts together my love for music and my recently found interest in NFT's and in the crypto world. What's not to like.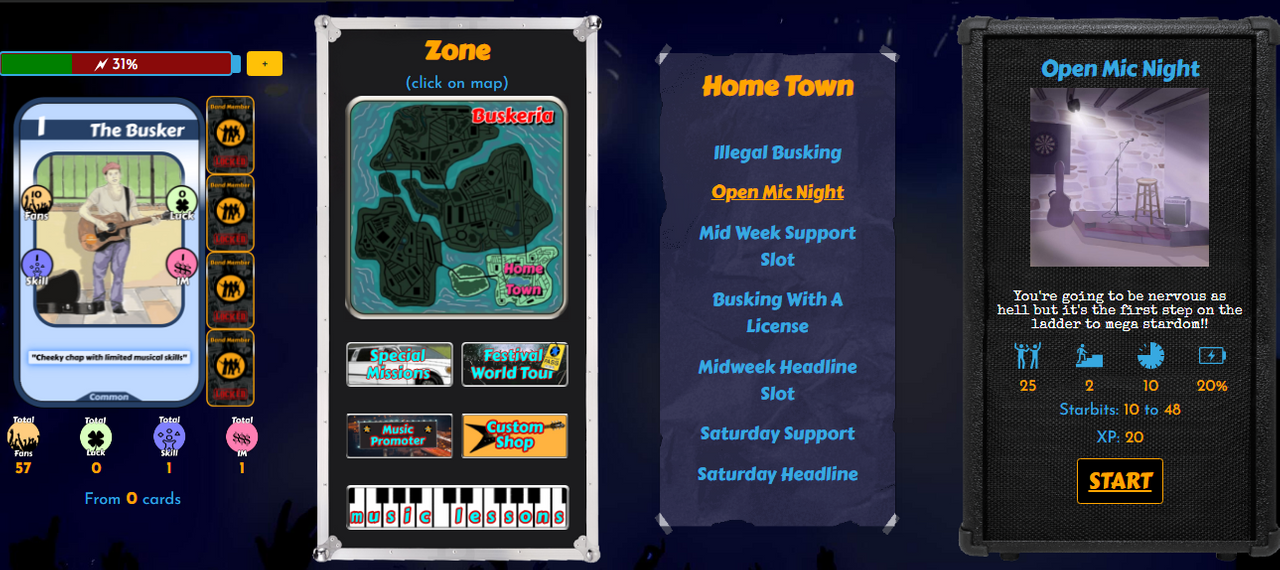 Searching online, if found a bunch of guides for a beginner just like me. One of the main tips I get is to do the illegal busking mission as much as I can. Even though it has the lowest starbits payout, it is key to completing your first achievements. When you get to 100 missions completed you get your first free card as a reward. The same will happen for 110 and 120 missions. As of now, as I don't plan to invest money in the game just yet, this is what I'm focusing on.
Currently, I have about 45 missions done - halfway there -
After this, I plan to put a few dollars on the game so I could buy my first card on the marketplace. What card should I buy as a beginner? I saw someone recommending I get the pizza box? Is it worth the investment? I would be willing to put 10 or 20 dollars into the game for a starter.
Anyway, I've been absolutely loving the game for its simplicity and vision. Can't way to busk so more and earn that sweet crypto!!