Recently, I experienced the trade mining service of a decentralized exchange dubbed MetaTdex. It is said to be the most profitable ones across the network since users can earn from both gains and losses! The following picture is a screenshot of my mining income.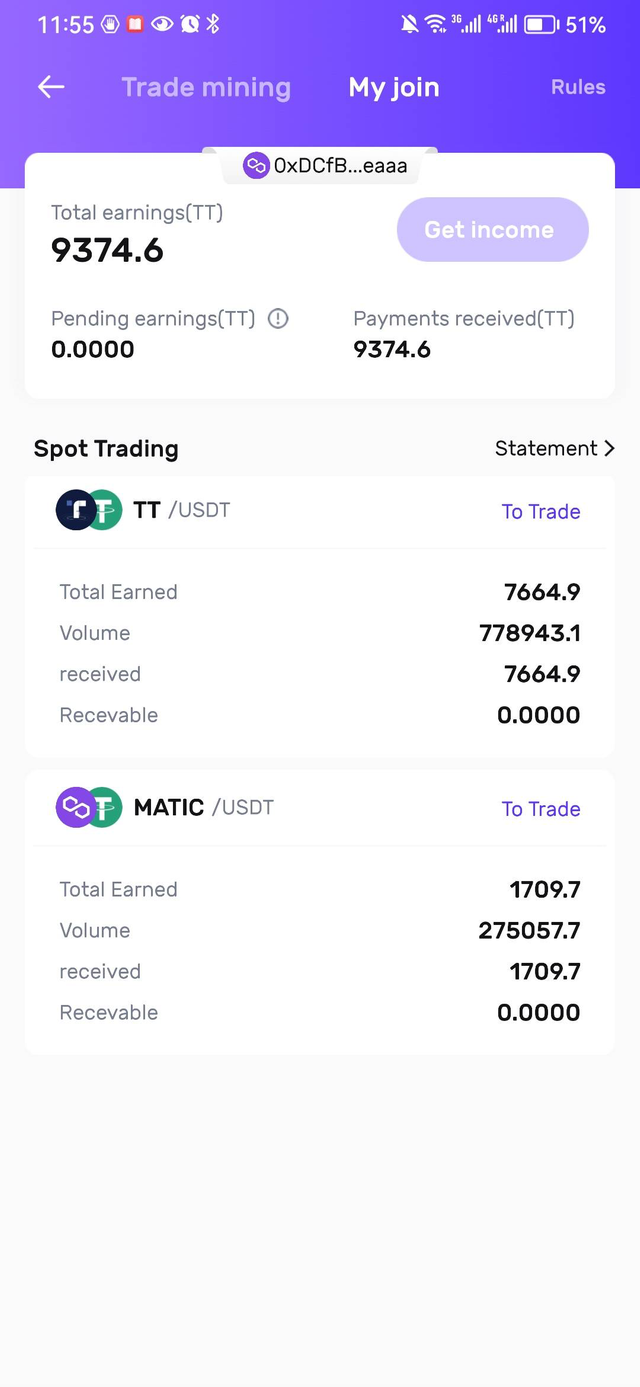 At the beginning of this new year, I saw a message in the Telegram group that MetaTdex has started a trade mining activity on Polygon, giving out over $27,000 worth of TTs (the native token of MetaTdex) every day. This group brings together many DeFi mining enthusiasts, but there has been no such kind of on-chain mining activitys for a long time as a result of the sluggish market and the lacking of high DeFi yields. Because of this, I don't want to sell my MATICs or USDTs now. MetaTdex's on-chain trade mining service can be participated directly via linking the wallet, hence improving asset security for users. So I just had a try.
In my first trade, I earned 77 TTs through the TT/USDT trading pair at the market price. The price of TT was about $1.03 at that time. That is, I made about $77 in one trade (currently 3-4 times the cost of transaction fees). Just after 1 hour, the revenue was sent directly to my wallet address. It was very reliable! So I learned more details about the trading rules.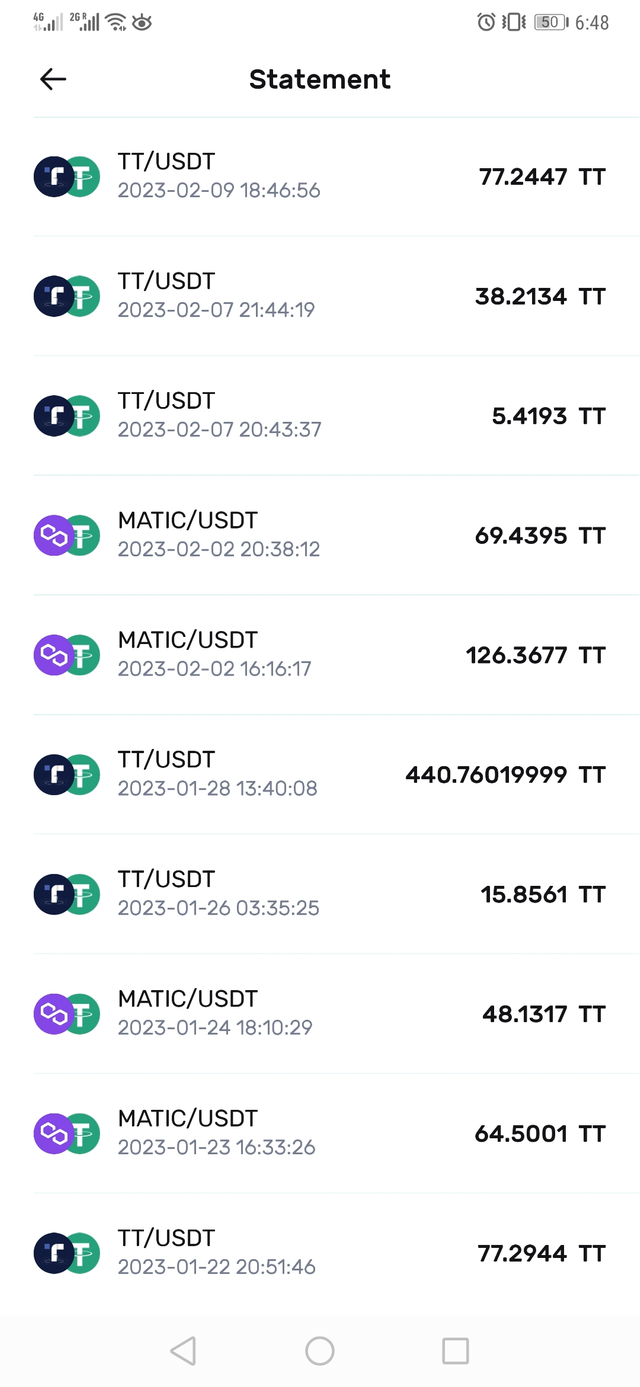 I got the following key information from the group announcement and member communication:
The trade mining service is available to TT/USDT, MATIC/USDT pairs, with strong market risk ability against token price fluctuations. If one token (such as MATIC) appears to have a downtrend, users can convert it into USDT or TT rapidly.
The daily giveaway of 27,000 TTs is linked to a smart contract consistent with Polygon's block generation rate (0.625TT/block). This kind of distribution mode is of great fairness and free from human intervention.
TT itself belongs to a trade mining token. The transaction frequency is guaranteed and there is no worry about the realization (liquidity) problem. The trade mining service of many exchanges will send a third token. For example, BTC/ETH will send K tokens which are not related to the trading pair and difficult to realize.
After a fully understanding of MetaTdex's trade mining mechanism and output token, I increased my investment. Under the pending order condition, I selected USDT, MATIC related trading pairs and earned 9,000 TTs, with a conversion income of over S9,000. Besides, here are some more screenshots from the trade mining gains of several group members.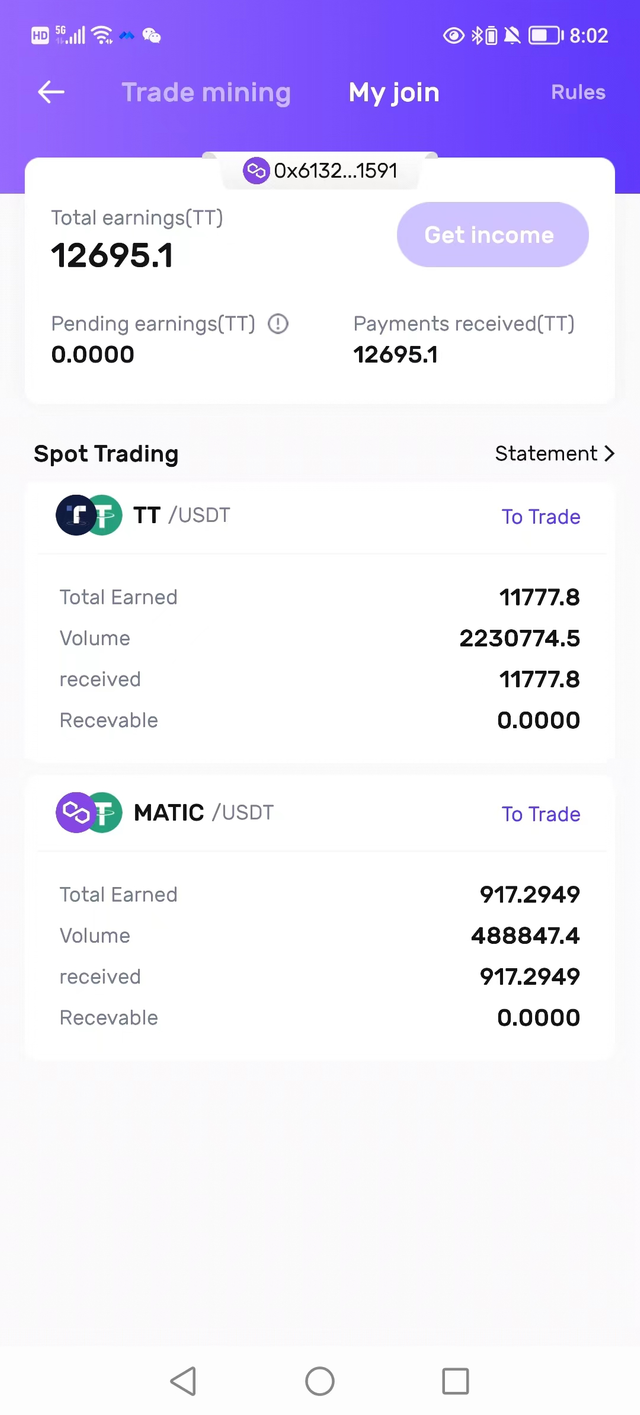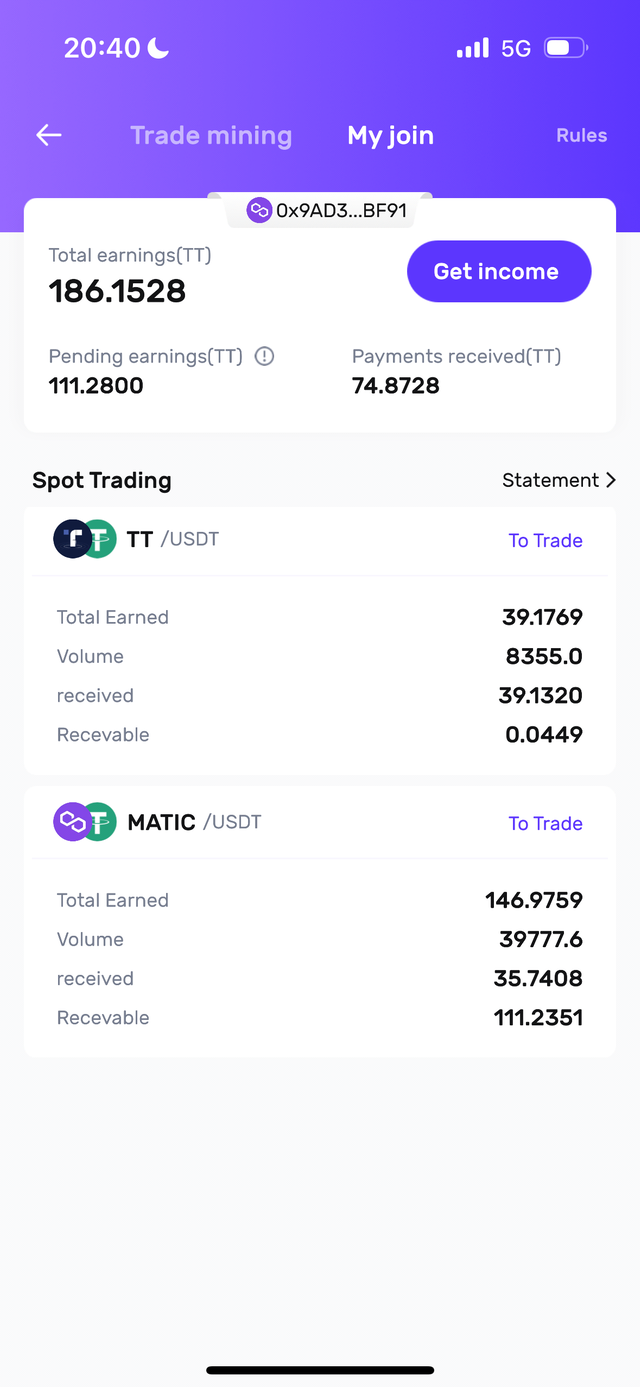 How to Use MetaTdex Earn & Trade Mining?
The quick gains from the trade mining service has deepened my interests in other MetaTdex products. The multiple "Earn" products that can refund for no reason in 7 days has broadened my outlook.
As a welfare product, "Earn" offers a 7-day refund service to TT (Tdex Token), ETH and SHIB. All users who purchase the corresponding crypto assets via the "Earn" exchange pool can enjoy the service without worrying about asset shrinkage caused by the decline in token prices.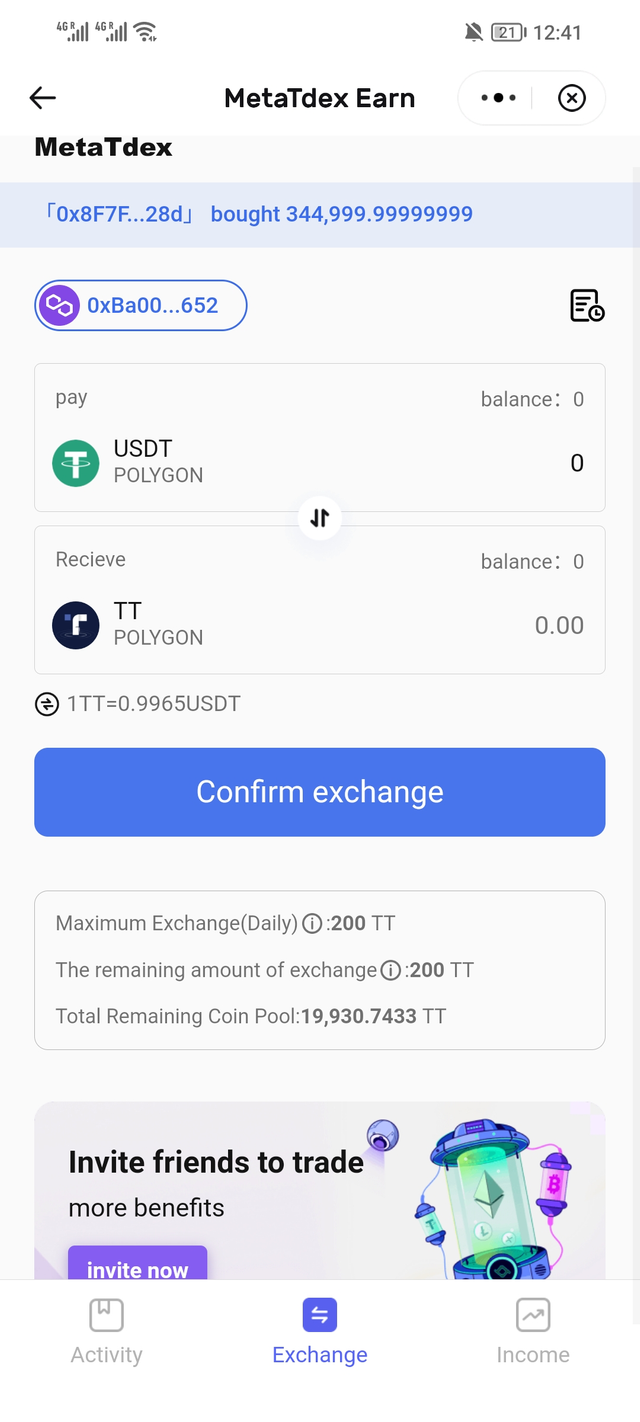 In general, users have to invest in cryptos at their own risk. However, "Earn" provides a sound investment strategy:
Earn is a principle guaranteed product especially suitable for users with preference for easy and convenient operations. Let's take SHIB as an example:
If the SHIB price rises, users can gain income by selling SHIB;
If the SHIB price falls, users can refund at the purchase price to avoid principal loss;
If the SHIB price keeps unchanged, users can decide whether to refund and re-exchange within 7 days. Then users can enjoy a 7-day free refund service period again (Notice: there is a 5% refund service fee).
Gain More with MetaTdex Earn & Trade Mining
As the tokens purchased in Earn are at user's disposal, users can utilize these tokens to participate in the trade mining activity and gain more profits.
After buying TTs from Earn, there will be three situations from the market perspective:
If users carry out the TT/USDT trade mining when the TT price is stable, they will get TT rewards from the TT/USDT trade mining. The quantity of mined TT is equivalent to the total revenue.
If users carry out the TT/USDT trade mining when the TT price rises, they will get dual income from the increase in the number and price of TT.
If users carry out TT/USDT trade mining when the TT price falls, they need to compare the cost with existing assets: "the quantity of TT purchased at Earn * TT price at the time of purchase " and "(the quantity of TT purchased at Earn + the quantity of mined TT ) * TT price after the drop - refund fee".
If existing assets > cost, users will gain profits. As TT price did not fluctuate much in the past month, there were only a few times for the price to drop 5% within 7 days.
If existing assets < cost, users will bear losses. It should be noted that this is an extreme case. The trade mining activity is currently well underway, so TT liquidity is pretty strong and there is no high risk of a sharp price decline. Furthermore, we can change TT/USDT trade mining into MATIC/USDT trade mining to avoid risks and obtain higher returns.
In a word, whether the TT price rises or falls, users can stay profitable through MetaTdex Earn & Trade Mining.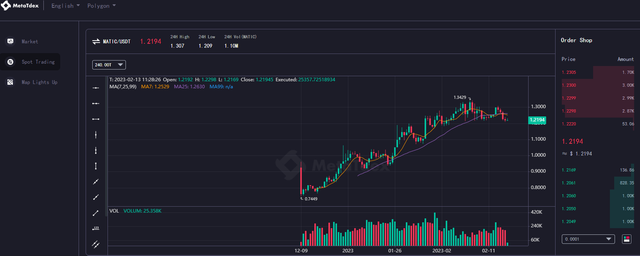 With the 7-day smart contract refund service, Metatdex's "Earn" allows users to enjoy steady crypto investments. As a welfare product, there are 8 ETH, 20,000 TT and 1 billion SHIB per day in Earn's exchange pool. Users are now able to purchase TT directly via the EARN product on Polygon, which not only reduces the market risk but also brings stable mining income for users.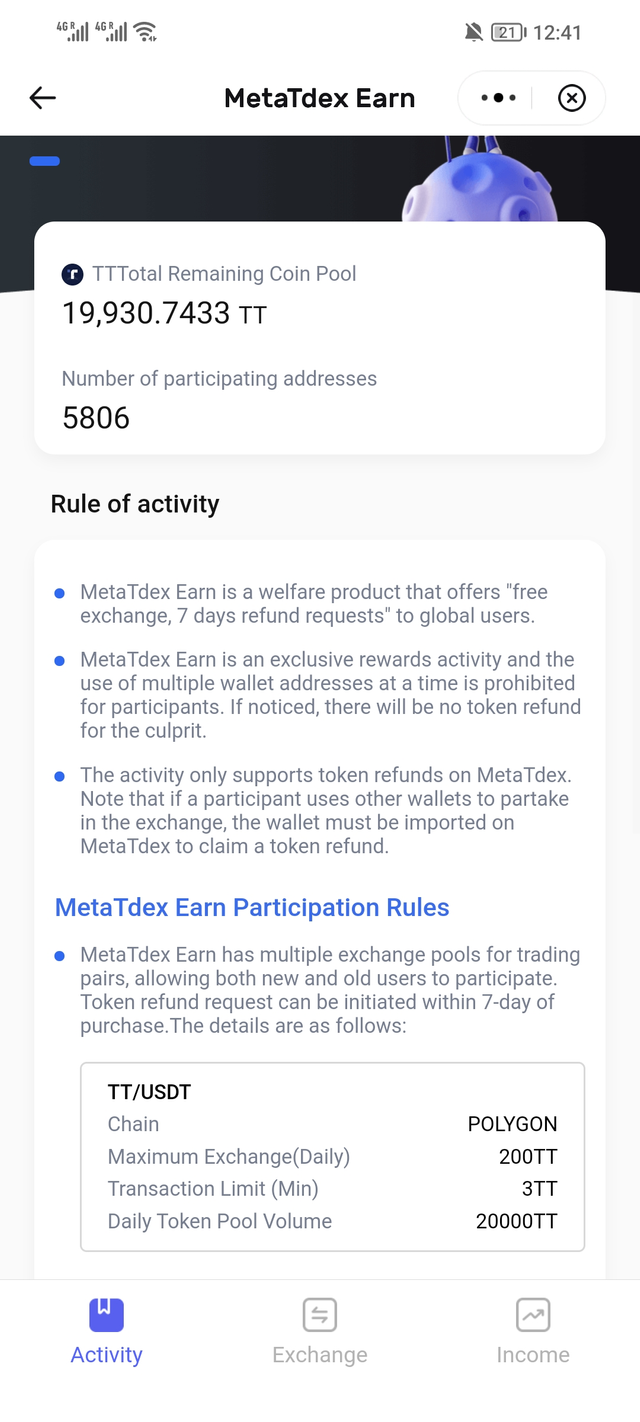 For the sake of revenue maximization, users also need to conduct a comprehensive learning and analysis on several sectors, such as the trading pair's revenue weight and real-time pending orders. It is essential for users to make a more objective pending order strategy and choose a more appropriate price to complete the transactions with high efficiency. After all, the total income of users is related to the executed frequency of trade mining, trading volume ratio, as well as the transaction price.
Learn more: