An anonymous Plan B analyst, the well-known creator of the Stock-to-Flow Bitcoin model, is sure that the leading cryptocurrency exchange rate will fluctuate around $ 10,000, after which it will begin to grow slowly to the $ 100,000 mark. This fantastic and currently unattainable level is expected to be reached by December 2021.
Answering one of the users' questions regarding the viability of his model, Plan B noted that the model increase to $ 100,000 does not imply a sharp jump, as it is displayed on the chart: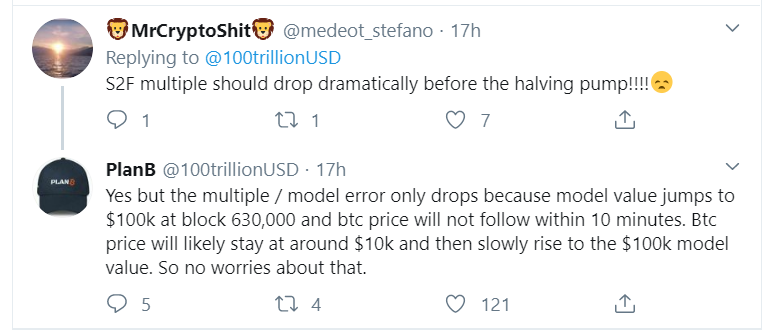 The S2F multiplier should drop sharply to the halving pump! Yes, but the multiplier / error correction model falls only because the model estimate increases to $ 100,000 on the 630,000 block, and such a price of Bitcoin will not be reached within 10 minutes. The price of BTC is likely to remain at around $ 10,000, and then slowly rise to $ 100,000, so don't worry about it.

The S2F model predicts the price of Bitcoin based on a reduction in its production. Although this approach causes skepticism among those who consider the BTC price movement dependent on demand, this model has been confirmed and accepted by many members of the crypto community.
According to Plan B, the May Halving will have the same impact on the market as the previous two reward reductions, due to the co-integration of the S2F model and the price dynamics of the leading coin.
At the same time, the analyst warns that "there is no guarantee" that the Bitcoin exchange rate will follow a similar model in 12 years, however, the possibility of obtaining 10-fold profit justifies the current investment risks. Such an answer sounded to one of the critical comments of the user that the model will be relevant, "unless 2021 is the first year when the BTC rate rises above the S2F model":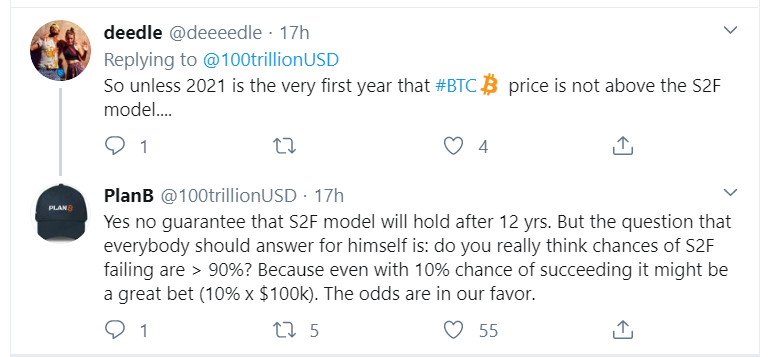 Yes, there is no guarantee that the S2F model will be relevant for 12 years. But the question that everyone should answer is: do you really think that the chances of failure of the S2F model are more than 90%? Because even with a 10 percent chance of success, this can be a great option (10% x $ 100,000). Chances to win more.
Option Traders Disagree with Stock-to-Flow Model
Nevertheless, option traders are still skeptical of the possibility of Bitcoin growth after the upcoming halving. According to a Skew study, the likelihood that the lead coin could hit a new all-time high at the end of this year is only 4%: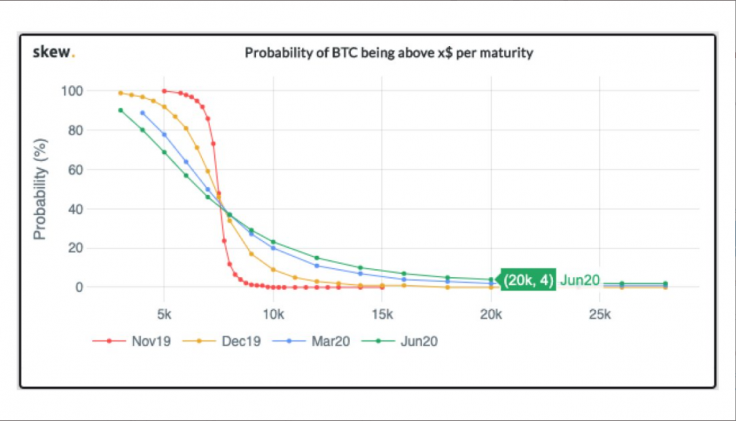 Moreover, traders estimate the chances of updating the peak of 2019 after a halving with only an 11 percent probability.